Henry Engineering USB-AES Matchbox Broadcast XLR Analog Digital Audio Interface [Refurbished]
(
233593148660)

)

Regular price

$249.00

Sale price

$388.00

(1 available in stock)

Tested/Guaranteed • Good Condition • Henry Engineering USB Matchbox • AES/SPDIF Input/Output • Pro Audio • Balanced Analog XLR I/O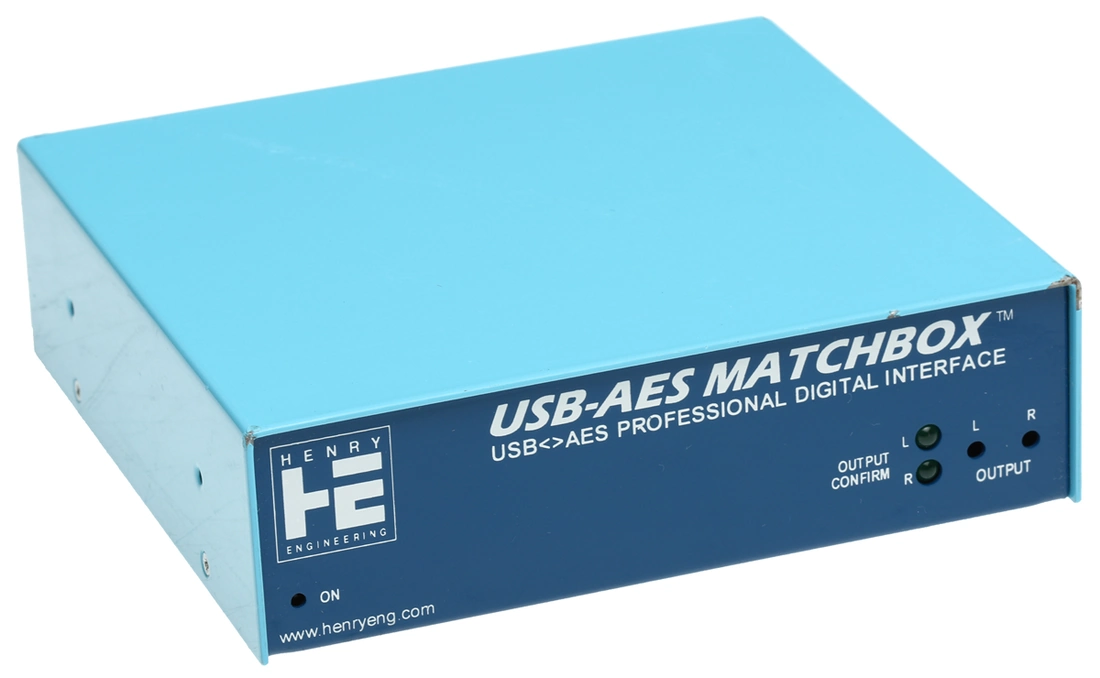 Item is in good cosmetic condition. It has been tested to confirm that it works as it should.
Product Description
The USB Matchbox is a professional USB-to-XLR bi-directional stereo audio codec. It provides unparalleled audio performance with the ease of USB connectivity in any application where digital audio from a computer needs to interface with a professional analog audio system. The USB Matchbox is USB powered, and solves the myriad of problems caused by using common sound cards in broadcast and professional audio environments.
Full details may be obtained from the User Manual
(https://www.prostudioconnection.net/1903/Henry_Engineering_USB-AES_MB.pdf)
The Sound Card Problem
Using a PC sound card to interface with a professional audio system usually leads to numerous problems. The inputs and outputs are often at the wrong levels. The unbalanced interface creates ground loops that cause hum and buzz. The "EMI hurricane" within the PC case creates even more noise, and the sound card audio quality is usually sub-par, (despite exaggerated claims) with pedestrian design and poor component quality. Although these shortcomings may be accepted by a non-technical user, they have no place in a broadcast station or professional audio installation.
Usually Sells for $500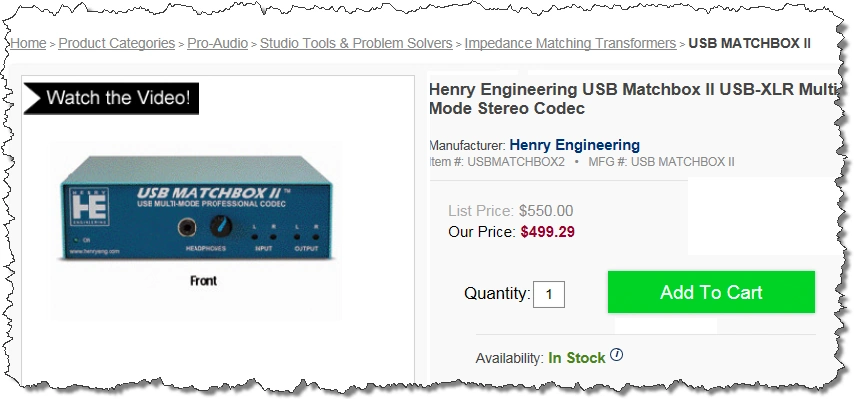 The USB Solution
Henry Engineering's USB Matchbox has been designed "from the ground up" as a true professional product that solves all of these problems. It delivers impeccable audio quality, XLR connectivity, and the convenience of a simple USB connection to the computer.
The USB-AES Matchbox is a high-performance professional audio codec. It provides AES/EBU professional and SPDIF "consumer" digital inputs and outputs to any computer via a USB interface. The USB-AES Matchbox also provides audiophile-quality XLR analog stereo outputs at professional studio levels, plus a Monitor output with a Mute facility. Sample rates of 32.0, 44.1, or 48.0 kHz can be used with 16-bit resolution. The USB-AES Matchbox is compatible with virtually any audio recording/editing software. No special software or driver is needed. A USB 1.1 (or higher) connection to the PC is required. The USB-AES Matchbox is USB powered, and complies with the AES-48-2005 grounding standard.

Digital audio fed into either digital input will be sent to the computer via the software being used. Playback audio will appear at both digital outputs, as well as the analog outputs. Because the input and output sections of the unit are independent, simultaneous recording and playback is possible. The "confidence" LEDs will light whenever there is playback audio present on the outputs of the unit.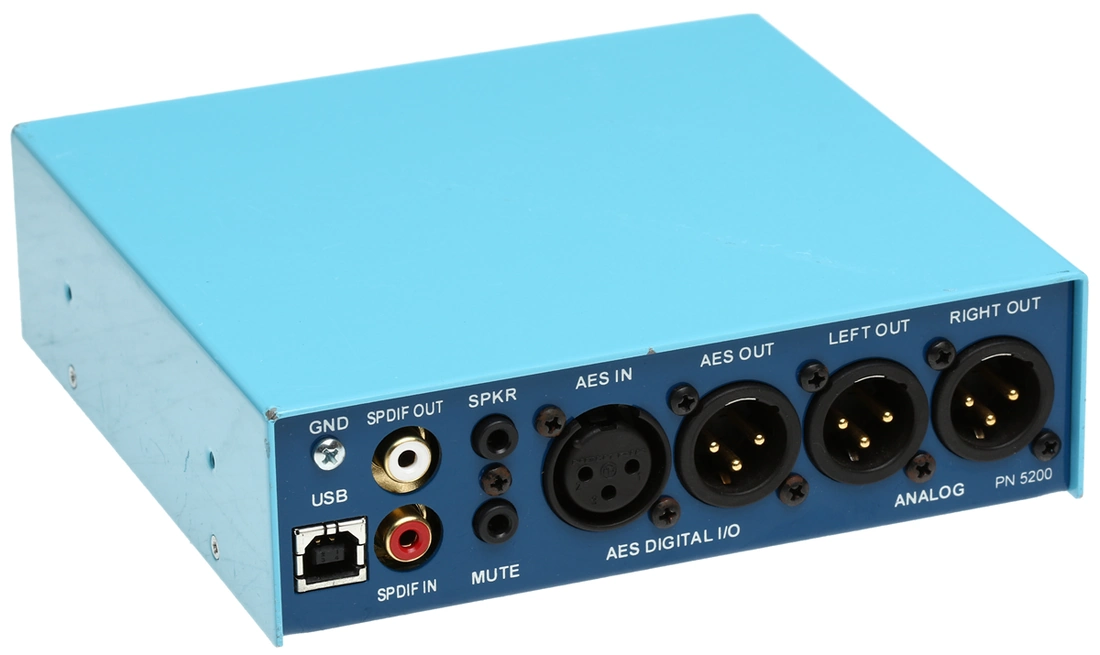 The heart of the USB Matchbox is Burr Brown's Delta Sigma 8X Oversampled codec with SpAct audio clock recovery architecture. The codec's superb performance is further enhanced with Henry Engineering's proprietary L/C pre-filtering and edge-of-the-art analog circuitry painstakingly designed by Bill Sacks, founder of Straight Wire Audio. This carefully tuned design eliminates the transient intermodulation products caused by inadequate reconstruction filters found in even high-end sound cards. Careful attention to component selection and circuit board layout further enhance the design to yield true Audiophile performance: ultra smooth, open and transparent "un-digital" audio with rock-solid bass and crystal-clear highs.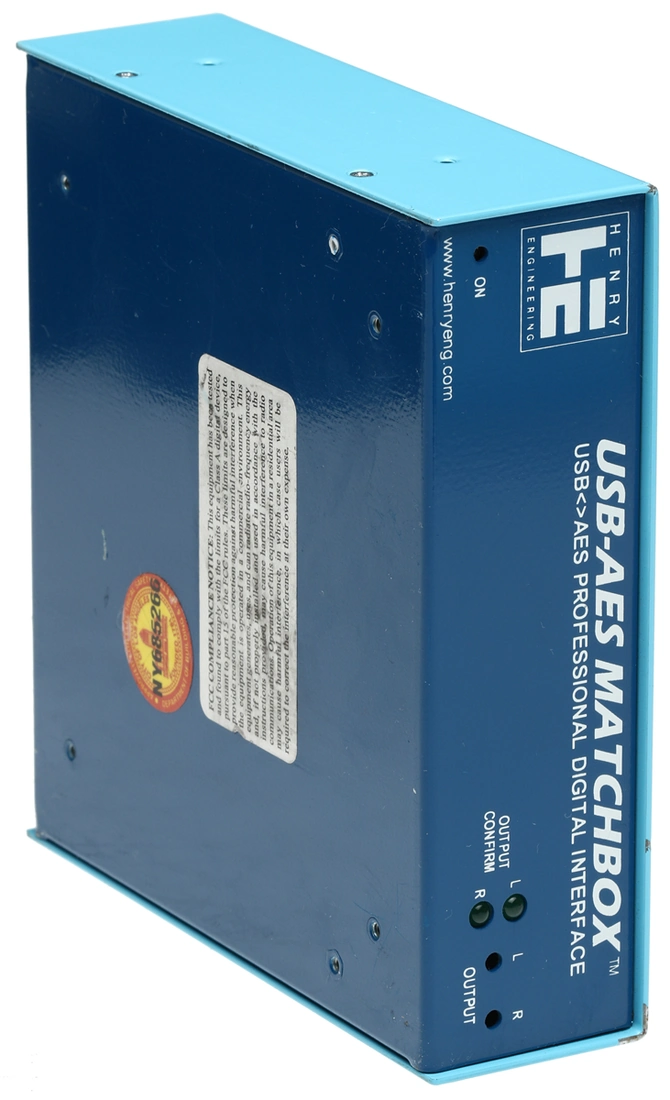 For The Professional
The USB Matchbox provides the quality that professional users require. Its dual-PLL asynchronous design permits simultaneous record and playback. Output levels are calibrated with recessed trimmers.
The USB Matchbox is 1/3 rack width, and can be rack-mounted using the optional rack-mount shelf, or cabinet or wall mounted using optional cabinet/wall mounting brackets.
---
Share this Product
---
More from this collection