360 Systems Instant Replay DR-554-24 Audio Sound File SFX Player SSD Upgrade [Refurbished]
(
234933184797)

)

Regular price

$569.00

Sale price

$897.00

(1 available in stock)

Tested/Guaranteed • Fully Working • Very Good Cosmetic Condition • Instant Push Button Replay of Audio Files • Morning Show SFX Box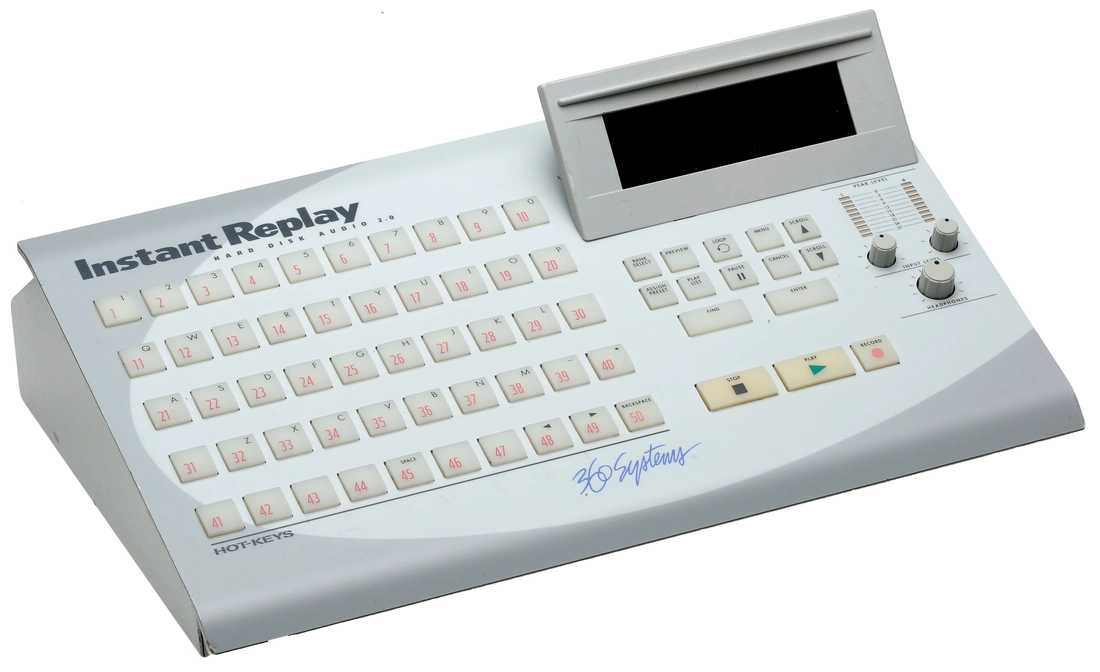 Photos show the actual item for sale
Overview


A lightly used Instant Replay 2.0 machine as used by just about every Radio morning show to play sound effects, jingles, music beds, pre-recorded "bits" etc. The unit has been improved by swapping out the old mechanical IDE hard drive for a modern 64GB SSD device, so you won't have the familiar whine of the disc platter spinning (nor the weight, heat and unreliability of a mechanical drive), making the unit much more suited to in-studio use. The standard factory sample sound effects have been pre-loaded to get you started, and there's room for another 4 hours of uncompressed audio on the SSD drive (probably more if you reformat the drive, but that would erase the included sample audio files). [Note that not all the 64GB space on the SSD may be addressable under the proprietary operating system that these devices use, but you should have at least 20GB available as this was the size of the OEM drive as I recall].  This unit is in very good cosmetic condition and it is fully working.
Full details may be obtained from the User Manual at
https://www.prostudioconnection.net/1712/Instant_Replay_DR-554_Manual.pdf

Summary
Instant access to 1,000 cuts
16/24-bit, 44.1/48kHz recording formats
WAV file support
Balanced +4dBu and unbalanced -10dBV audio I/O
Precise editing of heads, tails, fades and levels
Large illuminated buttons for easy hands-on operation
Displays cut names, ID numbers, and length
Store multiple playlists of any size
Usually Sells for $2,779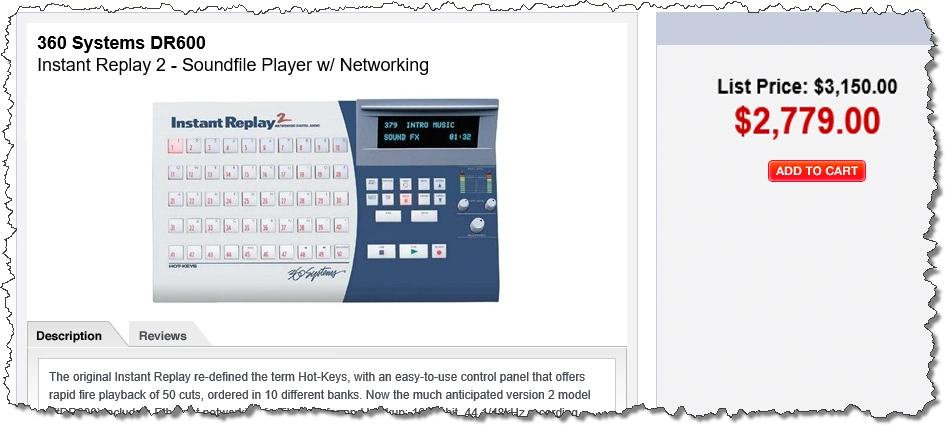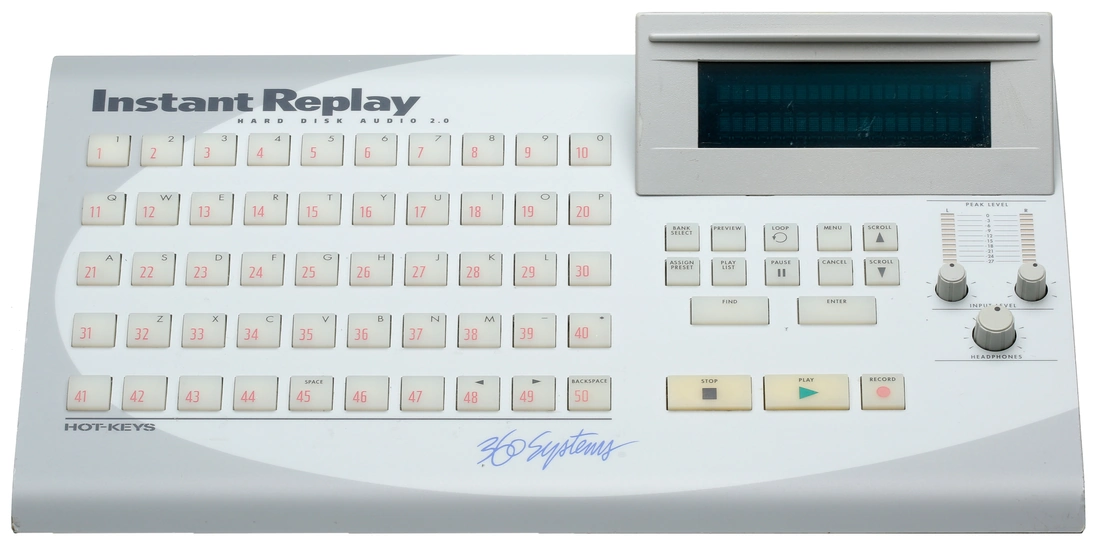 Description
360 Systems' Instant Replay 2 places 1,000 audio cuts at your fingertips! Get instant access to an entire audio library of your own creation.
Pack it up for the road, or install it in the studio or control room. Instant Replay is designed for creative people who need quick response, intuitive operation, and top-quality audio. It's a completely self-contained production studio and spot player in a box. And, unlike PCs, Instant Replay has the immediacy of real buttons.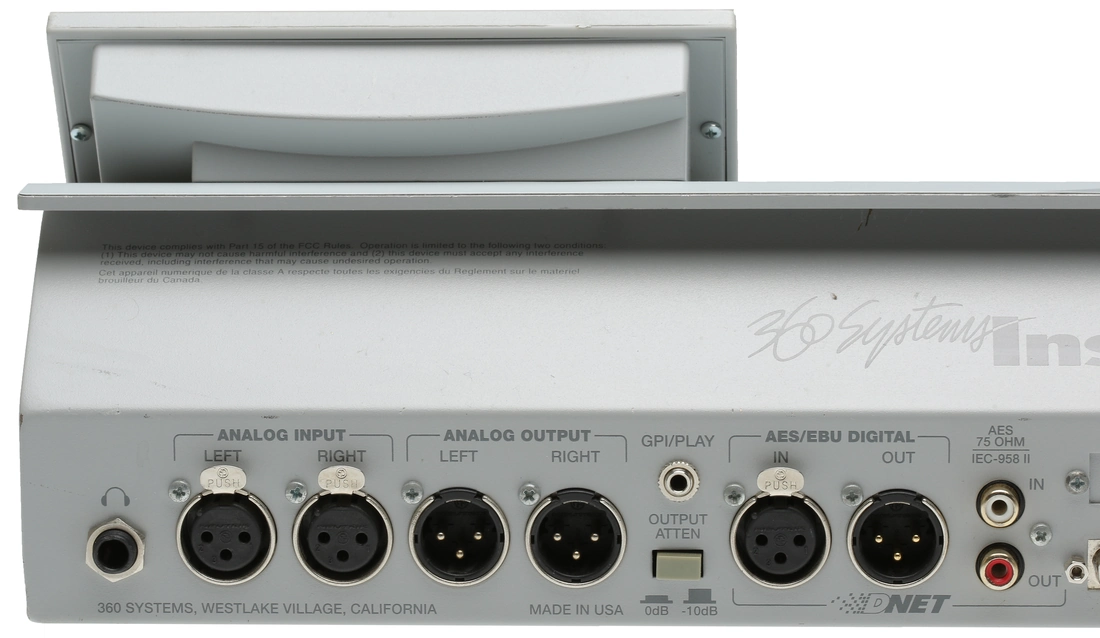 Straightforward controls make operation easy and intuitive. The Instant Replay records better-than-CD-quality audio directly to hard disk, edits it, and then provides playback from 50 Hot-keys. Play your cuts instantly, in any order, as many times as needed. When audio elements are needed in a special sequence, Instant Replay lets you build playlists, and store them for future use.
The Instant Replay stores 24 hours of stereo on its large internal hard disk. There's never a restriction on cut length – record anything from a short sound effect to fulllength musical performances. Instant Replay always delivers premium audio quality, with zero delay.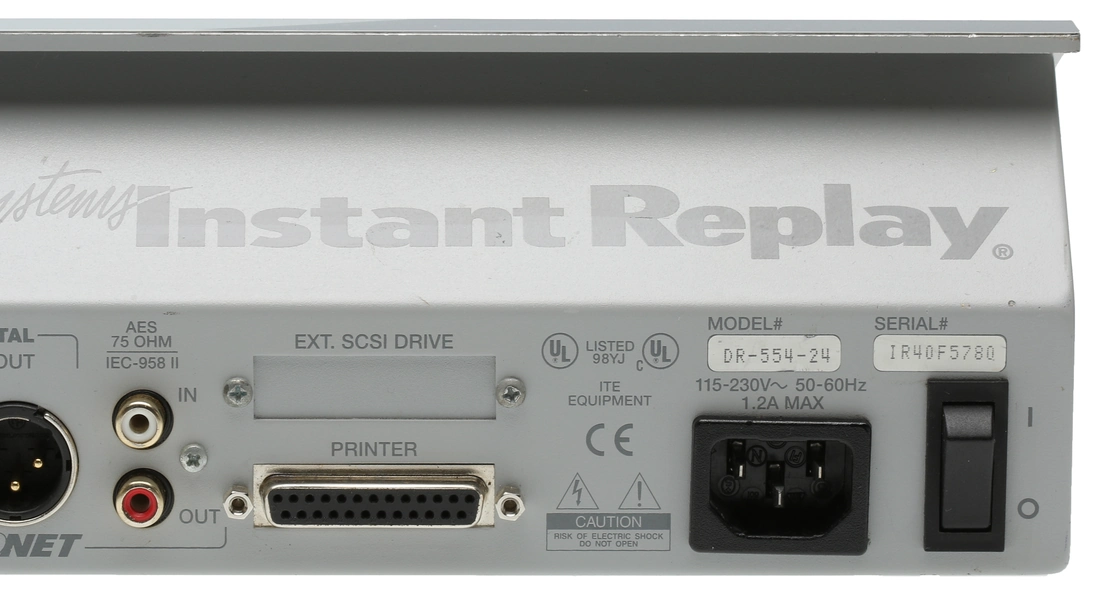 360 Systems' "Dash-E" software includes powerful editing tools like head and tail trims, fade-ins, fade-outs, and even gain changes. Now it's easy to extract sound effects from a bed, or make loops of music and ambient effects.
The Instant Replay arranges cuts in 10 banks of 50, so related sound effects or music cues can be stored together. The built-in keyboard makes it easy to give each cut a name and unique ID number.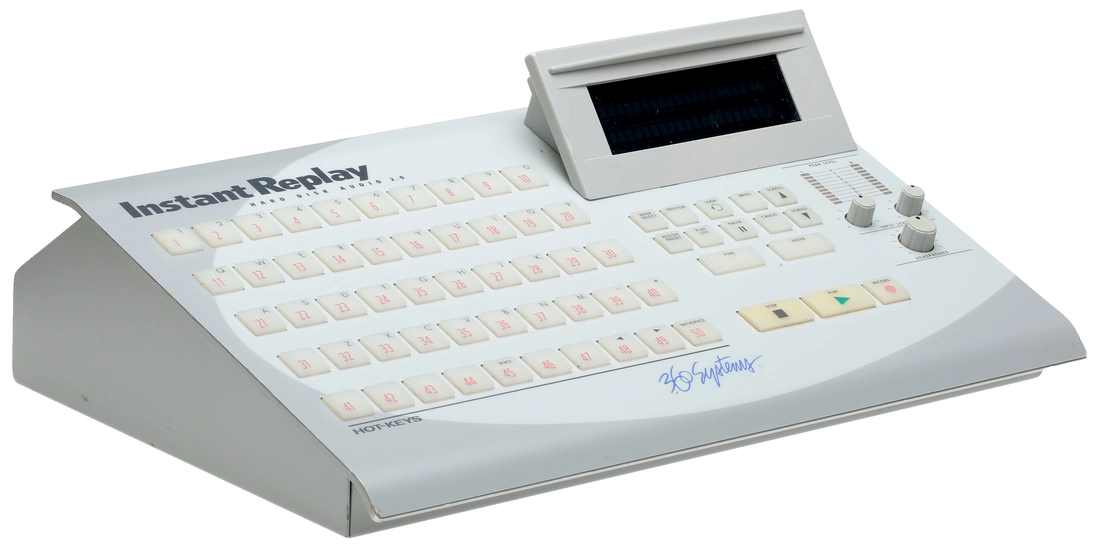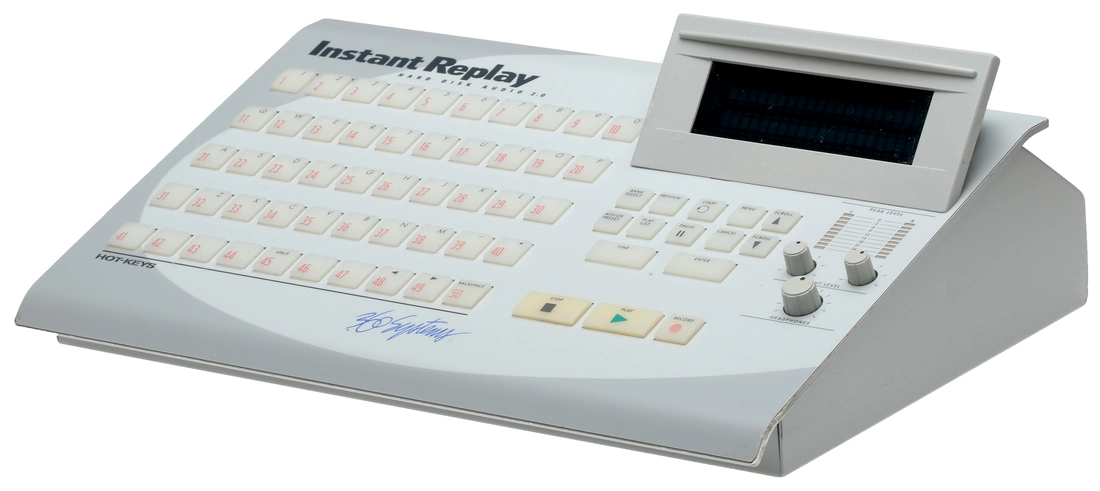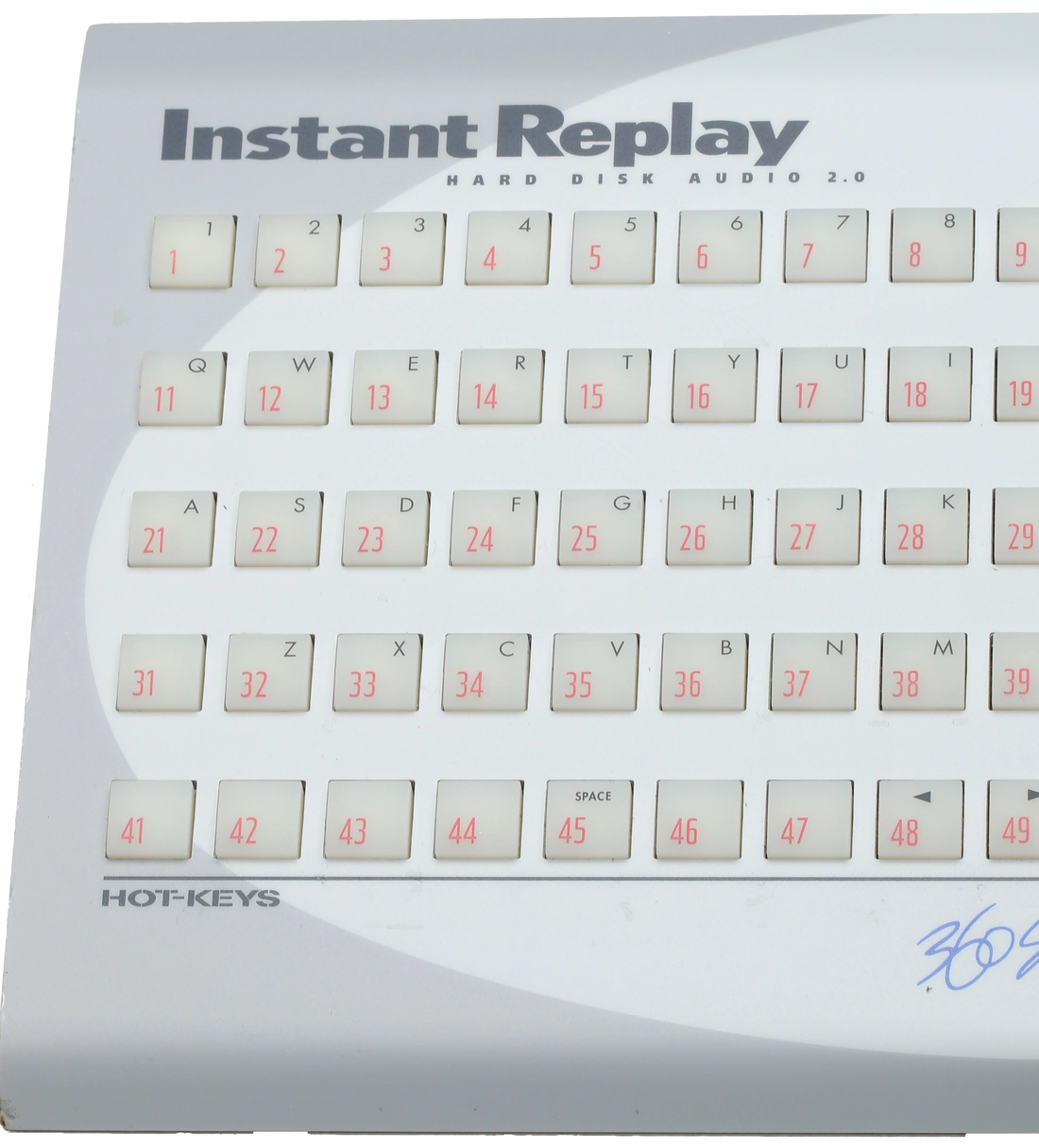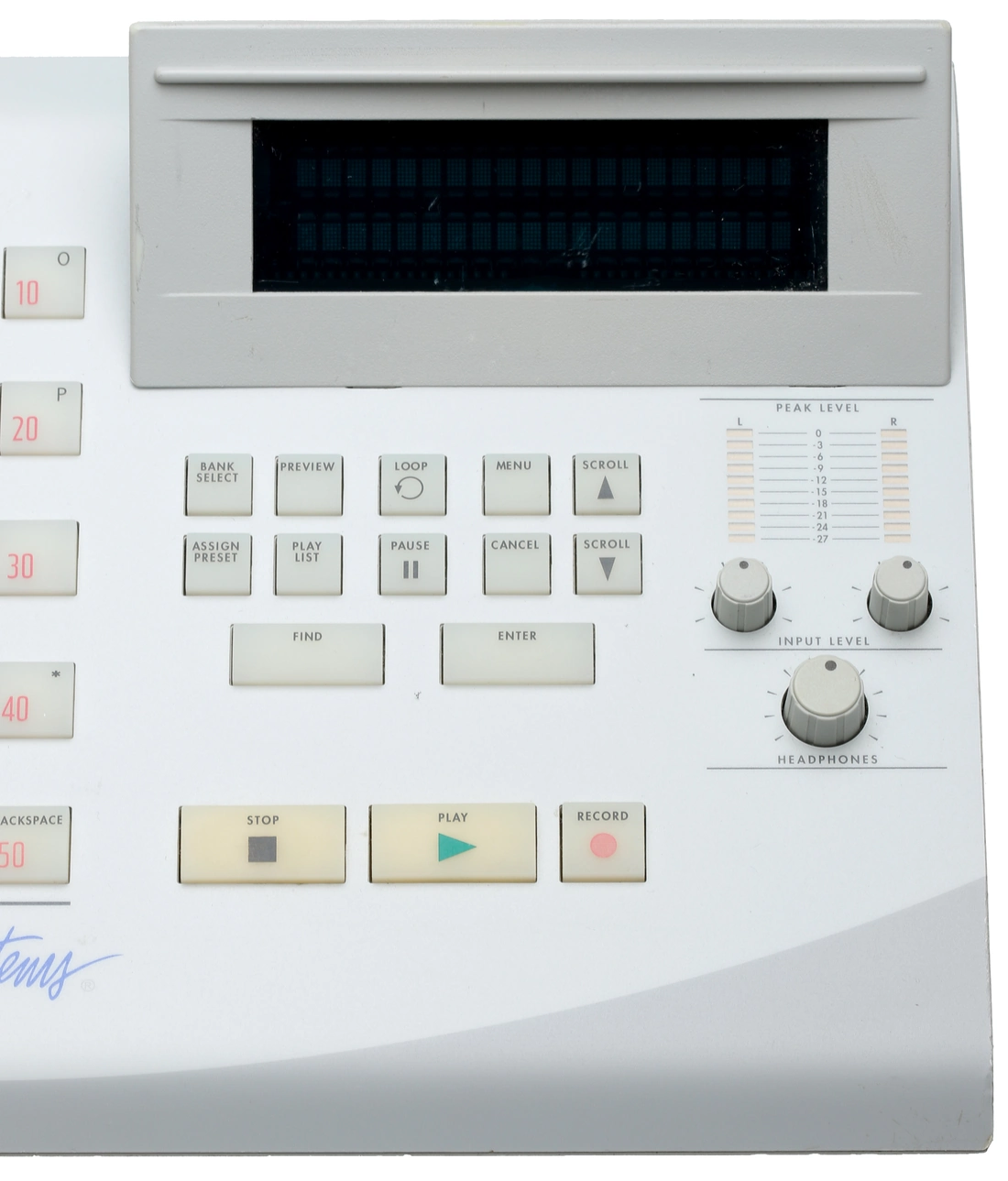 ---
Share this Product
---
More from this collection