Inovonics Omega FM Broadcast/Production AES Digital On Air Multiband Processor [Refurbished]
(
363124652799)

)

Regular price

$925.00

Sale price

$1,355.00

(1 available in stock)

Tested/Guaranteed • AES/EBU and Analog I/O • 4-Band Digital Audio Broadcast/Webcast/Production Processor • Digital Signal Processor for Digital Radio, Internet or TV Use

Actual item for sale

Introduction
A lightly used Inovonics Omega FM 4-band streaming/webcast/podcast/on-air audio processor. It has a stereo generator for on air FM Stereo operation. Pre-emphasis is selectable between none, 50uS and 75uS. The unit is in very good condition with signs of prior use. The unit has been tested to confirm correct operation in both analog and digital modes. No printed manual is included but the Manual may be downloaded here if required (https://www.prostudioconnection.net/2002/Omega_FM_Manual.PDF).
The PC control/configuration software is also available at https://www.prostudioconnection.net/2002/Omega_FM.zip, which will be needed in most circumstances as the front panel controls allow switching between your presets, but not editing the parameters behind them. An RS-232 DB9 (extension/straight-through type) cable will be required as well as a Windows PC with a serial port. The unit is switchable between 115V and 230V for worldwide compatibility. Note that the unit ships set to 115V. Listing comprises the pictured items only, no other accessories, cables, or documents are included.
There's a factory-installed two pin Phoenix connector on the rear panel to switch between the analog and digital inputs. When a loop is applied, the digital input is selected. This would allow a contact closure from an automation system or silence sensor to switch the signal source over to a alternative or back up feed.
This unit I believe is not intended for installation inside an on-air studio as there are a total of three fans to cool the CPU and to drive air in and out of the casing. I think that the fan noise would be a distraction if there were open mics in the vicinity. Usually an item such as this would be located in an engineering racks room, away from prying fingers etc. If you want to use it in a studio then at the least you would need to remove the top cover and maybe replace the case fans with ones with a lower CFM/dB rating.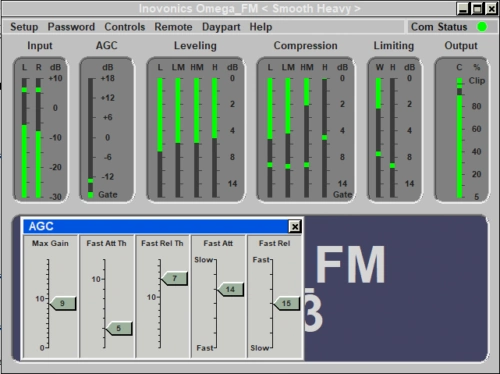 Actual item for sale
Product Information - Audio Processor for Digital Broadcasting/Webcasting
Inovonics' Omega FM is a digital audio processor and FM-stereo encoder for commercial VHF broadcasting. Omega FM differs from other digital broadcast processors in that it uses all-digital signal processing techniques performed entirely in software.
The user interface is simple and straightforward. Omega FM may be used right out of the box with no computer or software commands required. Nevertheless, connecting a PC and running the supplied software places almost all processing parameters under local user control. Favorite setups may be added to the basic factory presets, creating a group of files that may easily be managed or shared among installations.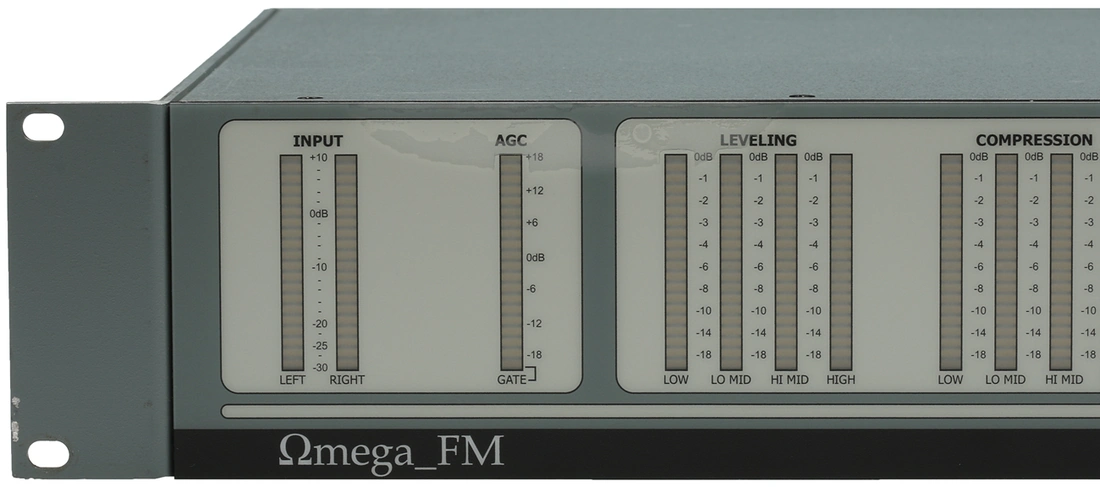 Omega FM offers the following audio processing functions with independently-adjustable parameters:
Slow, 'gain-riding' AGC
4 independent sections of state-variable parametric equalization
Psycho-acoustic bass enhancement
4-band spectrum-consistency leveling
4-band dynamic range compression and graphic equalization
Independent wideband and highfrequency program peak control
Adjustable composite clipping with spectrum filtering option
The composite/MPX FM-stereo baseband is generated digitally as well. The baseband includes the 19kHz stereo pilot and the 38kHz suppressed-carrier difference-signal component.
The Omega FM performs its 'number-crunching' chores using a fast, full-function, internal single-board computer (SBC) mated with a pair of proprietary Inovonics analog/digital I/O interface boards.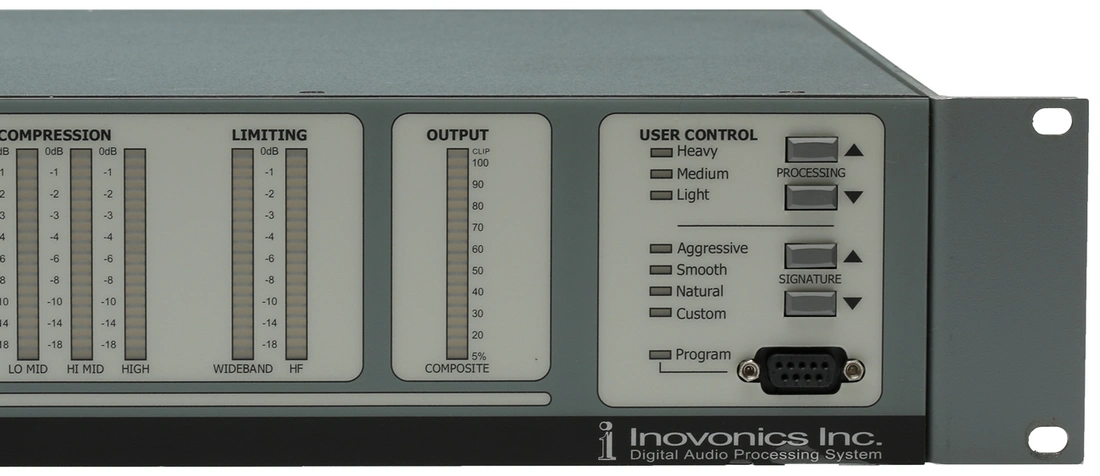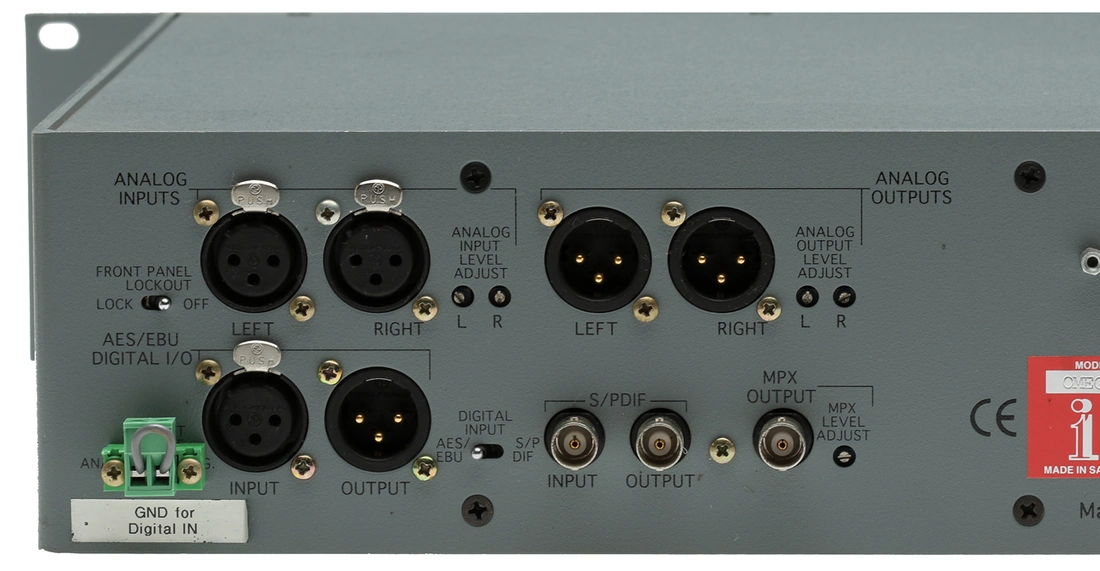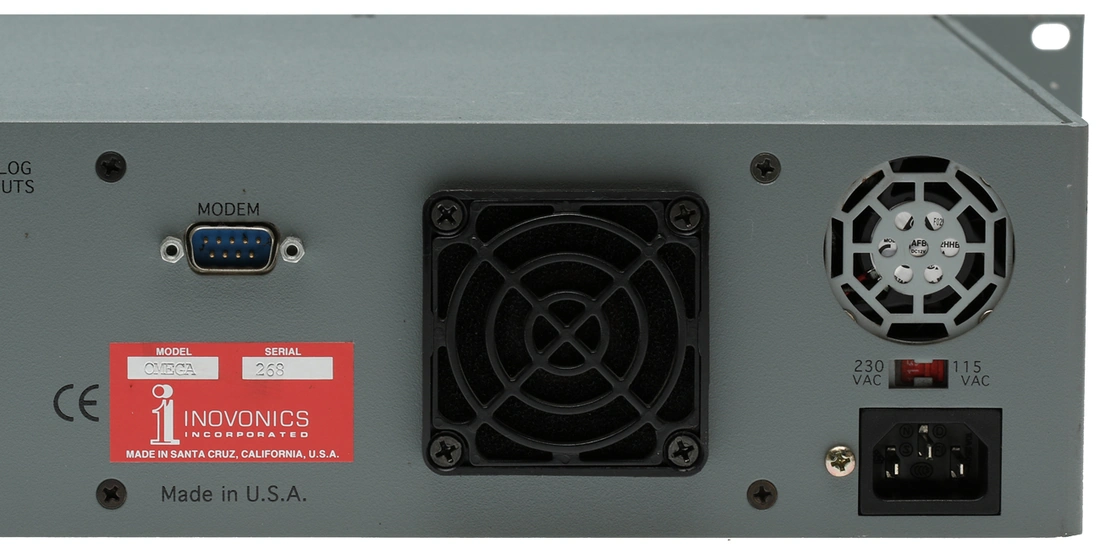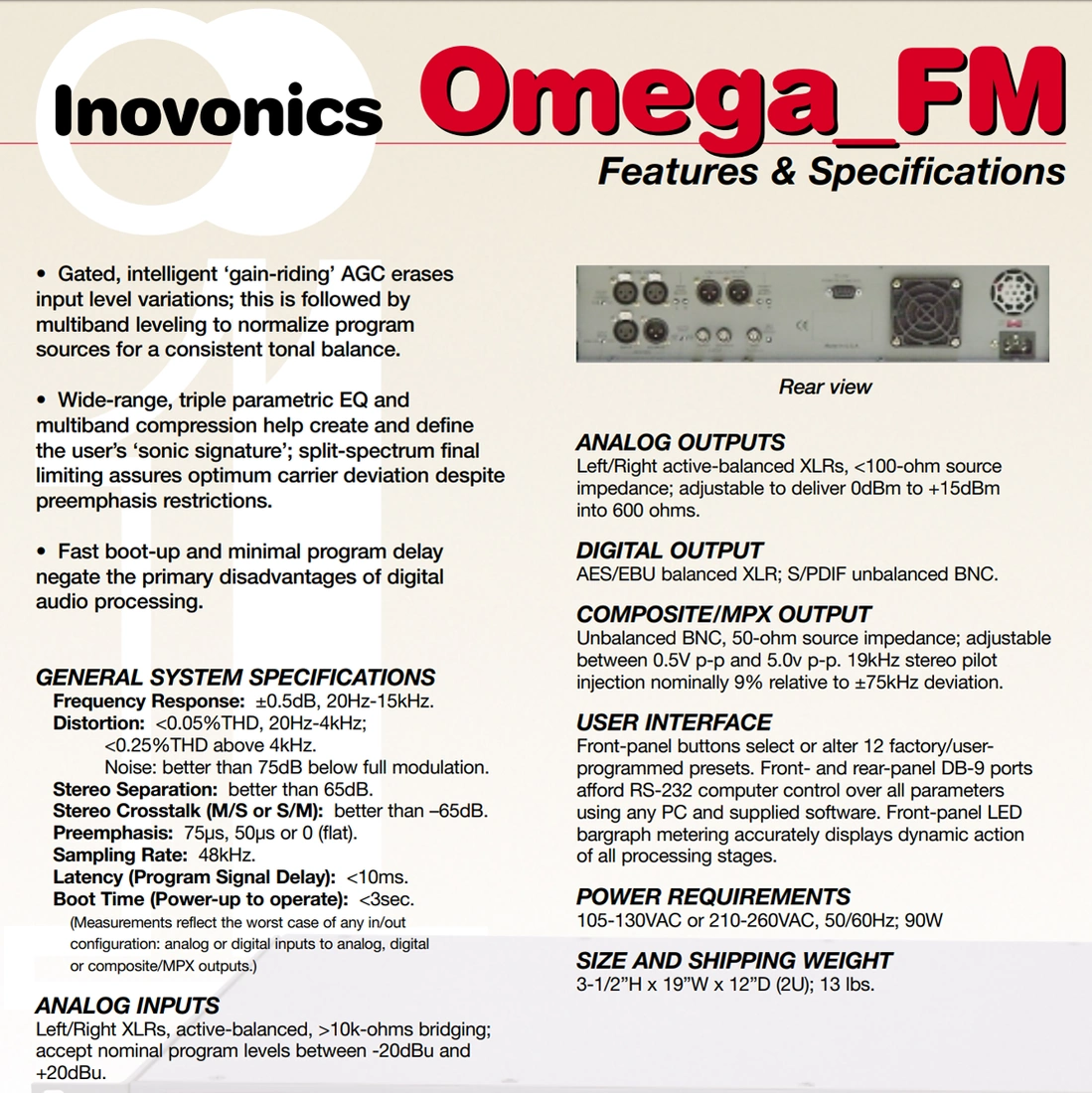 ---
Share this Product
---
More from this collection