Ramsey FM100B 1W EXPORT FM Stereo Low Power Transmitter Church Home Audio LPFM [Refurbished]
(
284812359202)

)

Regular price

$535.00

Sale price

$1,044.00

(0 available in stock)

Fully Assembled • Export Model • High Power 1W Output Power • Very Good Condition • Tested/Fully Working • FM Stereo Transmitter • Great for Church Service or Yard-Casting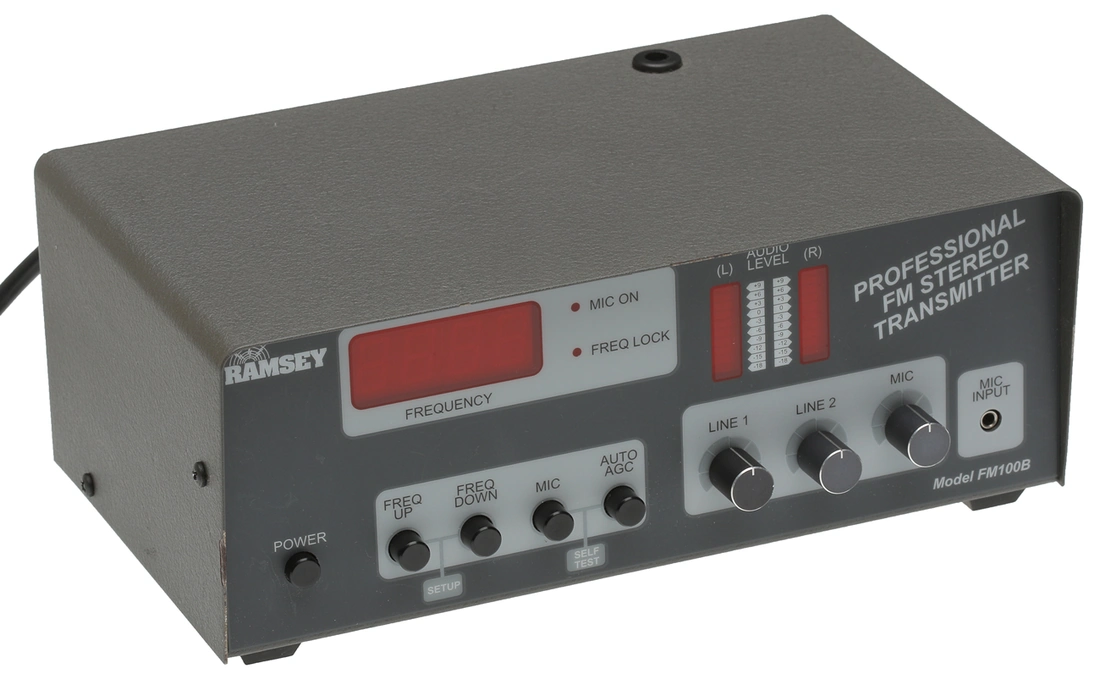 Here's a used top of the line FM transmitter, ideal for sending audio over local distances so that you can listen to your church services, webinars, drive-in movie audio, internet radio, MP3's etc while wandering around your house, yard parking lot etc. Based upon the installed final power amplification stage (see interior photos) I believe that this is the FM100BEX Export version with about 1W output power. The actual output power can be adjusted via R36 on the circuit board. This variant does not have a interior mounting screw for a telescopic antenna as you can't use one at the higher power as the lack of accurate antenna tuning will burn out the power amplifier. So this needs to be used with a matched antenna [not included] connected to the rear panel F-Connector. Important: if you power it up with no antenna connected (or with an untuned antenna) you will most likely burn out the final output stage. Full product details may be obtained from the user manual at https://www.prostudioconnection.net/2007/Ramsey_FM100B_Manual.pdf. For greatest range, a roof mounted antenna will get better results (as will just raising any matched antenna). This is a fully-built unit which the factory no longer sells.

Note: The purchaser is responsible for complying with all FCC rules & regulations within the US or any regulations of their respective governing body and by purchasing indemnifies the seller against any consequences from their improper use of this equipment.

Features
Built-in mixer - 2 line inputs and one microphone input, line level monitor output!
Frequency range 88.0 to 108.0, 100 kHz steps
Precision active low-pass "brick wall" audio filter!
Clean, filtered RF output suitable for RF amplification
Dual LED bargraph audio level meters!
Automatic microphone ducking!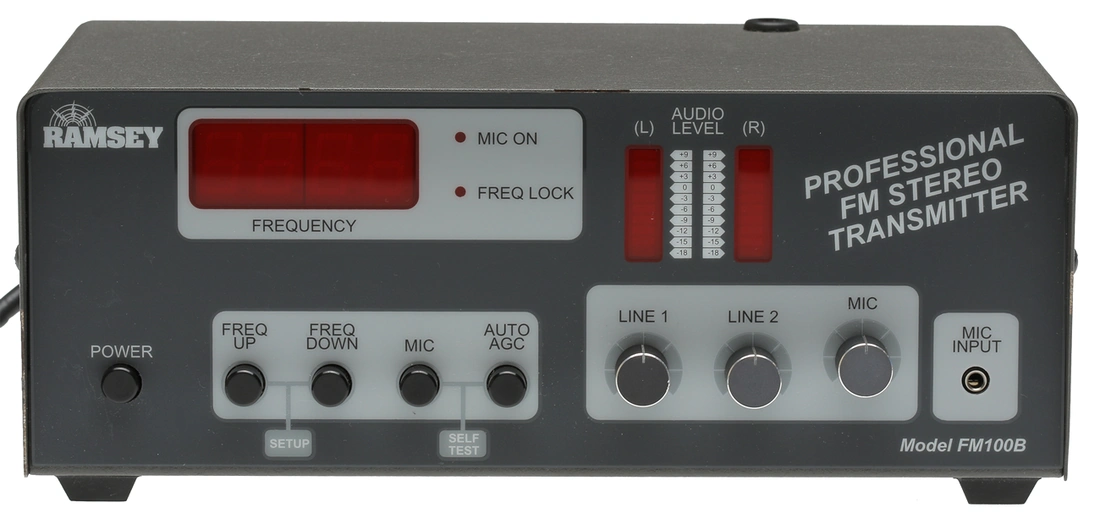 Description
The true professional workhorse, the FM100B has become the transmitter of choice for both amateurs and professionals around the world. From the serious hobbyist to churches, drive-in theaters, colleges and schools, it continues to be the leader. Not just a transmitter, the FM100B is a fully functional radio station and provides everything but the audio input and antenna system.
Full details are available from the User Manual
(https://www.prostudioconnection.net/2007/Ramsey_FM100B_Manual.pdf)
This professional synthesized transmitter is adjustable directly from the front panel with a large LED digital readout of the operating frequency. Just enter the setup mode and set your frequency. Once selected and locked you are assured of a rock stable carrier with zero drift. The power output is continuously adjustable throughout the power range of the model selected. Audio quality is equally impressive. A precision active low-pass brick wall audio filter and peak level limiters give your signal maximum "punch" while preventing overmodulation. Two sets of stereo line level inputs are provided with front panel level control for both. Dual front panel LED bargraph meters provide left and right channel audio level metering. In addition to the line level inputs, there is a separate microphone input with a built-in mic mixer to control the level. Not enough? How about unattended microphone ducking! When enabled, the presence of mic audio automatically reduces and overrides the line level input! Just like the professional units at a fraction of the cost.
The FM100B includes an attractive metal case, a whip antenna and internal power supply.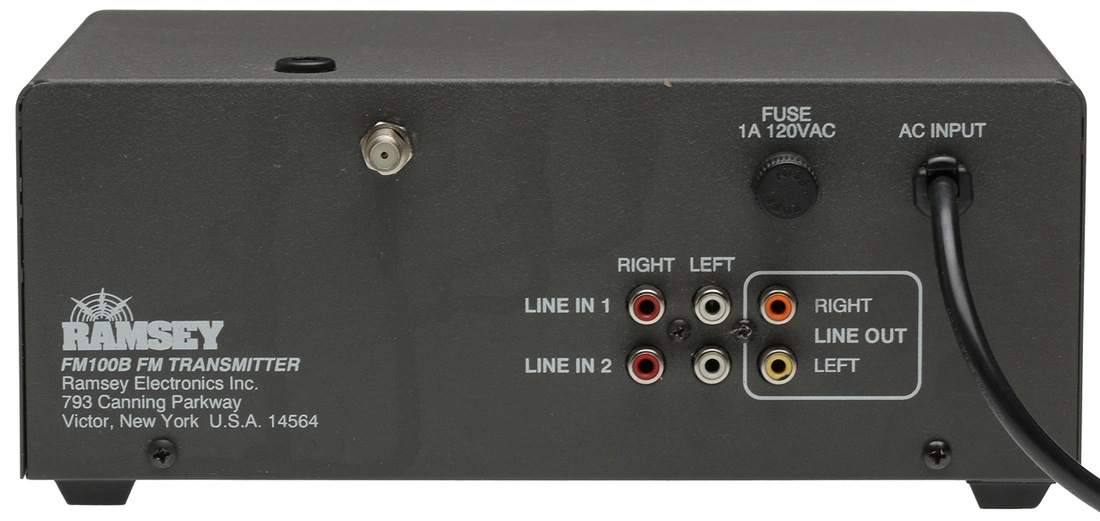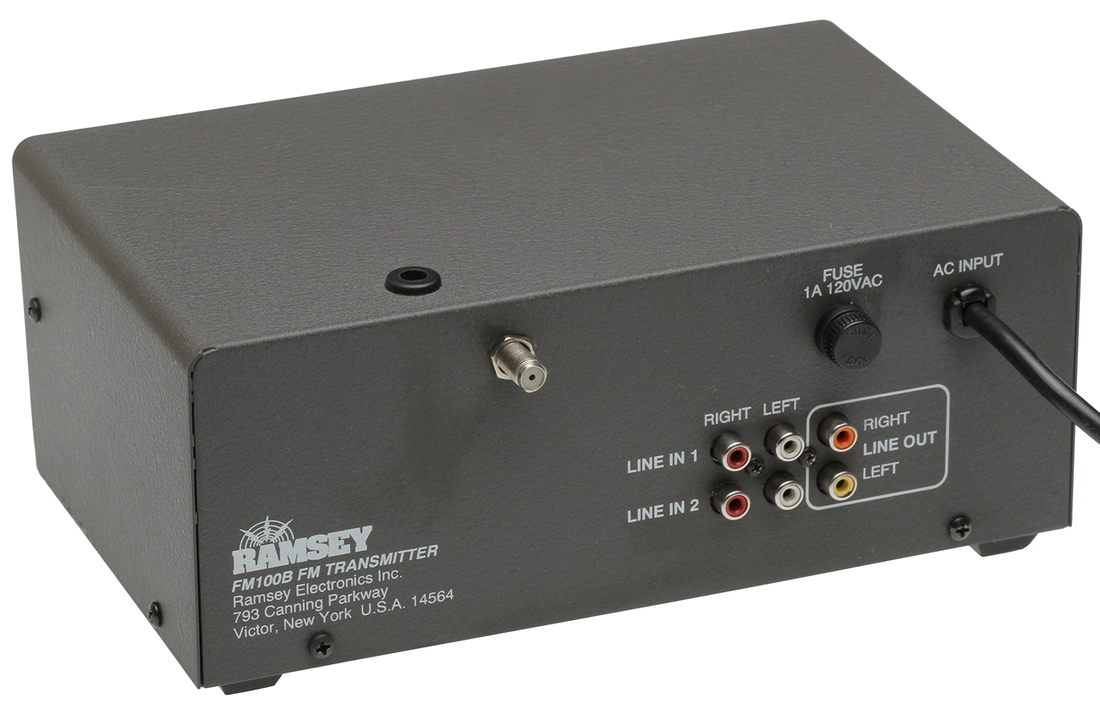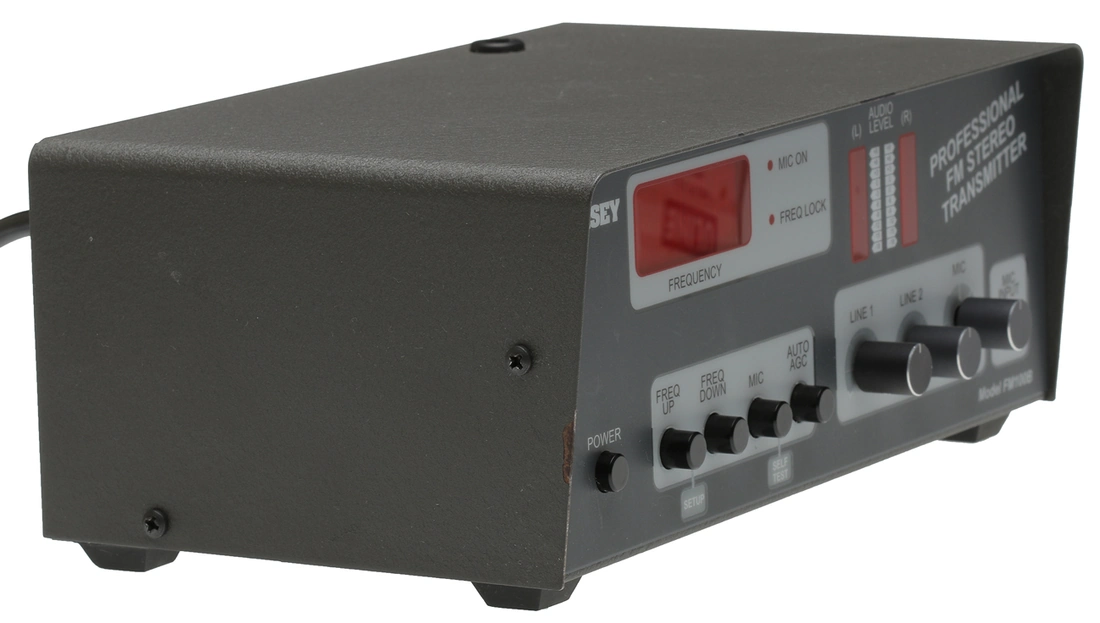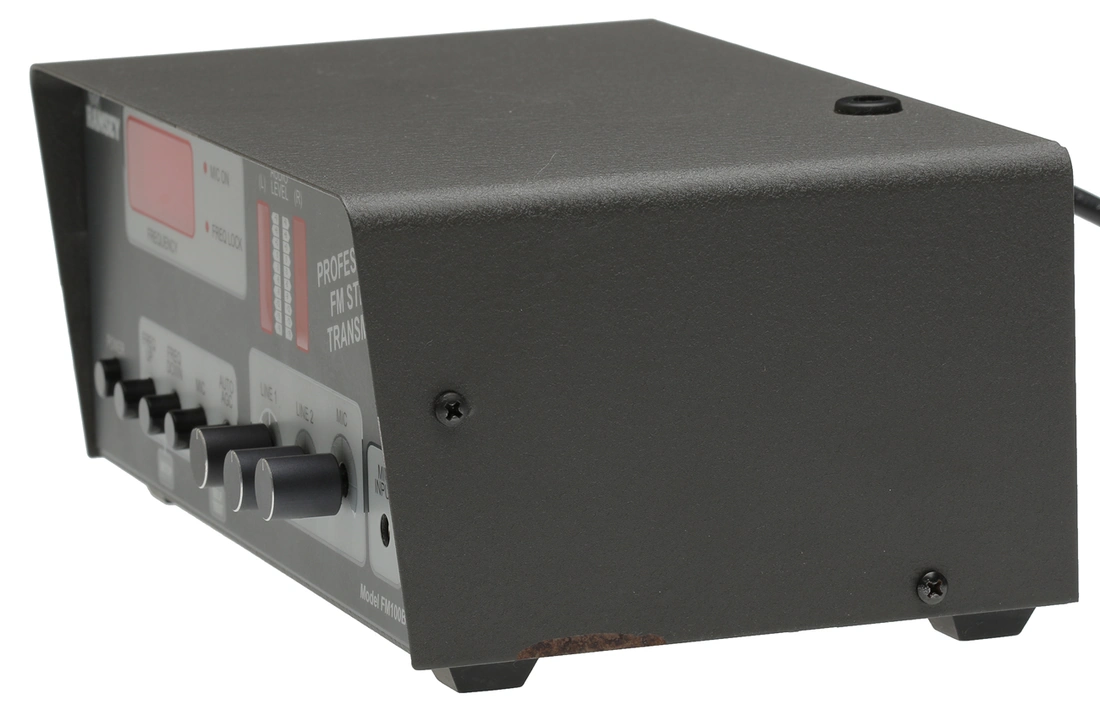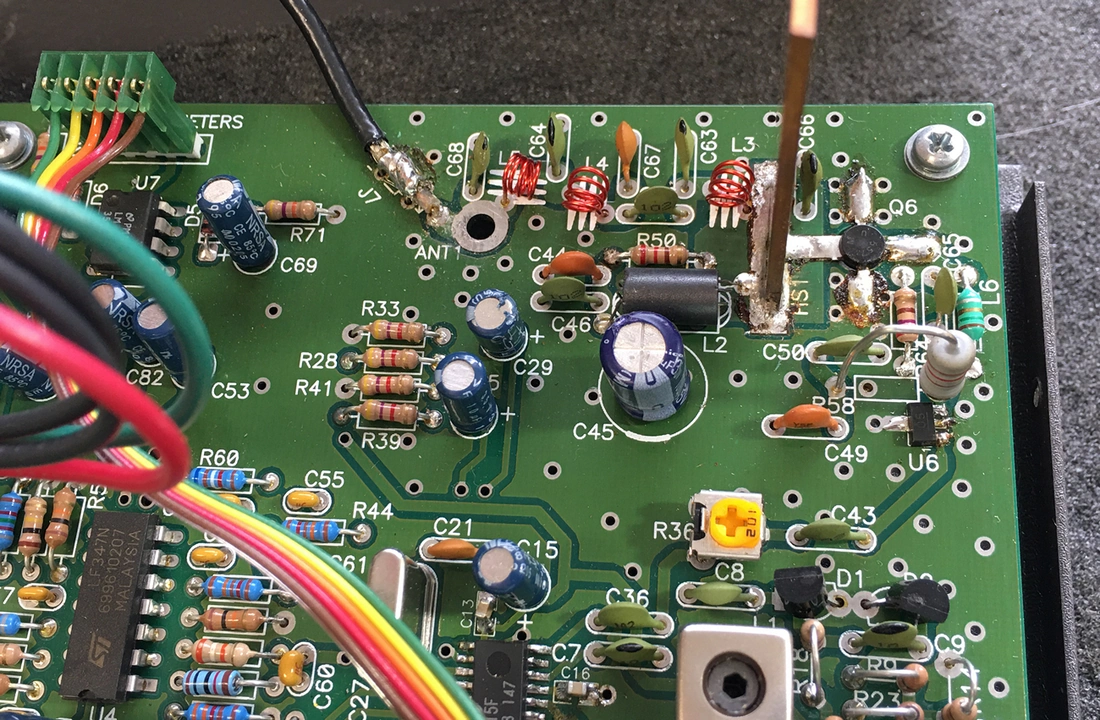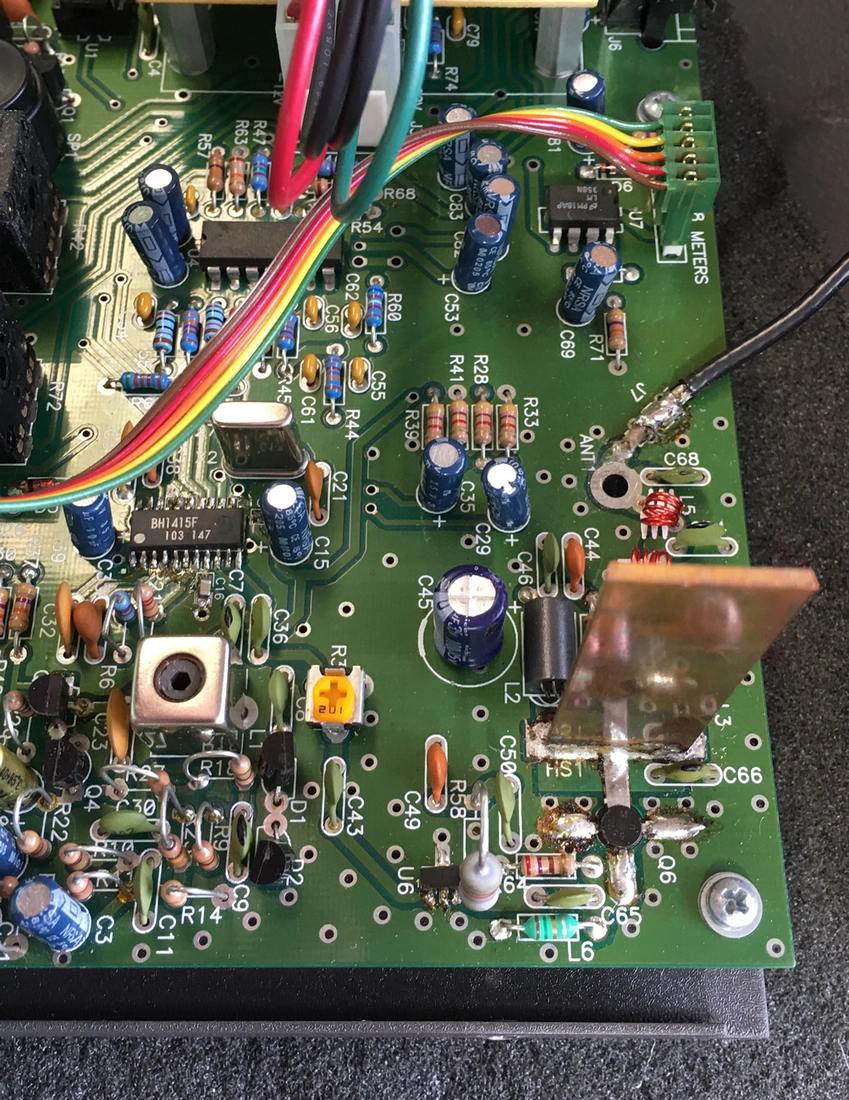 ---
Share this Product
---
More from this collection