Orban Optimod 5300 FM Digital AES 5-Band Broadcast Audio Processor & Stereo Gen
(
363834235015)

)

Regular price

$2,712.00

Sale price

$3,886.00

(1 available in stock)

New Old Stock • Mint Condition • Tested/Guaranteed • Fully Working • AES and Analog I/O • Stereo Generator Encoder • 5 Band On Air Processor for FM Radio


Photos show the actual item for sale


New old stock, never deployed, in mint condition, with accessory pack. Ships in plain packaging.  Latest firmware. Fully working.  Usually sells for $5,490. Control software and documents can be downloaded from ftp://ftp.orban.com/5300/
Introduction
Orban's all-digital OPTIMOD-FM 5300 Audio Processor can help you achieve excellent audio quality in FM stereo broadcasting. Because all processing is performed by high-speed mathematical calculations within Motorola DSP56362 Digital Signal Processing chips, the processing has cleanliness, quality, and stability over time and temperature that is unmatched by analog processors. OPTIMOD-FM 5300 is descended from the industry-standard OPTIMOD-FM audio processors. Thousands of these processors are on the air all over the world. They have proven that the "OPTIMOD sound" attracts and keeps an audience even in the most competitive commercial environment.

Optimod-FM 5300 put coveted five-band and two-band Optimod processing into a single rack unit package and brings it to you at the most affordable price ever. Quality sound is what 5300 is all about—sound that attracts audiences by providing a polished, professional presentation regardless of format and source material. Exceptional versatility allows you to adjust the processor's audio texture to brand your audio, knowing that the resulting signature sound will remain consistent, cut-to-cut and source-to-source. Branding builds businesses and no other processors have the consistency to brand your sound like Optimods.
Usually Sells For $5,490


With the 5300, your signature sound is just a preset away. An easy, one-knob Less/More adjustment allows you to customize any factory preset, trading cleanliness against processing artifacts according to the requirements of your market and competitive environment. Full Control gives you the versatility to customize your audio further. And, if you're a hard-core processing expert, you can explore Advanced Control to tweak presets at the same level as Orban's factory programmers.

Further information may be obtained from the User Manual at
https://www.prostudioconnection.net/2106/Orban_5300_1.1.3_Operating_Manual.pdf

This versatility makes the 5300 a superb choice for any format. Its five-band processing is ideal for any pop music format (even the most competitive and aggressive CHR), while phase-linear two-band processing yields ultra-transparent sound for classical, classic jazz, and fine arts formats. Regardless of your choice, 5300's optimized technology ensures unusually high average modulation and coverage for a given level of subjective quality. Unlike many lesser processors, the 5300 handles speech particularly well—it's always clean, even when you process for loudness.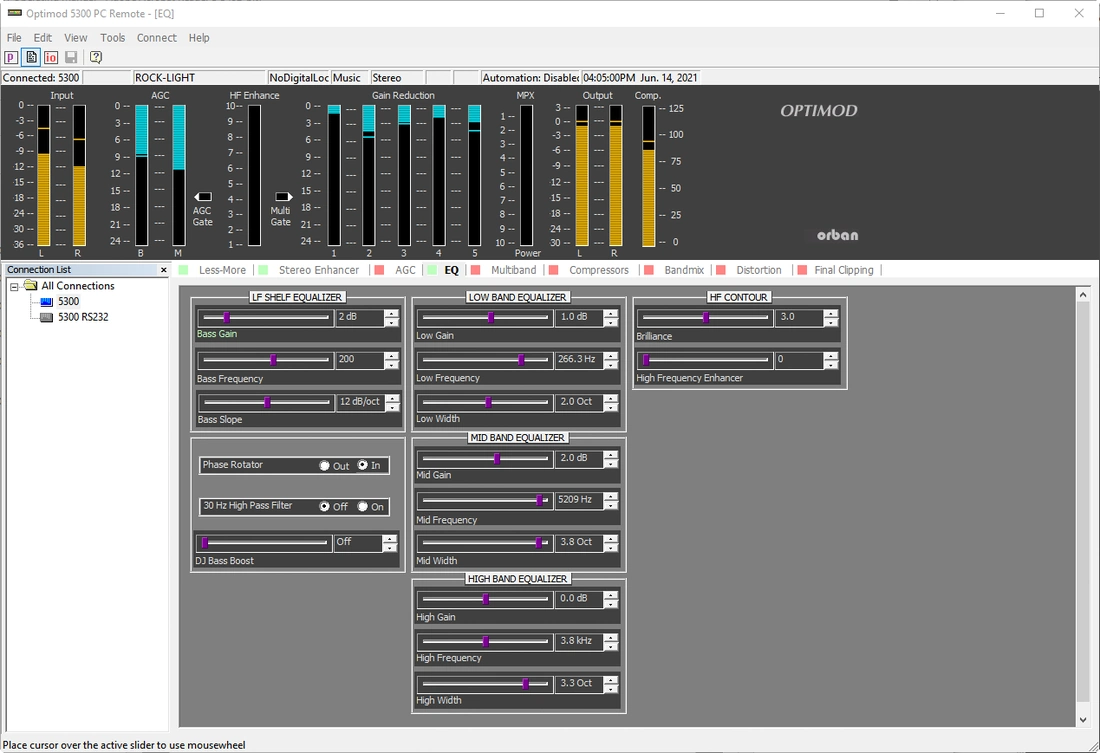 Versatility doesn't stop with sound. The 5300's built-in stereo encoder, AES/EBU digital inputs and outputs, and analog I/O permit hassle-free interfacing to any broadcast plant, whether the 5300 is located at the studio or the transmitter. Tight band limiting to 15 kHz means you can use any uncompressed digital STL to pass 5300-processed audio from studio to transmitter without compromising on-air loudness—there's no need to use STLs having 44.1 or 48 kHz sample rates.

If you want to locate the 5300 away from the studio, you'll be pleased by its three separate remote control ports—GPI contact closures, RS232 serial, and built-in Ethernet for TCP/IP networks. The serial and Ethernet ports are supported by the 5300 PC Remote Control application. This Windows application allows you to do even more with the 5300 than you can do through its front panel, making remote control a pleasure.



Built-in clock-based automation lets you automatically daypart the processing. You can control many other 5300 operating parameters too; the 5300's feature set fully exploits the processor's DSP and computer-based control architecture. To ensure absolute accuracy, you can automatically synchronize the clock to an Internet timeserver. If you're concerned about latency because you need to feed live talent headphones off air, be assured that the 5300's ultra-low-latency (5 ms delay) processing will keep the most finicky talent happy. Or use optimum latency (15 ms delay) processing for the most competitive sound with delay that's still low enough to satisfy most any talent.


---
Share this Product
---
More from this collection