CircuitWerkes MicTel Broadcast Phone Handset Line Tap Audio Interface with PSU [Refurbished]
(
363580469843)

)

Regular price

$142.00

Sale price

$268.00

(1 available in stock)

A Modern Day Improved Version of the Gentner Microtel • Connects Regular Telephone to Studio and Acts as Mini-Mixer • CircuitWerkes 'MicTel' Broadcast Telephone Interface/IFB Feed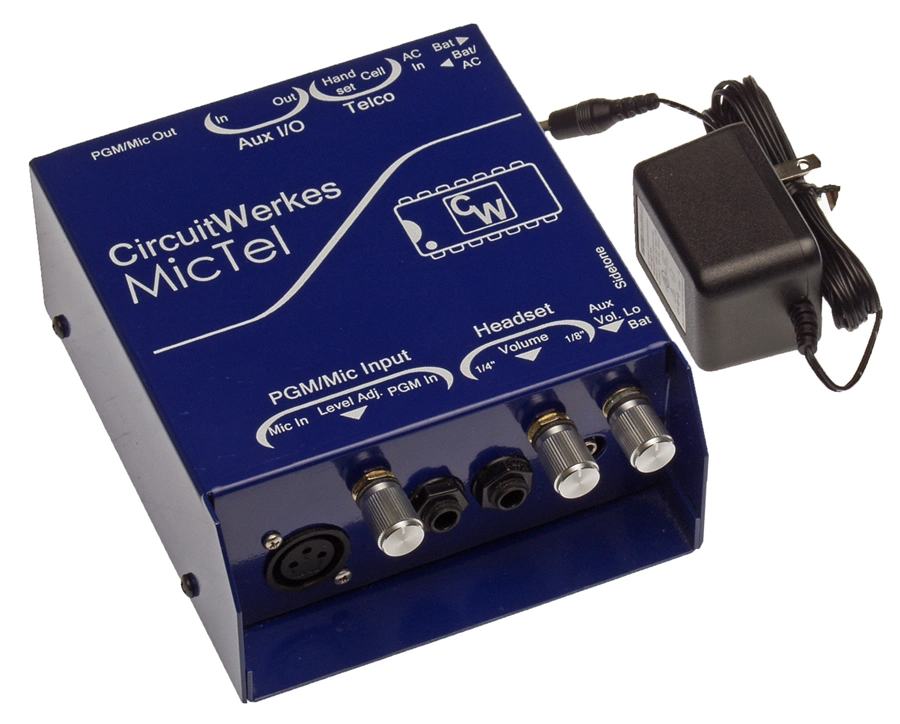 Item is possibly never used.  It ships in plain packaging. No manual is included but it may be downloaded here if required [https://www.prostudioconnection.net/1404/CircuitWerkes_MicTel_Manual.pdf]
Description
MicTel is a small, battery operated "mini mixer" that connects to the handset jack of your telephone for easy connection to the phone line. It is not a telephone coupler — MicTel does much more than standard couplers. With MicTel, you can easily accomplish the following:
Full details may be obtained from the User Manual
(https://www.prostudioconnection.net/1404/CircuitWerkes_MicTel_Manual.pdf)
News reports — feed a complete story,with taped sound bites, without pausing or taking apart a telephone to send the audio to the station.
Business, weather, ski reports — MicTel sets up easily in an office, allowing you to send your reports to their destination with a professional sound.
Remote broadcasts — Use Microtel as a backup to your RPU or frequency extension equipment, or send it out with your air talent on sales remotes. With its mic input and built-in headset amplifier, MicTel is easy to set up and use.
IFB — MicTel is ideal for IFB via telephone. Its two-way, hands-free communication path allows producers to talk easily with remote site personnel.
Sales people — Replace your telephone handset with MicTel and a mic/headset combination. Talk with your clients, send sound bites down the phone line etc, while keeping your hands free to write down important information.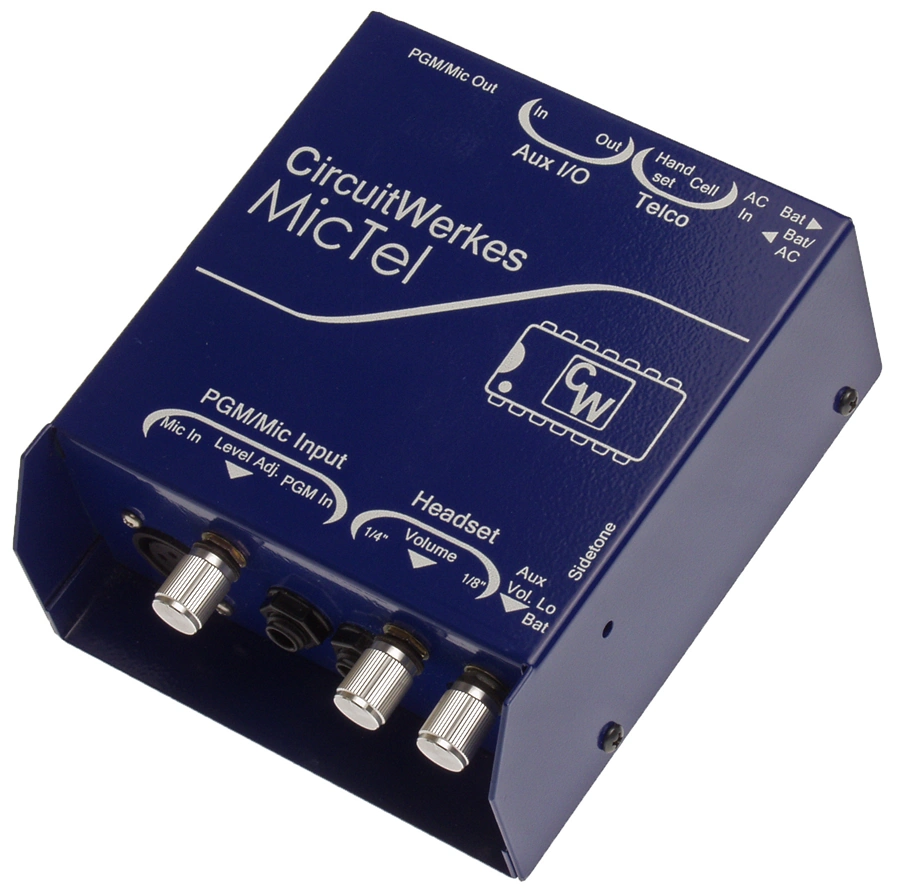 Operation
The MicTel replaces the handset of the telephone to provide high-quality audio for feeding and receiving information.
For non-telephone work, its balanced, studio quality inputs and outputs make it an excellent audio interface device for all kinds of remote or in-studio work. The aux. audio channel drives the headphones giving you a portable field amplifier with an IFB feed for your headphones in one compact box.
The MicTel includes a line-level, balanced input for mixing in tape players, etc.
Along with high quality audio, the MicTel features audio limiters in both the send and receive channel. These limiters are user-defeatable and begin working at about +3dBm of output. The limiter works by automatically reducing the gain of the device during high-output, peak audio thereby preventing clipping, output distortion or overdriving the telephone line.
Its audio & battery specifications will provide long life and "Broadcast Quality" audio production.
The MicTel is a great addition to your remote setup. Whether you're doing news / sports actualities, general remote broadcasting, or you just need a great little mini-audio work station for your studio, you'll appreciate the versatile features & performance of the MicTel.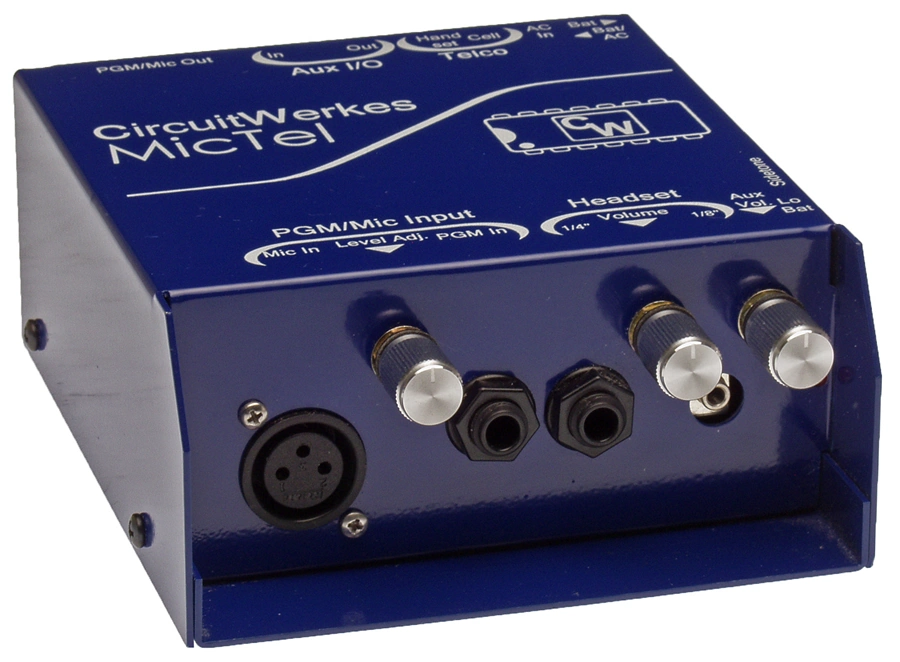 Key Features
Outputs for telephone handset, cellular phone or balanced line level at up to +10dBm.
Audio inputs from phone handset, cell phone or balanced line.
Program bus is fed by balanced mic preamp and an auxiliary balanced line input.
Individual gain controls for send, receive and headphones levels.
High quality, user-switchable, internal limiter prevents clipping.
Has both 1/4" and 3.5mm stereo headphone/cue jacks.
Headphone amp has a variable level balanced input and adjustable sidetone so you can monitor an IFB or cue return source AND/OR your program audio.
Rugged design & Long life potentiometers for extra years of trouble-free broadcasts.
Industry standard XLR mic and program output connectors.
External power input with silent, auto-switching battery backup & low battery indicator
Uses two 9V batteries or an external AC adaptor (not included, OEM spec is 15V DC @200mA, center positive).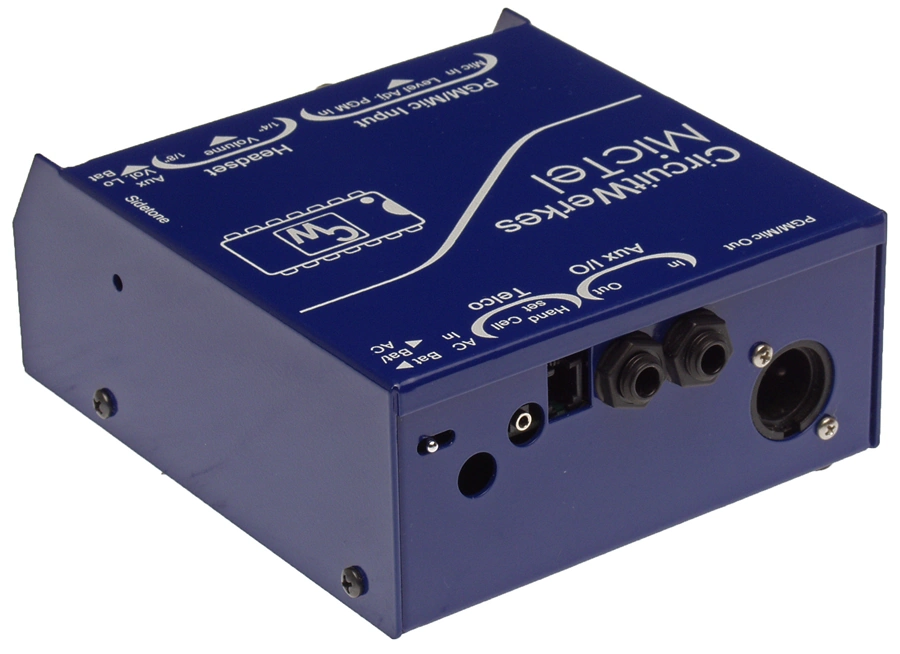 How MicTel is Improved over Gentner Microtel

The new MicTel features many improvements over the original Microtel that was first built in the early 1980s. Some of the improvements include:

The original Microtel had unbalanced inputs but the MicTel is active, balanced for both inputs and outputs.
The MicTel's battery life is about 20 to 30+ hours compared to about 12 hours for the Microtel.
The Microtel's maximum output level was about -1dBm, but the MicTel has a M.O.L. of about +10dBm.
The MicTel has defeatable safety limiters to prevent line overload which the Microtel did not offer.
The MicTel headphone output is driven from its own volume control which is different than the aux. (receive) control. The Microtel's headphone volume was only controlled by the aux. gain control.
The MicTel has a side tone adjustment for increasing the amount of send audio that you can hear in your headset. The sidetone can be applied to the headset only or to the entire aux audio chain making the studio mic sound more natural during interviews. The sidetone audio can be completely defeated when the MicTel is being used for translation services, etc.
Additional Resources
Manufacturer's Webpage [http://www.broadcastboxes.com/products/MicTel-lit.html]

Product Manual  [https://www.prostudioconnection.net/1404/CircuitWerkes_MicTel_Manual.pdf]

Typical Specifications
- Physical Dimensions: 6" L x 2-1/8" H x 5-1/16" W
- Weight: approx. 1.5 lbs without batteries.

- Power Supply Requirements: 12-16VDC or AC @ 200mA minimum. Polarity insensitive
OR
- Two (2) 9V Alkaline Batteries, Battery life nominally 20-35 hours, depending on usage.

- Indicators: LED Low Battery Warning. Gives 15 to 45 minute battery life warning.
- Connectors:
- Microphone XLR - F (Balanced Input)
- PGM/Mic Out XLR - M (Balanced Line level)
- PGM In ¼' TRS (Balanced Line level)
- Headset ¼" and 1/8" Unbalanced
- Aux I/O In & Out ¼" TRS (Balanced Line level)
- Handset RJ-9
- Cellular 2.5" mini TRS (tip = send, ring = rcv)
- Power jack One standard 5.5mm barrel with 2.1mm id
- Audio Amplifier:
- Input Level Impedance
- Mic -60dBm >300 Ohms balanced
- PGM -10 dBm >10k Ohms balanced
- Aux I/O In -10 dBm >10k Ohms balanced
- Output Level Impedance
- Headset +4 dBm 8 Ohms min
- Mic/PGM Out +10 dBm (50Hz - 14kHz) 600 Ohms
- Aux I/O Out +10 dBm (50Hz - 15kHz) 600 Ohms
- Handset Transmit -3 dBm Max (300Hz - 3kHz) 600 Ohms
- Distortion Less than .1%25 (no limiting)

- Limiter:
- Threshold Level = +3 to +5dBm at MicTel's Output
- Slope = .2dB of output per 1dB rise at input
- Maximum compression = 20dB
- Maximum distortion at 10dB of limiting = less than 1%25

- Power:
- Two 9Volt Alkaline batteries or 12-16Vdc external power w/auto-switched backup
- Nominal current consumption
- 55mA at full output
- 22mA at idle current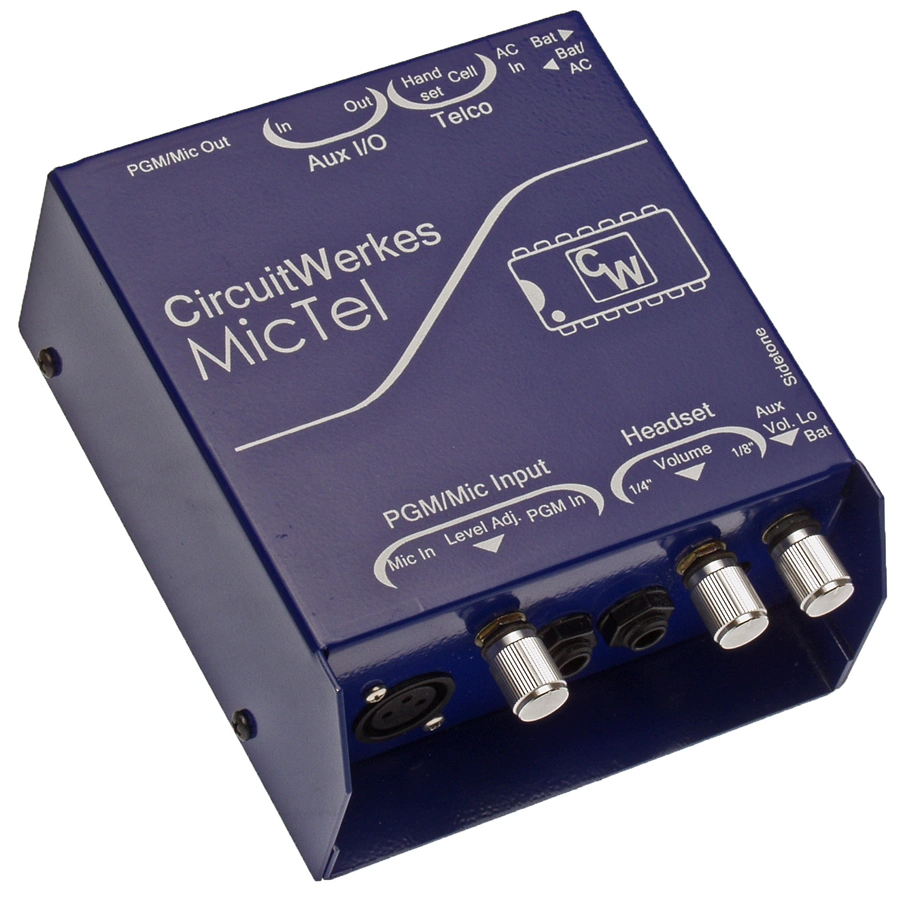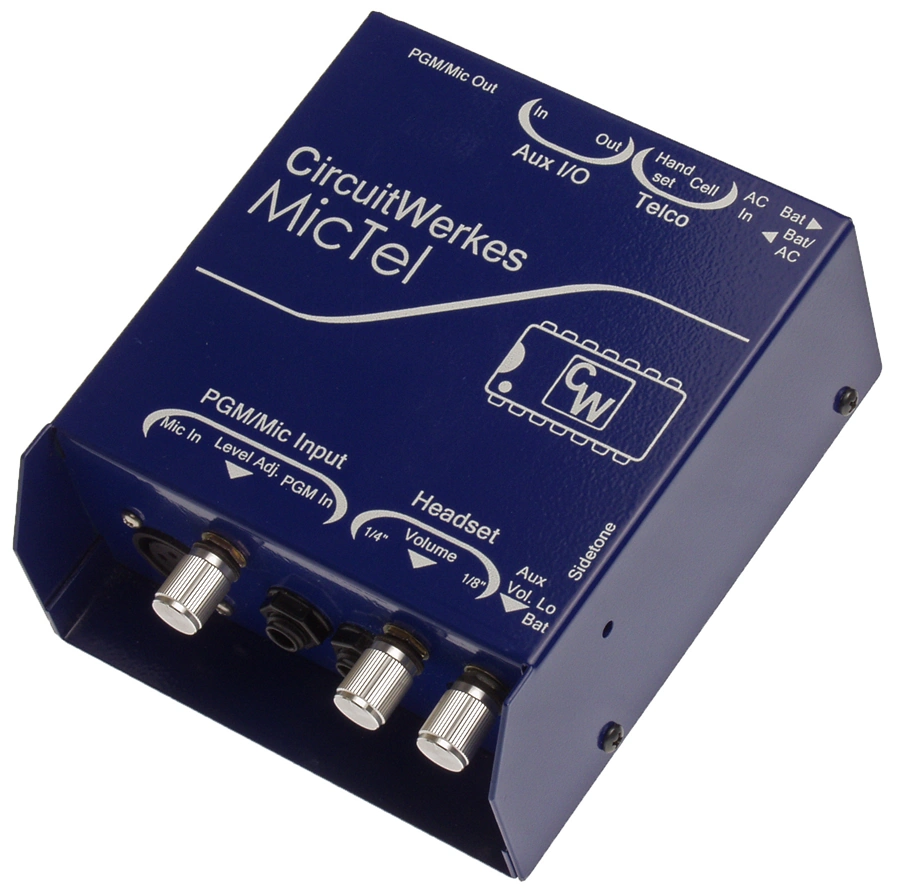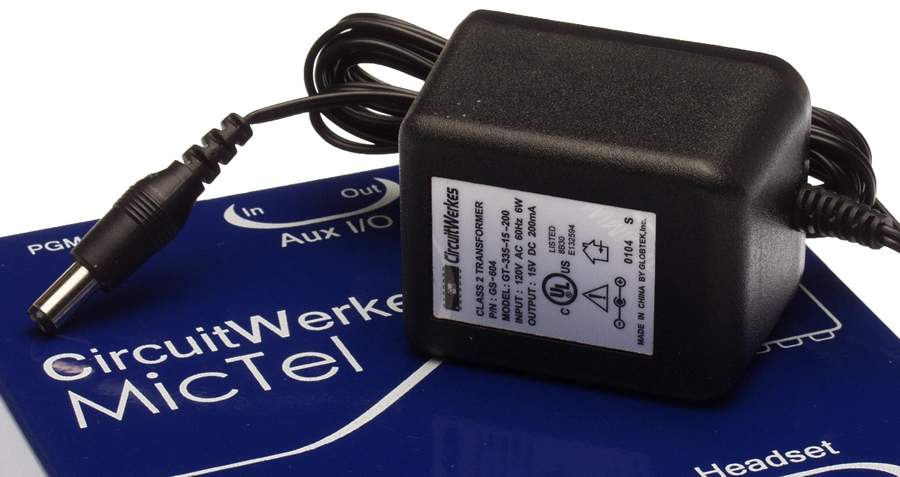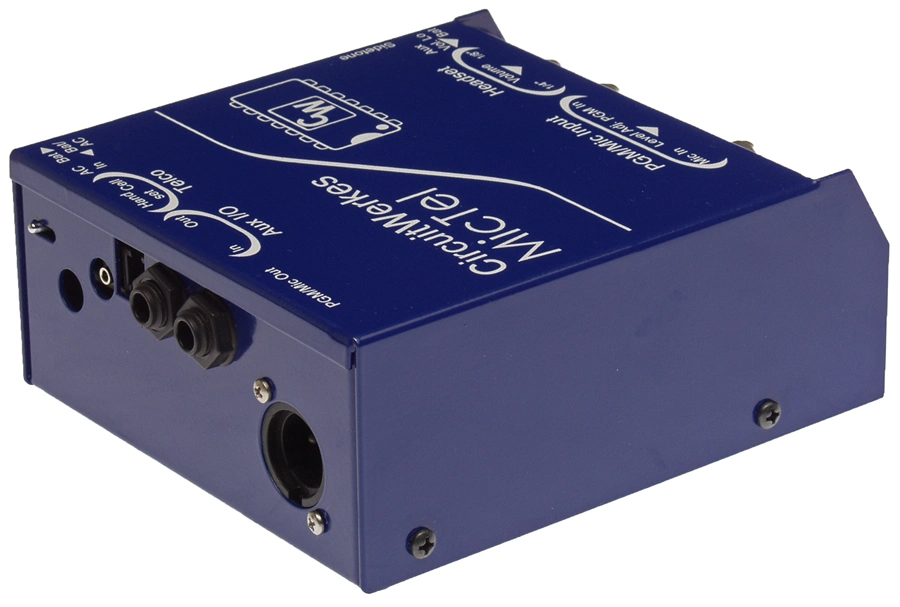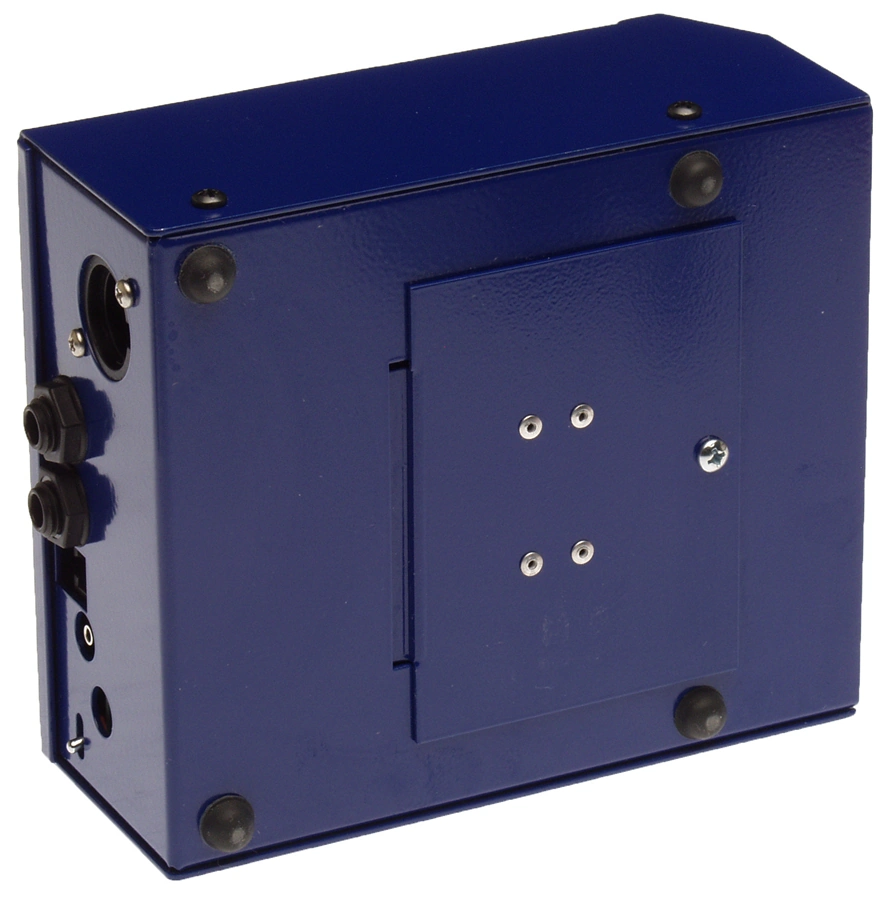 ---
Share this Product
---
More from this collection