Comrex DH20 Broadcast Digital Hybrid Phone Line Console Audio Interface Gentner [Refurbished]
(
363733937816)

)

Regular price

$204.00

Sale price

$434.00

(1 available in stock)

Tested/Guaranteed • Fully Working • Very Good Condition • Balanced Analog I/O on XLR • Industry-Standard Telephone Interface Unit

Photos are of the actual item for sale

Item is used and in very good cosmetic condition and fully working. The photos show the actual item for sale. The listing comprises the item shown in the images only, no other cables, accessories or documents are included. No printed manual is included but a copy may be downloaded here (https://www.prostudioconnection.net/0912/DH20-22%20Manual.pdf) if required. A couple of nicks in the paintwork have been touched up with matching paint and should be invisible at a normal viewing distance.
Details
This auction is for a Gentner Digital Hybrid broadcast phone-in interface - which connects a telephone line to your broadcast console. A computer-controlled line optimization process (the burst of white noise you hear when the DJ answers the call) ensures that the system is adjusted for the specific line conditions associated with each incoming call.
Full details may be obtained from the Product Manual
(https://www.prostudioconnection.net/0912/DH20-22%20Manual.pdf)
A significant proportion of phone-in calls you hear on the air today are passing through one of this range of boxes. The device may also be used to provide an IFB feed to remote talent over a phone line.

Manufacturer's Product Overview
Are you looking for the very best, most affordable digital telephone hybrid available? You just found it. The DH20 Digital Hybrid incorporates the latest in DSP technology to provide you with the best sound and easiest installation.
The DH20 is a high quality single line telephone interface that interconnects a standard telephone line and your audio equipment, allowing you the ability to send audio to and receive audio from a connected telephone line. The DH20 is ideal when the very best audio quality is required for talk shows, news feeds, production, recording studios, and internet applications.
Usually Sells for $1,075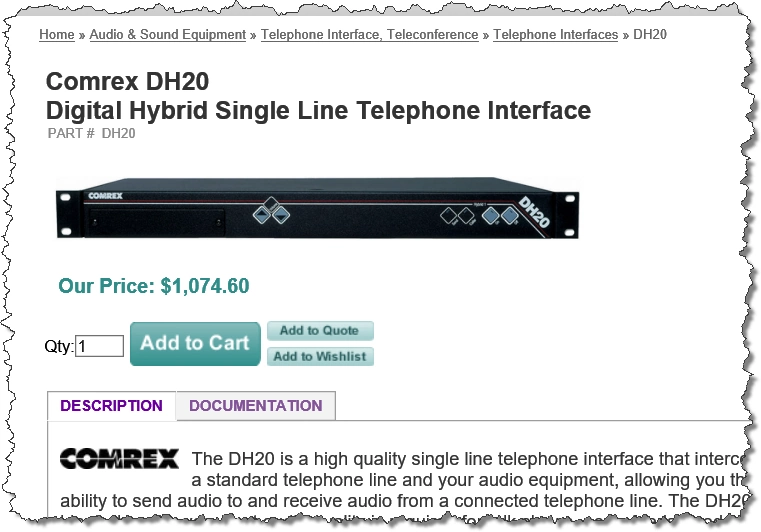 Our newest DSP technology delivers better and more reliable sound quality. The DH20 delivers the deepest and most stable hybrid null, ensuring maximum isolation between the send and caller audio. That mean no echo and no "bottom of the barrel" sound.
In addition, we've added selectable automatic gain control (AGC) and caller ducking. With AGC, each call will be delivered to your equipment at the same level. Caller ducking reduces the caller's audio level when the announcer speaks, providing a more "controlled" environment. We've also added a speaker amplifier so you can connect a speaker directly to the unit and monitor callers without headphones.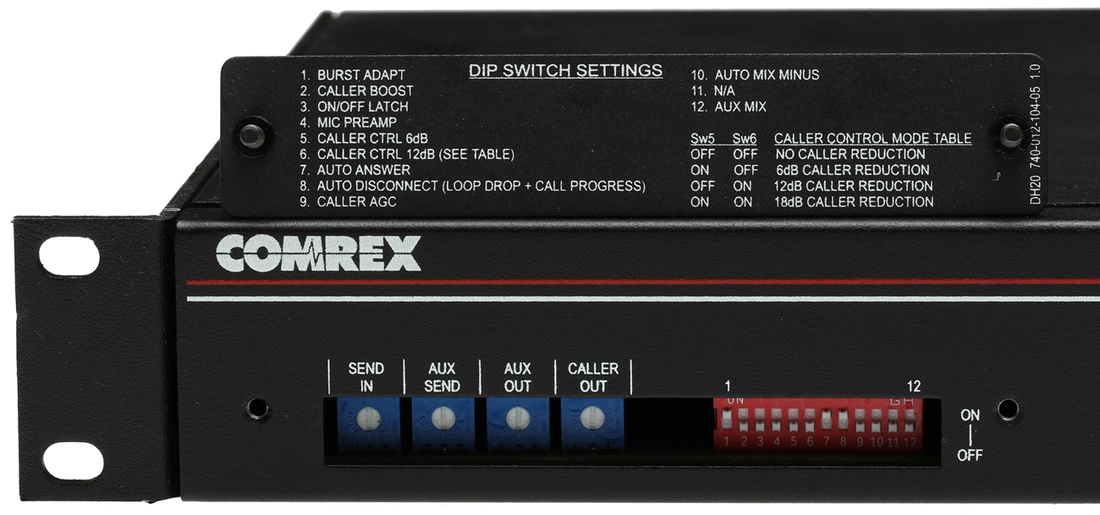 Features & Benefits
DSP digital technology ensures the very best audio quality and the deepest, most reliable hybrid null
Easy to install, simple to operate
Built-in speaker amplifier
Balanced audio in and out
Mic or line input
Selectable AGC ensures every caller is at the same audio level
Selectable caller ducking
Selectable auto-answer/auto-disconnect compatible with most telephone central offices including loop current interruption and busy/reorder tones
Remote control and status
Automatically accepts all worldwide voltages
Worldwide compliant, including FCC, CSA, CE and CTR21
Dry line capability

Specifications
Caller Output: XLR male
0dBu nominal, adjustable, balanced, 50 Ohm impedance

Aux Output: XLR male
0dBu nominal, adjustable, balanced, 50 Ohm impedance

Telco Line: RJ-11 connector
POTS (plain old telephone service) line or analog extension from a PBX or dry line (no DC offset voltage).
A-Lead supervision provided

Telco Set: RJ-11 connector
A-Lead supervision provided



Telephone Transmit
Nominal send input of 0 dBu referenced to -15 dBu onto the telephone line.
Frequency Response: 250 Hz to 3.5 kHz, ±1dB
Signal to noise ratio: >56 dB
Distortion: <0.2%

Telephone Receive
Nominal telephone line level of -15 dBu referenced to caller output of 0 dBu
Frequency Response: 250 Hz to 3.5 kHz, ±1 dB
Signal to noise ratio: >56 dB
Distortion: <0.2%
Remote: DB-25 Female
Remote Send Input:
0dBu nominal, adjustable,
unbalanced, 20k Ohm impedance
Remote Caller and Aux Output:
0dBu nominal, adjustable,
unbalanced, 50 Ohm impedance
Control Inputs:
Remotely activate any of the following functions with a switch closure to ground: On, Off, and Monitor Mute
Status Outputs: Remotely check the status of the hybrid using the On and Off status outputs. Status outputs are open collector outputs rated at 30VDC and 40mA maximum

Monitor Output: 1/4" stereo jack
Tip=+phase, Ring=ground,
Sleeve=ground, 1W output into an 8 Ohm load

Send Input: XLR female
Mic/Line selectable, -55/0 dBu nominal,
adjustable, balanced, bridging,
20k Ohm impedance
Mix-Minus
Caller-to-Send separation: 50 dB nominal
Tail time: 32 milliseconds

Operating Temperature
32-100°F/0-38°C

Humidity
0-80 percent
Controls
On/Off Buttons
Volume Up/Down Buttons

Status LEDS
On Status, Off Status
Send Audio Presence
Caller Audio Presence
Adjustments
Send Input Level
Caller Output Level
Auxiliary Input Level
Auxiliary Output Level
Burst Adapt Select
Mic/Line Select
Caller Boost Select
Momentary/Latching Select
Auto Answer/Disconnect Select
Caller Control Select (0, 6, 12, or 18 dB)
AGC Select
Auto Mix-Minus Select
Aux Mix Select
Power: IEC Type
Auto Adjusting 100-240VAC, 2A, 50/60Hz, 30W. Power cable not included.
Null
Send-to-Caller separation: 55dB nominal
Tail time: 32 milliseconds
Dimensions (LxDxH)
17.125" x 10.125" x 1.75"
43.6 x 25.7 x 4.44 cm

Weight
6.35 lb/2.88 kg (dry)
10.95 lb/4.97 kg (shipping)

---
Share this Product
---
More from this collection