Comrex DH30 AES Digital Audio Broadcast Hybrid Phone Line Interface IFB Gentner [Refurbished]
(
363493438077)

)

Regular price

$207.00

Sale price

$410.00

(2 available in stock)

Near Mint Condition • Tested/Guaranteed Fully Working • Top of The Line Unit • AES Digital Audio I/O • Digital Line Nulling • 115/230V Auto • List $1,795


Item is in close to mint condition and it has been tested and found to operate as expected. This is the most recent version of the Gentner (now Comrex) Digital Hybrid series of broadcast POTS phone line interfaces. The unit sends the output from your console to line (note that the use of a mix-minus/clean feed signal is required) and presents the caller audio on one of your fader channels for the DJ to control just like any other audio source. This late model unit offers both AES/EBU digital and balanced analog XLR connections, so you can interface to digtal and/or analog channels on your console. The unit has the ability to auto-answer calls if required.  No printed manual is included but a copy may be downloaded here (https://www.prostudioconnection.net/1410/Comrex_Gentner_DH30_Manual.pdf) if required.  SN 6692.
Details
This listing is for a Gentner Digital Hybrid broadcast phone-in interface - which connects a telephone line to your broadcast console. A computer-controlled line optimization process (the burst of white noise you hear when the DJ answers the call) ensures that the system is adjusted for the specific line conditions associated with each incoming call.

Usually Sells for $1,723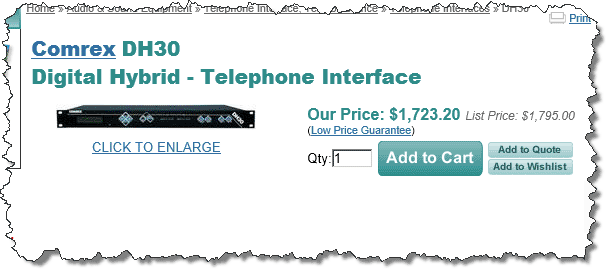 A good proportion of phone-in calls you hear on the air today are passing through one of this range of boxes. The device may also be used to provide an IFB feed to remote talent over a phone line.  Input voltage can range from 100-240V.
The User Manual can be located here
(https://www.prostudioconnection.net/1410/Comrex_Gentner_DH30_Manual.pdf)

Manufacturer's Product Overview
With the variety of phone systems in the world today, it is becoming increasingly difficult to have all callers sound the same on-air. To help bring uniformity and high quality sound to a broadcast talk show environment, we have created the DH30.
The DH30 provides a high quality interface between a standard telephone line and your audio equipment. Designed with both AES/EBU and analog inputs and outputs, the DH30 can interface with the latest digital and analog consoles. To ensure quality sound in studios that have open speakers and microphones, the DH30 was created with an acoustic echo cancellation feature.

The DH30's digital signal processing (DSP) has multiple adjustable parameters to provide you with the best send and caller audio signals. New audio processing features such as the compressor and downward expander functions ensure that the best audio reaches your audience. All audio processing features are programmable via the front panel controls. For the deepest, most reliable hybrid null, and the best quality caller audio for your application, the DH30 is the answer.
Easy to use and install, the DH30 has simple front panel controls and remote control capability. These controls put the On, Off, Rec, and Cue functions right at your fingertips. The DH30 also includes a 2W monitor amp with volume controls right on the front panel. The Rec function sends a start/stop signal to your external recording device. The Cue function allows you to control which audio signal should be sent to the caller, allowing you to switch from the Send input to the Cue input at the touch of a button.

Features and Benefits
Remote controllable presets
Password protected
24-bit digital signal processing (DSP)
AES/EBU digital or analog audio input and output
Record and Cue functions
Selectable auto mix-minus
Selectable acoustic echo cancellation
Selectable auto answer and disconnect
Integrated monitor amp with front-panel volume control
Remote control via contact closures or RS-232
Adjustable caller control (ducking)
Adjustable three-band equalizer
Adjustable compressor and expander
Bass boost
Microphone send and cue preamps
Automatically accepts all worldwide voltages
Three selectable presets for customized audio
Worldwide compliant including FCC, CSA, CE, CTR 21
The User Manual can be located here.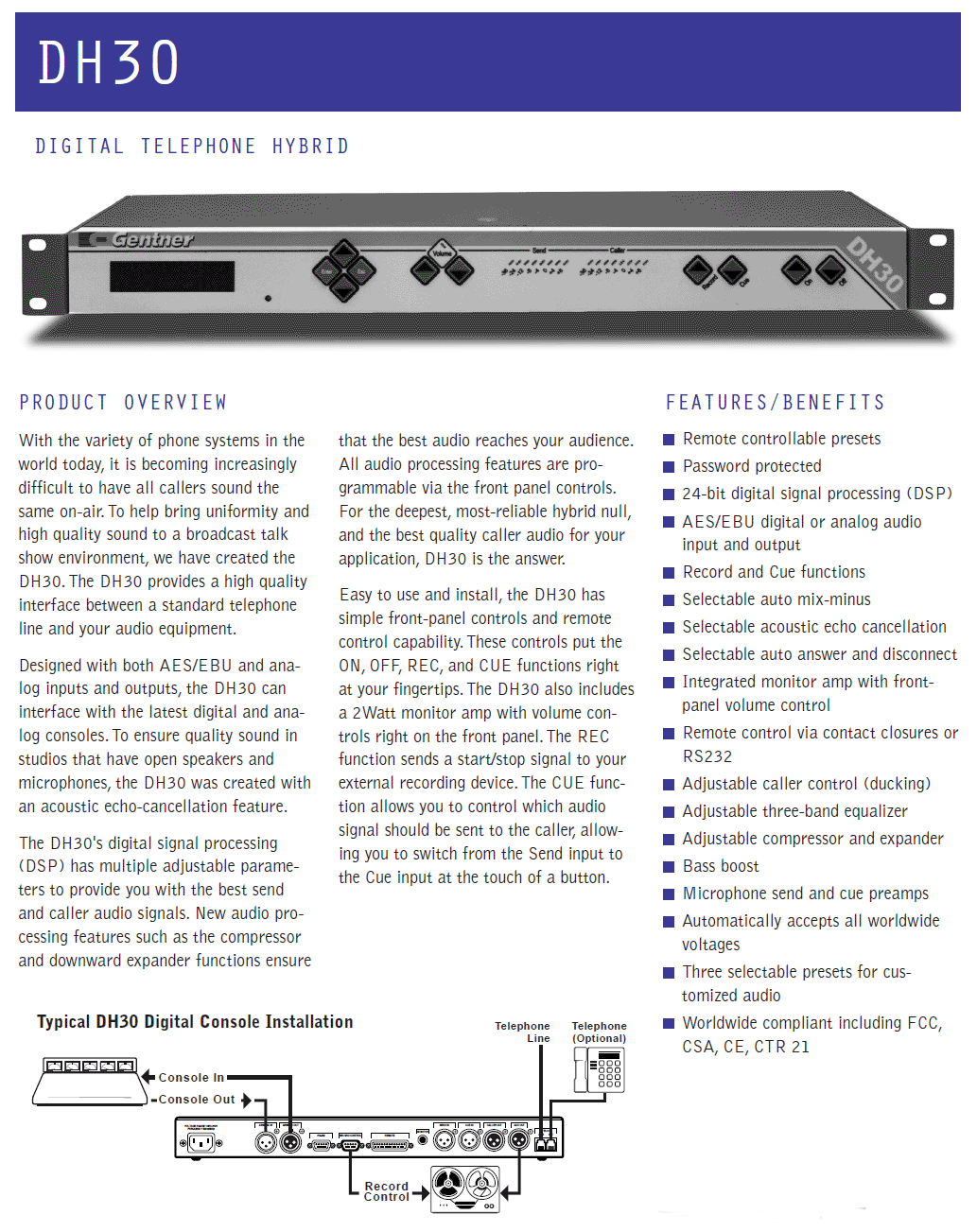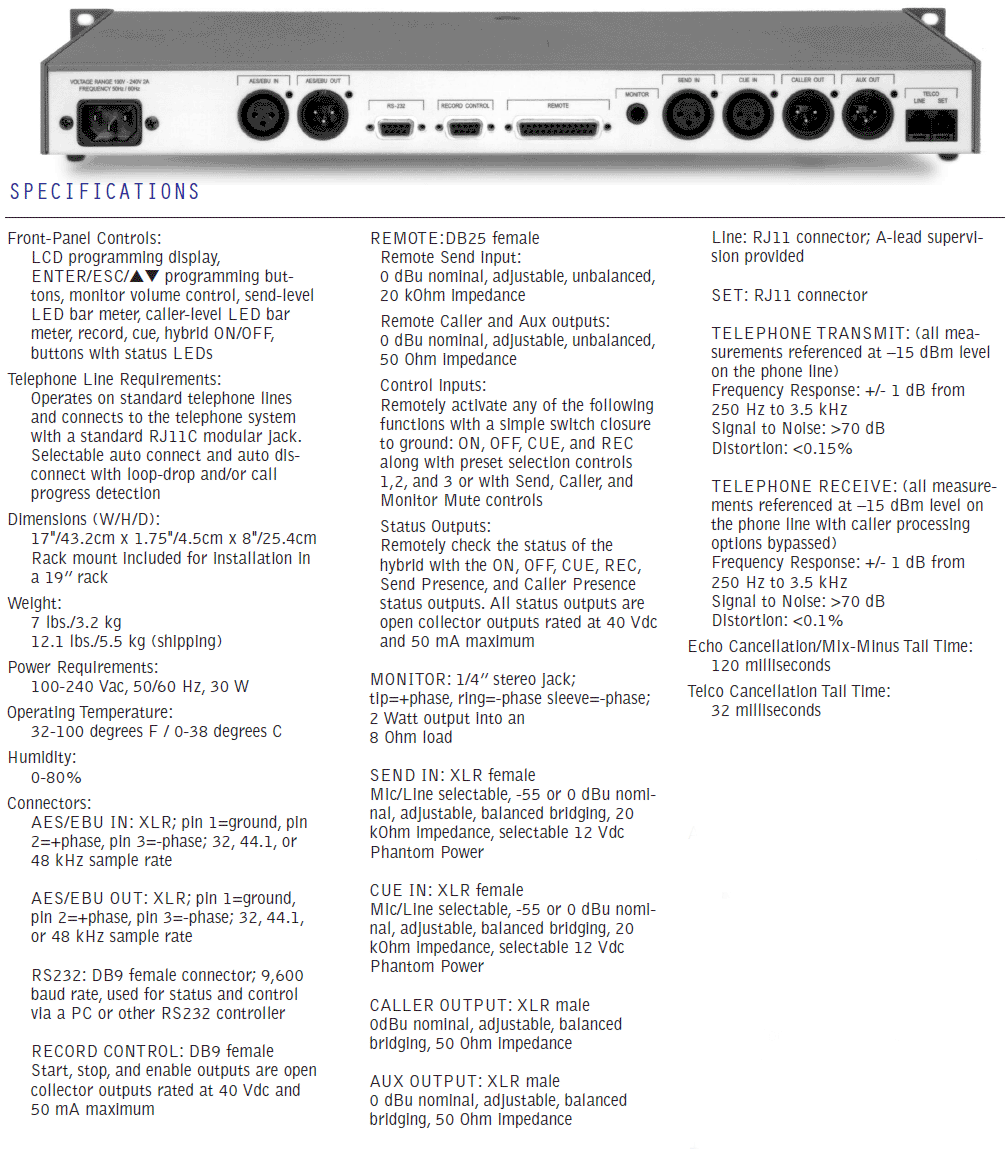 ---
Share this Product
---
More from this collection