25 Seven PLM Program Length Manager Broadcast Audio Digital Time Stretch Shrink [Used]
(
363323817992)

)

Regular price

$841.00

Sale price

$1,724.00

(1 available in stock)

Tested/Guaranteed • Fully Working • List Price $4,950 • Stretch/Shrink Program Lengths • Web Remote Control Interface



Photos show the actual item for sale
Unit is lightly used and fully working. Ships in factory carton with accessory pack. Software Version 1.2, Part Number 2001-00352-000.
Full product details may be obtained from the User Manual at https://www.prostudioconnection.net/2103/Program_Length_Manager_Manual.pdf
For the avoidance of doubt, this is not a profanity delay - there is no dump button.


Description
Your programming — on time, every time

Radio. Every second counts. Program segments need to start and end exactly on time, with seamless transitions. Editing time is precious in the production room and in the field. If your piece is just a bit long or a bit short, will the pressures of getting it on air force compromising edits or inappropriate filler?

Enter the 25-Seven Program Length Manager (PLM) to shrink or stretch your programs and program segments by several minutes per hour without pitch change, artifacts or glitches. Time-manipulated audio is clean enough to use on stereo music programs and live events. PLM is operator friendly and requires little training whether controlled from the front-panel or via web browser.


Usually Sells For $4,950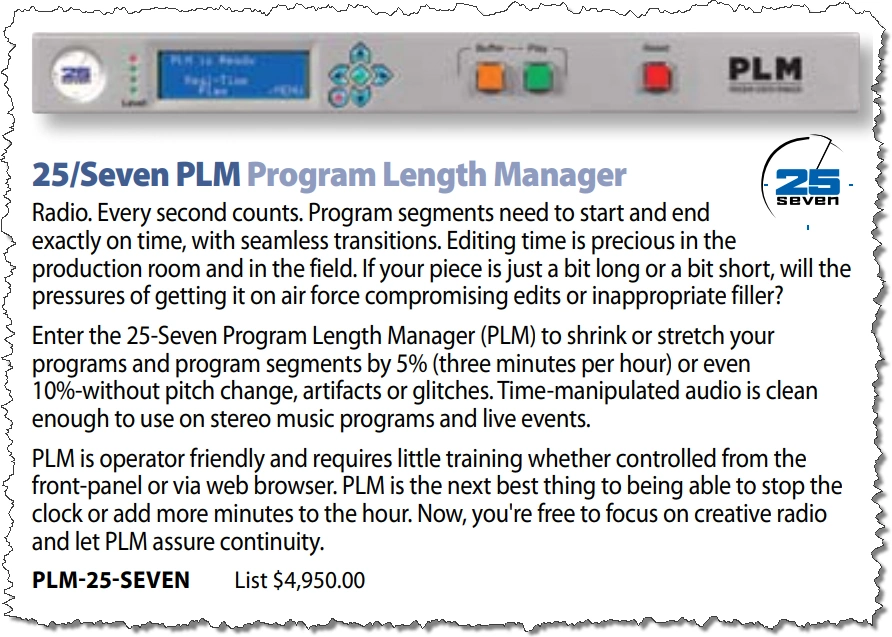 Program Length Manager (PLM) is a unique, easy to use time compression/expansion processor that allows you to stretch or shrink audio programs in real time. Think of PLM as a high-quality, rugged digital stereo recorder... with some important differences: it can record part of a show while playing back another part, and playback speed can be as much as 20% faster or slower than the original program.





In effect, you can use PLM to shorten the duration of programs, allowing you to insert additional material with no loss of content, or stretch programs that are too short so they precisely fill their allotted time slot. PLM does this without pitch change, artifacts, or glitches, thanks to our proprietary processing algorithms; with most broadcast material, a 10% speed change—6 minutes per hour—is virtually undetectable by most listeners.



25-Seven's Program Length Manager combines some of the functions of the award winning Audio Time Manager with other unique features, and of course, PLM offers the flexibility and smart design you expect from 25-Seven:

Glitch-free time compression using technologies developed for 25-Seven's ground-breaking Audio Time Manager
New time expansion algorithms for seamlessly stretching short shows to fit allotted time slots.
Stereo processing with CD quality, even during time manipulation. It's clean enough that you can use it on music programs and live events.
Easy operation from the front panel, wired remote, or producer's computer.
Total flexibility: PLM can expand audio without using filler material, by seamlessly stretching live audio. Or it can shrink audio allowing you to insert additional content.

Flexible front-panel LCD "dashboard" with controls for time readout, audio level display, and quick parameter changes without a computer.
Complete, easy to use, password-protected configuration and control from any browser. No need to navigate through menus. Use PLM's graphic user interface from any computer on your local or wide area data network.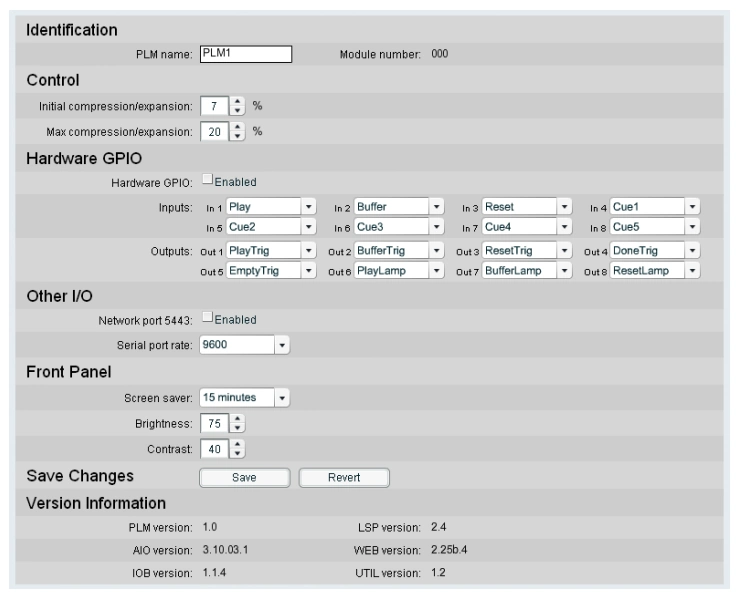 Flexible audio configuration: XLR version includes separate stereo analog and AES/EBU inputs and outputs.
Flexible remote control: Use GPIO (buttons, relay closures, or TTL), secure Web interface, RS-232 or serial control over an IP port.

GPIO functions can be assigned by the user.
Simple serial language for custom control.
Network cues can be automatically delayed to match program audio.
Automatic clock synchronization to local or Network Time Server.


---
Share this Product
---
More from this collection