360 Systems AM-16/B Audio Crosspoint Switcher & Router [Used]
(
283958075144)

)

Regular price

$88.15

Sale price

$189.00

(1 available in stock)

Used, Good Condition • Removed From Working Network Studio • 360 Systems AM-16/B • Audio Crosspoint Switcher • 8x8 Stereo Audio Switcher for Broadcast or Production

Photos show the actual item for sale

Introduction
Here's a clean example of the AM-16B Audio Router/Switcher. The AM-16/B can operate as a 16x16 mono device or as an 8x8 Stereo matrix. This is a pro-audio device so balanced signals are catered for on inputs and outputs.
The User Manual is available from https://www.prostudioconnection.net/2007/360Systems_AM16B_Manual.pdf
The Green connectors on the rear for connecting the audio lines are Elco/AVX 8016-56 type sockets. Interconnecting cables may well still be available from 360 Systems, or you could make up your own cables - search for an Elco 8016-056-000-601 Connector.
Item Description - AM-16 Series Audio Crosspoint Switchers
Balanced inputs and outputs
Expandable matrix configuration
Mono, stereo or multi-channel operation
Non-volatile storage of 100 programs
Remote interface with EIA-442/485 or MIDI
Level adjustment for each input
Redundant power supply
Logical, easy to use control panels
Exceptional audio performance

The AM-16/B Audio Crosspoint Switcher is a self-contained master switcher that supplies everything needed in a 16 input, 16 output system. It's equally effective for broadcast, production houses, or public buildings. Full front panel control and display facilities are included on the AM-16/B, which can be configured for 16x16 monaural or 8x8 stereo operation.
In stereo mode, the software automatically creates paired programs and offers options such as reversed channels and mono to stereo splitting. For more basic applications, the AM-16/B can easily be programmed to operate as a line selector.

AM-16/B Expander Modules [not included] provide sixteen additional channels when connected to an AM-16/B master switcher, and duplicated the master's I/O assignments. The addition of a single expander module creates a complete 16x16 stereo crosspoint matrix. A number of expanders may be slaved to a single master to create multi-channel systems. For example, a single AM-16/B master switcher and three AM-16/E expanders will provide a 16x16x4 matrix to route audio from four-channel VTRs.
AM-16/R Remote Control Stations [not included] use a "distributed intelligence" scheme, where each contains its own computer and local memory. This allows storage of a particular studio, which do not affect the master programs in the main switcher. In the event of a remote control station is disconnected or turned off, it automatically releases the 422/485 line so it won't affect communications between other stations connected to the line.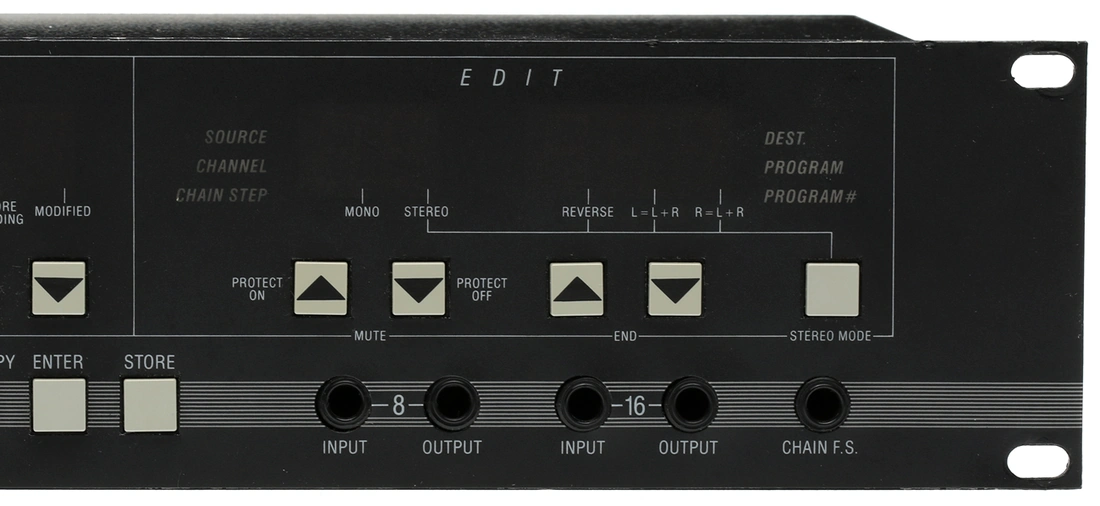 Standard Features
Large LED displays, backlit legends and intelligently labeled buttons ensure fast and efficient operation.
Functions needed most often are immediately available and use the fewest keystrokes to program.
Source and destination assignments are displayed, making it easy to see which crosspoints are currently active.
Memory-Protect guards against accidental erasure of programs.
In the event of a power failure, all programs are retained in non-volatile memory; no batteries are required.
On power-up, the last program in use is automatically selected.
Front panel path point for two channels-in and out.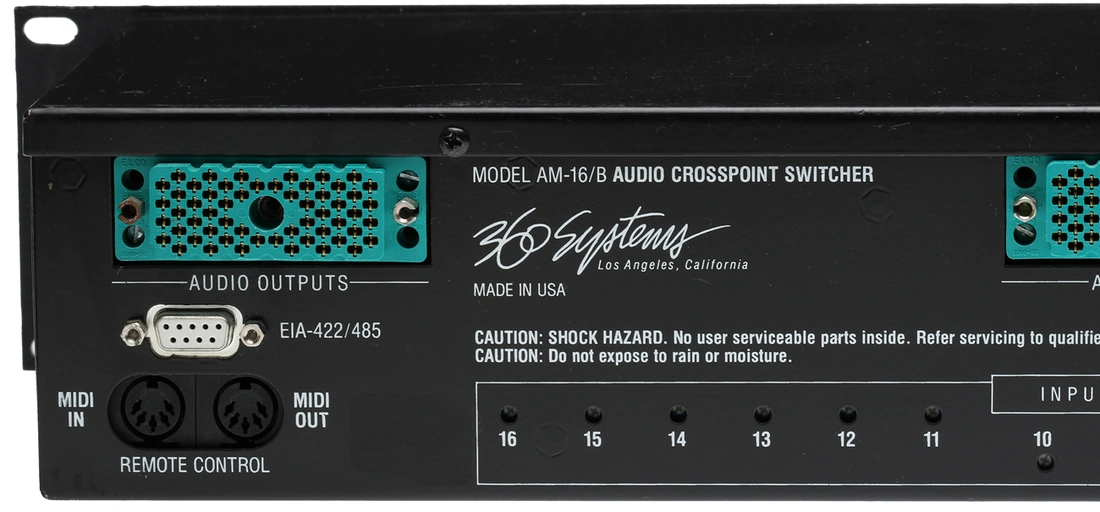 Better Circuit Designs for Demanding Applications
The AM-16 Series design anticipates many problems that will be encountered in practical installation. For example, matched differential inputs have precision shunt capacitors, providing protection against RF entry. And stable metal film resistors help make it quite, and keep the tight specifications it had when new. Selected NE-5532 opamps ensure low D.C. offset, and each is socketed to ease replacement, should it ever be required.
Output stage design reflects attention to another set of practical concerns. With the AM-16, shorting one leg of a differential output has no effect on the level of distortion of the other output. Unlike some designs, the phase response of each is lag corrected to provide zero error through 20kHz. And output inductors help keep the output amplifiers stable when driving reactive loads.
Engineers at 360 Systems understand that power supplies are often the weakest link in audio equipment. The AM-16/B provides an extra measure of reliability by making all active power supply components fully redundant. An over-sized toroidal power transformer (with international approvals) and generous heatsinks significantly extend system life.

---
Share this Product
---
More from this collection