Arrakis ARC-10BP 10 Channel Broadcast Console for Balanced Audio w/ USB & Phone [Refurbished]
(
284808968863)

)

Regular price

$2,169.00

Sale price

$3,107.00

(1 available in stock)

10 Channel Broadcast Console • 2 Integral Mic Pre-amps • USB Input/Output for Computer Audio • Dedicated Phone Channel • RJ45 Connectors for Line Balanced Audio • PGM/AUD/CUE Busses • External Power Supply Included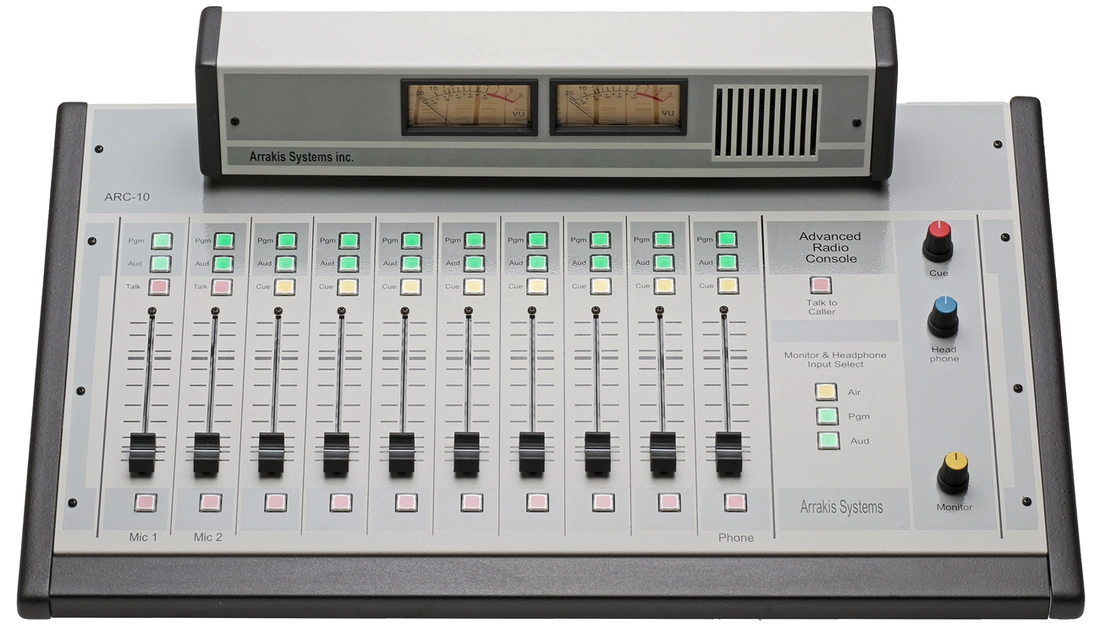 Photos show the actual item for sale



Here's a very lightly used ARC-10 console from Arrakis. The unit is in close to mint cosmetic condition and fully working. This premium model supports balanced audio inputs, has a USB connection to send/receive audio from a PC and has a dedicated telco phone channel with the ability to talk to the caller pre-fader through the console. Full details may be obtained from the User Manual at https://www.prostudioconnection.net/2205/ARC-10_Manual.pdf . The photos show the actual item for sale. The console is still in its original custom foam factory carton. No unpictured cables, accessories or documents are included.

Description
The ARC-10BP broadcast console can handle most On Air Radio and Radio Production studio applications, supporting balanced pro sources as well as interface with Windows-based production software [not included].
Channels One and Two are high-performance mic channels for on-air talent with a guest.
Channel ten is an advanced telephone interface to an external hybrid for Live callers or an Off-line contest call.
Seven line input channels (six of which are balanced) easily handle the other audio sources, such as CD players, found in most studios.
Channel nine sports a Windows PC USB interface for use with Live On-Air, Automation and Production software. Most Windows compatible audio programs can then play through channel nine on the console and record from the console Audition bus.
It also boasts long life faders, electronic switching of all audio signal paths and an attractive yet rugged design.
The ARC10-BP is designed for applications where balanced professional source equipment will be used. Eight wire RJ-45 connectors are used for the balanced audio connectors.
If the console is to be used without a PC, internal jumpers allow channel 9 to be reassigned as an unbalanced, stereo, RCA phono input channel.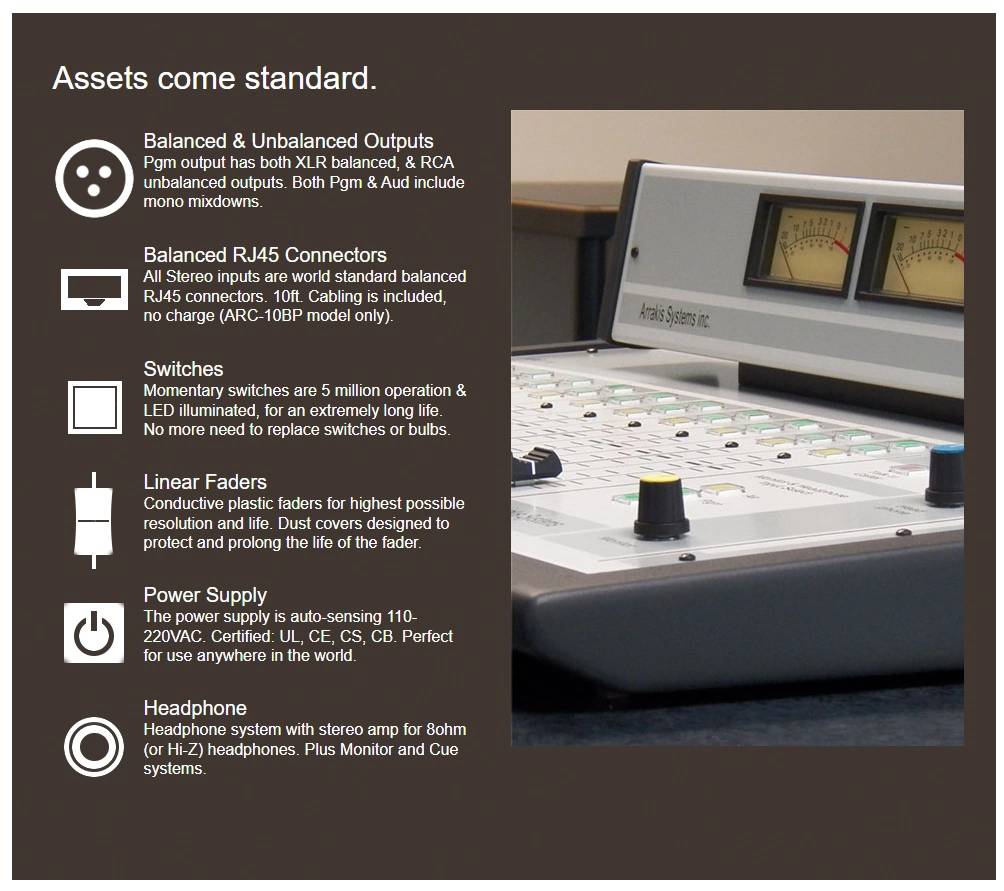 Main Features
Two stereo Program output mixes (with mono mixdowns)
Ten input source channels
Two high-performance balanced mic channels
Seven stereo line channels (ch 3-8 are Balanced)
Channel 9 is a PC computer sound card channel for Play & Record
One phone input channel for fast Live & Off-line telephone interface (hybrid required)
Program Output is BOTH balanced XLR and unbalanced RCA
Telephone channel (ch 10) is balanced In & Out with Logic
Real VU meters for on air monitoring, switch selectable between both Program outputs
Headphone system with stereo amp for 8 ohm (or Hi-Z) headphones
Cue-talkback system with built-in amplifier and speaker
Input channel logic for Remote channel on-off-tally and source start-stop
Provides monitor audio and logic for a Studio /Announce booth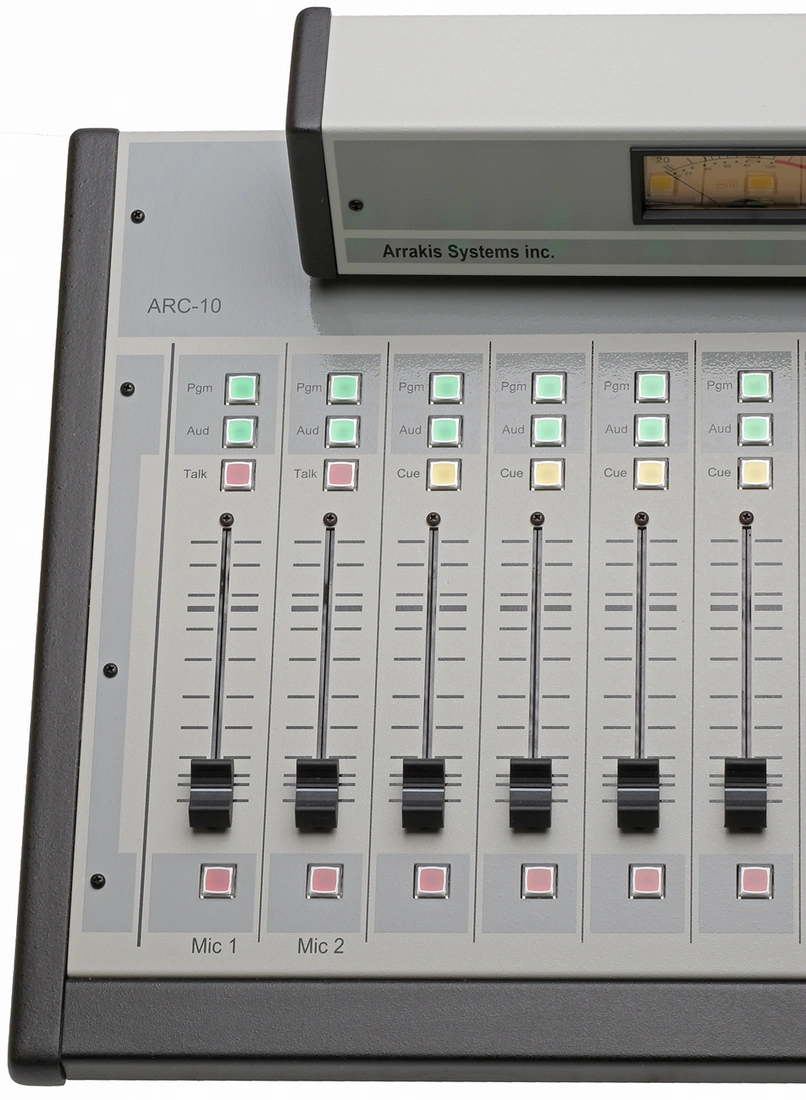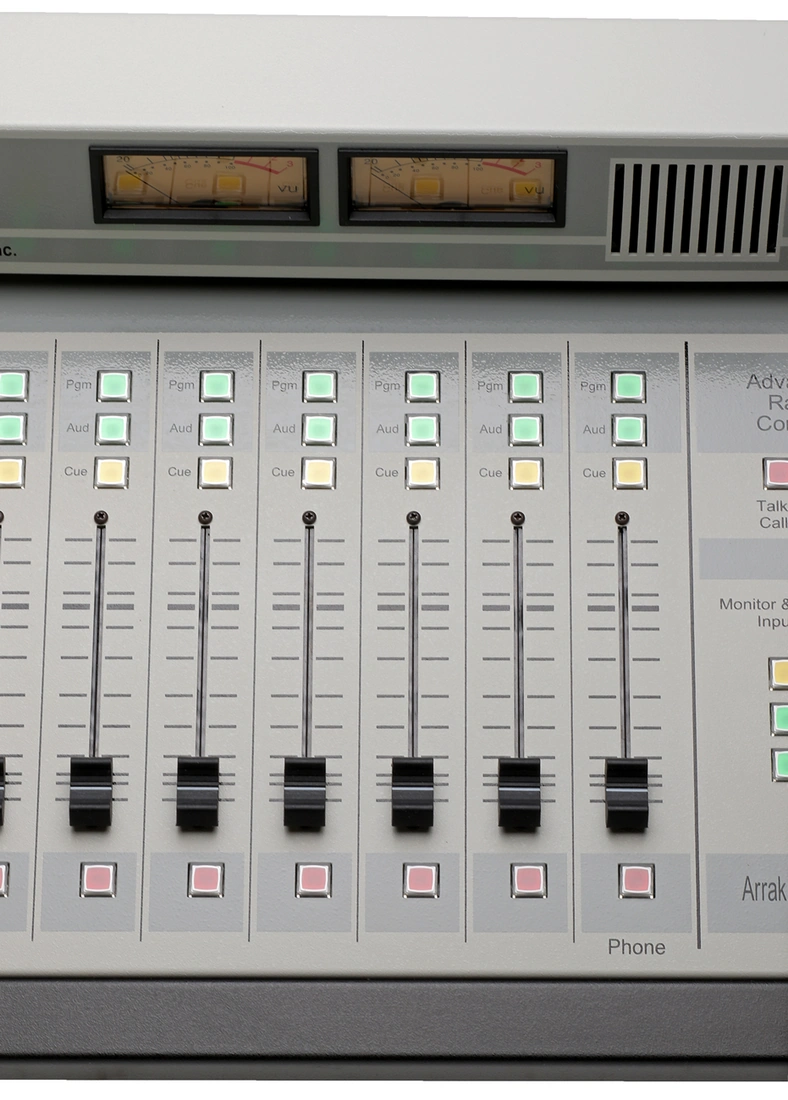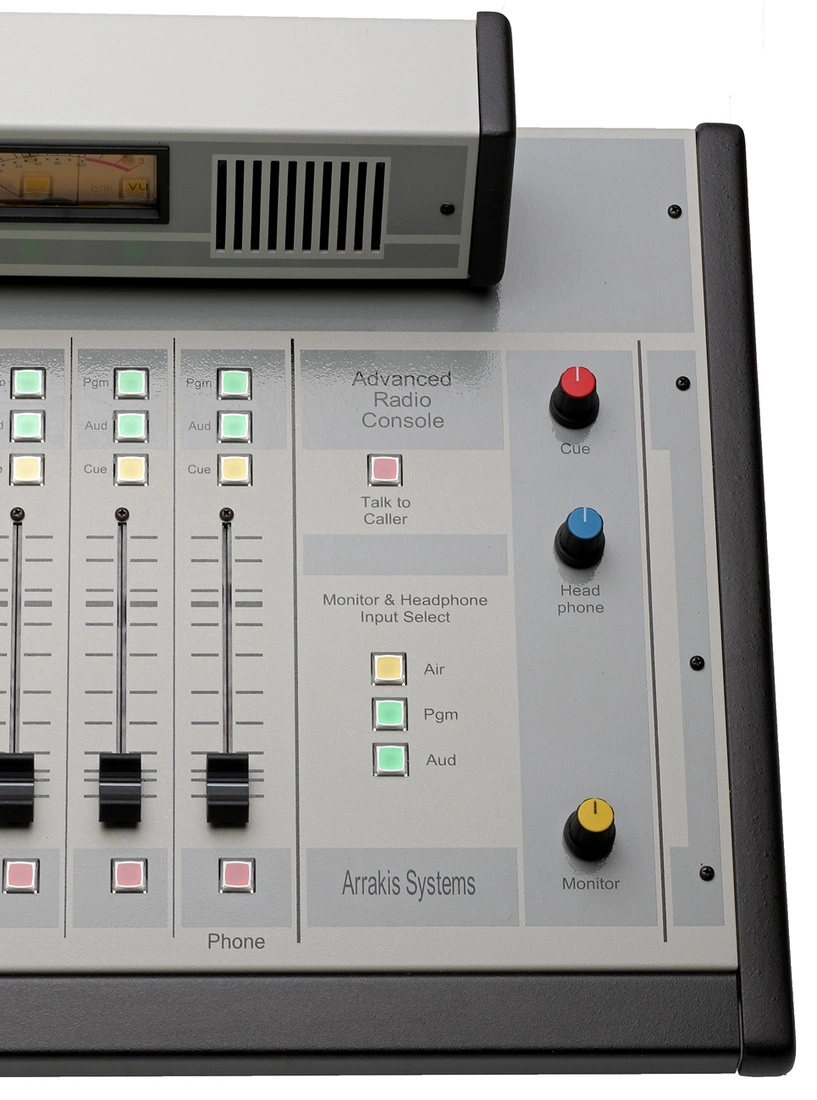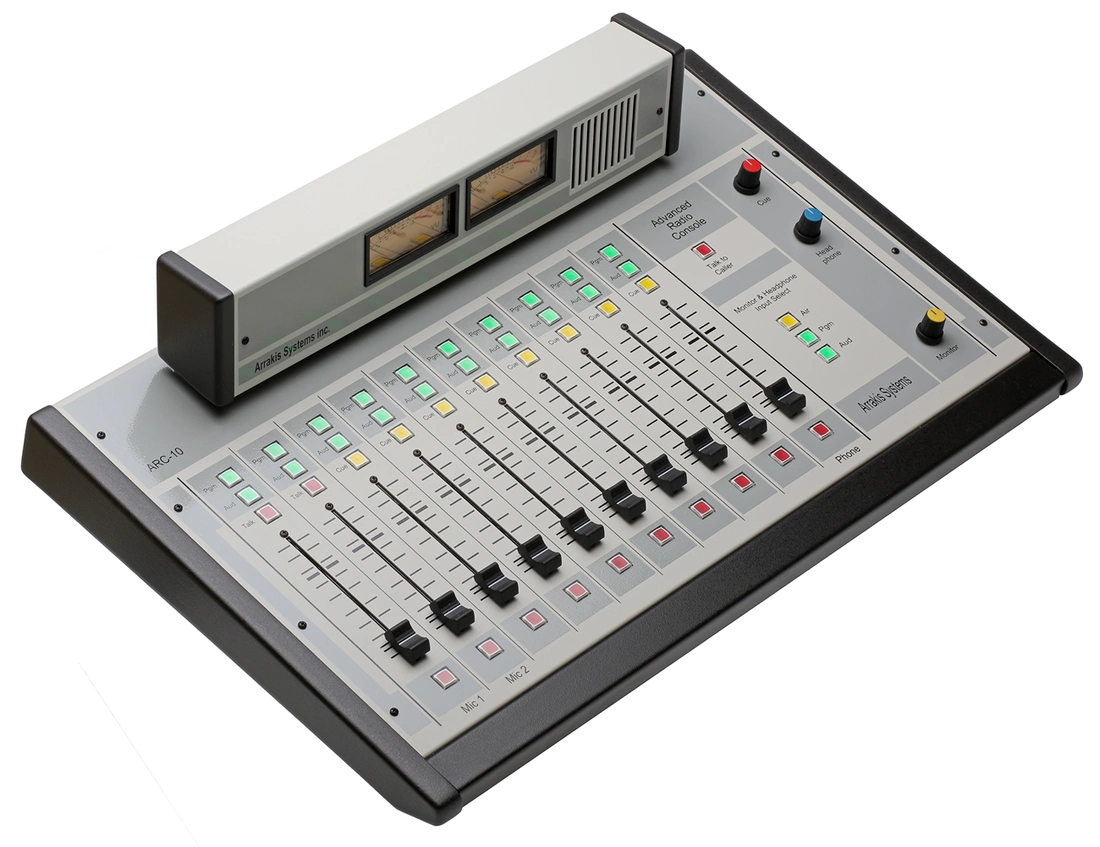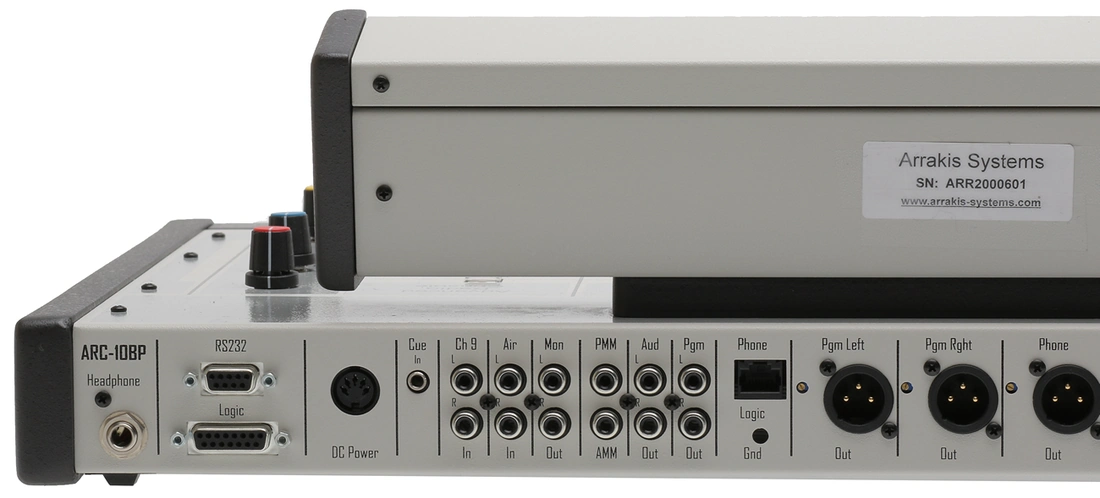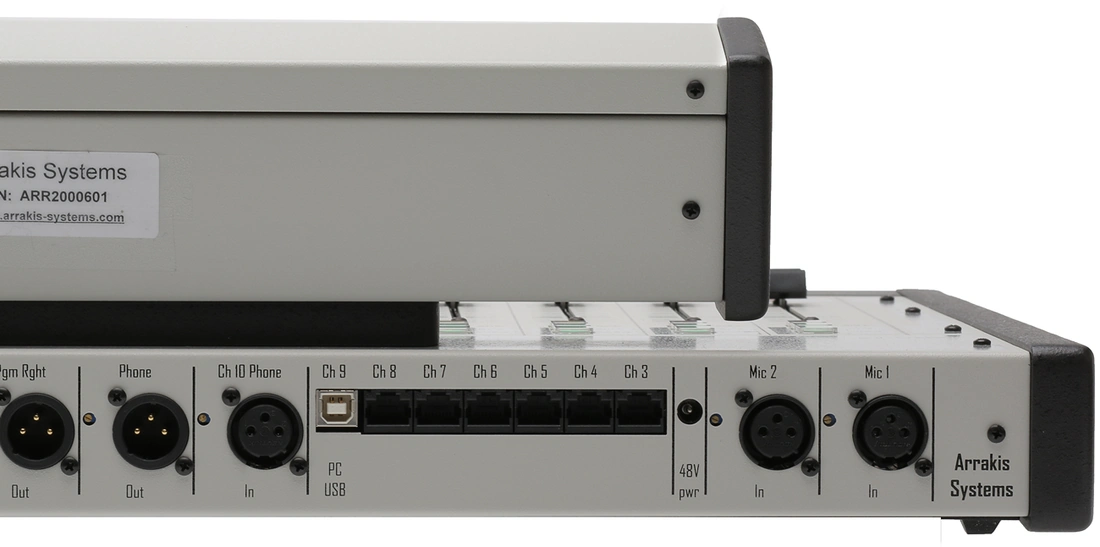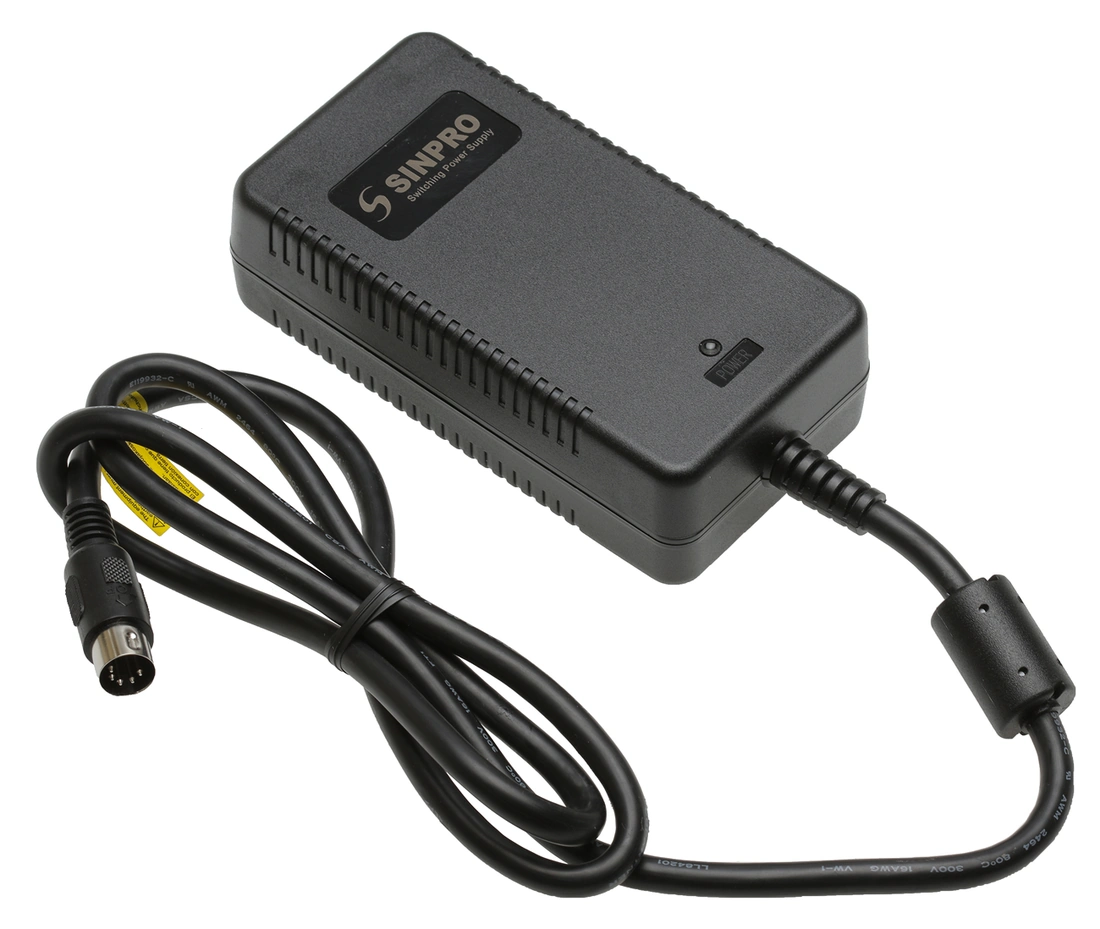 ---
Share this Product
---
More from this collection