AudioScience ASI4342 Broadcast Multichannel XLR Balanced Audio Sound Card LPFM [Used]
(
233568670181)

)

Regular price

$71.57

Sale price

$215.00

(1 available in stock)

AudioScience ASI4342 • Professional Audio Sound Card • Ideal for Production/Broadcast/LPFM • 2x Stereo Audio Outputs & 1 Input for Radio Playout or Production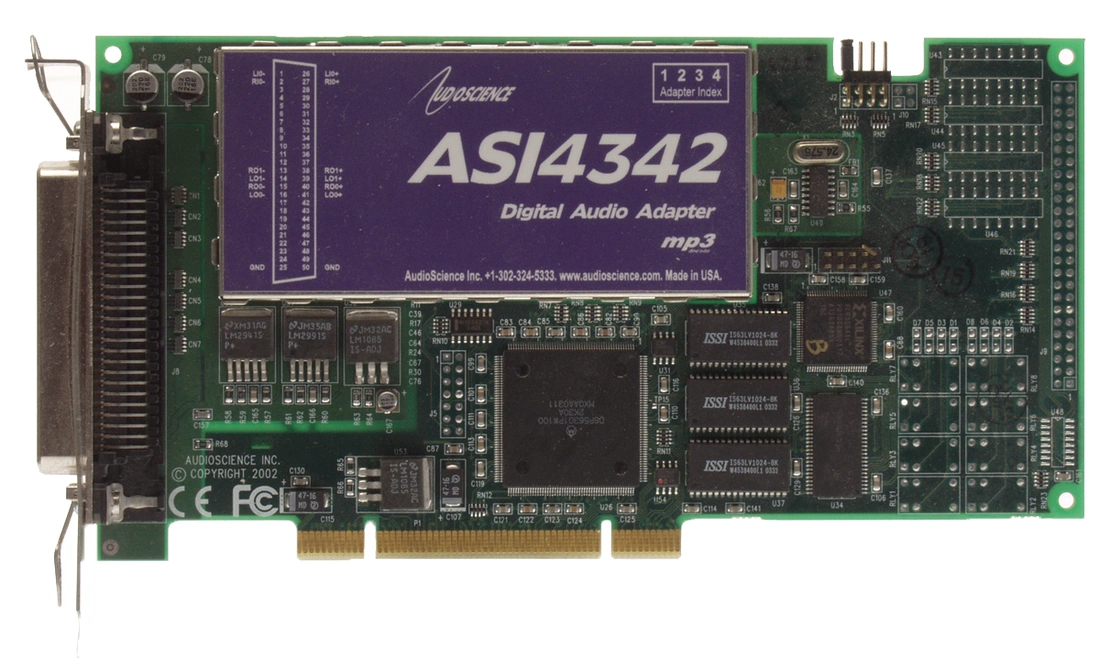 This is a legacy hardware item.  It requires AudioScience driver version 2.97 for operation under Windows (32 bit only).  It also is supported under Linux.  No cables are included, but I may have some suitable types listed separately.
Overview
In summary, AudioScience cards are purpose-designed for multichannel broadcast use. They are supported by most of the main playout and automation software packages straight out of the box and allow each output stream to have its own independent channel with the level controlled either by the software or by the fader on the console.
The logical configuration of this card is shown below: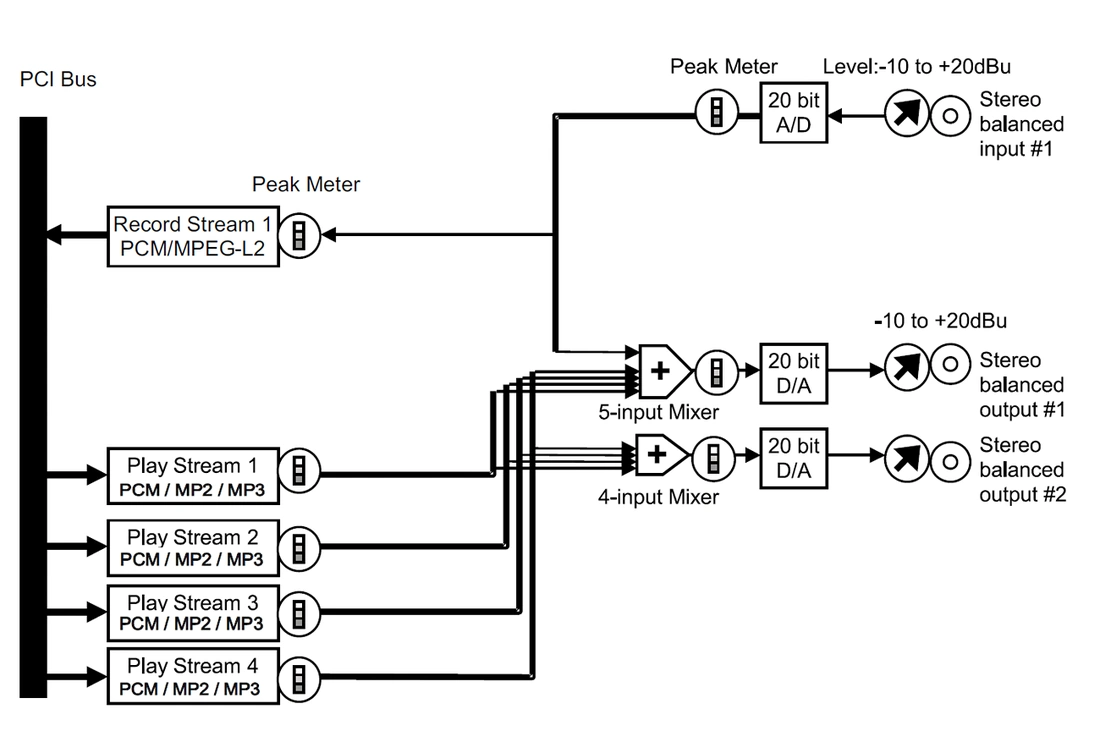 Signal quality is beyond reproach with Pro standard +4dB analog signals being supported with lots of extra headroom. Output can be adjusted down to -10dB consumer levels using the control applet if you want to interface to unbalanced gear.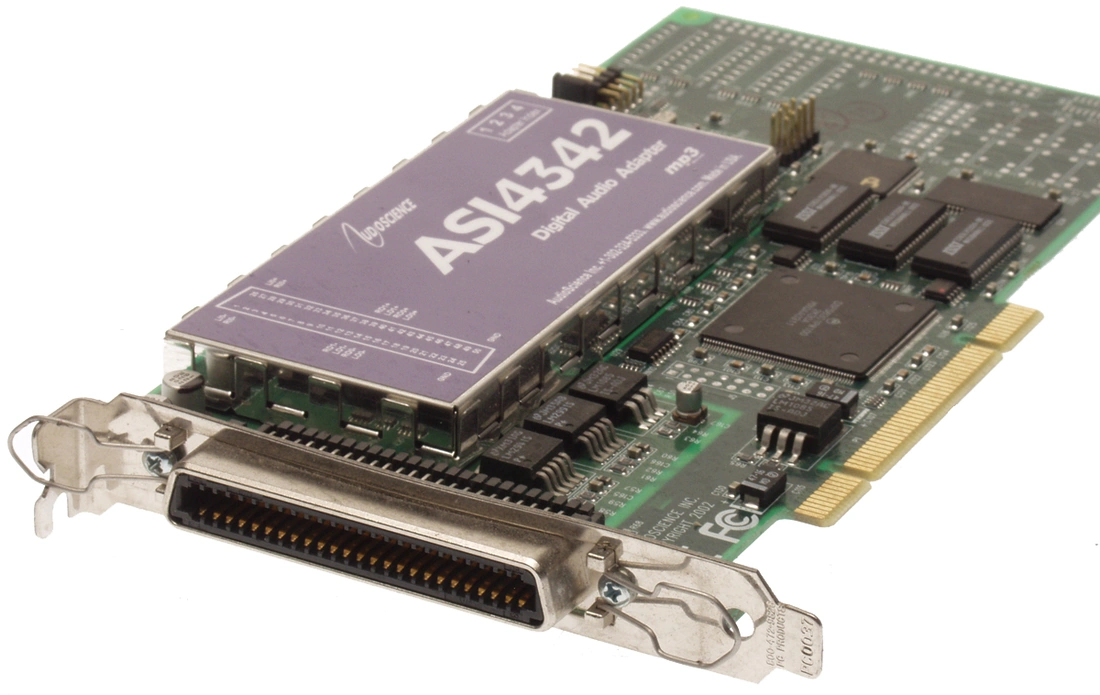 Description
The ASI4342 provides native MP3 playback for PC-based broadcast audio. Record, play and mix up to five stereo streams including one feedthrough channel.
The ASI4342 provides tremendous value in a feature-laden digital audio adapter with powerful on-board MP3 playback capability.
The ASI4342 features four stereo playback streams mixable to two stereo balanced analog outputs. In addition a balanced input
is routable to both the record stream and one of the balanced outputs.
With the power of the advanced DSP chips on the ASI4342, you can record soundbites while playing program material, or switch from satellite feed to local programming and back without glitches. The powerful MP3 audio format retains CD quality broadcasting while requiring as little as one tenth of linear PCM storage requirements.
Playback stream velocity control enables true "reel-rocking" type scrubbing in digital audio editor applications.
Other advanced features like the Channel Mode control, let you easily configure a mono signal for a stereo feed.
Listen closely. With 20-bit oversampling A/D and D/A converters, you won't hear higher quality audio in any comparably priced soundcard.
If you want more digital audio functionality from your broadcast PC, the ASI4342 is for you.
Features
Four stereo streams of playback and one balanced stereo input mixed to two balanced stereo outputs.
High speed PCI bus interface.
Velocity control of stream playback enables true "reel-rocking" in audio editor applications.
8Mbyte DRAM for on-board buffering
One stereo stream of record.
Formats include MP3, MPEG-1 Layer 2 and 16bit PCM.
Programmable global samplerate of 8 to 50kHz.
Standard 50pin "Centronics" type connector.
20bit oversampling analog-to-digital and digital-to-analog converters. >90dB S/N and <0.005% THD+N.
Automatic volume fade implemented by DSP for cross-fade and mixing effects.
Upto four cards in one system.
DOS, Windows 98,NT,2000,XP (32 bit) and Linux software drivers available.
Designed and manufactured in the USA
Drivers for Windows are available on line.  I can send the buyer a link if required.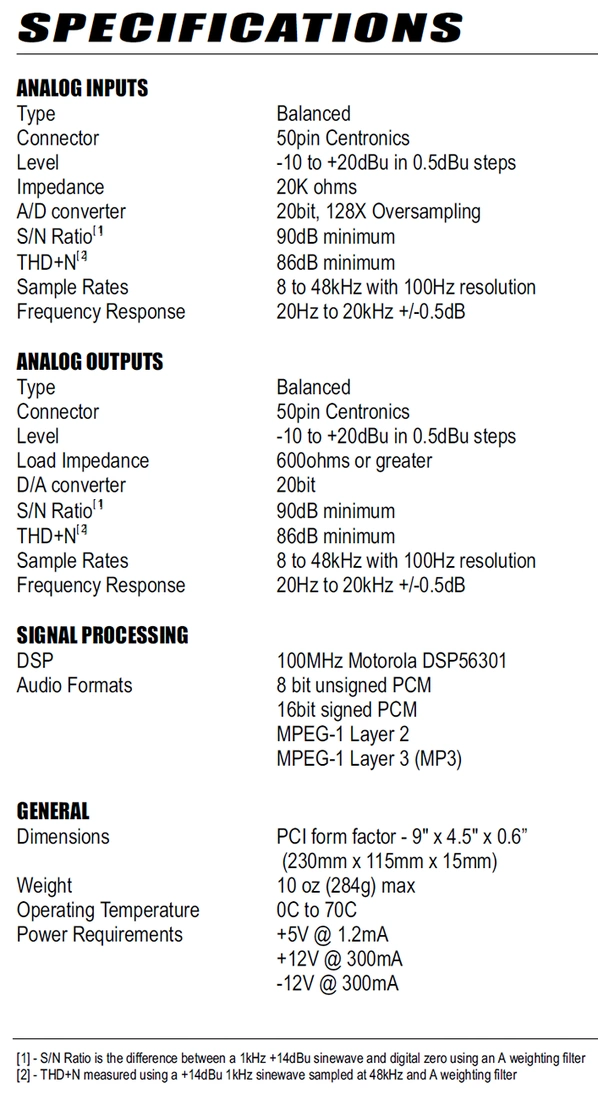 ---
Share this Product
---
More from this collection