AudioScience ASI5641 AES Digital Audio Multichannel Quad Output Broadcast Card [Refurbished]
(
234747155819)

)

Regular price

$353.00

Sale price

$622.00

(2 available in stock)

Tested/Guaranteed • Fully Working • Was $1,695 • 12 Streams into 4x Digital Physical Outputs & 1 Inputs • Professional Audio Sound Card for Broadcast/Production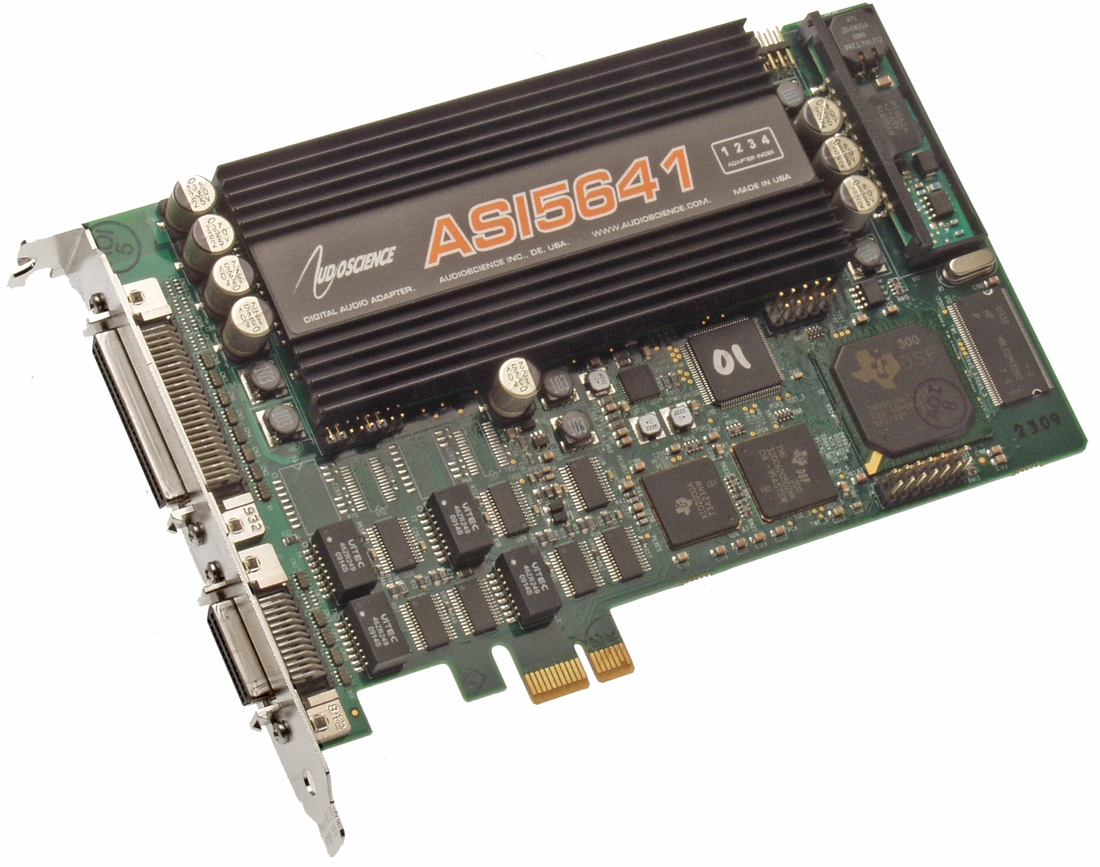 Used, in very good condition and tested to confirm that it is working. A screenshot of the test results for the actual card will be included in the package. Cables are not included, but I usually have some BOB1024 breakout boxes listed which may provide a convenient means of connection. No unpictured cables, accessories or documents are included. An HD50 analog type connector may be installed on the card, but this does not carry audio and is usually only present to give additional support to the mounting bracket.
Usually Sells for $1,395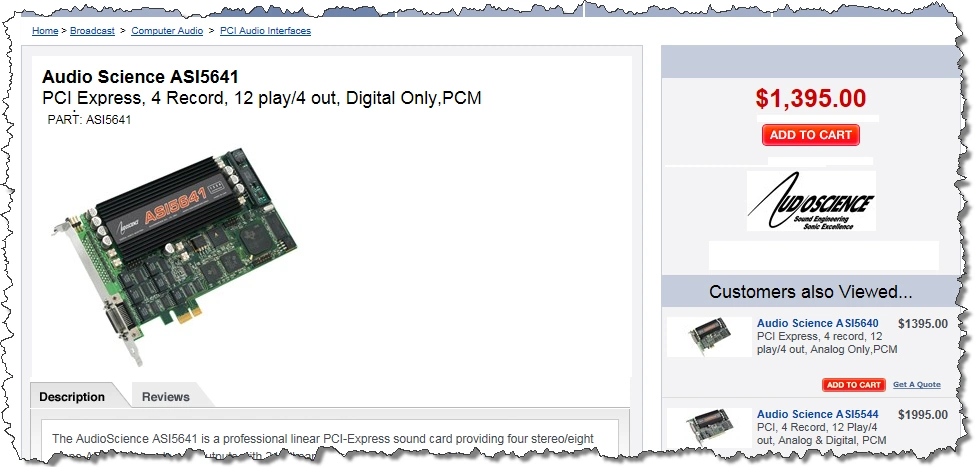 Description
The ASI5641 is a professional PCI Express sound card designed for use in the installed sound, entertainment, and broadcast markets.
Providing 12 stereo play streams that are mixed to 4 balanced stereo outputs and 8 record streams fed from four balanced stereo inputs, the ASI564x family features AudioScience's unique "anything to anywhere" routing and mixing.
The ASI5641 has AES/EBU I/O only.
Uncompressed PCM, in a choice of precision is available for both recording and playback.
For emerging surround sound applications, SSX2 mode allows multichannel streams of up to 8 channels to be played and mixed.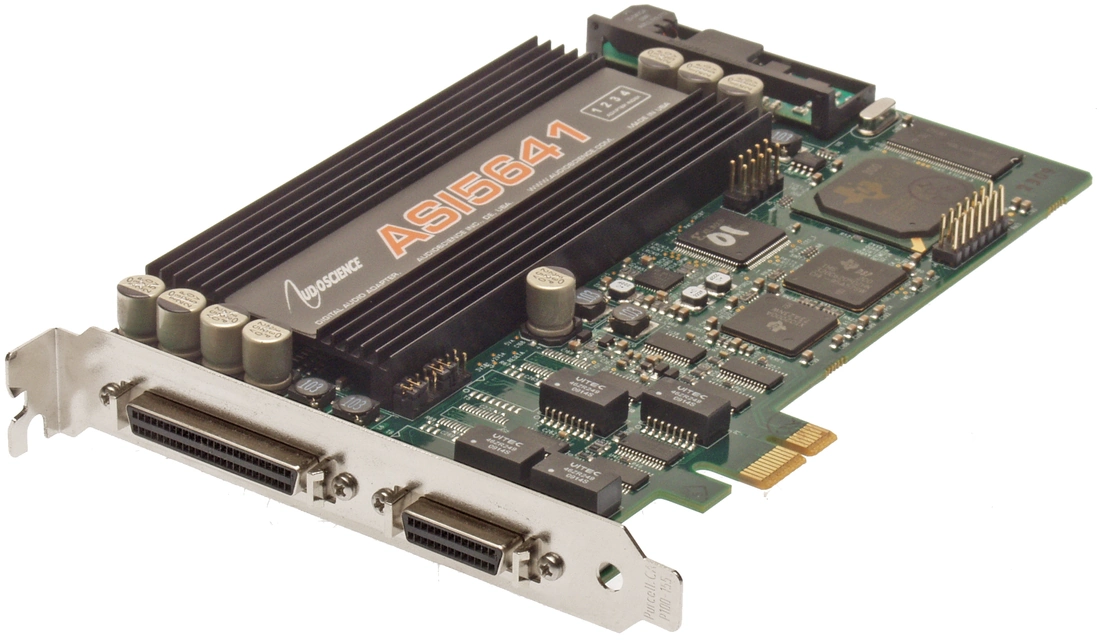 Features
12 mono/stereo streams of playback into 4 stereo outputs
8 mono/stereo streams of record from 4 stereo inputs
Formats include 8, 16, 24 and 32 bit PCM with sample rates from 32kHz to 96kHz
SSX mode for multichannel record, playback and mixing
24bit ADC and DAC with 110dB DNR and 0.0015% THD+N (ASI5641, ASI5644 only)
AES/EBU inputs and outputs with sample rate converters on all inputs
Dedicated AES/EBU and Word clock Sync input
Short length PCI card format (6.6 inches/168mm)
Up to 4 cards in one system
Windows 7, 8, Server 2008/2012 and Linux software drivers available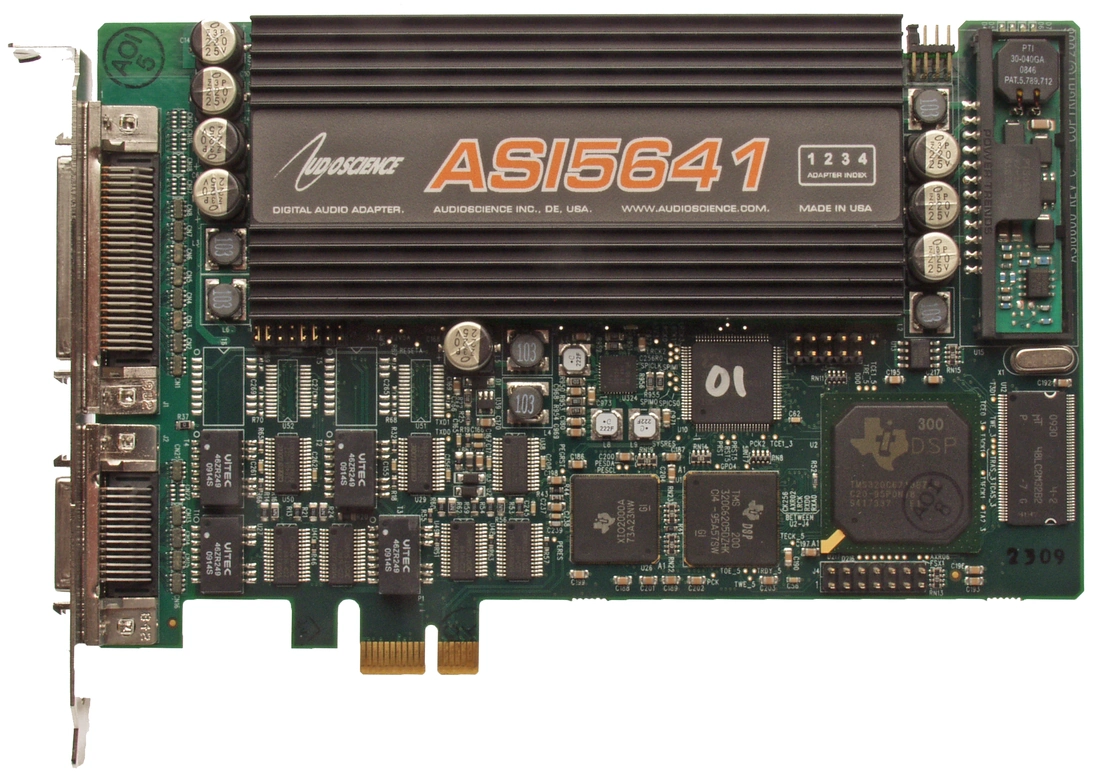 ---
Share this Product
---
More from this collection