AudioScience ASI8914 4x AM/FM/HD Radio Broadcast Tuner PCI Card Skimmer Logger [Refurbished]
(
283575342050)

)

Regular price

$687.00

Sale price

$1,230.00

(1 available in stock)

HD Radio FM Tuner PCI Card • Windows 10 64Bit Compatible • 4x AM/FM/HD Simultaneous Recordings • Great for Airchecks, Skimming and Competitive Surveillance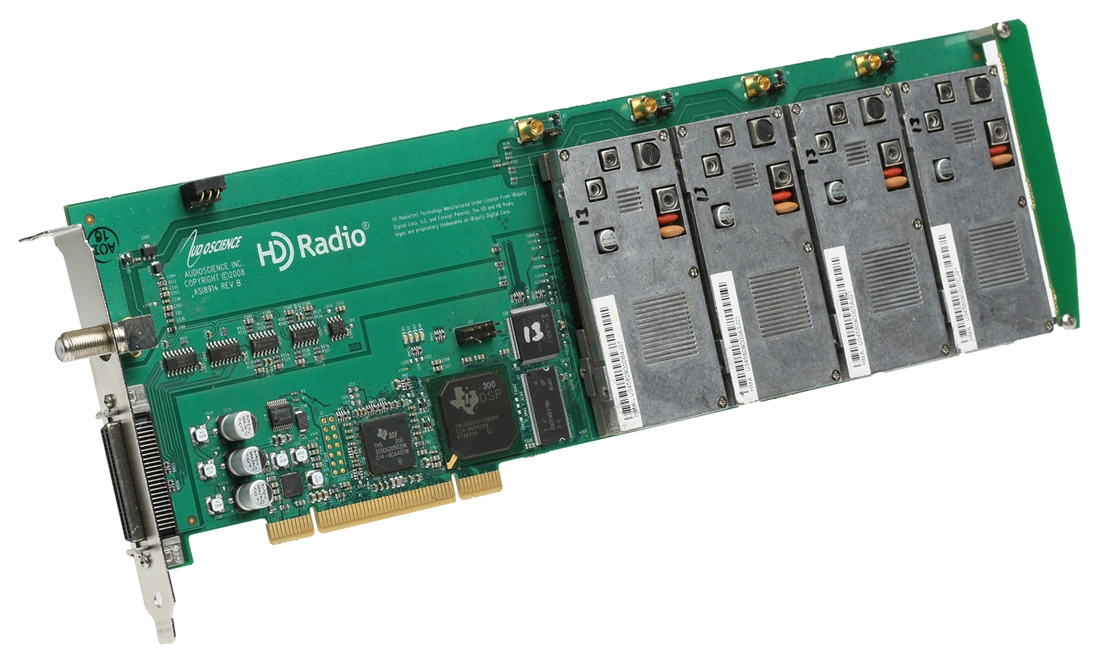 Here's a lightly used HD Radio tuner card that lists for $2,495. It can receive HD Multicast transmissions as well as regular AM/FM stations. It works with HD Radio delivered via the Ibiquity system (ie. the USA mainly), it will not work with the Eureka HD system in most other places.  The card has been tested under Windows 10 64 Bit - see screenshot below. HD Radio requires a strong signal so a quality rooftop antenna may be needed for successful operation. No cables are included. Drivers may be downloaded from the ASI website - I can provide a link if required. Some suggestions for matching apps are provided below (but not guaranteed by me). Compatibility with other applications is unlikely as this is a specialized device.
Product Information
The ASI8914 is a professionalPCI tuner adapter designed for use in HD Radio radio broadcastaudio monitoring and auditing. Four different channels of digital HD Radio or analog AM/FMcan be received and recorded simultaneously from a singleantenna input.
Recording formats include PCM, MPEG-1 Layer 2 and MPEG-1Layer 3 (MP3). Using MRX technology, each stream can berecorded at any sample rate between 8 and 48kHz.
Each tuner can also decode and stream the HD RadioProgram Associated Data (PAD) data and RDS/RBDS datafor analog FM.
HD Radio multi-cast is supported, allowing the audioand PAD stream to be switched between the Main ProgramService (MPS) and Secondary Program Services (SPS) undersoftware control.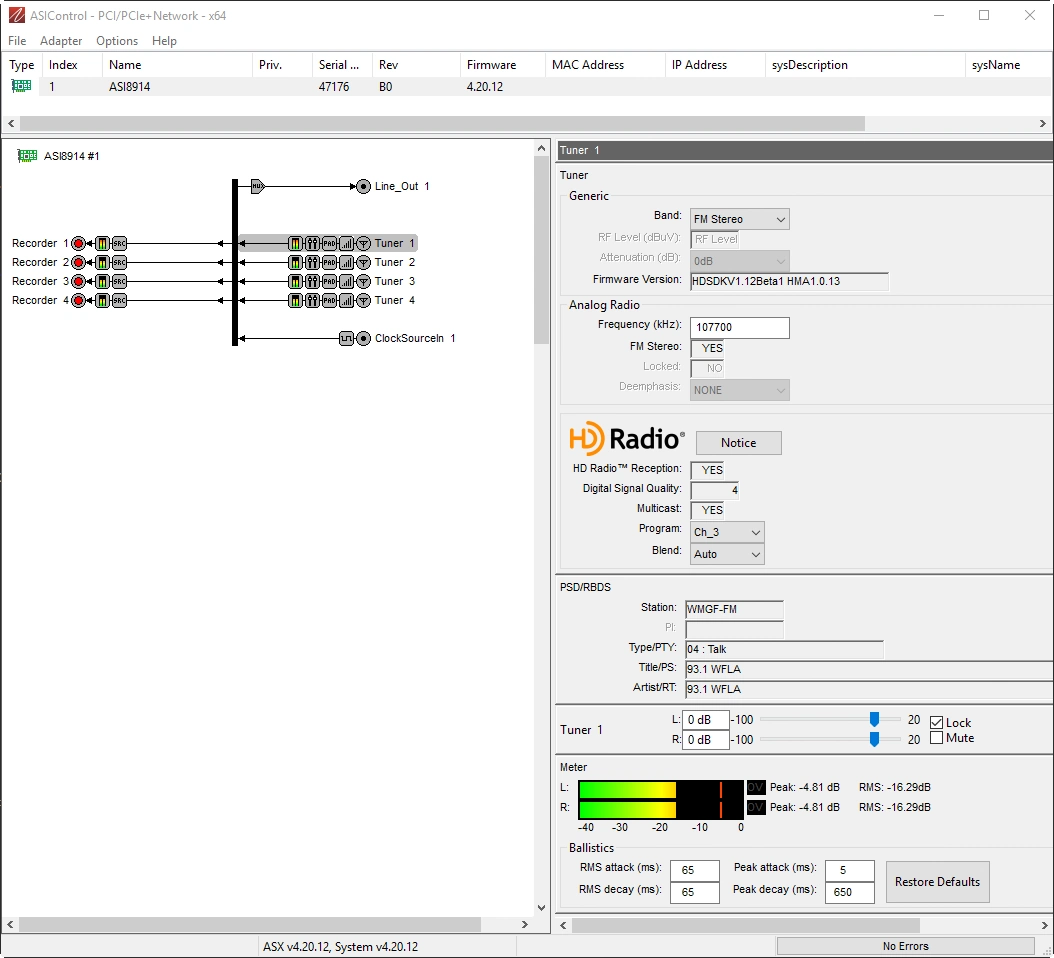 The following companies make logging software that can be used with the ASI8900 cards. Compatibility with other software is unlikely.
BSI SkimmerPlus
Hardata HdxRadio
Dinesat Radio
OMT Technologies iMediaLogger
Pristine Systems BLACKBOX
RCS Media Monitors
Stirlitz Media Logger
WinMedia Winlogger
List Price is $2,495

Features
Up to 4 channels of HD Radio or analog AM/FM audio capture
HD Radio Multicast capable
Up to 4 channels of HD Radio PAD or FM RDS/RBDS data capture
Tuners can be fed from individual external antennas
Audio monitoring of all tuners simultaneously
MRX technology allows each stream to have an independent sample rate of between 8 and 48kHz
PCM, MPEG-1 Layer 2 and MPEG-1 Layer 3 (MP3) recording formats
Full-length PCI card
Up to 8 cards in one system
Windows 10, 7, XP, Server 2008/2003, and Linux software drivers available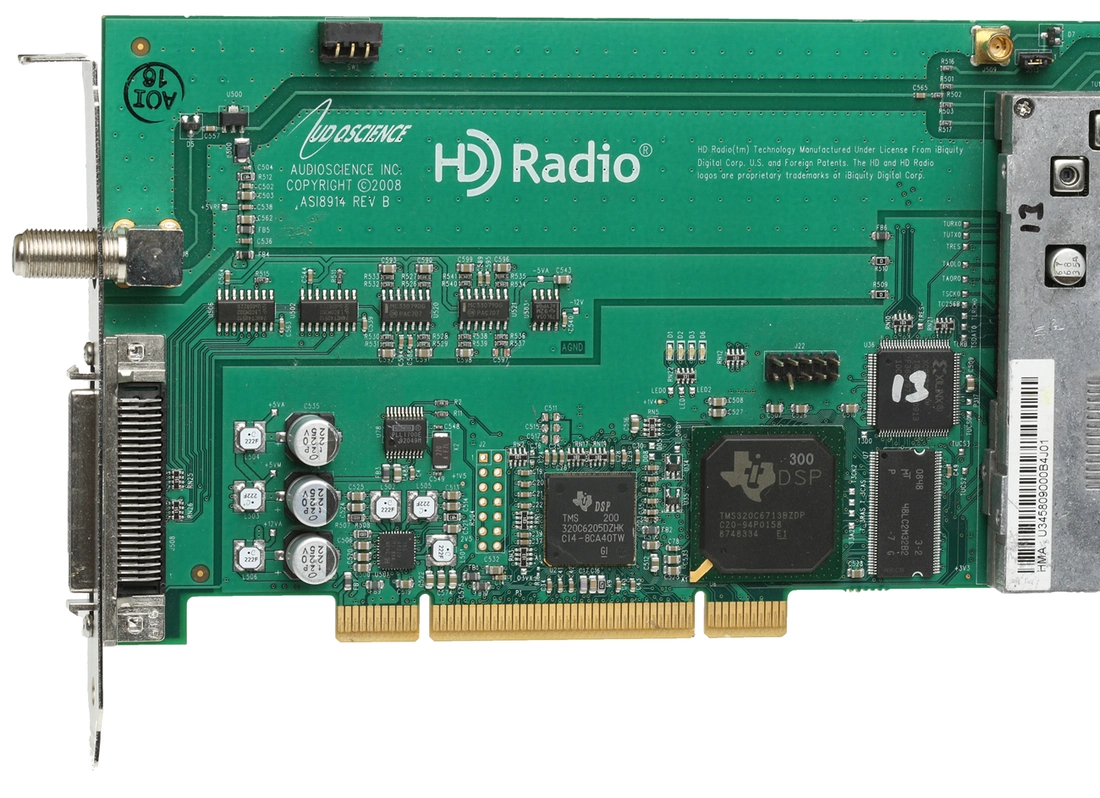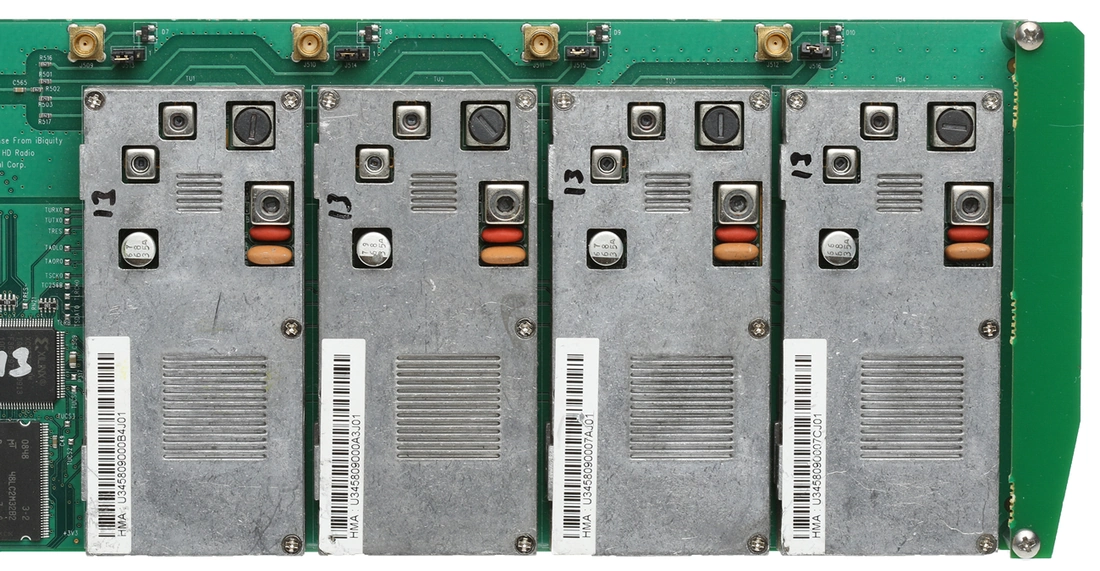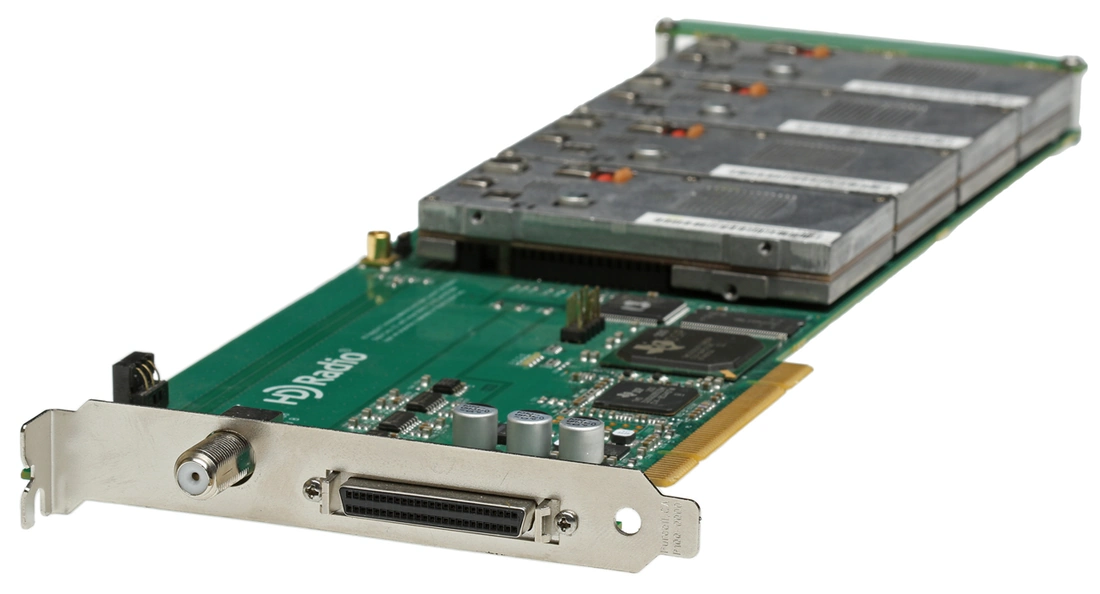 ---
Share this Product
---
More from this collection