BEXT LEX 30 FM Stereo Broadcast 30W Frequency-Agile Transmitter Exciter LPFM
(
364545563830)

)

Regular price

$1,312.80

Sale price

$1,934.00

(1 available in stock)

Tested/Guaranteed • FM Stereo Broadcast • 1-30W (Variable) Power Output • Frequency-Agile • Balanced XLR Inputs • MPX and SCA Inputs • 115V/230V Switchable


Photos show the actual item for sale


Introduction

Tested and confirmed to transmit clean audio. The internal ventilation fan has just been replaced for quieter operation. The User Manual can be downloaded from https://www.prostudioconnection.net/2310/Bext_LEX30_Manual.pdf if required.

Note that this device must have a matched antenna attached before you apply power otherwise you risk damaging the unit.

The buyer is responsible for compliance with any transmitting regulations which apply in their jurisdiction, and a purchase of this item will be taken as an indication that you fully understand that it may be illegal to operate this device without a valid licence and that you indemnify the seller against actions arising from any repercussions of illegal use.
Normally sells for $2,535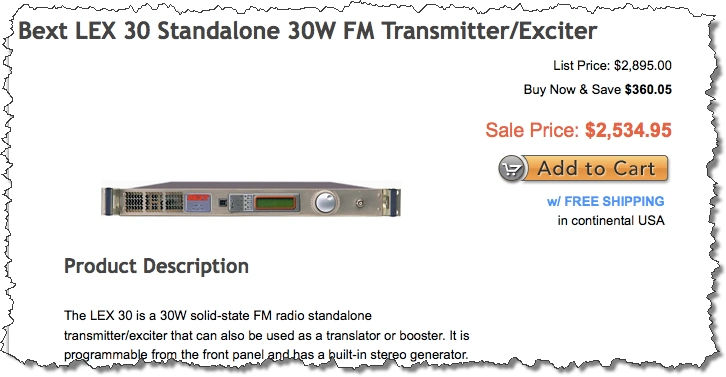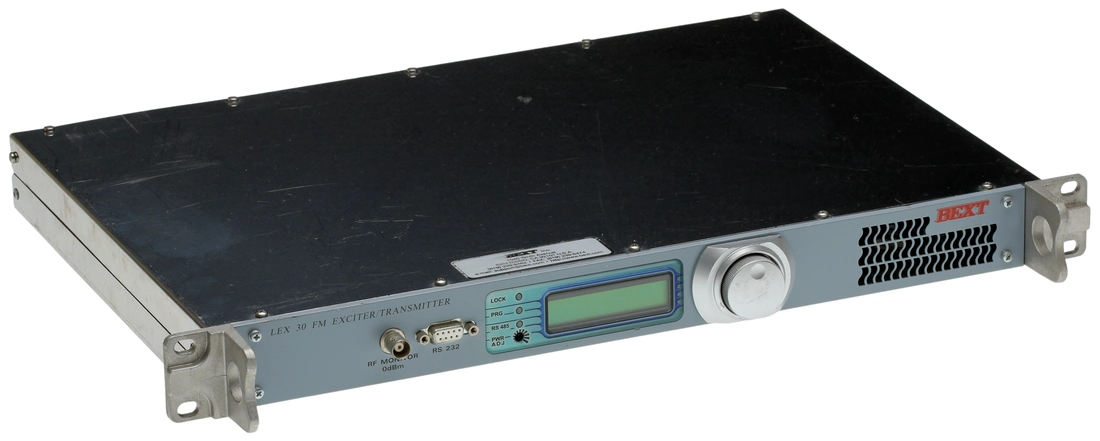 Description
1-30 Watts of Frequency Agile FM Power in a one rack space, ultra compact size
Built-in, selectable high separation internal Stereo Generator, standard
Fast access to all functions & parameters from front panel via user-friendly menu display
Instant frequency programmability directly from software
Proportional Auto-Foldback of output power in the event of excessive VSWR
Adjustable power output from 0 to full power with soft-start control
Automatic power control maintaining the output at any pre-set level
Modular layout with plug-in, easily replaceable circuits and parts
Full voltage range operation, 95 to 260 volts
Built in programmable FSK ID Keyer
Meets or exceeds all FCC and CCIR requirements
Includes low pass/harmonic filter and can be used as a stand-alone transmitter
RF SPECIFICATIONS

Nominal RF power:

30 adjustable from 1W to full power

RF output impedance:

50 Ohms unbalanced, VSWR less than 1.5:1

RF connector:

N Type Female

Frequency range:
87.5-108 MHz programmable in 10 kHz steps, synthesized, microprocessor controlled.

Off lock attenuation:

> 60 dBc

Lock-in time:

< 5 sec. (typ. < 2 sec)

Type of Modulation:

F3E / F8E direct FM at carrier frequency

Frequency deviation:

+/- 75 KHz = 100%25, +/- 150 kHz capability

Reference:

12.8 MHz VTCXO

Stability of freq. dev:

+/- 2,5 %25 x 6 mo.

Consistency of deviation over range:

< +/- 2 %25 from 87.5 to 108 MHz

Frequency drift:

< / - 2 kHz/year (due to internal TCXO aging). Can be user calibrated

Short term stability:

+/- 1 ppm from -5 to +45 C (100 Hz @ 100 MHz)

RF Harmonics:

Exceeds EBU/ CCIR/FCC requirements >70 dBc

RF Spurious:

Exceeds EBU/ CCIR/FCC requirements, < -90 dBc min @ +/- 1 MHz

RF Monitor:

-40 dBc+/-3 dB from 87.5 to 108 Mhz (not suitable for measuring harmonics)

AUDIO GENERAL SPECIFICATIONS

Preemphasis:

Flat/50/75 microseconds, microprocessor controlled

Preemphasis precision:

better than 0.5 dB

Stereo System:

CCIR / FCC "pilot tone system"

Distortion, THD:

Less than 0.1%25 (typ. 0.05%25)

Intermodulation (IMD):

Less than 0.1%25(typ. 0.05%25)

Transient IMD:

< 0.25 %25 (square / sine Wave)

Wideband Amplitude Response:

+/- 0.25 dB, 30 Hz to 100 kHz

Audio Filter Attenuation:

> 50 dB @ 19 kHz, >30 dB 19 to 50 KHz, >50 dB to 100 kHz (typ.)

Common mode rejection:

> 40 dB typ. 30 Hz to 15 kHz (50 dB on request)

COMPOSITE SPECIFICATIONS
Stereo Separation:
30-80 Hz > 50 dB, 80 Hz-15 kHz > 60 dB (typ.65)
Crosstalk attn. (M / S):
> 40 dB 40 Hz to 15 kHz (typ. 50 dB / 100 Hz to 8 kHz)
Audio Spurious Products:
> 53 kHz < 50 dB
38 kHz Suppression:
> 50 dB
38 kHz Tone Generation:
Internal Crystal
38 kHz tone Precision:
38 kHz +/- 2 Hz
Pilot Tone frequency:
19 kHz +/- 1 Hz
Phase response:
19/38 kHz 0 degree +/- 2 degrees internally adjustable
THD on L & R channels:
<0.1%25 30 Hz - 15 kHz
IMD:
70 Hz / 6 kHz 4:1 RATIO <0.1%25
Transient IM:
<0.25%25 (square / sinus)
Audio response:
+/- 0.25 dB 20 Hz to 15 kHz
Pilot Tone Deviation:
+/- 7 kHz nominal
S/N:
Typical Values referred to +/- 75 kHz: Weighted (CCIR 468/2- Peak CCIR detector) 80 dB / 50 microseconds - 74 dB / flat Weighted (CCIR 468/2 - RMS detector) 83 dB / 50 microseconds - 77 dB / flat Unweighted (RMS detector, 30 Hz-20 kHz) 80 dB / 50 microseconds - 71 dB / flat
AM Synchronous:
(AM = 500 Hz, FM = 500 Hz +/- 75 kHz Ref. = 100 %25 AM, RMS detector, BW 30 Hz-200 kHz) < -55 dB typ. -60dB
AM Asynchronous:
FM = no modulation, Ref. = 100 %25 AM, Unweighted, RMS detector, BW 30 Hz- 200 kHz) < - 55 dB typ. -60 dB
Am asynchronous:
(Fm = no modulation, Ref. = 100 %25 AM, Unweighted, RMS detector, BW 30-200 kHz) < -68 dB, typ. -80 dB
AUDIO INPUTS

SCA / RDS Input:

1 BNC connector, unbalanced, Z nominal~3 kOhm (2.8<Z<3) Lev: -3 + 6 dBm @ 7.5 kHz, Dev. adj. on rear panel

AUX Input:

1 BNC conn, nbal., Z nominal ~ 3 kOhm (2.8<Z<3) Lev: -3 + 6 dBm @ 7.5 kHz Deviation adj on rear panel

MPX Input:

1 BNC conn., unbalanced, Z nominal ~ 1 k2 (1 k2 +/- 10 %25), Lev: -3 + 6 dBm @ 75 kHz Deviation, adj. on rear panel

L & R + Mono Input:

2 XLR connectors, balanced or unbalanced; Z nominal 10 kOhm +/- 1 %25 or 600 Ohm +/- 1 %25; uP selectable by menu; uP selectable Lev: -3 + 6 dBm @ 75 kHz Deviation. Coarse steps 3 dB (uP) Fine adj. 3.5 dB (+/- 1.75), adj. on rear panel

OTHER CONNECTORS
19 kHz Output:
1 BNC connector, unbalanced Z nominal: > 5k Pilot = 1 Vpp 19 kHz Squarewave
Telereadings / telecontrol :
DB 25 on back panel
Interlock:
Normally open or normally closed (software selectable), contact on telemetry connector.
USB:
USB B on front panel for telecontrol (under development)
RS 485:
RJ45 custom pin-out connector
ENVIRONMENTAL
Storage temperature:
-20 C to +60 C
Operating temperature:
5 C to 45 C
Guaranteed performance temp:
0 C to +40 C
Relative humidity:
90%25 (non condensing)
Max operating altitude:
2000 m.
Cooling:
Forced air (internal low noise blower)
PHYSICAL & ELECTRICAL
Front Panel:
483 mm (19") Wx 44mm (1 3/4") H (One standard rack space high)
Overall Depth:
365 mm (14")
Weight:
Approx. 4 kg (8.8lbs)
Cabinet:
Stainless steel
AC Power:

Full voltage range power supply (95 to 260 volts single phase) Approx. power consumption @ full power: LEX30 = 75VA.

LCD Display Readings:
Programmed Output Power; Forward Power; Refl. Power; Unclipped Deviation (simulated Led Bar); Clipped Deviation (simulation Led Bar); Clipper activity (clipped / unclipped differential); L Audio True Peak Level (simulated Led Bar); R Audio True Peak Level (simulated Led Bar); Frequency (6 digits); Sensitivity (3 dB step); RDS, SCA, AUX, MPX Ext Modulation; Programmed Audio Parameters; Preemphasis (Flat, 50, or 75 microseconds); Limiter On / Off; Input Impedance; Z = 10 kOhm / 600 Ohm; Preset Thresholds (min. RF power, mute time)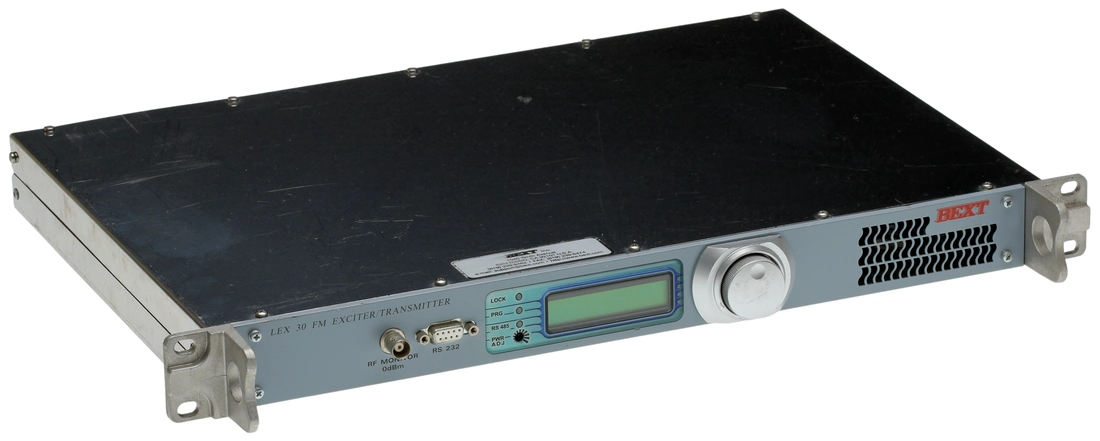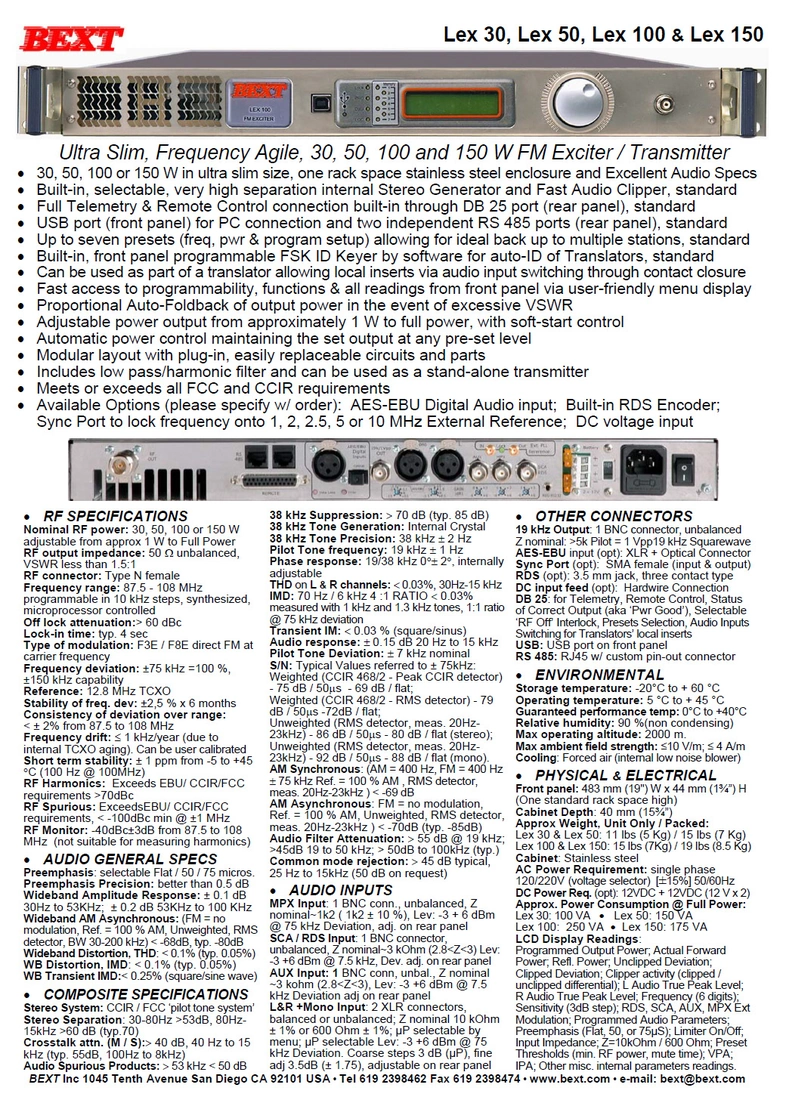 ---
Share this Product
---
More from this collection