Broadcast Tools 16x2 Stereo Audio Matrix Switcher/Router Automation GPI RS-232
(
363496385929)

)

Regular price

$461.00

Sale price

$677.00

(1 available in stock)

New Open Box • MINT Condition • Tested/Guaranteed • 16x2 Dual Stereo Audio Switcher/Router • Serial Port Control • GPI •PC Serial Control via RS-232 • Remote GPI Contact Closure Interface •With Power Supply and All Phoenix Connector Blocks

Item is New Old Stock, Open Box. The photos show the actual item for sale.

Description
The 16x2, sixteen input, dual output stereo switcher/router passively switches or routes any one of 16 stereo inputs to either or both stereo outputs or vice-versa through gold contact relays.
The passive nature of the switching allows for any input level and impedance to be used. Inputs may be balanced or unbalanced, while output levels, impedance, distortion, noise and balancing will match that of the selected input.
In addition to their normal use with audio signals, the 16x2 can also be used to switch digital signals and telephone lines. Control is via front panel switches, contact closures, open collector status and/or multi-drop RS-232 port.
Removable screw terminals are provided for all audio connections.
More information may be obtained from the User Manual
https://www.prostudioconnection.net/2108/Broadcast_Tools_16x2_Manual.pdf

The 16 x 2 has several unique features:
The Power-Up feature allows the user to select which of any source is active at power up, including the last source selected.
Audio mute allows the user to turn off either or both audio outputs when activated.
The Enable switch provides a safety lock to the front panel source selection switches.
Dual Audio Activity Monitor LED's with remote status monitor the output audio from either or both outputs.
A Serial Port allows communication and operation from a host computer's serial port.
16 "PIP" TTL/CMOS compatible inputs and open collector GPI ports allows the serial port monitoring of contact closures from satellite receivers; tone decoders; etc; while the open collectors provide a means of controlling devices with commands from a host computer's serial port.
Source number one is configured by default to route audio to both outputs in the case of loss of power to the unit. Non-selected sources are terminated with 100K? load resistors.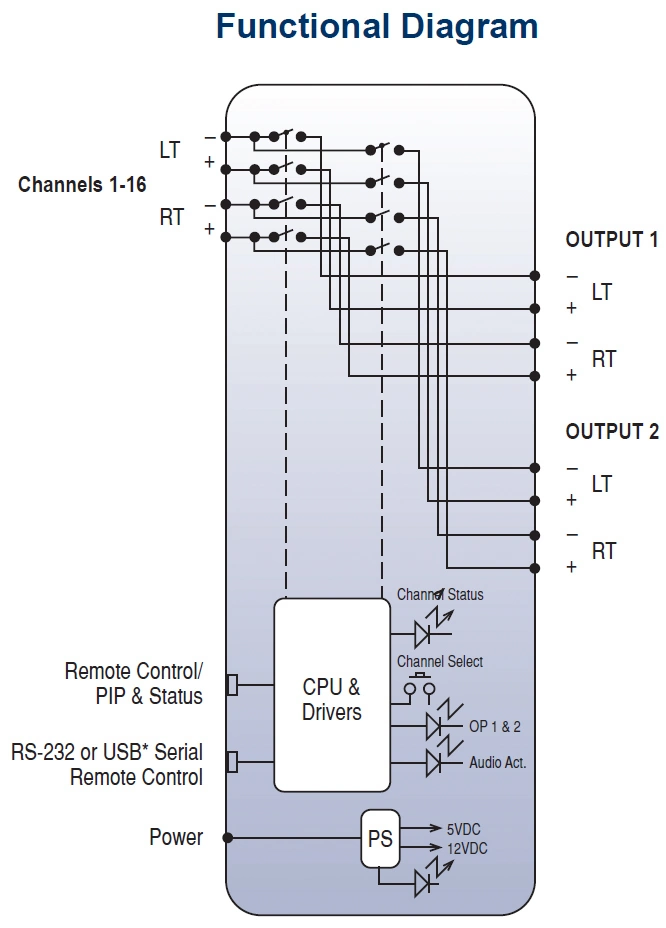 Applications
Some of the applications of the 16 x 2 include:
Studio selection and routing
Audio processing selection
Exciter input selection
Remote broadcast input selection
STL source selection
Automation source selection
EAS audio switching
ISDN or Phone hybrid feed selection
IFB selection
Satellite audio channel switching
Console monitor inputs and outputs selection.



Front Panel Description
Source Switches

Each switch represents an input to be routed to either or both of the outputs. High quality tactile switches will give the user years of dependable service.
Each switch has an associated LED indicator, which will illuminate when that particular source is routed to either or both of the outputs.
When a source is selected, the previous source will be deselected, (interlocked).
The ENABLE switch, when enabled, must be pressed and held in order for any of the source switches to function. This function may be bypassed.
The front panel is also equipped with a MUTE switch. This switch, when pressed in combination with the OP 2 and/or ENABLE switch, turns off the output.

LEDs

LED indicators, which will illuminate when the desired channel is selected to output one, slowly flash when to only output two and rapidly flash when to assigned to both outputs. The Pwr/Ser LED displays valid power and serial data activity. The mute LED denotes when audio is off. The respective activity LED's light when audio is present at the appropriate output.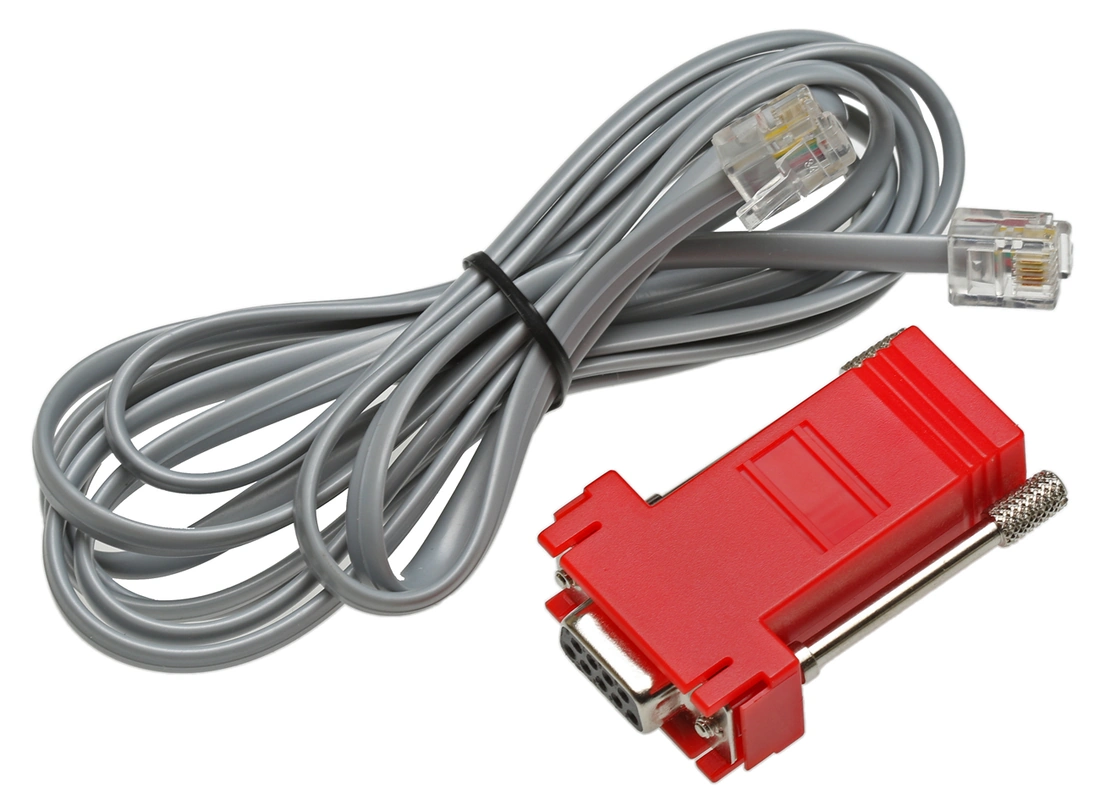 Rear Panel Description
The rear panel contains all input, output and remote control interfacing connectors. Audio inputs and outputs are routed through pluggable screw terminals. Remote control is accomplished via a 37 pin "D" connector. A modular jack is provided for the multi-drop serial port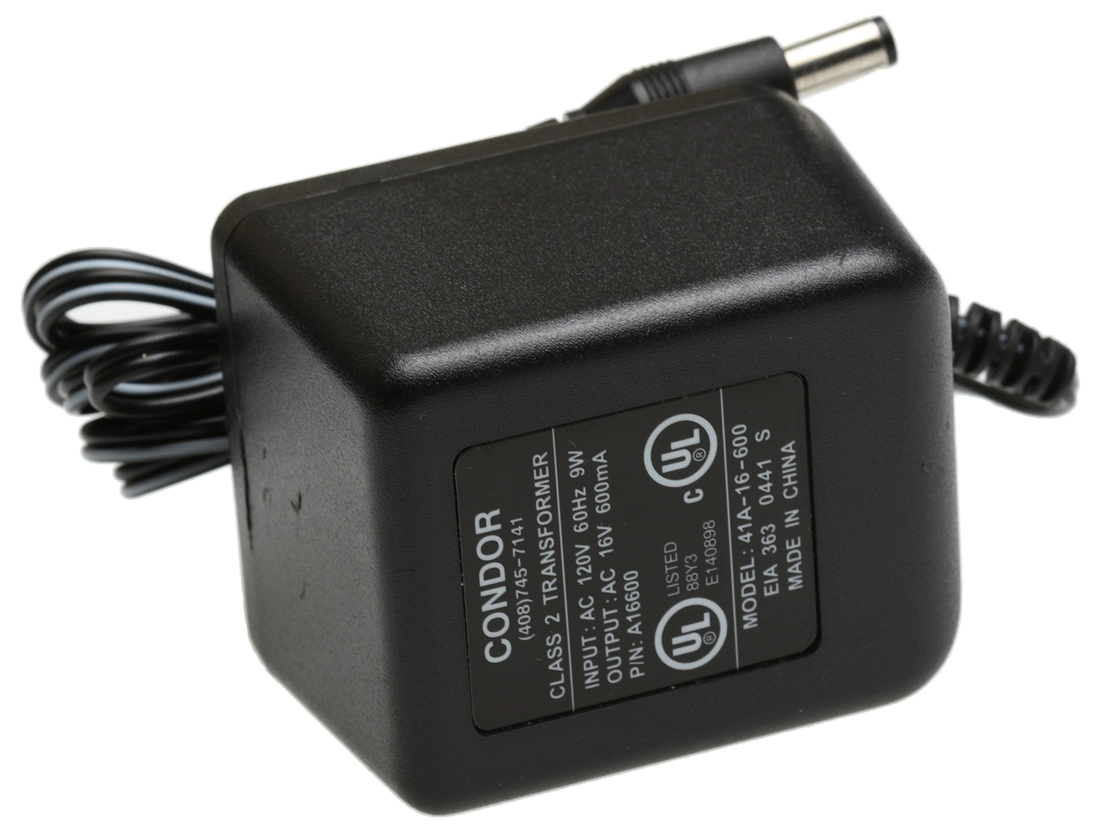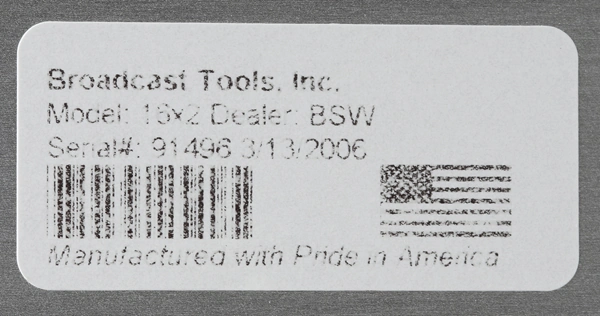 ---
Share this Product
---
More from this collection