Broadcast Tools DAS 8.4 AES Digital Audio Broadcast Automation Switcher Router [Refurbished]
(
364204974130)

)

Regular price

$549.00

Sale price

$804.00

(1 available in stock)

Tested/Guaranteed • Fully Working • 8 Channel AES/EBU Audio Switcher/Router • All Connector Blocks Included • 115V AC Power Supply Included



Item is lightly used and in excellent cosmetic condition. It has been tested to confirm that it works as it should. A transcript of the Hyperterminal session taken during testing is copied at the end of the listing. The serial port ships set to the default values of 9600 8-N-1 (ANSI). 115V AC Power supply (7 Pin) is included, as is a serial cable and all connector blocks.

Description
The Broadcast Tools DAS 8.4 provides AES/EBU digital audio routing/switching of any one of eight AES/EBU inputs to four AES/EBU outputs.
More details may be obtained from the User Manual at
https://www.prostudioconnection.net/0413/Broadcast_Tools_DAS_8x4_Manual.pdf
The DAS 8.4 may be used in Multicast applications, where an AES enabled EAS device assigned to input eight is routed to all four outputs via a contact closure or serial command. When the alert/test is completed, the DAS 8.4 will return to its previous I/O configuration.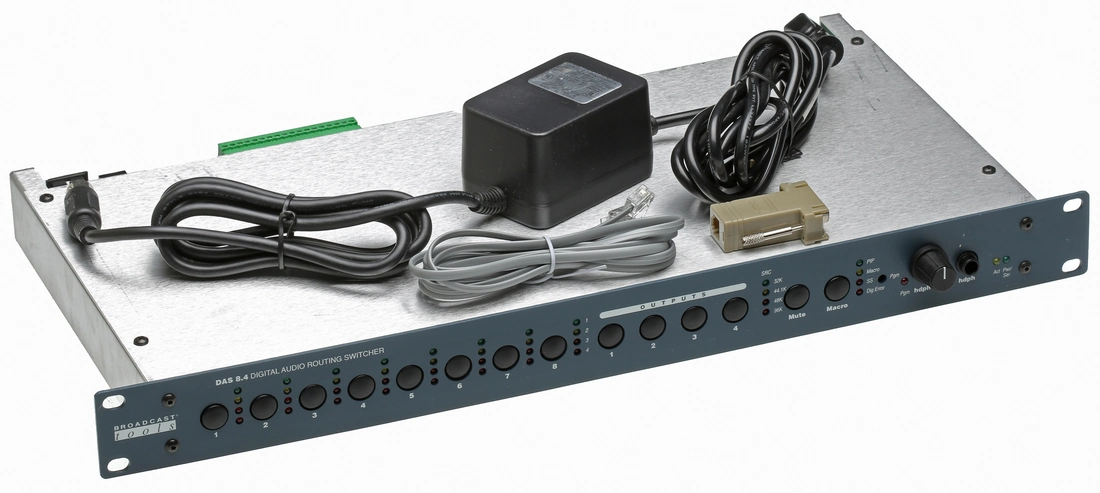 The DAS 8.4 may be controlled via front panel switches, contact closures, 5-volt TTL/CMOS logic and/or the multi-drop RS-232 serial port. The front panel is equipped with input and output selection push buttons, output assignment LED's, sample rate LED indicators, while each output may be monitored with the front panel LED VU meters, headphone amplifier with front panel level control and analog balanced stereo output. Additional features include a 16 GPIO control/monitor. Installation is simplified with plug-in euroblock screw terminals. 1-RU chassis.

Features/Benefits
Routing type switching, any one input may be assigned to any/or all outputs.
Multicast function and remote control port
Internal digital/analog audio silence sensor monitors any of the four output channels. The unit is equipped with four front panel sample-rate LED indictors, SS, AES/EBU Digital Error and stereo LED VU meters; adjustable analog Silence Sensor/AES Digital error alarm delay and restore duration. Analog silence sensor sensitivity is factory set at -30db.
Front panel input selection switches are provided for each input channel with separate output indicator LEDs.
Front panel monitor selection push button with selected output LED indicators

Power-up selection of inputs to outputs, mute or last source selected.
Eight user configured macros.
Most configuration options via rear panel dipswitches.
16 input GPI port (Remote Control or PIP) with LED indicator.

16 open collector channel status outputs or programmable via burst commands.
Remote control of most front panel functions and status.
Multi-drop RS-232 serial port with data activity LED.
Multiple units may be looped-thru to expand outputs.
Plug-in euroblock screw terminals for ALL connections.
115V AC power supply
1-RU chassis.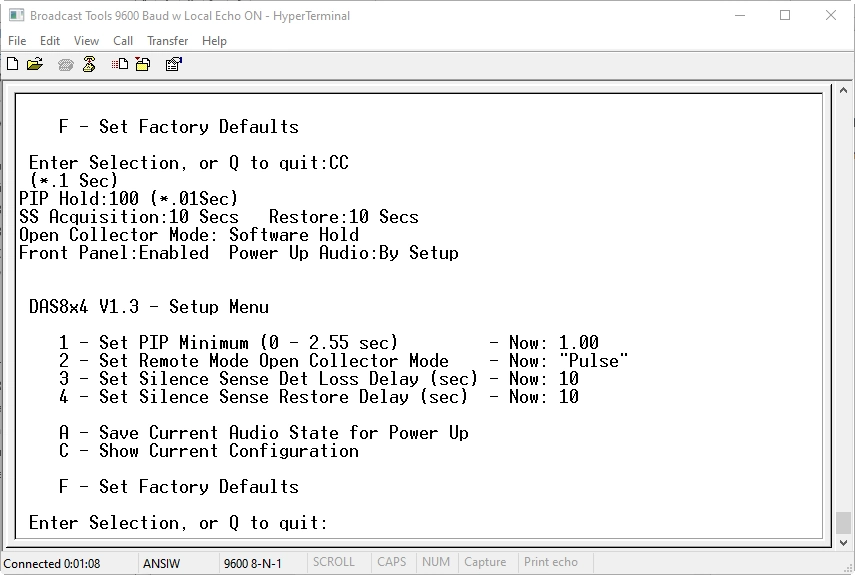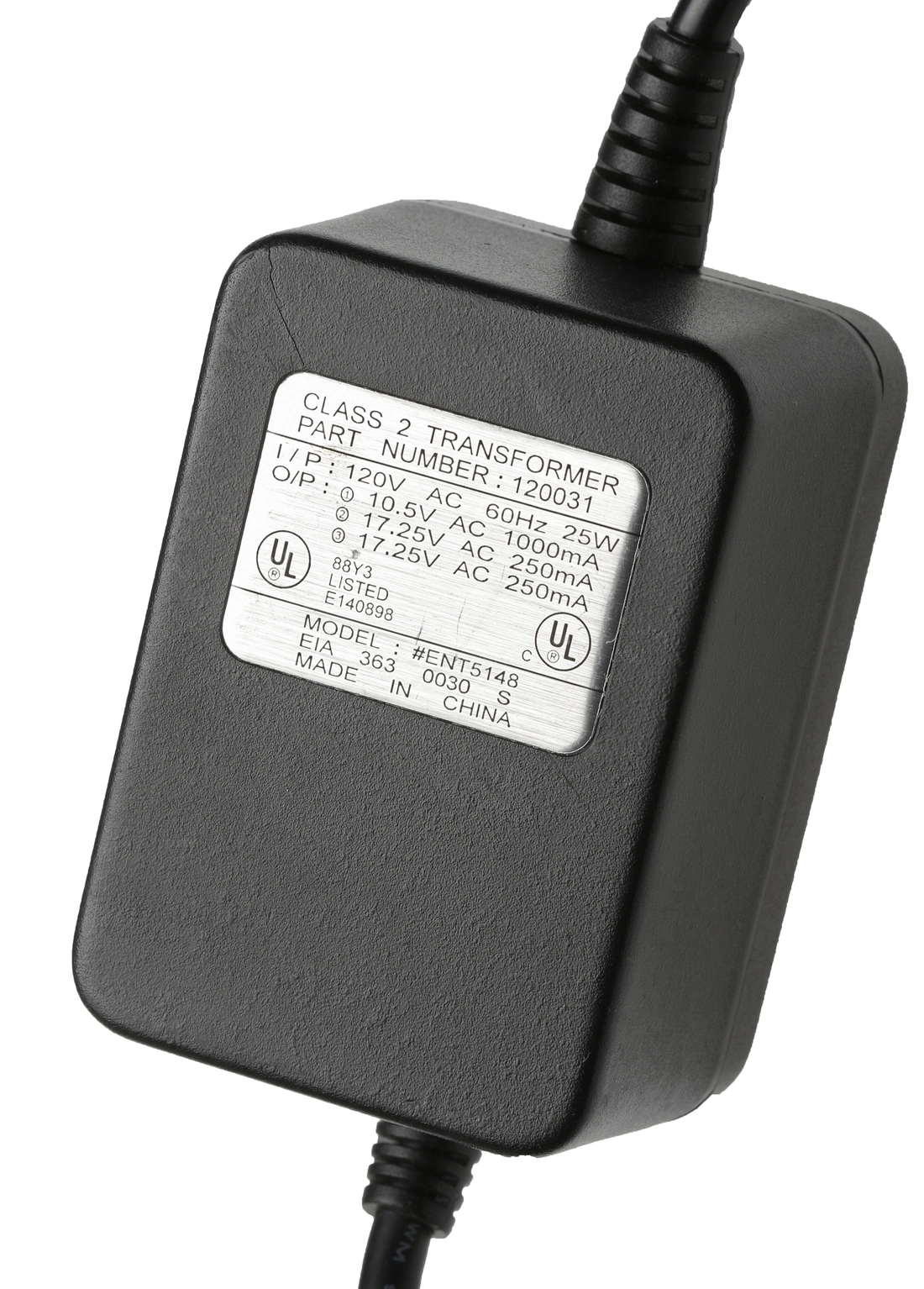 ---
Share this Product
---
More from this collection