Broadcast Tools SS4.1 Plus Broadcast Automation Audio Switcher & Silence Sensor
(
364521555652)

)

Regular price

$290.00

Sale price

$426.00

(1 available in stock)

New Old Stock • Open Box • Connector Blocks Included • With 115V AC Power Supply & Serial Cable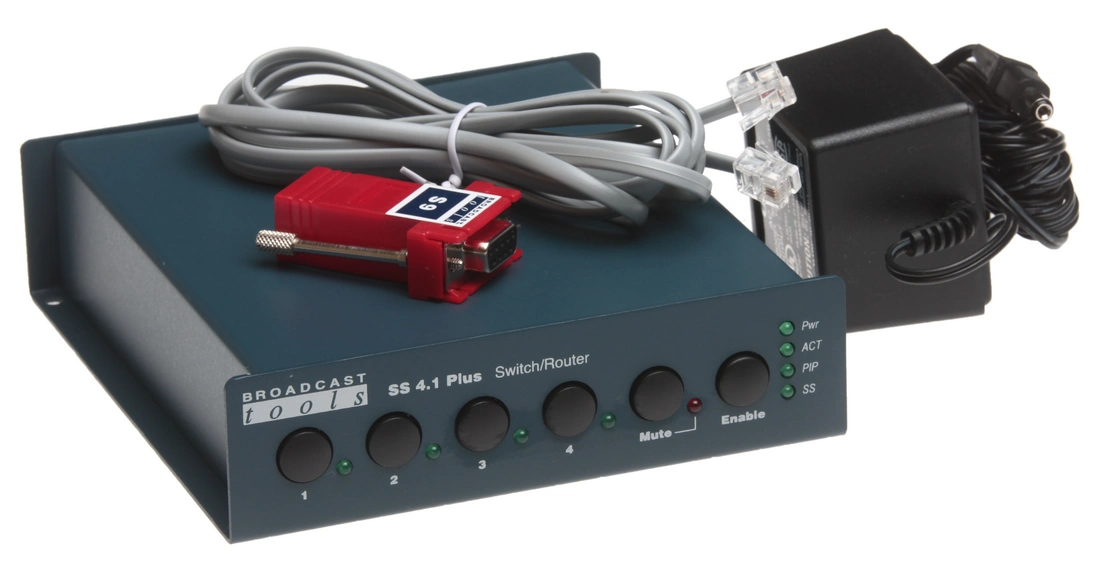 A unused audio switcher in mint cosmetic condition. 115V AC power supply and serial cable included.
Description
The SS 4.1 Plus passively switches any one of four stereo inputs to a single stereo output and is equipped with eight trigger inputs. Perfect for automation switching and/or source selection. The passive switching utilizing gold contact relays, which means that the unit can route a signal in either direction.
Full details may be obtained from the User Manual at
https://www.prostudioconnection.net/1701/Broadcast_Tools_SS4.1_Plus_Manual.pdf

Due to the passive nature of the switching, any input level and impedance can be used. Inputs may be balanced or unbalanced, while output levels, impedance, distortion, noise and balancing will match that of the selected input. In addition to their normal use with audio signals, the unit can also be used to switch composite stereo audio, AES digital audio signals, RS-232, 422 or 485 data signals and telephone lines.

Features
Operational control by front panel switches with LED indicators, contact closures, 5-volt TTL/CMOS logic levels and/or the multi-drop bi-directional RS-232 serial port.
Plug-in euroblock screw terminals are provided for audio and remote control connections.
Audio switching via sealed relays utilizing 2-form-C bifurcated - crossbar silver alloy with gold overlay contacts.
Internal silence sensor monitors the output and is equipped with a front panel LED indicator; SPST alarm relay and adjustable SS alarm delay and restore timing duration.
The "ACT" circuit performs as an audio output activity monitor with front panel LED indicator.

The "ENABLE" switch provides a safety lock to the front panel source selection switches.
The audio "MUTE" switch allows the user to turn off the audio output when activated.
The "STEP" function allows the user to single step through each channel or to automatically sequence with user programmed channel steps and speed.
Eight remote inputs, user configured for remote control or "PIP" (trigger) inputs.
Four open collector outputs provide remote channel status.
Logic functions via flash microprocessor with non-volatile memory.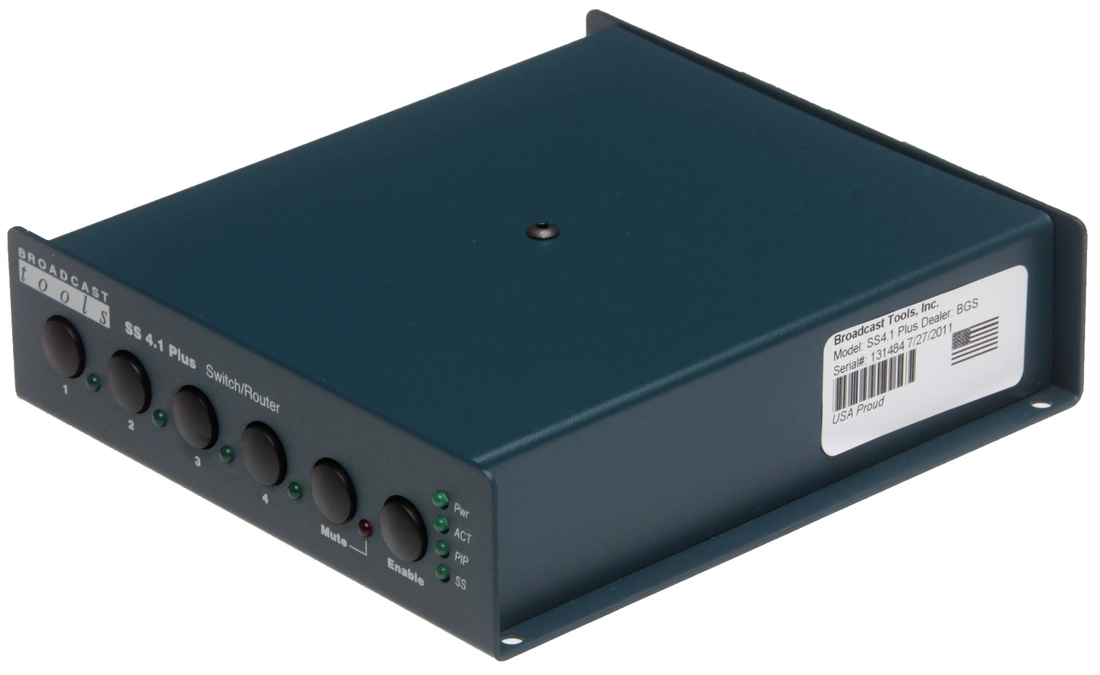 The power-up feature allows the user to select which one source is active at power up, including the last source selected.
Configuration via dipswitches, serial port menu or burst mode.
Source number one is configured to route audio to the output in the case of loss of power to the unit.
Non-selected sources are terminated with 10K W load resistors. Currently installed - may be removed.
The SS 4.1 Plus may be set on a desktop, mounted on a wall or up to three units on one RA-1 rack shelf [not included].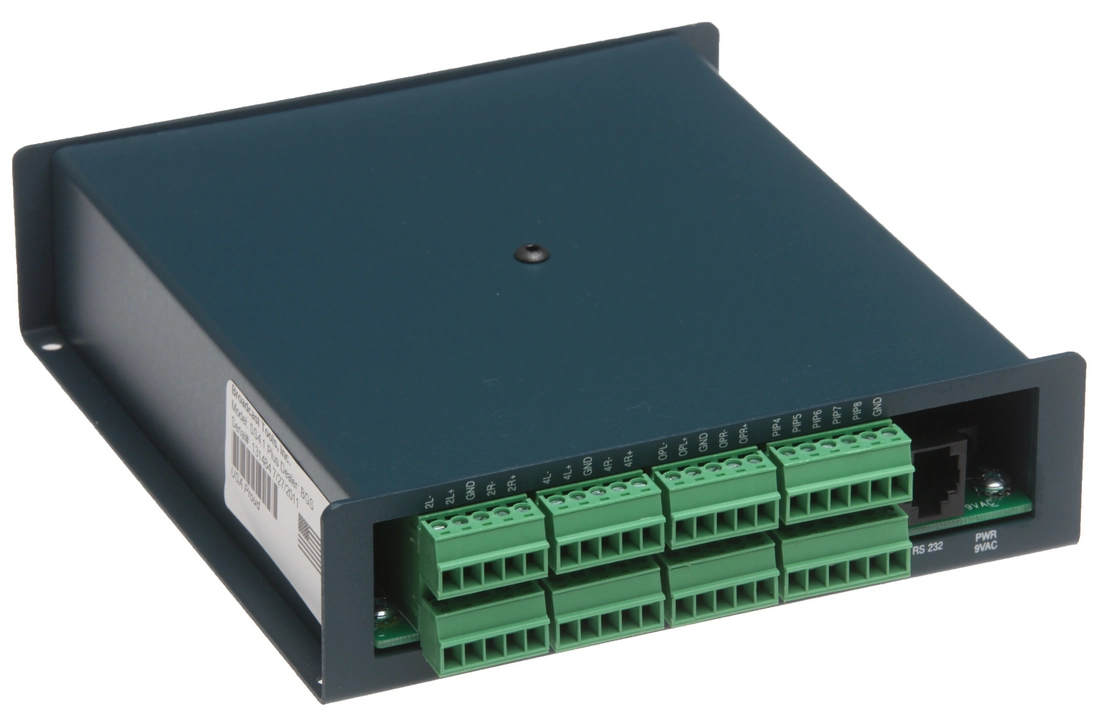 Applications
Automation source switching with eight trigger inputs
Studio selection and routing
Audio processing selection
Exciter input selection
Remote broadcast input selection;
STL source selection
Multiple station program on-hold and/or PA switching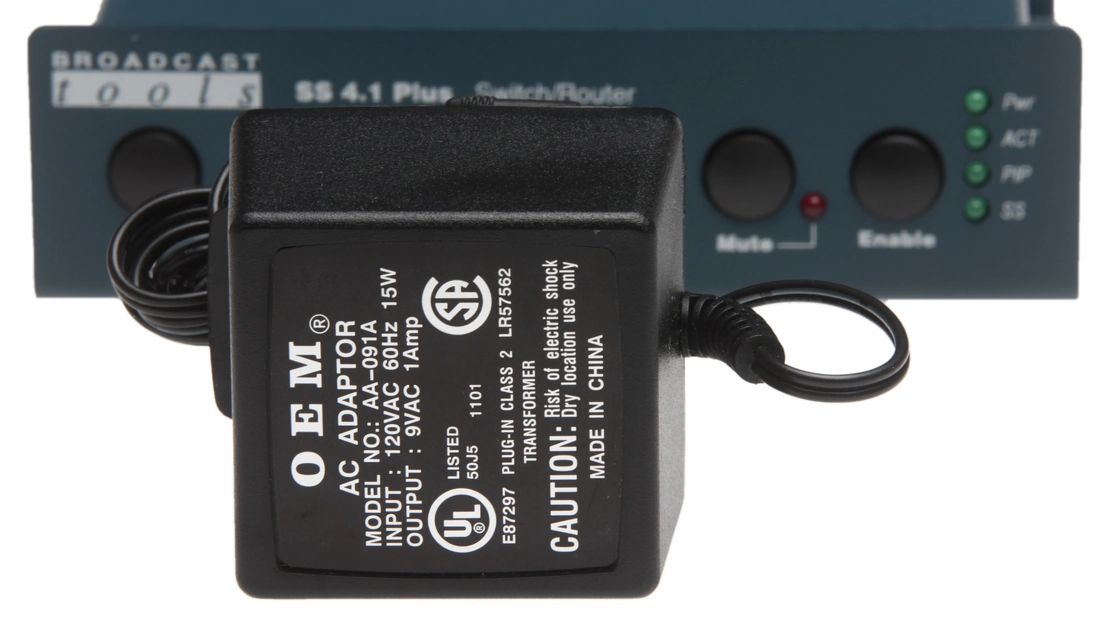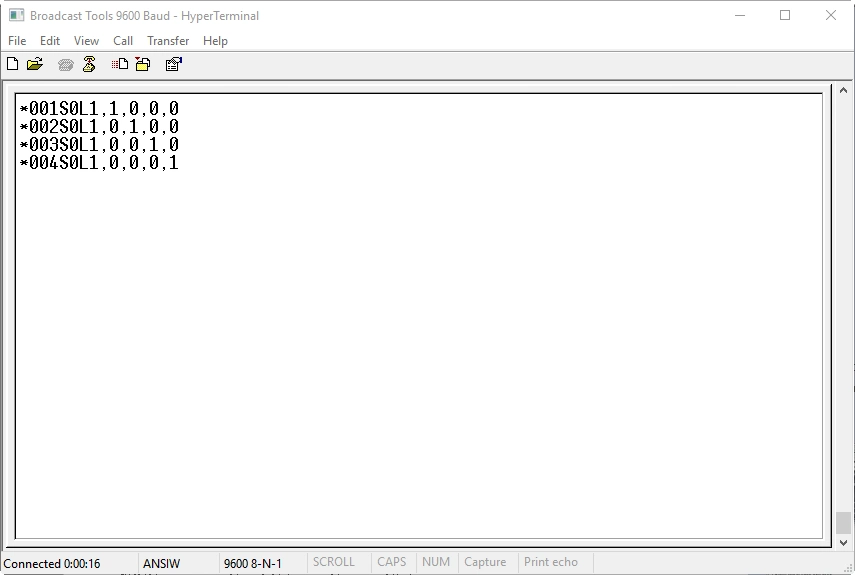 ---
Share this Product
---
More from this collection