Cisco Tandberg AudioScience Conferencing Ceiling Microphone Audio Science (New)
(
283509468166)

)

Regular price

$471.00

Sale price

$615.00

(1 available in stock)

Cisco/Tandberg 114099T • 'AudioScience' Ceiling Mount Telepresence Microphone • Industry Standard Room Mic • Wire -Suspended • Wide Area Audio Pick Up • New Open Box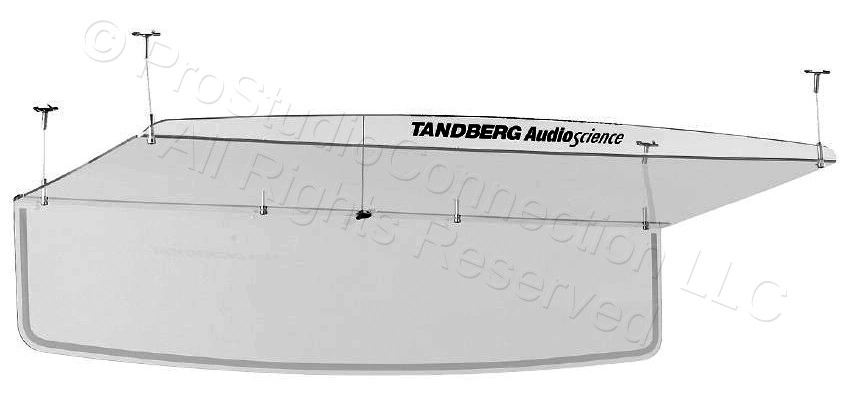 This is an unused Tandberg Audio Science microphone. The carton has been opened to check that the contents are as expected.
They don't make these any more and this is the last one that I have available. There's light wear/labels/tape etc on the exterior of the carton.
Here's your final chance to acquire the industry standard ceiling mic for conferencing rooms - no wires to get yanked, even pick-up of all voices, and no clicks, rattles and breakages as participants hit the table mics.
Of course, you're not limited to using this with Cisco or Tandberg conferencing systems, provided that your equipment can accept a microphone input on an XLR jack (and can provide phantom power) this should work fine with other vendors' gear.
If you have a better shipping contract with FedEx or UPS than me then I would be happy to ship using your account number - figure on 36lbs 55 x 32 x 6: from 34787.  Those dimensions trigger an Oversize 2 surcharge under my contract and that is reflected in the price you are being quoted.
Usually Sells For $1,323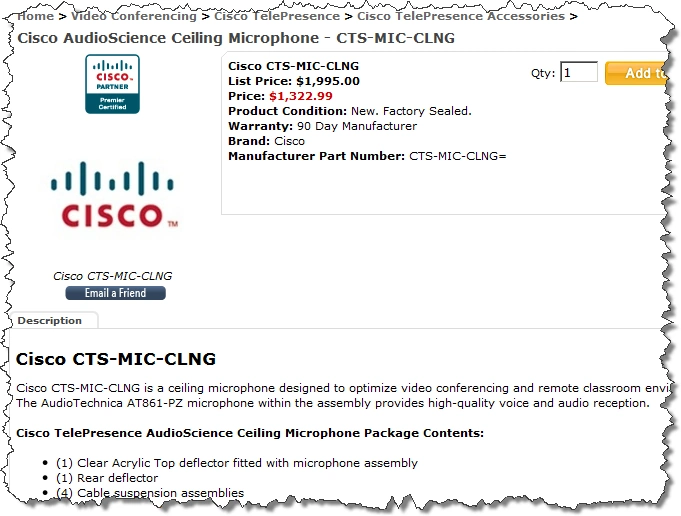 Description
A microphone designed by TANDBERG specifically for videoconferencing. It is mounted on the ceiling of a meeting room and replaces the need for 6 or more conventional table-top microphones. The microphone has a reach of 14 feet (4 meters) offering an exceptional audio pickup range. This large pickup area means that often only one Audio Science microphone is needed per room. The Audio Science microphone automatically balances the different levels (dB) of sound coming from various places in the room. No matter where individuals are located or how softly they speak, they will be heard at the same level at the remote site(s).
The TANDBERG AudioScience microphone measures 52" (132 cm) x 27,5" (70 cm) x 13" (33 cm) and weighs 24 lbs (10.9 kg). For maximum performance it should be suspended between 8-10 feet (2.4-3 meters) from the floor.
Specifications
Physical:
Maximum dimensions: 52 inches (132cm) x 27.5 inches (70cm) x 13 inches (33cm)
Weight: 14 pounds (6.3kg)
Shipping Weight: 24 pounds (10.9kg)

Electrical:
Transducer: Electret Condenser
Impedance: 240 Ohms
Open-Circuit Sensitivity: 7mV/Pa (-43dB re 1V/Pa)
Power Sensitivity: -43dB re 1mW/Pa
Equivalent Noise Level: 20dB SPL typical (0dB=.0002 dyne/cm2), A weighted
S/N ratio: 74dB minimum at 94dB SPL
Maximum SPL at 3% THD: 150 dB SPL
Operating Voltage: 12 to 48 VDC Phantom power with positive voltage on pins 2 and 3 with respect to pin 1 of output connector
Current Drain: 1.1mA
Switch: Frequency select switch for flat or rising response
Output Connector: Standard Male 3-pin XLR
Additional Support Material
---
Share this Product
---
More from this collection