Comrex DH22 Dual Digital Hybrid Broadcast Analog Phone Line Audio Interface IFB [Refurbished]
(
284972804294)

)

Regular price

$457.00

Sale price

$671.00

(1 available in stock)

Dual Line Digital Broadcast Hybrid • 1U Rackmount • Usually $1,531 • Comrex Branded Version • 115/230V Auto

Photos are of the actual item for sale

Details
This listing is for a lightly used Comrex Digital Hybrid broadcast phone-in interface - which connects a telephone line to your broadcast console. A computer-controlled line optimization process (the burst of white noise you hear when the DJ answers the call) ensures that the system is adjusted for the specific line conditions associated with each incoming call. A significant proportion of phone-in calls you hear on the air today are still passing through one of this range of boxes. The device may also be used to provide an IFB feed to remote talent over a phone line.
The unit has been tested to confirm that it is fully functional and the photos are of the actual item for sale. This is model number 910-012-001. Input voltage can range from 100-240V. No printed manual is included, but a copy may be downloaded here if required (https://www.prostudioconnection.net/1112/DH20-22%20Manual.pdf).
Usually Sells for $1,531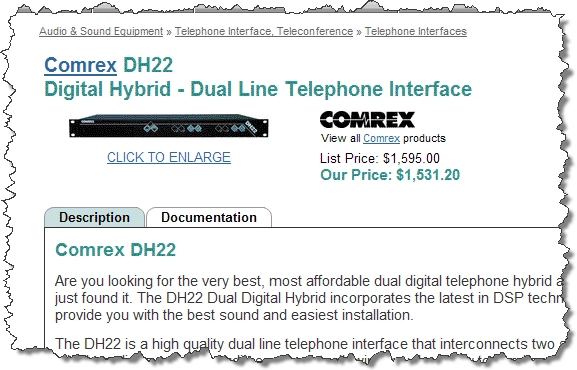 Manufacturer's Product Overview
Are you looking for the very best, most affordable dual digital telephone hybrid available? You just found it. The DH22 Dual Digital Hybrid incorporates the latest in DSP digital technology to provide you with the best sound and easiest installation.
Full details may be obtained from the User Manual
https://www.prostudioconnection.net/1112/DH20-22%20Manual.pdf
The DH22 is a high quality dual line telephone interface that interconnects two standard telephone lines and your audio equipment, allowing you the ability to send audio to and receive audio from the connected telephone lines. The DH22 is ideal when the very best audio quality and conferencing capabilities are required in talk shows, news feeds, production, recording studios, and Internet applications.

Our newest DSP technology delivers better and more reliable sound quality. The DH22 delivers the deepest and most stable hybrid null, ensuring maximum isolation between the send and caller audio. That means no echo and no "bottom of the barrel" sound.
In addition, we've added selectable automatic gain control (AGC) and caller ducking. With AGC, each call will be delivered to your equipment at the same level. Caller ducking reduces the caller's audio level when the announcer speaks, providing a more "controlled" environment. We've also added a speaker amplifier so you can connect a speaker directly to the unit and monitor callers without headphones.
Installing hybrids used to be a hassle. If your console didn't have a mix-minus bus, it was difficult to create one. The DH22 solves this problem with the internal mix-minus. Simply take the mix output of you console and feed it to the DH22.

Features & Benefits
DSP digital technology ensures the very best audio quality and the deepest, most reliable hybrid null
Easy to install, simple to operate
Built-in speaker amplifier
Balanced audio in and out
Mic or line input
Selectable AGC ensures every caller is at the same audio level
Selectable caller ducking
Selectable auto-answer/auto-disconnect compatible with most telephone central offices including loop current interruption and busy/reorder tones
Remote control and status
Automatically accepts all worldwide voltages
Worldwide compliant, including FCC, CSA, CE and CTR21
Dry line capability
The User Manual can be located here.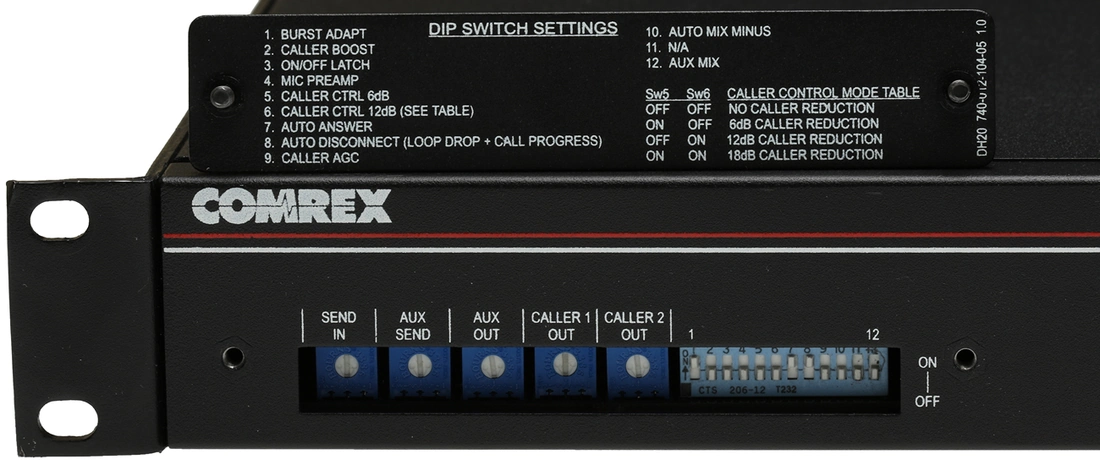 ---
Share this Product
---
More from this collection