DaySequerra M4FM HD Radio Multicast FM Broadcast Tuner AES Digital w Ethernet M4 [Refurbished]
(
233608731856)

)

Regular price

$501.00

Sale price

$733.00

(1 available in stock)

Tested/Guaranteed • Fully Working • HD FM Radio Multicast Tuner • AES Digital Out • Balanced Analog Out • Web Based Interface • Modulation Monitor • Failover Alarm Contact Closures

Photos show the actual item for sale


Unit is lightly used and in very good cosmetic condition. The display is bright, clean and legible. The photos show the actual item for sale. It has been tested to confirm that it works as it should. This model has a web based interface - see screenshots below. Note that HD Radio reception requires a strong signal such as provided by a roof mounted antenna. HD reception is only possible from stations broadcasting in the US version of iBiquity HD IBOC transmission. This item is not returnable if an attempt has been made to change the firmware and/or to perform a factory reset as these actions have been found to produce unintended and undesirable results in the past.
Description
DaySequerra's M4FM is a the powerful analog FM and FM HD Radio modulation monitor.
Full details may be obtained from the User Manual
(https://www.prostudioconnection.net/2006/DaySequerra_m4fm_manual.pdf)
Using a state-of-the-art Texas Instruments® DSP, all of M4FM-HD processing takes place in the digital domain providing precise, stable measurements. Out-of-tolerance conditions can be reported via email and 5 user-defined rear panel alarm tallies.
Analog FM plus HD Radio - Complete monitoring of HD Radio FM broadcasts including FM multicast channels HD-2 through HD-8: user-selectable tuning steps and analog FM 50/75 µSec de-emphasis.
Robust 24/7 performance - stays locked to FM analog, HD-1 or selected multicast stream during power or I2E interruptions; does not automatically revert to analog!
Built-in RF Attenuator - 30 dB for wide RF input range of <0.5 vRMS to 7 vRMS.
Time-Alignment - Monitor your HD Radio HD-1/MPS diversity delay using the built-in Split-Mode feature.
Bright graphic LCD - provides front panel display of DSPrecision demodulated audio, carrier, pilot, composite and SCA level measurements with better than 1.0% accuracy; RBDS and HD Radio PAD/SIS, along with network and alarm conditions, audio level and carrier quality indications.
High-performance Audio Outputs - XLR balanced analog outputs +4 dBm @ 100% modulation; front panel headphone monitor delivering greater than 1W into 8-ohm. Full-time AES3 digital audio output is available, even when tuned to non-HD signals.
Powerful Alarm Monitor ? Simultaneously monitor for loss of MPS and HD-1 Program Audio as well as loss of:

RF Carrier
Audio Loss
OFDM Lock
HD Lock
Multicast
Over-Modulation
Each alarm condition has dedicated user-configured parameters.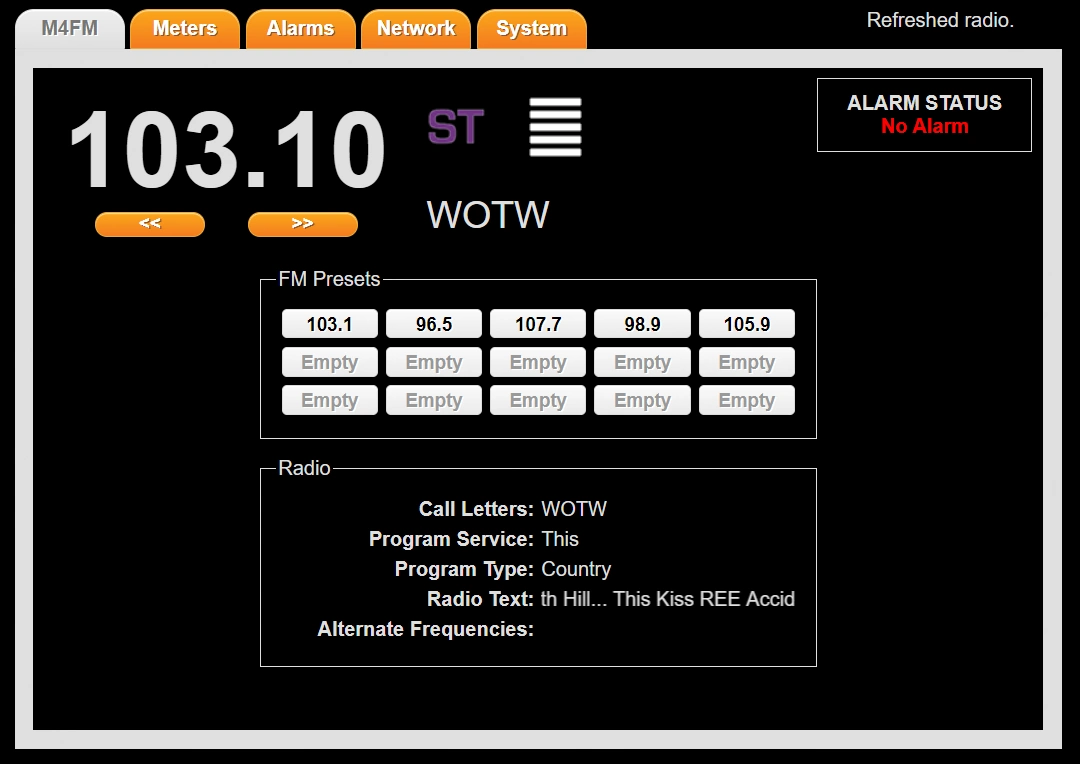 Rear Panel Alarm Tallies - 6 user-configured rear panel alarm tallies.

Front Panel Lockout - Prevents unauthorized settings changes.

Composite BNC output - for external subcarrier (SCA) decoding and translator applications.

All tuners are RDS/RBDS capable.

M4FM-HD Powerful Remote Webserver

Remote control and monitoring using any browser on your Ethernet network; 10 presets per AM-FM band.

DSPrecise Analog Modulation Measurements - Simultaneous demodulated audio, carrier, pilot, composite and SCA level measurements.

Alarm Monitor - Simultaneously monitor for loss of MPS and HD-1 program audio, Artist Experience artwork, PSD and SIS data, RBDS PS and RT fields, Carrier and OFDM HD Radio Lock.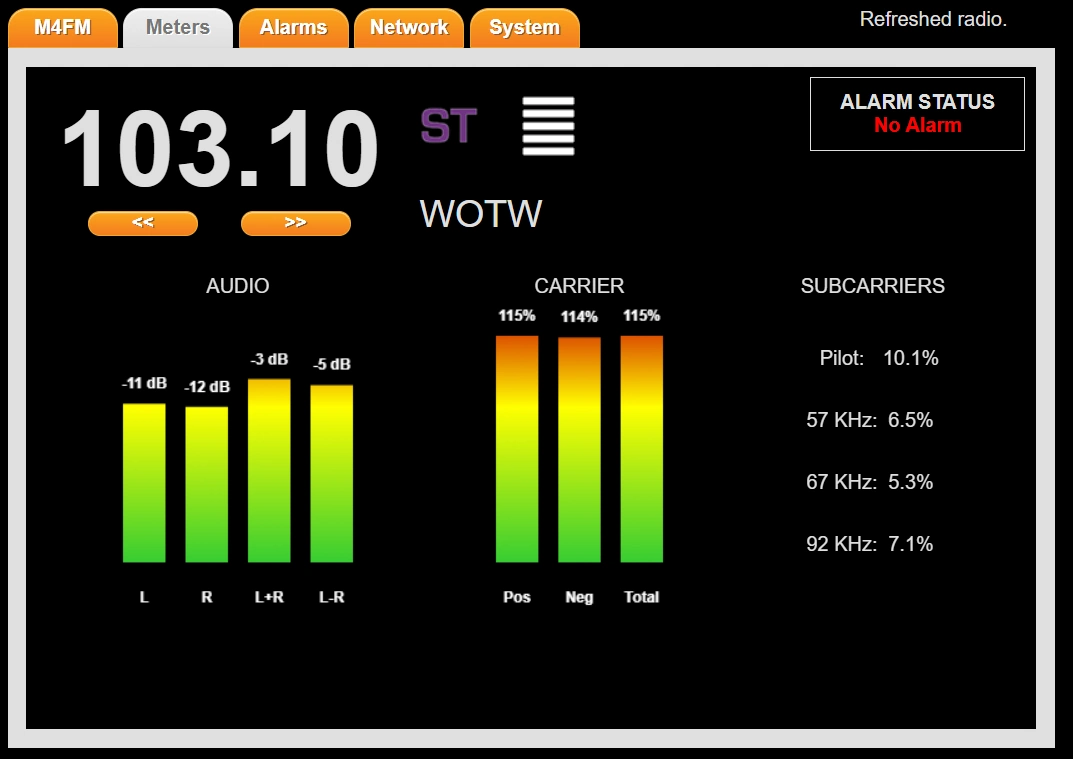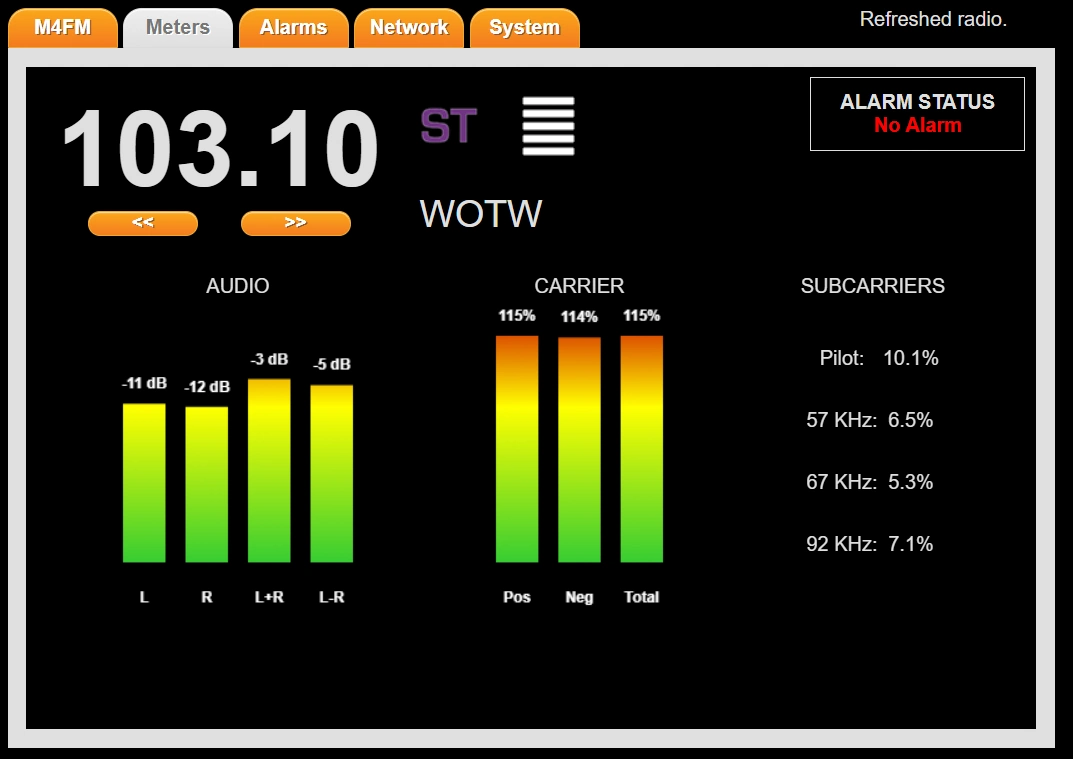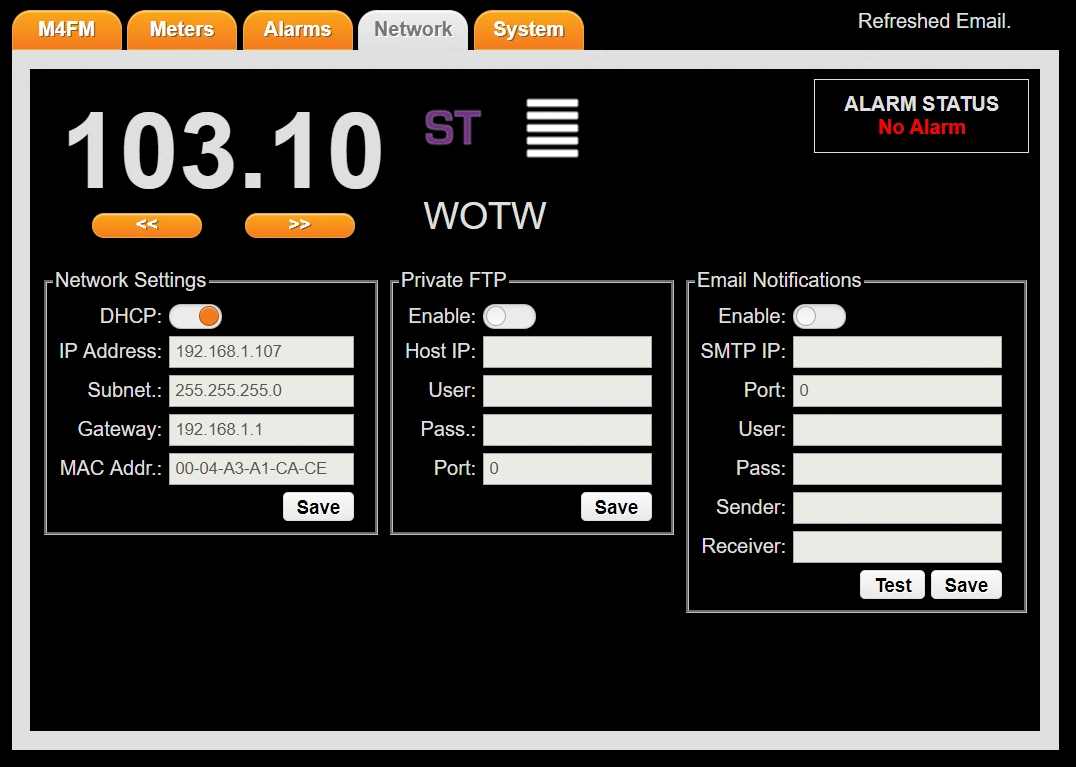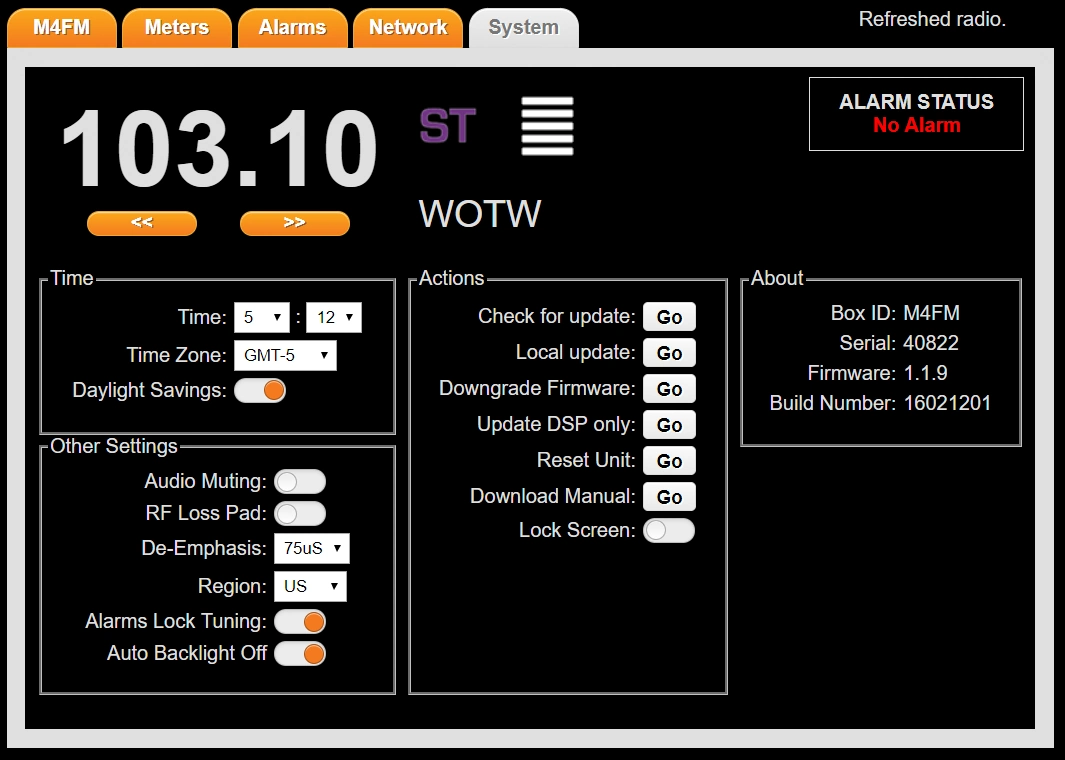 ---
Share this Product
---
More from this collection