Decade FM-850 1.8W Broadcast Stereo Transmitter Exciter LPFM Frequency Agile LP [Refurbished]
(
363866510517)

)

Regular price

$1,424.00

Sale price

$2,054.00

(1 available in stock)

New/OPen Box • Tested/Guaranteed • MINT- Condition • Usually $1,970 • 50mW to 1.8W Output • Balanced/Unbalanced Input Audio

Photos show the actual item for sale

New open box item in MINT- cosmetic condition. Unit has been tested to confirm correct operation. The photos show the actual item for sale. No unpictured cables, accessories or documents are included. By making a purchase, the buyer indicates that they understand the legal requirements for operation of this device within their jurisdiction and indemnifies the seller against any repercussions of unauthorized use. No printed manual is included but a copy may be downloaded from https://www.prostudioconnection.net/1501/Decade_FM-850_Manual.pdf if required.
Usually Sells For $1,970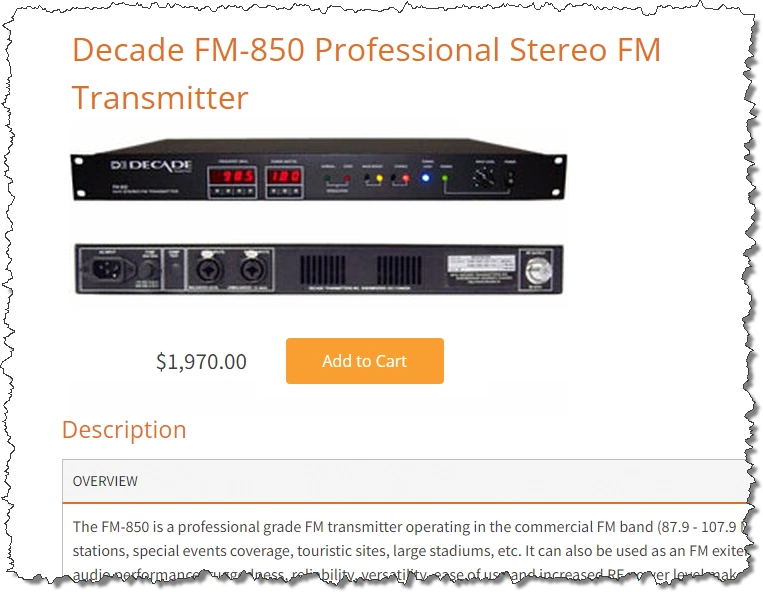 Features Summary
User programmable frequency (Decimal switches)
User programmable RF power (Decimal switches)
No manual tuning or calibration required
Hi-Fi mono/stereo audio mode (selectable)
Bass boost mode(selectable)
Digital stereo generator
Peak indicators with associated volume
Frequency precision of .0008% on the main carrier
DAFP and DAPP technologies
Continuous duty

Description
Full information (including the User Manual) may be obtained from the Manufacturer's Website.
The FM-850 is a professional grade mono/stereo FM transmitter operating in the commercial FM broadcast band (87.9 - 107.9MHz/200KHz channel spaching). The FM-850 can be used as a stand alone FM transmitter or as an FM exciter for greater RF power (RF power amplifier required).
The FM-800 series are one of the easiest available FM transmitters to program and operate, thanks to the latest development in digital programming circuitry. It is now possible to digitally program the frequency and the RF power with accessible direct dial switches on the front panel. Manual tuning or calibration becomes a thing of the past with these FM transmitters.
The FM-800 series are currently the most affordable, stable and trouble free FM transmitters available on the market today thanks to its new auto-compensation circuitry that will assure optimum RF linearity on a temperature range of -50C to +50C (-58F to +122F).
The stereo generator of the FM-850 model features a full digital circuitry that allows a stereo separation greater than 45dB. The unit features an incredible carrier frequency tolerance equal to, or greater than 0.0008%.

Applications
Decade transmitters are intended for use in low power broadcast stations, community and campus radio but can also be used (where allowed) for multi-lingual conferences, play by play broadcast inside arenas and stadiums (the FM-800 series are able to cover a 42,000 seats stadium when used with good quality FM walkmans at the receiving end). Applications are endless...

Specifications
RADIO SECTION:
MODULATION: FM, deviation of 75kHz
FREQUENCY RANGE: from 87.9 to 107.9 MHz (programmable in 200KHz increments)
FREQUENCY PRECISION: 0.0008%25 or better
HARMONICS REJECTION: 55 dB min., 60 dB typ.
OUTPUT POWER: 0 mWatt to 1.8Watts, programmable in increments of 50 miliWatts.
LOAD IMPEDANCE: 50 Ohms typ.
ANTENNA CONNECTOR: UHF-F (SO-239)
HOMOLOGUATION STANDARD: BETS-6 , RSS-123
CONTROLS & INDICATORS: Frequency selection and readout,Power selection and readout, Tuning lock status indicator.
AUDIO SECTION:
MODE: stereo/mono (HI-FI)(selectable)
FREQUENCY RESPONSE: 20 Hz - 15 000 Hz, @-1dB *
TOTAL HARMONIC DISTORTION: 0.05%25 max.
SIGNAL TO NOISE RATIO: 65 dB min.
DYNAMIC RANGE: 80 dB min.
STEREO SEPARATION: 40 dB min., 45 dB typ. **
INPUT IMPEDANCE: 600 Ohms balanced (XLR), 10K Ohms unbalanced (º")
CONNECTORS: 2 x XLR3 and 2 x TRS
INPUT LEVEL: balanced: -4dBm min.. unbalanced: -10 dBm min
INDICATORS: Normal and over modulation indicators , stereo and bass boost indicators
CONTROLS: input level , mono/stereo selector,bass boost selector
* Broadcast standard
** The minimum required separation for FM transmitters is 25 dB. The best receivers have a separation of 40dB, so the effective separation is more a matter of the quality of the receiver.
MISCELLANEOUS:
POWER REQUIREMENTS: 120 V, 60 Hz, 40VA AC PROTECTION: grounded AC plug and 500 mA slow blow, 120 V fuse DIMENSIONS: 19" x 11" x 1.75" (48 cm x 28 cm x 4.5 cm), 1 rackmount space WEIGHT: 19 lb (8.64kg)


---
Share this Product
---
More from this collection