Digigram Mixart 8 AES/EBU Digital & Balanced Analog Broadcast Audio Sound Card [Used]
(
362974033803)

)

Regular price

$62.15

Sale price

$133.00

(1 available in stock)

Broadcast Multichannel Sound Card • 24-Bit Stereo • PCI Interface • Balanced Analog I/O • S/PDIF & AES/EBU Digital I/O • Digigram Mixart 8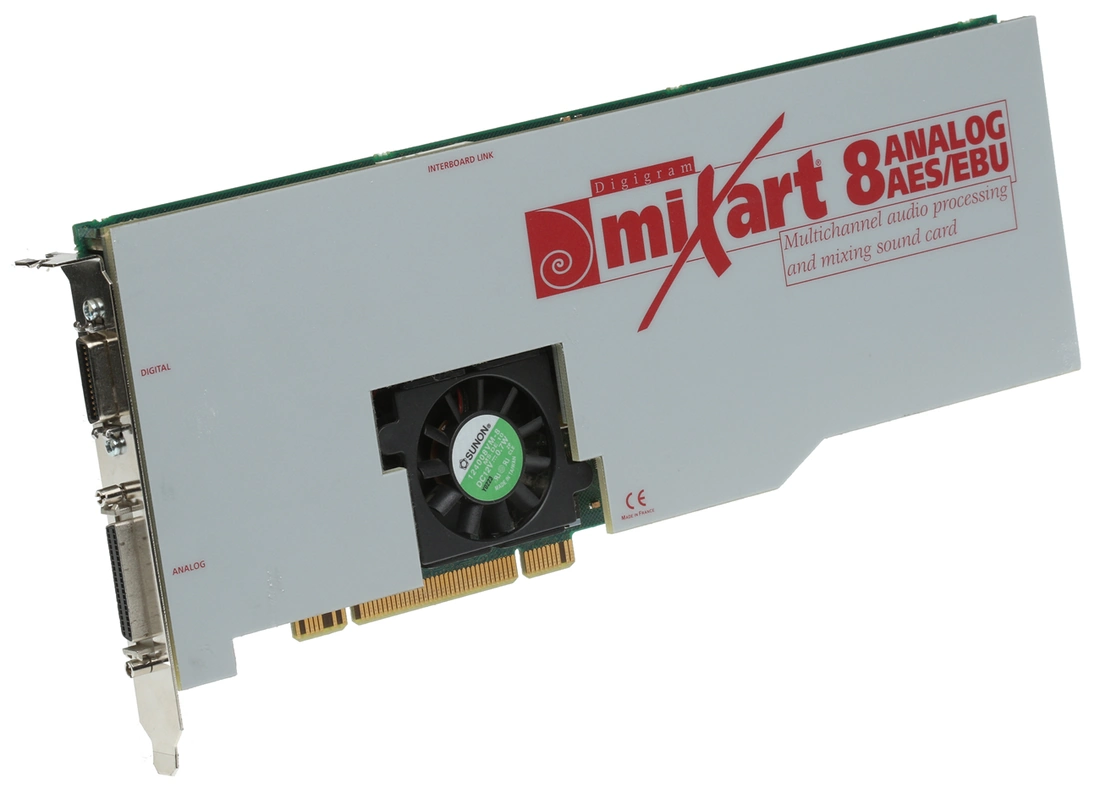 This is a used card. No cables are included. Note that this is a legacy item and support for the later versions of Windows may be limited or unavailabe. Digigram cards are intended for use in a professional environment and can take more effort to set up that consumer grade 'plug and play' cards.
Product Description
The miXart 8 AES/EBU from Digigram is a universal, long-form PCI card, that provides eight analog inputs and outputs, along with eight digital I/O's. The card provides on-board signal processing combined with comprehensive mixing functions. Multiple synchronization options are provided, including AES/EBU input, black burst input, Wordclock I/O, video sync and LTC input.
The on-board processing functions include audio scrub, time-stretching, mixing, routing, digital levels, phase inversion, mute, panning, balance, parametric equalization, compression/expander and noise gate. The card delivers pristine sound quality and was designed for distributing, recording, routing, and mixing audio.
Universal PCI card with eight analog inputs and outputs, and eight digital inputs and outputs, accessible via a breakout cable/fan (Note: Analog and digital inputs can be used simultaneously)

Features
24-bit converters with clock programmable from 7kHz to 50kHz
First four inputs are microphone/line with phantom power
Includes AES/EBU sync input, black burst input, along with Wordclock I/O, Video Sync and LTC input
+22dBu maximum input and output level
Drivers include Digigram np, WDM DirectSound, Wave and ASIO
Card includes on-board MPC8240 PowerPC processor (@ 250MHz) and 16MB SD-RAM memory
Full-length PCI format card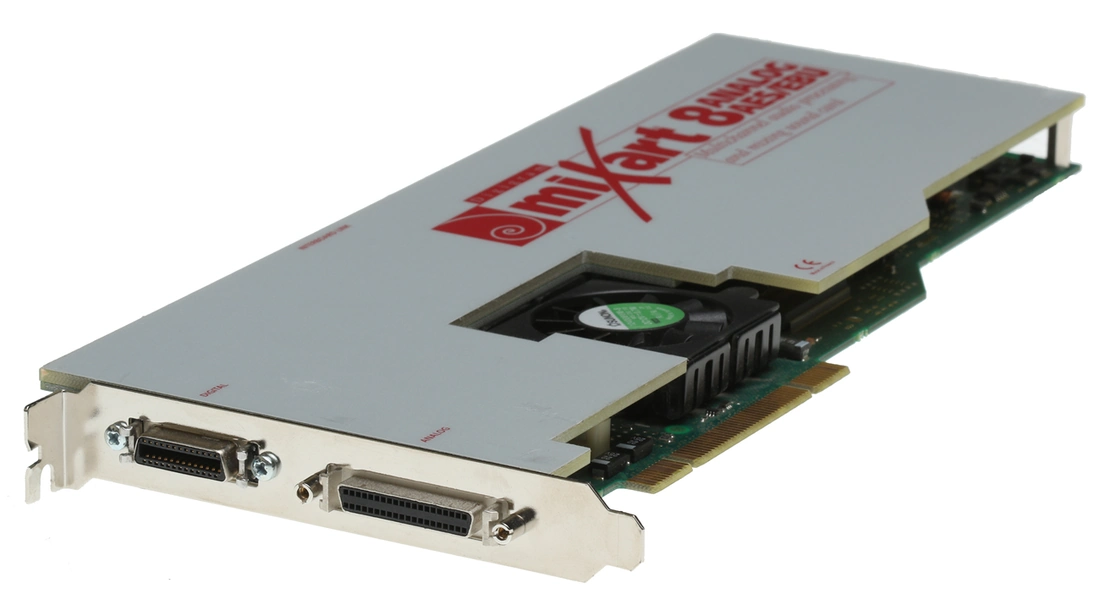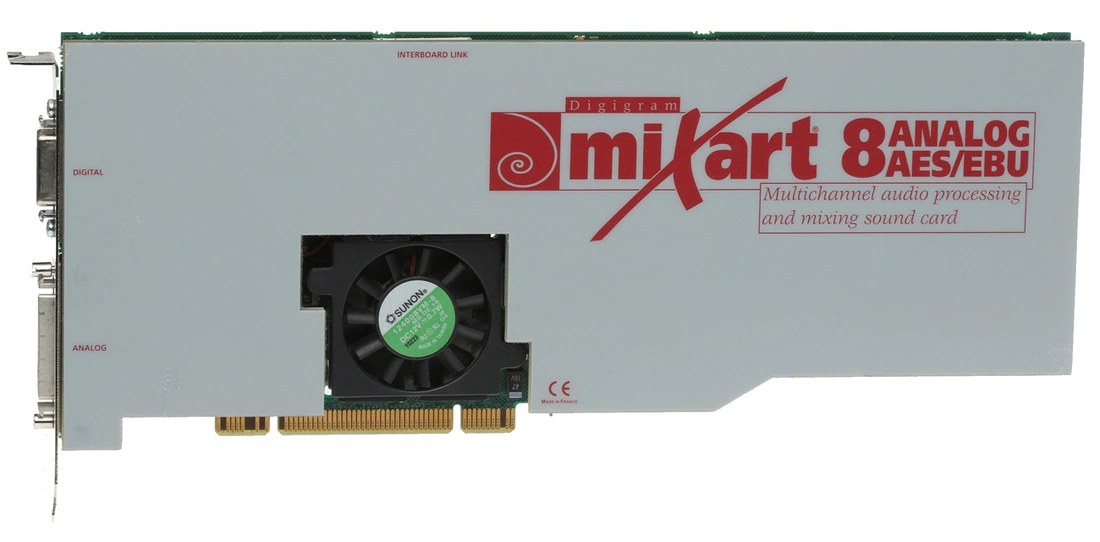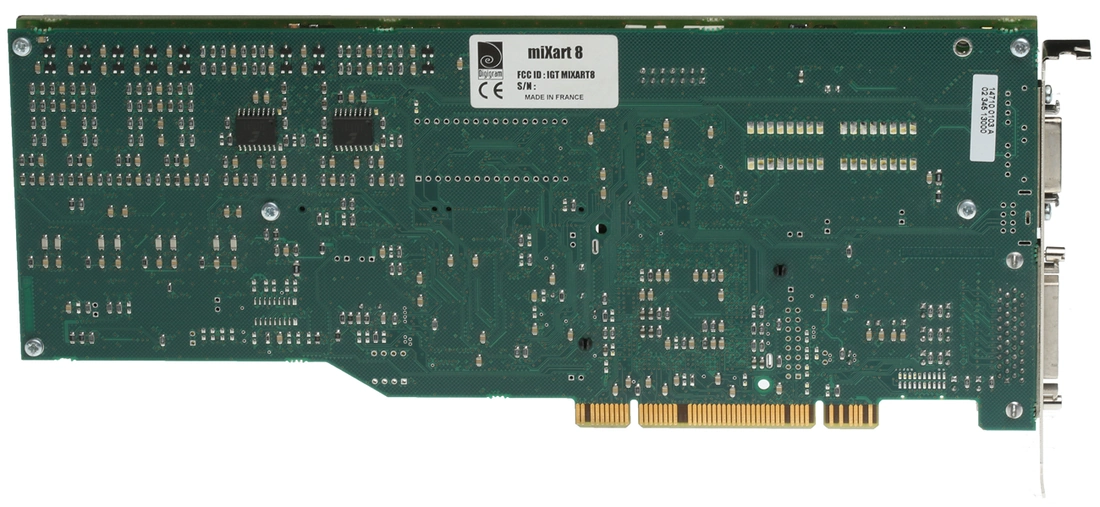 ---
Share this Product
---
More from this collection