Digigram UAX220v2 USB Digital Audio Computer Recording Interface Balanced XLR [Refurbished]
(
284972645122)

)

Regular price

$217.00

Sale price

$350.00

(3 available in stock)

Used, Very Good Condition • Balanced/Unbalanced/Headphones Stereo Input & Output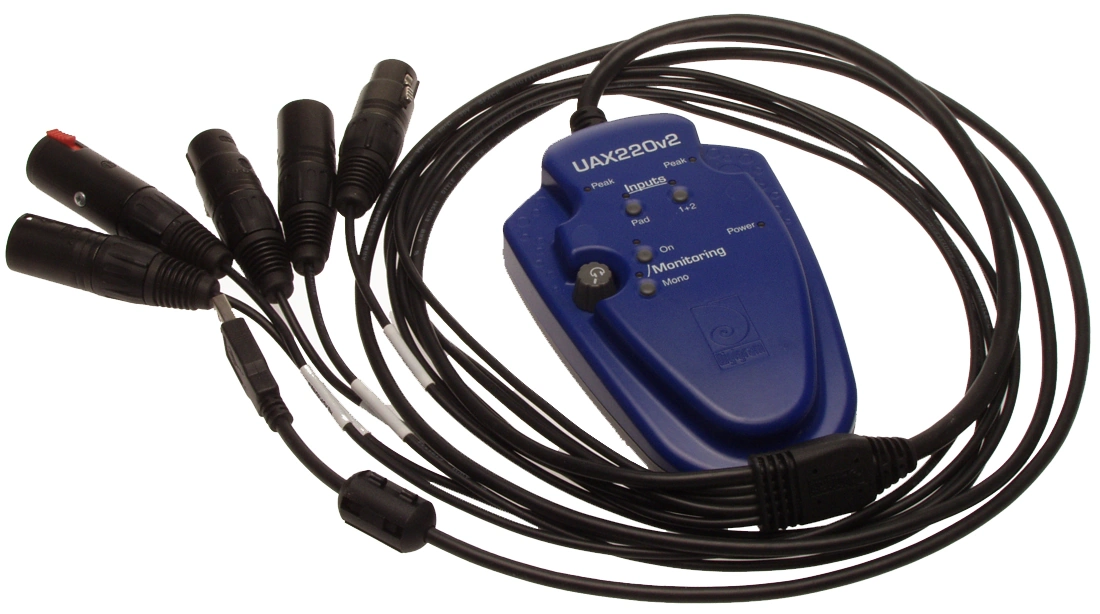 Lightly used in very good condition.  This is unit tested fine on my PC with native USB 2.0 ports.  It should therefore work on machines with USB 3.0 ports, provided that they are fully backwards compatible.  Most, but not all are.  It is therefore guaranteed to work on a USB 1.0 or 2.0 port.  A very small percentage of USB 3.0 ports may not accept this accessory.  There's a date lightly inscribed by hand in small letters on the underside.

Description
The Digigram UAX220v2 broadcast Audio interface is a professional USB audio interface that has been specifically designed for broadcast and other demanding pro audio applications. Featuring 2/2 high-quality balanced analog I/Os, it combines Digigram's acclaimed audio performance with the ease of use of standard USB Audio.
More information may be obtained from the User Manual at
https://www.prostudioconnection.net/0813/Digigram_UAX220_Manual.pdf
As a true plug-and-play device, a single UAX220v2 is the ideal solution for users with multiple computers; for example a laptop computer on the road and a desktop computer in the newsroom or studio.
When connected to the USB port of a computer, UAX220v2 is automatically recognized as an USB Audio-compliant device and is immediately operational. Neither a specific driver nor an external power supply are needed.
Usually Sells for $408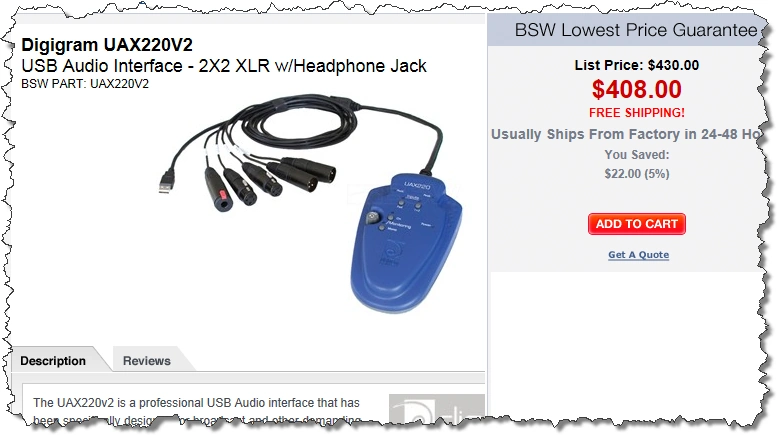 Features
UAX220v2 is a stereo audio interface for USB ports (compatible with USB ports 1.1 and 2.0). It is powered via USB, and does not require any driver installation (as it is compatible with the USB Audio specification 1.0)
2 balanced analog mono line inputs, with a maximum input signal of +22 dBu

2 balanced analog mono line outputs, with a maximum output signal of +10 dBu

Switchable -12 dB input signal level attenuator

Switchable zero-latency direct hardware monitoring of the inputs on the outputs
Note:the input monitoring is mixed on the output with the sounds played by the application.

Optional input monitoring in mono mode: "left channel + right channel"

Option to record both inputs mixed

1 stereo headphone output on female ¼" jack with knob for gain adjustment

A/D and D/A conversions up to 24 bits/48 kHz can be used with unbalanced signals electronically servo-balanced outputs provide automatic level adjustment to accommodate either balanced or unbalanced lines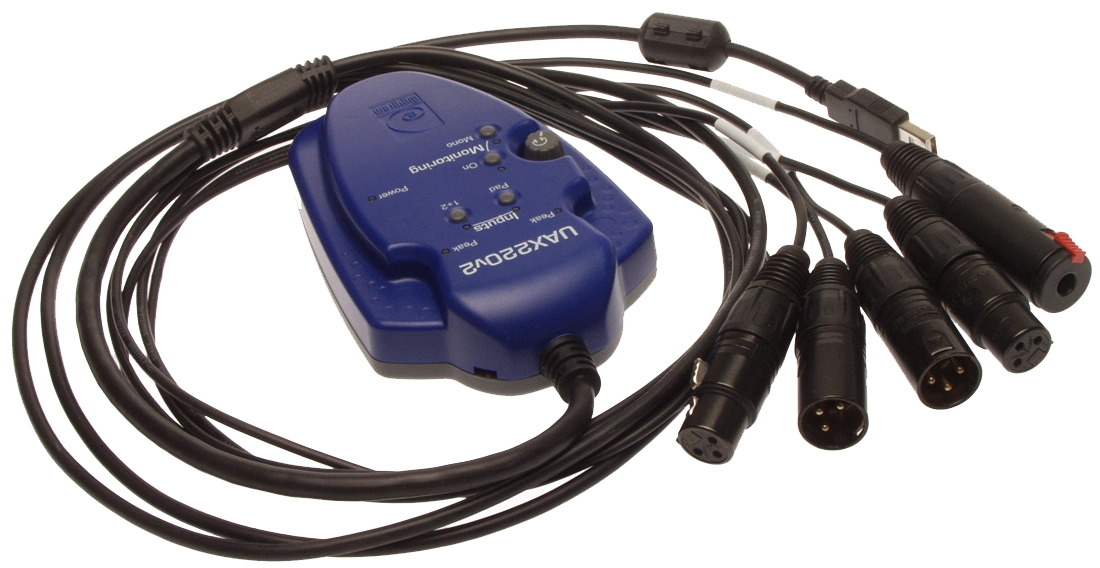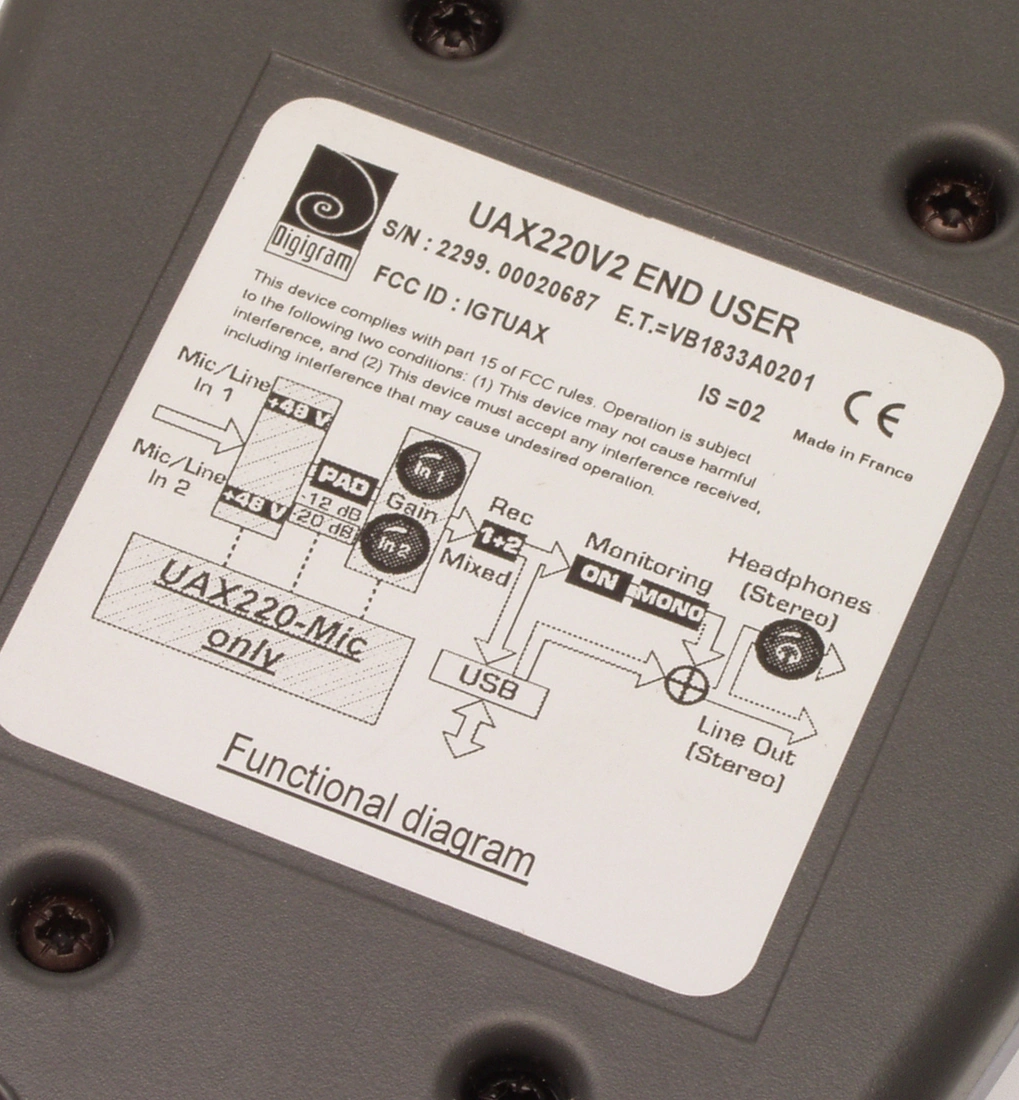 ---
Share this Product
---
More from this collection