Digigram VX222 Mic AES/EBU Digital Audio Card w/Microphone Preamp & Cables [Refurbished]
(
233710718655)

)

Regular price

$155.00

Sale price

$230.00

(1 available in stock)

Tested/Guaranteed • Rare 'Mic' Version • On-Board Mic Preamp & Dynamics Processor • Both Cables Included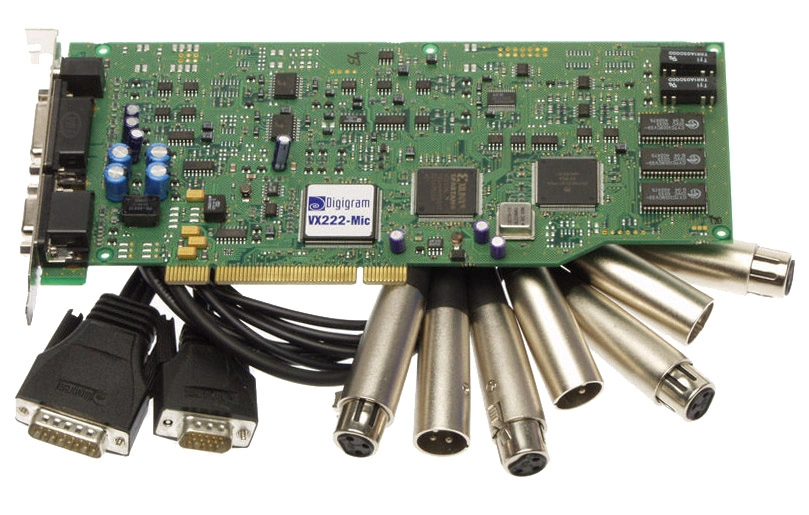 Tested to Confirm Correct operation. Both analog and Digital XLR Breakout cables included. I can send the drivers etc electronically to the buyer if required.

High quality, versatile sound card with mic-preamp
This solution extends the VX222's feature set - a high-quality phantom-powered microphone pre-amplifier, linked with an analog compressor-limiter-expander, enables direct mix of voice and another audio source without the added burden and expense of external devices. On the output stream, the VX222-Mic features a 3-band parametric equalizer and a "maximizer" which increases the average output level.
For more information please see the User Manual
The VX222 brings Digigram's outstanding audio quality and famous reliability to demanding professional audio applications such as broadcast, post-production, music or live performance.
This high quality, versatile sound card includes balanced analog inputs and outputs with 24-bit converters, as well as digital input/output in AES/EBU or S/PDIF formats. Special features include two General Purpose Interface (GPI) inputs and outputs.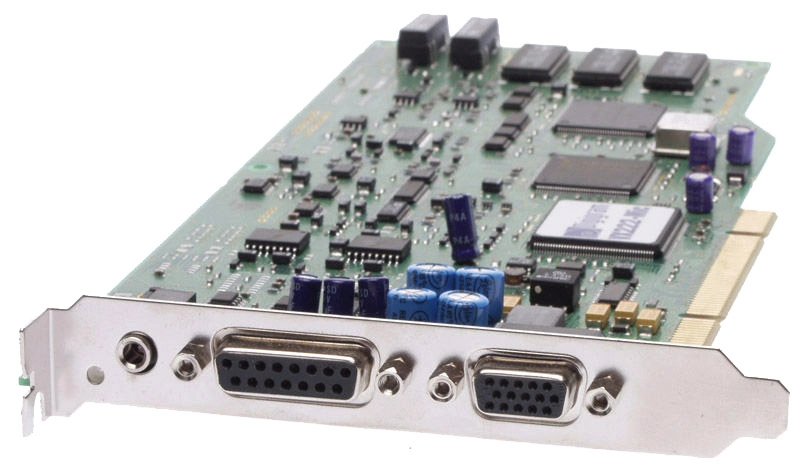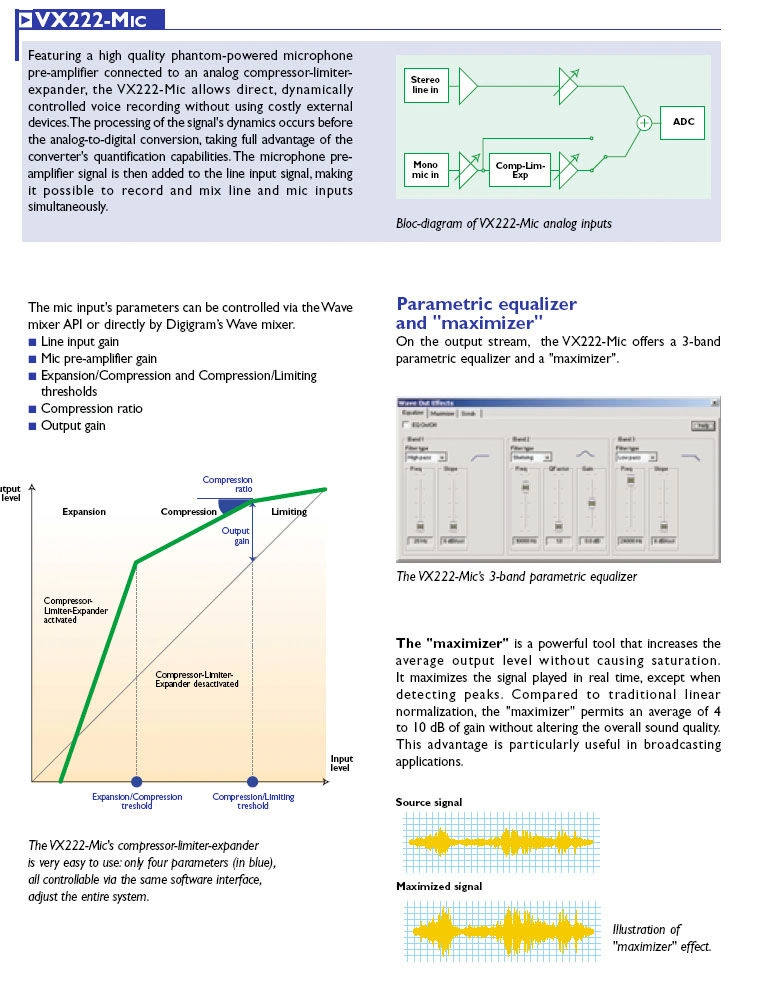 VX222-Mic Technical Specifications
CONFIGURATION
Bus/Format
PCI slave mode
Size
175 mm x 99 mm
Operating: temp / humidity (noncondensing)
0°C/+50°C o 5%/90%
Storage : temp / humidity (noncondensing)
-5°C/+70°C o 0%/95%
INPUTS/OUTPUTS
Analog inputs (stereo)
one balanced
Maximum input level/impedance
+22 dBu/600 Ohm or >10k (switchable)
Programmable input gain
digital only
Digital inputs (stereo)
one AES/EBU or SPDIF
Other inputs
two GPI (dry contact)
Analog outputs (stereo)
one balanced
Maximum output level/impedance
+22 dBu/low impedance
Programmable output level
digital and analog
Digital outputs (stereo)
one AES/EBU or SPDIF
Other outputs
headphone (600 Ohms), two GPI (relay, 0.5A, 48VCC)
Access to main status bits of digital frame
yes
AES11 synchronization
yes
Connectors
15-pin SUB-D for analog I/O; 15-pin HD SUB-D for digital I/O, sync. and GPI
AUDIO SPECIFICATIONS
Sampling frequencies available
48, 44.1, 32, 24, 22.05, 16, 11.025, 8 kHz
A/D and D/A converter resolutions
24 bits
Frequency response at 48 kHz (record + play)
20 Hz-20 kHz: ±2 dB
Signal to noise ratio (unweighted)
> 93 dB
Distortion + noise at 1 kHz (record + play)
< -90 dB (0.003 %)
Channel phase difference: 20 Hz/20 kHz
< 0.5° / 2°
Analog channel crosstalk at 1 kHz
< -95 dB
Power requirements (+5V / +12V / -12V)
0.5A / 0.2A / 0.1A
DEVELOPMENT ENVIRONMENT
Management
WAVE, Sound Manager, ASIO, Direct Sound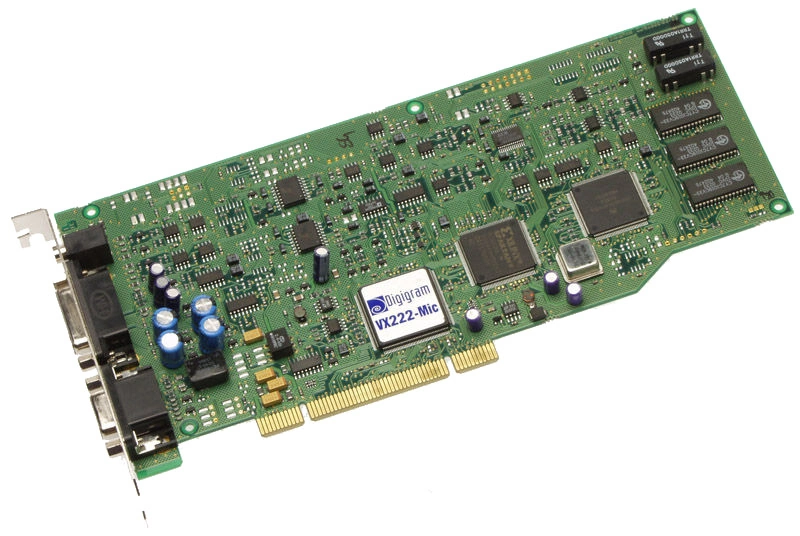 ---
Share this Product
---
More from this collection