Endrun Meridian PTP NTP GPS Network Time Server Clock IRIG-B 1PPS TCXO Timebase
(
285542203519)

)

Regular price

$2,397.20

Sale price

$3,511.00

(1 available in stock)

Tested/Guaranteed • Very Good Condition • PTP Option Enabled • Test Antenna Included • Latest Firmware • NTP Time Server Atomic Clock Receiver • Was $4,155

The photos show the actual item for sale

Introduction
Here's a very lightly used Endrun Meridian time server with a TCXO internal oscillator. It has the PTP Server option enabled. The oscillator is a TCXO type. The VFD display is bright and clear. The unit has been tested to confirm that it works fully. This model achieves Stratum 1 time sync via the GPS satellite constelation. A basic test antenna is included to allow you to test it right out of the box (with the antenna having a complete unobstructed view of the sky). For a permanent installation an external antenna is highly recommended as the unit will probably not operate reliably through a window. I usually have some suitable antennae listed. Contact me if you need a recommendation. This version of the receiver does have an internal web server for status reporting - see screenshots below.  The configuration parameters are accessible via the front panel controls and via the RS-232 rear panel interface. Full product details may be obtained from the manual at https://www.prostudioconnection.net/2309/Endrun_Meridian_Manual.pdf

The operating firmware is at the latest posted version at the time of listing (V5.70) so an upgrade isn't necessary - and Endrun Technologies makes ongoing updates available at no charge at their website. The unit has been reset to the factory default log on credentials (root, endrun_1). For complete control, use of the RS-232 serial interface is recommended, so you should have a PC or equivalent which has a serial port available (null modem cable needed). Note that there are different versions of this device available - this one is 6010-0044-000. The listing comprises the Meridian Receiver and test antenna only. No other accessories, cables, documents or software are included.

Description
The Meridian GPS TimeBase is a high-performance, full-featured system that provides unparalleled precision, accuracy and reliability. The modular design allows for easy, field-installable upgrades and permits the installation of up to five option boards in a single 1U chassis. Using a Global Positioning System (GPS) receiver with advanced timing algorithms, adaptive 3rd order frequency control algorithms and Timing Receiver Autonomous Integrity Monitoring (TRAIM) maximizes the stability and reliability of the Meridian output signals. A variety of top-quality quartz and rubidium oscillators are available to handle the full range of holdover, phase noise and short-term stability requirements.
Full product information may be obtained from the User Manual at
https://www.prostudioconnection.net/2309/Endrun_Meridian_Manual.pdf

GPS Timing and Frequency Control
The Meridian TimeBase uses the GPS transmissions to precisely synchronize itself to UTC to < 100 nanoseconds (< 10 nanoseconds RMS to GPS). The frequency of the internal oscillator is disciplined to match the frequency of the UTC timescale to parts in 1014 level-of-accuracy over 24-hour observation intervals. The time and frequency outputs are coherent after initial GPS synchronization, and synchronization is maintained via 20-bit DAC frequency control, rather than phase stepping, to provide the ultimate in short-term stability.

Highly-Reliable, Modular Design
A complete suite of time and frequency capabilities with an exceptionally high number and variety of outputs are provided in a 1U chassis. To achieve this level of output density in a fanless, sealed chassis, EndRun Technologies has set a new standard in power efficiency and thermal packaging. The solid-state design yields a conservative MTBF of 25 years, and a wide range of option cards make it easy to tailor the unit to support your application. In addition, the modular, plug-and-play design allows EndRun engineers to easily develop customized options specifically for your requirements.




Standard Features
In addition to sourcing a precision 1PPS timing reference and an IRIG-B timecode output, EndRun Technologies is the first to include Network Time Protocol (NTP) operation as a standard feature in a Time and Frequency Reference. The Meridian also incorporates a vibrant 16x280 dot-matrix vacuum-fluorescent display and a user-friendly keypad design for intuitive control and status monitoring. For added flexibility, the Meridian can be managed via the ethernet port or a local console on the RS-232 serial port.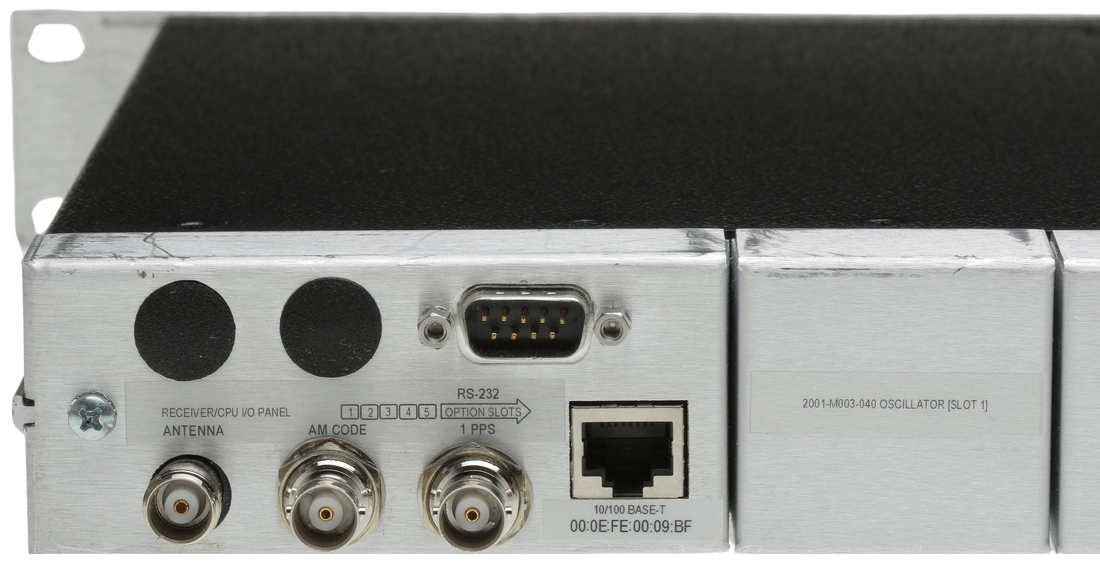 Secure Network Interface
An ethernet port is provided as a standard feature of the Meridian TimeBase, with a wide variety of network protocols including NTP, SNMP with Enterprise MIB, SSH, Telnet, FTP, SNTP and optional PTP/IEEE-1588 [not included]. The incorporation of SNMP v3 and SSH provides the ultimate in network security and allows you to safely perform monitoring and maintenance activities. Security-conscious users can also disable any or all of the risky protocols such as Telnet, Time and Daytime.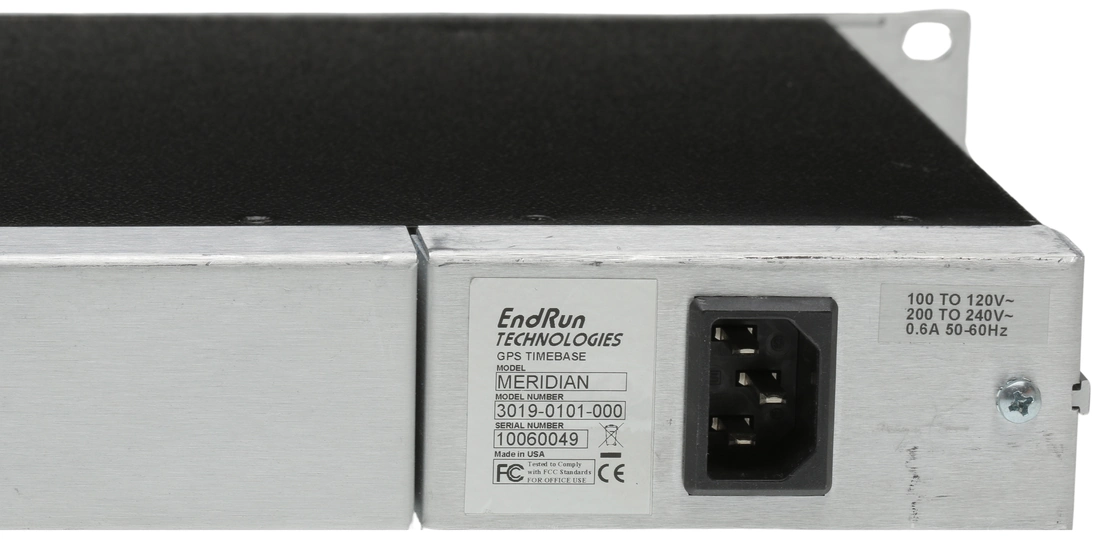 Features

Modular, plug-and-play design, accepts a variety of field-installable options.
Timing accuracy: < 10 nanoseconds RMS to GPS.
Frequency accuracy: < 1 x 10-13.
1 PPS output.
IRIG-B timecode output.
Network Time Protocol (NTP).
Vibrant display with user-friendly keypad and display-embedded help messages.
Network port with NTP, SNMP, SSH, Telnet, FTP, Enterprise MIB, optional PTP/IEEE-1588 [not included].
High-reliability, solid-state, fanless design.
Timing Receiver Autonomous Integrity Monitoring (TRAIM).
Static or dynamic platforms including single-satellite mode.
Flash memory for free field upgrades.
Up to 24 output signals.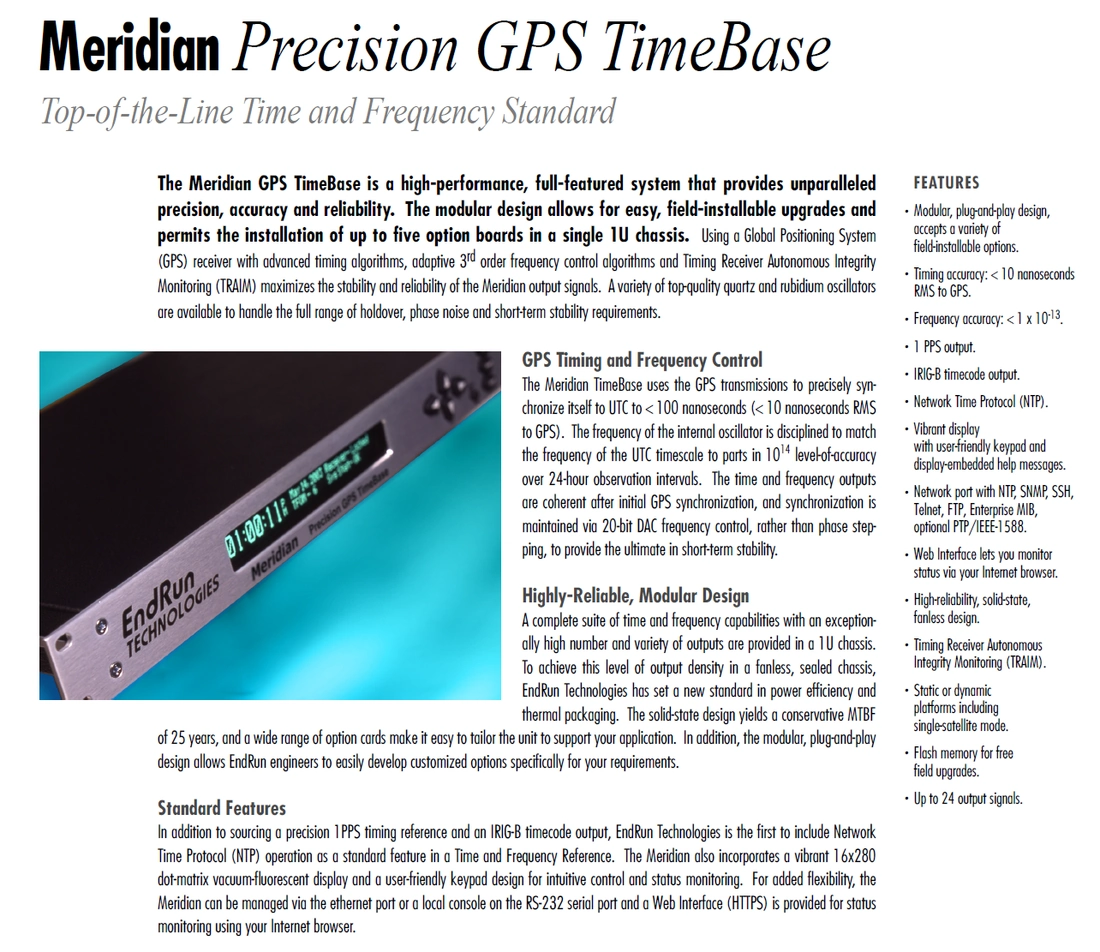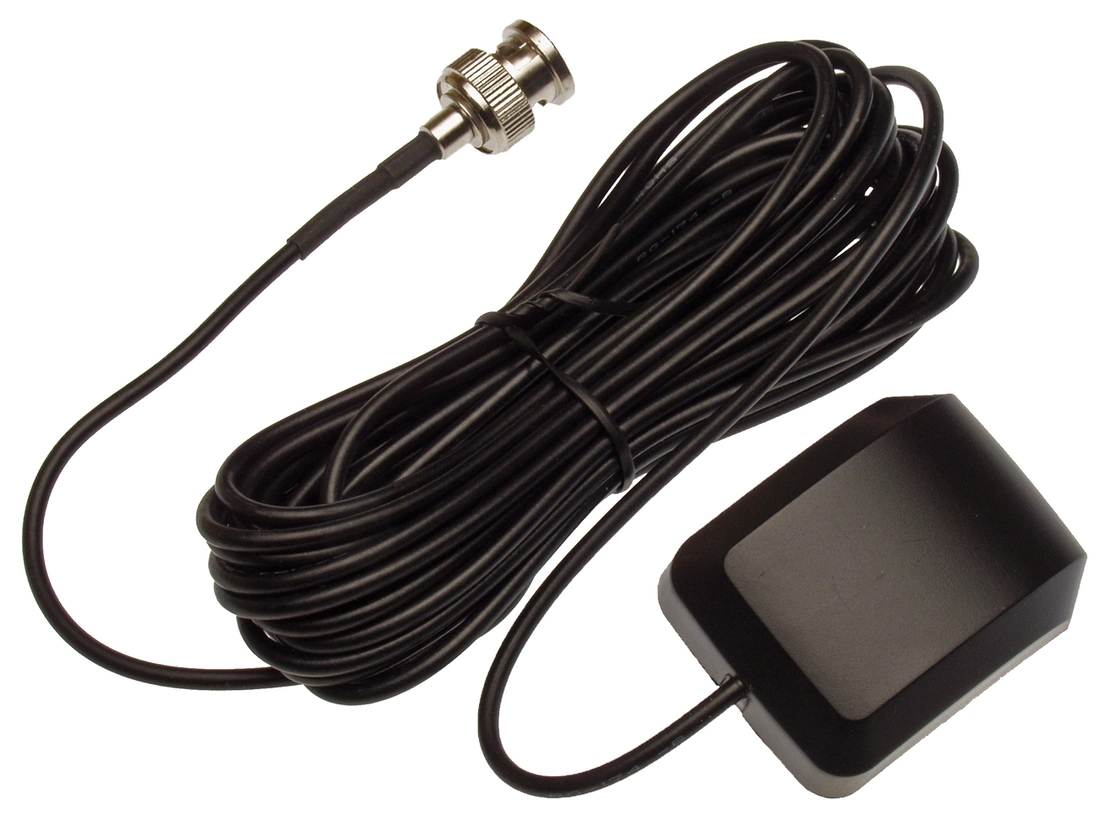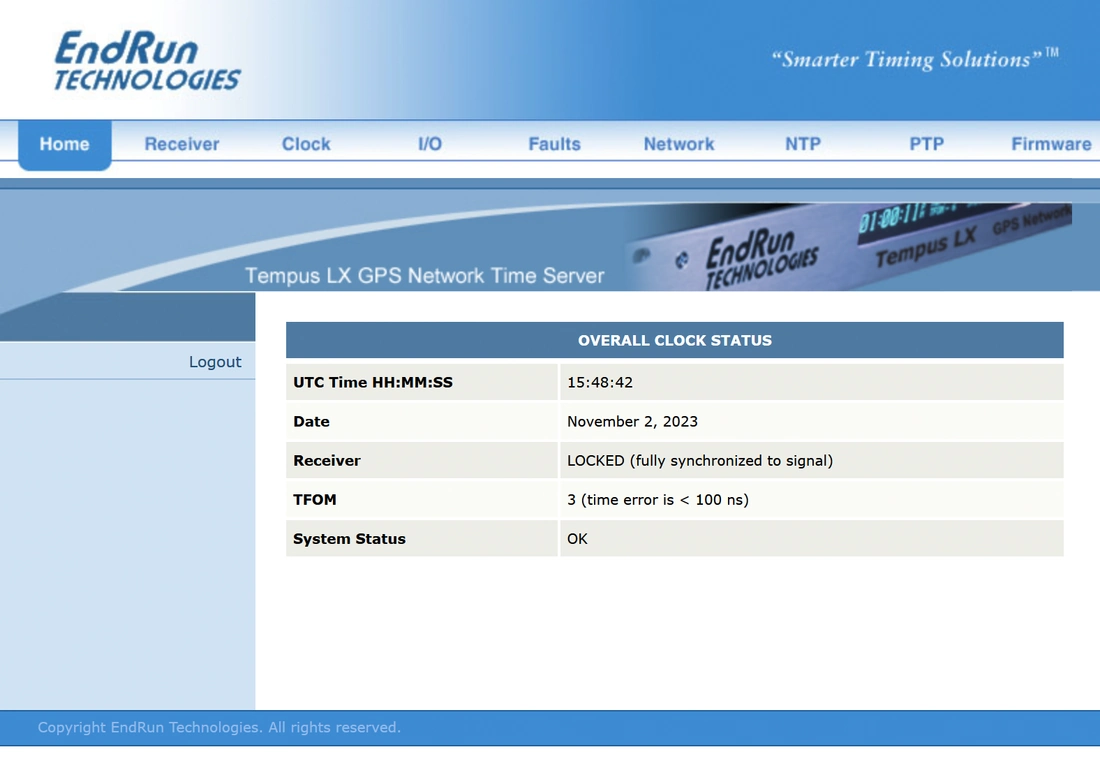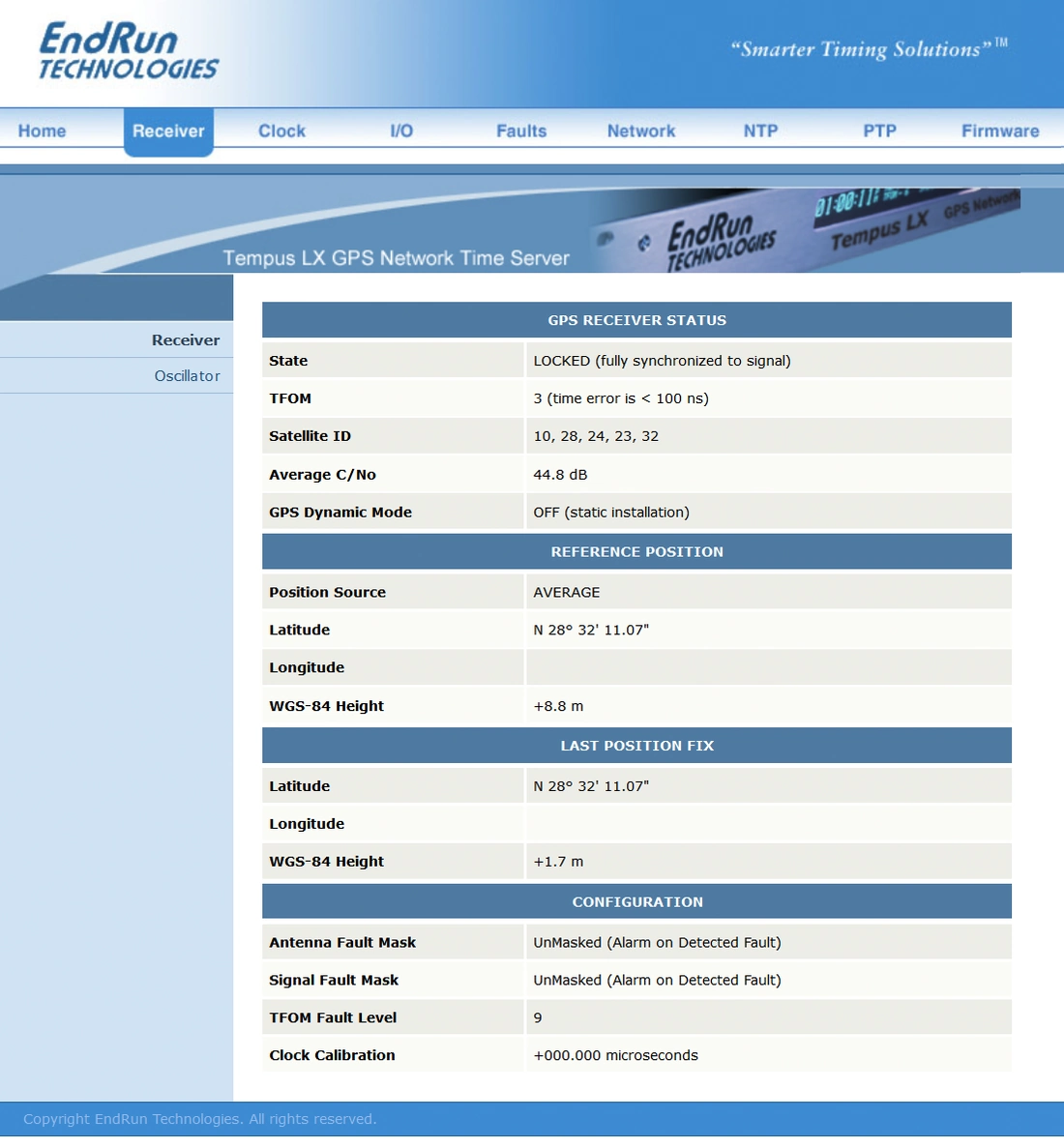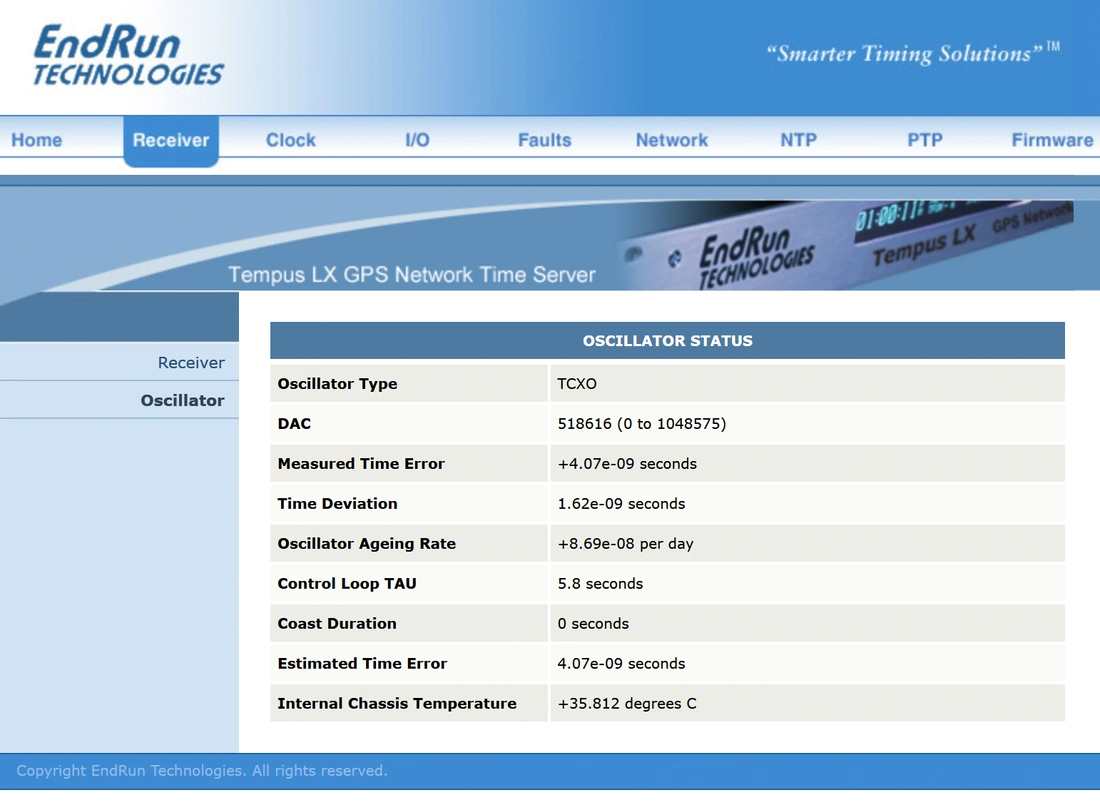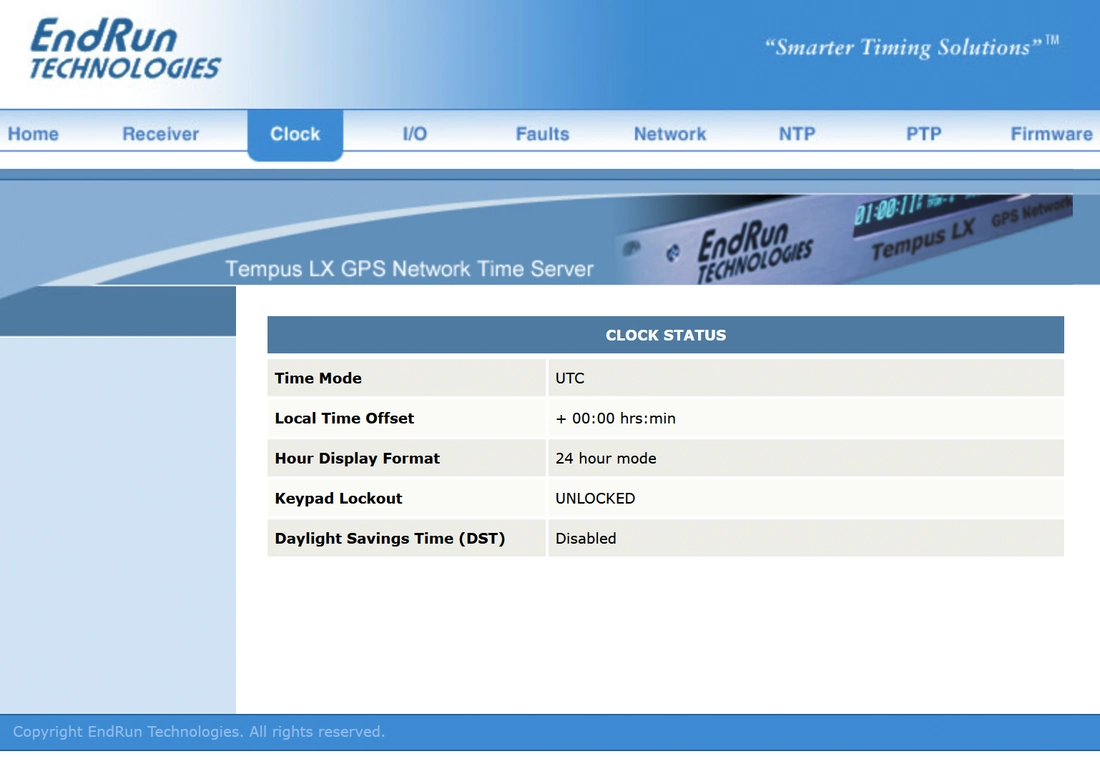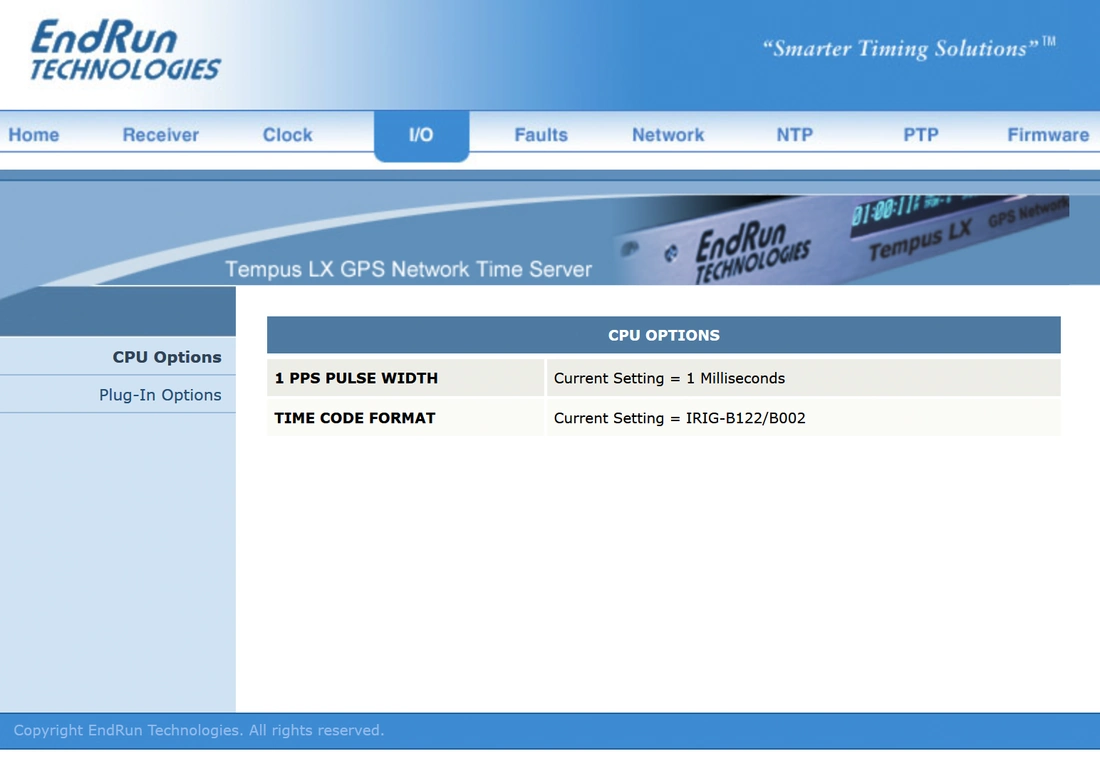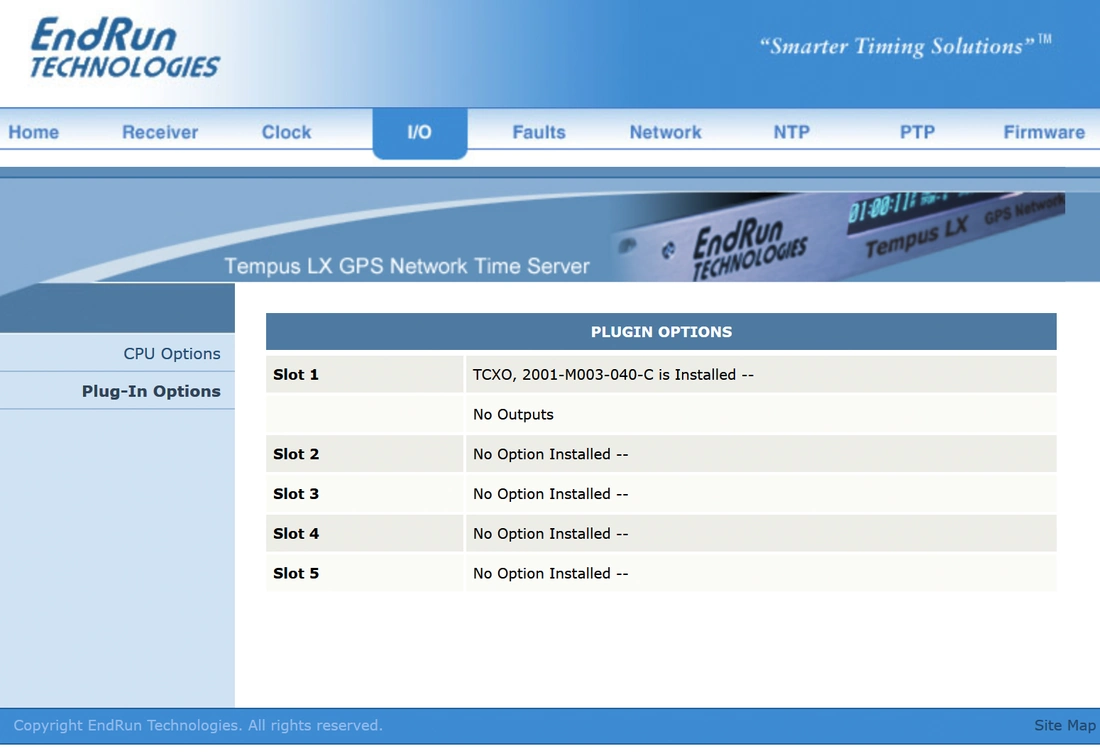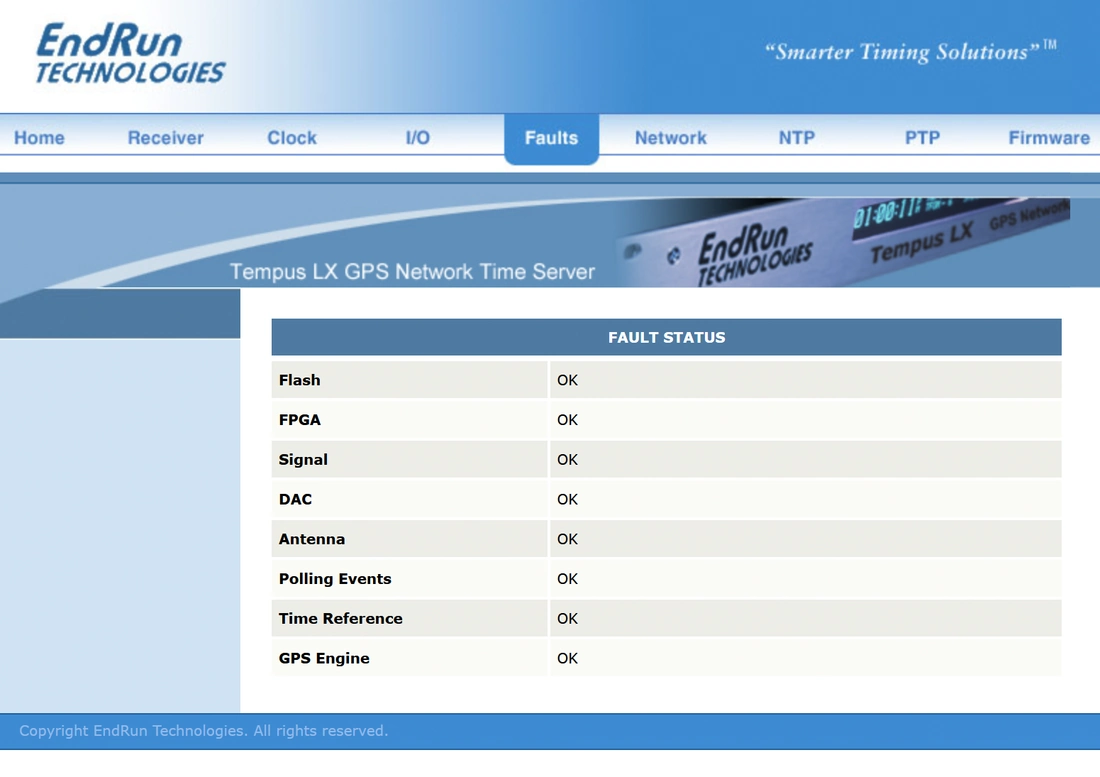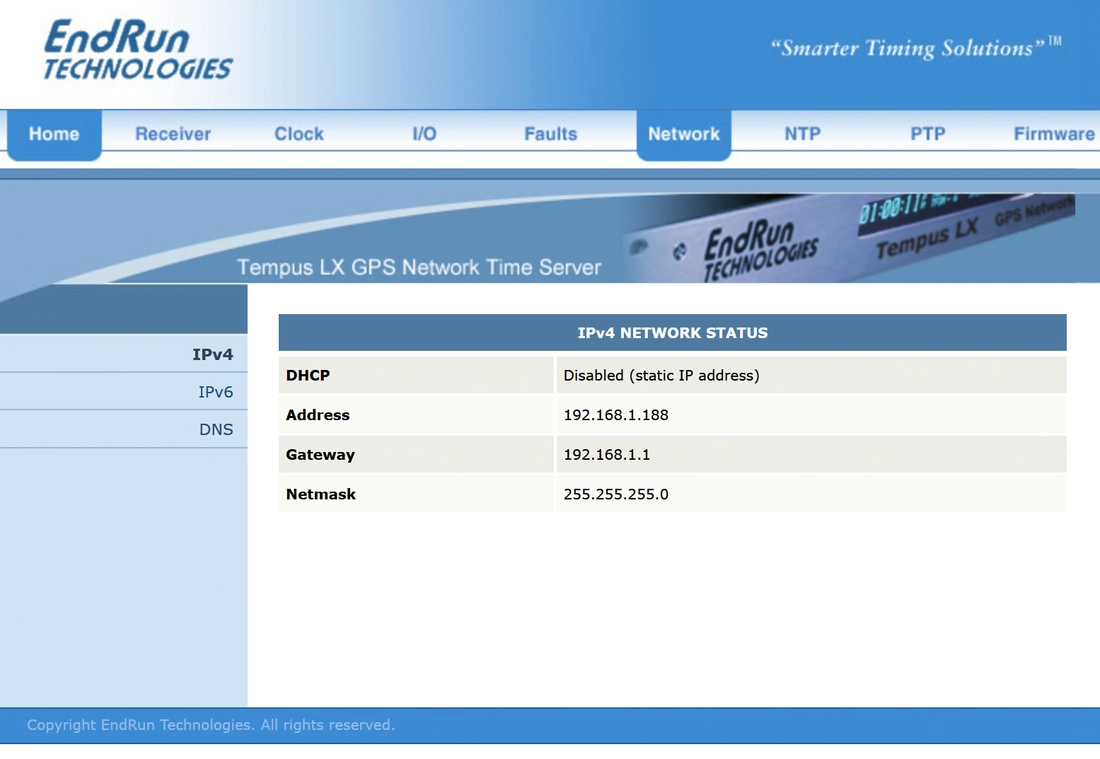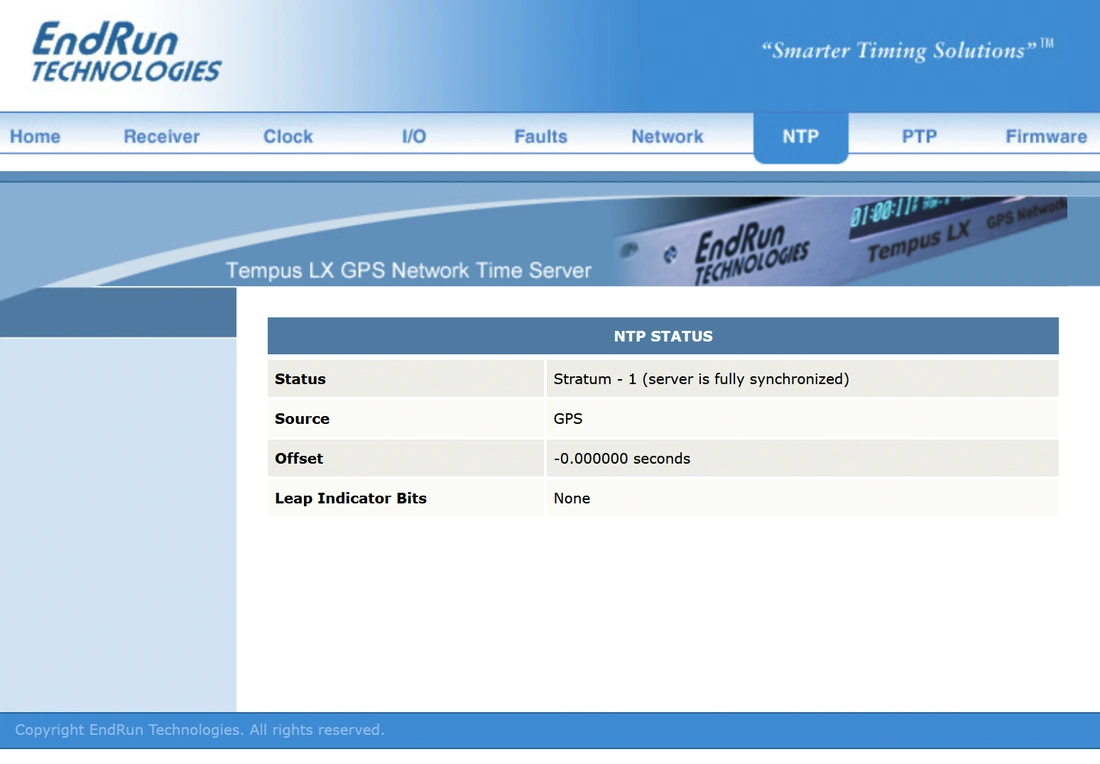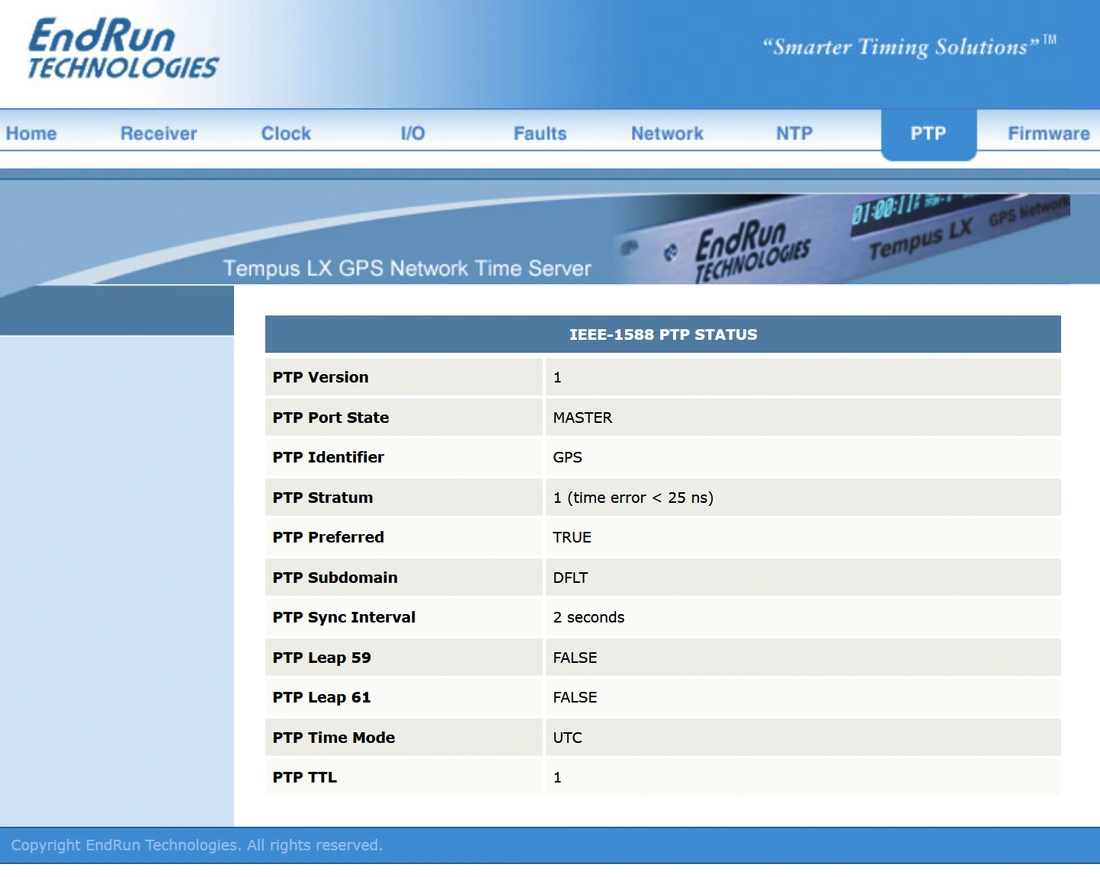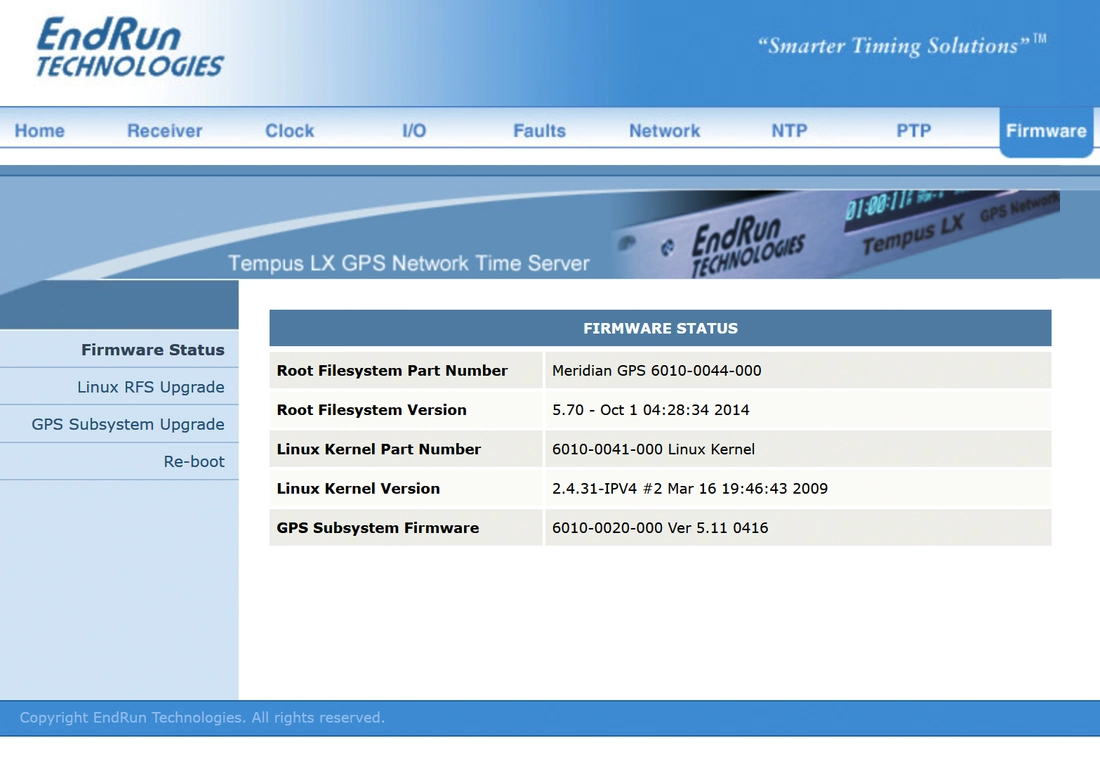 ---
Share this Product
---
More from this collection