Endrun Technologies Tempus LX GPS Network NTP Time Server Clock Receiver w/ HTTP
(
235278126075)

)

Regular price

$674.00

Sale price

$987.00

(1 available in stock)

Tested/Guaranteed • Test Antenna Included • Latest Firmware • HTTP Web Server • NTP Time Server Atomic Clock Receiver • Was $4,155


Photos show the actual item for sale

Introduction
Here's a lightly-used Tempus LX time server with a TCXO internal oscillator. The unit has been tested to confirm that it works fully. This model achieves Stratum 1 time sync via the GPS satellite constellation. A basic test antenna is included to allow you to test it right out of the box and in my testing when the antenna was placed outdoors with a clear view of the sky and achieved time sync within a few minutes. For a permanent installation an external antenna is highly recommended as the unit will probably not operate reliably through a window. I usually have some suitable antennae listed. Contact me if you need a recommendation. This version of the receiver has an internal web server for status reporting. The screenshots below were taken while the actual item for sale was being tested. No printed manual is included but a copy may be downloaded from https://www.prostudioconnection.net/1501/TempusLxGPS_Manual.pdf if required. The VFD display shows some signs of prior use but is still very clear and visible.
The operating firmware is at the latest posted version at the time of listing (V5.70) so an upgrade isn't necessary - and Endrun Technologies makes ongoing updates available at no charge at their website. The unit has been reset to the factory default log on credentials (root, endrun_1), with the IP address being set via DHCP - but this can easily be changed via the front panel if required. For complete control, use of the RS-232 serial interface is recommended, so you should have a PC or equivalent which has a serial port available. Note that there are different versions of this device available - this one is 6010-0044-000 - which does offer a HTTP interface, as can be seen in the screenshots below.
The listing comprises the Tempus LX and test antenna only. No other accessories, cables, documents or software are included.
Usually Sells for $4,155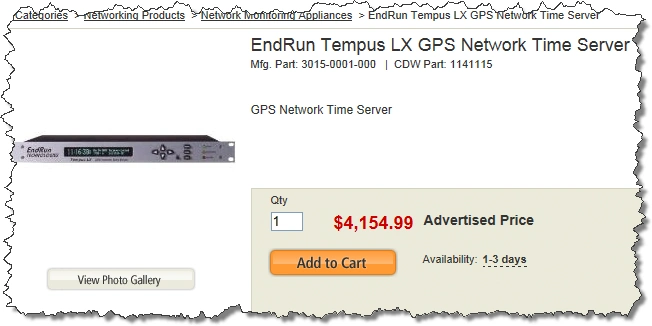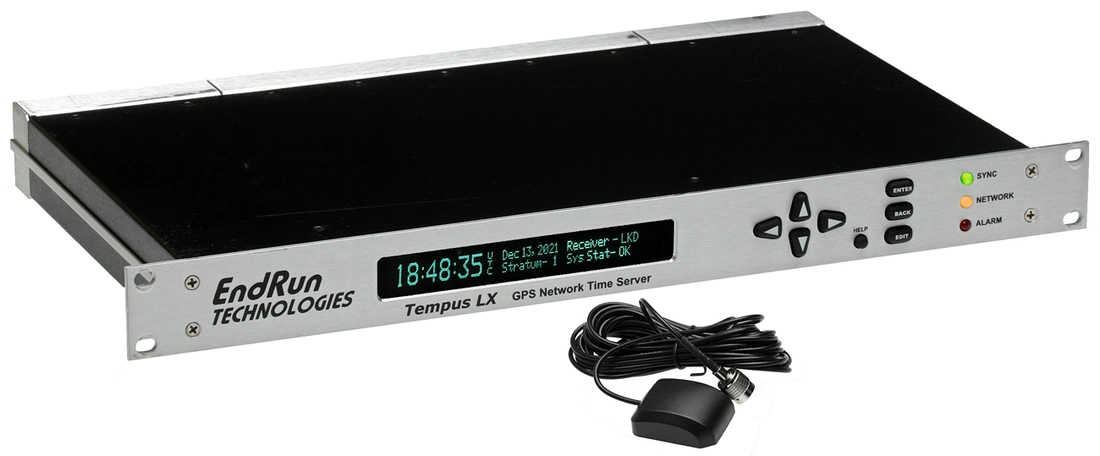 Description
Provides Accurate and Reliable Network Time Inside Your Firewall
Full product information may be obtained from the User Manual
https://www.prostudioconnection.net/1501/TempusLxGPS_Manual.pdf
The Tempus LX is a full-featured Stratum 1 NTP Time Server. This model uses GPS as its time-synchronization source and it will deliver accurate and reliable time throughout any system running an NTP or SNTP client.

Features
Supports 200,000 network clients with <10 microsecond NTP timestamp accuracy.
Extended Stratum 1 operation if GPS signal is lost.
User-friendly display & keypad with built-in help menus.
NTP, SNTP, SNMP, SSH, SCP, MD5, TIME, DAYTIME, TELNET, FTP, DHCP and more.
IPv4 compliant.
Superior reliability - an MTBF of 25 years based on demonstrated field data.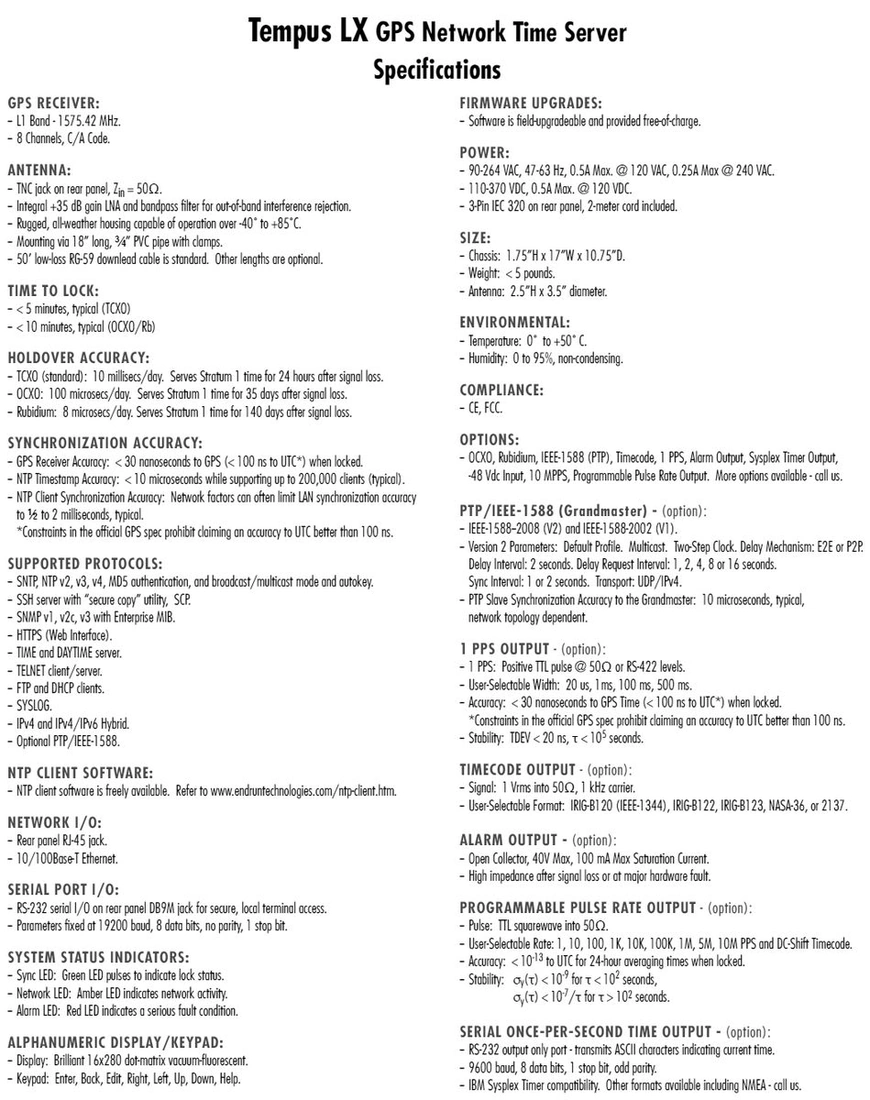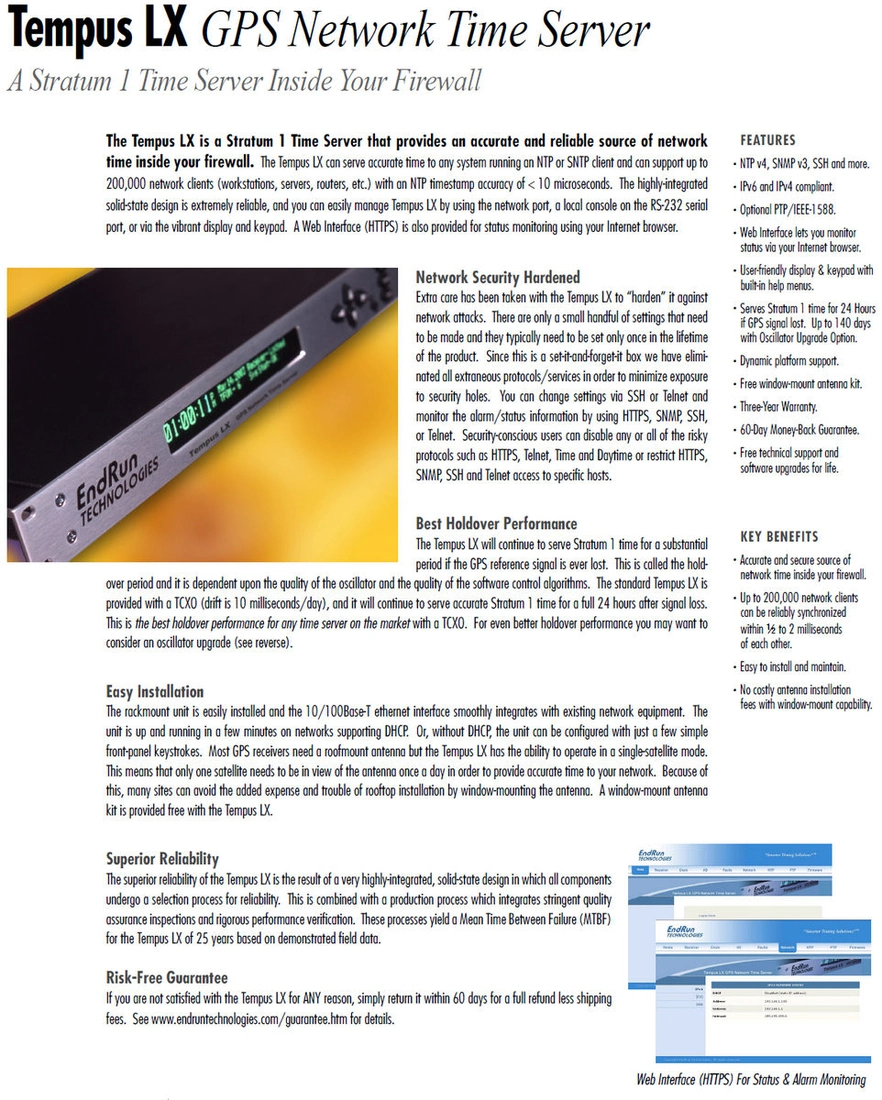 ---
Share this Product
---
More from this collection