ESE ES-102U UPGRADED GPS Satellite SMPTE/EBU TC90 Timecode Clock Time Receiver [Refurbished]
(
233608556034)

)

Regular price

$519.00

Sale price

$829.00

(1 available in stock)

Tested/Guaranteed • Upgraded GPS Module Installed • Battery Back Up Option • Fully Working • Usually $1,415 • Outputs SMPTE/EBU, ESE, RS-232, USB Timecode

Photos show the actual item for sale

Important...
Upgraded unit! This item includes an upgraded GPS card to replace the now-obsolete types originally installed by the factory.
There's a reason why you can find a lot of GPS clocks being sold cheaply nowadays. That's because nearly all have failed GPS receiver cards that are reporting the wrong date (ie. nearly 20 years in the past). Or the clock's firmware is set to observe DST per the pre-2007 pattern so your time will be an hour off for several weeks of the year.
Sadly most other sellers somehow neglect to mention this in their listings and use weasel words like "removed from a working installation", which translates as they've not bothered to do any testing, don't care whether it works for you, or they're off-loading the unit in the short window available before it fails. For the buyer, there's nothing more disappointing than finding after you've gone to all the trouble of rigging up your outdoor GPS antenna that the "precision" clock you just bought can't even show the right date and time.
The remedy is to buy a clock that has a latest-generation GPS sub-system installed and which has the correct DST programming, that way you'll be accurate for the best part of the next 20 years, assuming you and/or the clock are in service that long.
So before you buy a clock elsewhere, ask the seller to confirm that they have tested for these problems and updated the unit with current hardware.
Or you could just buy one that someone else has invested the time and effort to do all that work for you and who is willing to stand by their offer.
Introduction
Item is used, in excellent cosmetic condition and fully working. The photos show the actual item for sale. No unpictured cables, accessories or documents are included. A basic antenna is included to get you started but for optimal results you should ideally plan on using an outdoor antenna with a full view of the sky. Note that you will need the ESE control application which may be downloaded from their website (http://www.ese-web.com/ftp/MasterControlPanelv2.0.zip) to change the timezone and other parameters. The control applet allows you to set the DST rules manually for worldwide compatibility. No printed manual is included, but a copy may be downloaded
here
if required (https://www.prostudioconnection.net/1410/ESE_ES-102U_Manual.pdf). This unit has the optional lead-acid back up battery installed, but this is not warrantied by the seller and probably should be replaced before the clock is installed, if that's a feature that's important to you. It's a $5 part so it's not a big expense to replace.

Description
SMPTE/EBU, ASCII (RS-232C & USB) & ESE Time Code Outputs
Dual 1 PPS Output (20% and 50% Duty Cycles)
Rack Mount Enclosure
Six .56" Yellow LED Displays
GPS Lock Indicator
500 Nano-Second Accuracy
Time Zone Offset
+/- 10 Second Offset
Automatic Daylight Savings Time Correction
Digital, Video & Analog Slave Clocks Available
Legally Traceable to UTC (Universal Coordinated Time)
Loss of GPS Signal Output
Basic Indoor Antenna included - outdoor antenna required for optimal timekeeping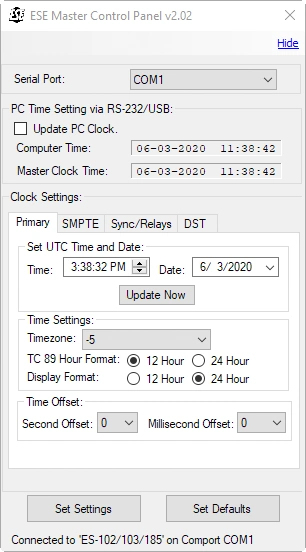 The ES-102U is a low-cost yet very accurate GPS Master Clock/Time Code Generator. The unit receives time and date information from Global Positioning System satellites and supplies this data to the user in the form of four different types of time code ... SMPTE/EBU, ASCII (RS-232C & USB), ESE-TC89 and ESE-TC90.

Six yellow LED displays (.56") provide a digital display of the Hours, Minutes and Seconds data.
Two (2) One Pulse Per Second outputs and a GPS "Lock" output are also standard features.
A twelve-channel receiver is employed that is capable of tracking up to twelve satellites simultaneously, although reception of only one is required for time data to be output.
Usually Sells for $1,415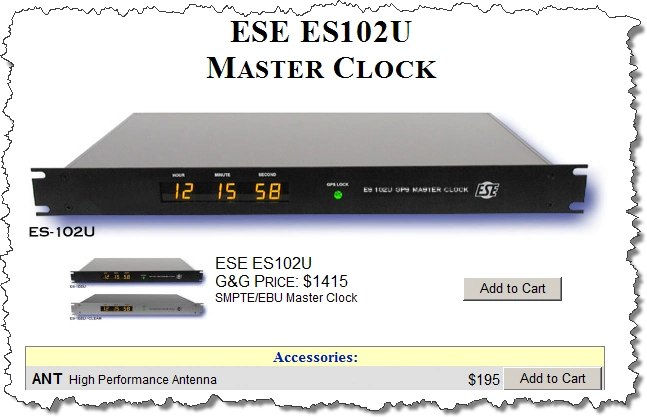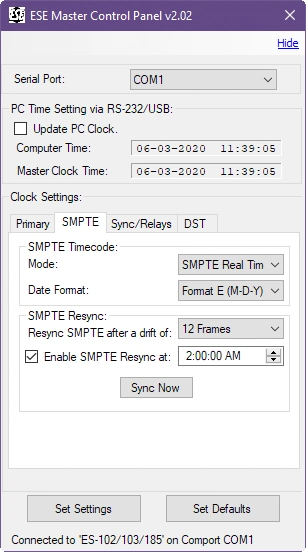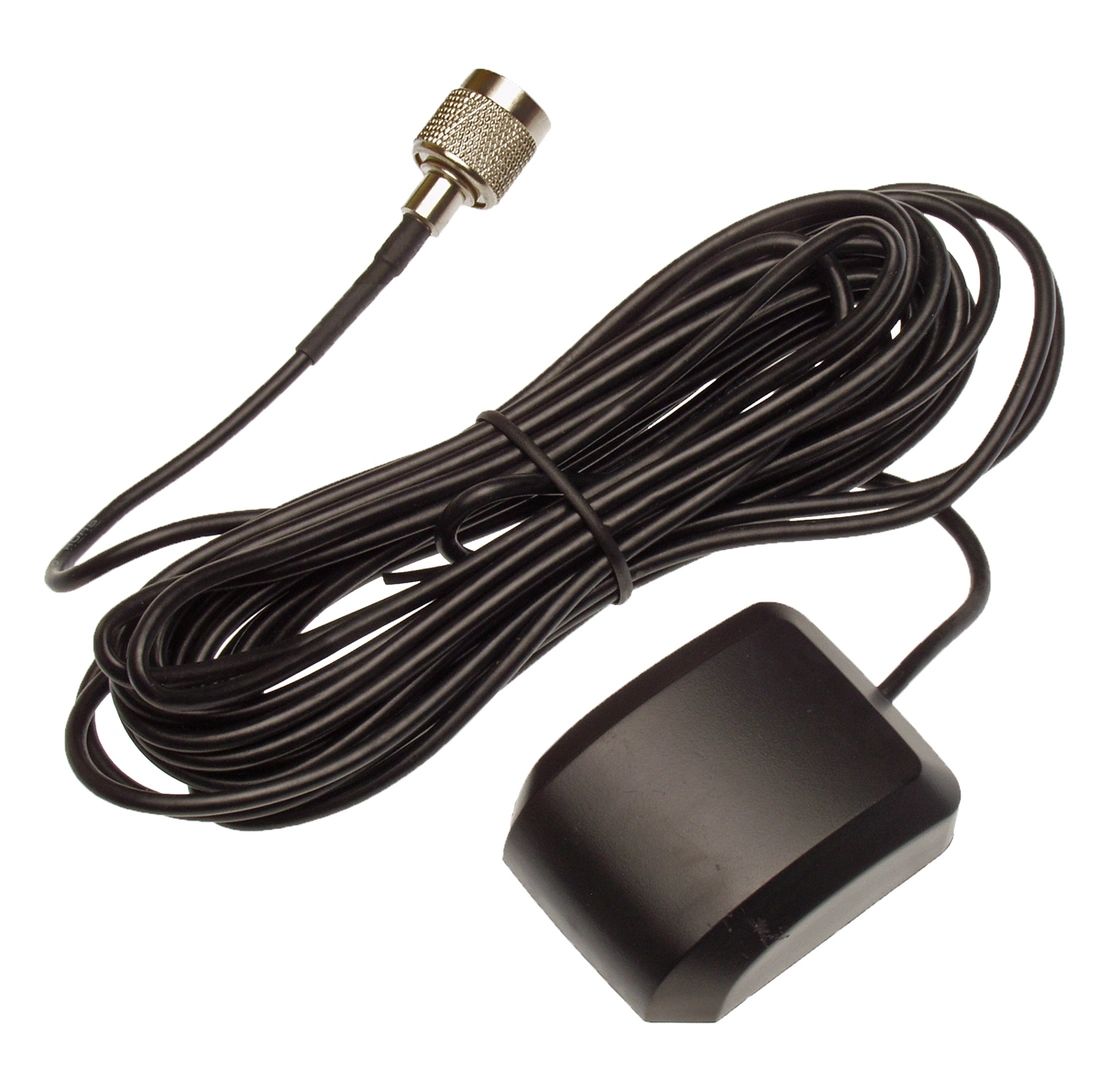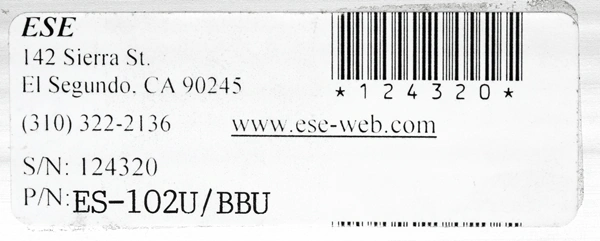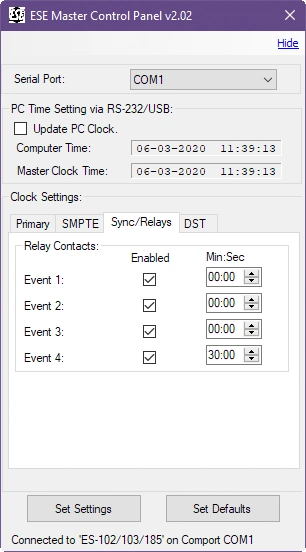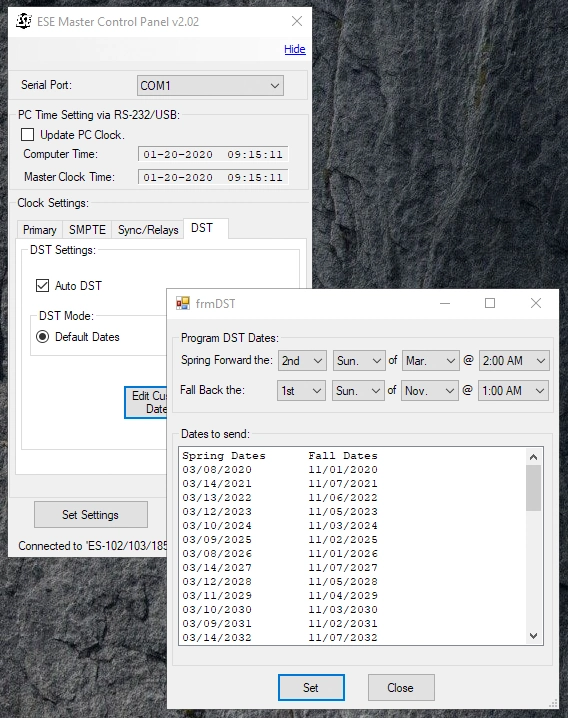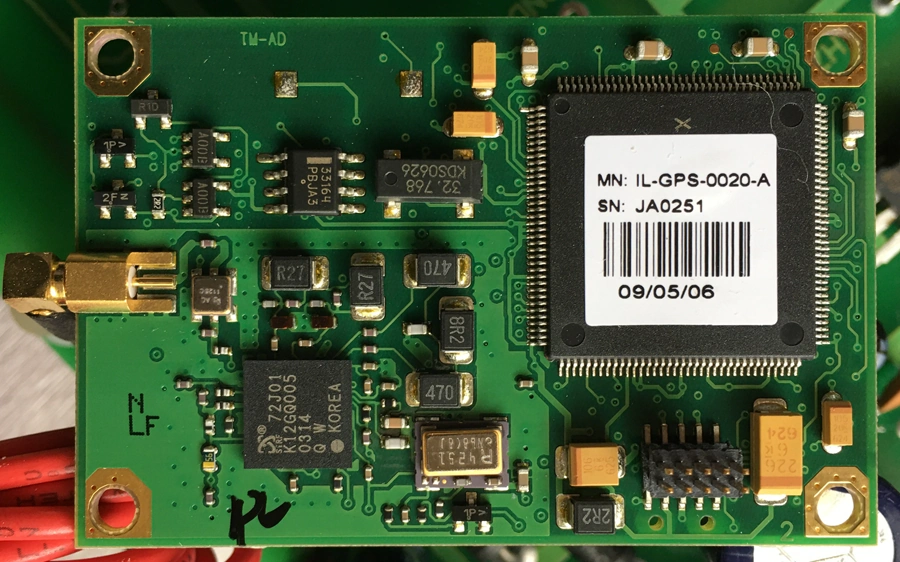 ---
Share this Product
---
More from this collection