Eventide BD500 AES Digital Audio 40 Sec Broadcast Profanity Delay DUMP Button [Refurbished]
(
233866695017)

)

Regular price

$492.00

Sale price

$720.00

(1 available in stock)

Tested/Guaranteed • Fully Working • AES/EBU I/O Option • With 40 Seconds of Memory & Variable DUMP Times • 115/230V

Photos are of the actual unit for sale

Item is used and in full working order. It accepts both balanced analog and AES digital audio for input/output. It has 40 seconds of digital memory (offering the option of multiple shorter dumps if required). Firmware is V3.
Description
The Eventide BD500 is designed to enable a broadcast licensee to prevent obscene and/or libelous material from being transmitted over the air. It does this by automatically delaying program material by up to 40 seconds, allowing time for the monitoring operator to make the decision as to whether the material being delayed fits into either category.


If objectionable material is heard, patented electronic circuitry allows all or a portion of the delayed audio to be "dumped" and the program resumed without interruption. The delay time is increased automatically and gradually after the "dump" occurs. A remote control option allows an external relay to be attached which would prevent uncontrolled sources, such as telephone callers, from being aired until the delay time is again long enough to provide protection.
Full details may be obtained from the User Manual
(https://www.prostudioconnection.net/1609/bd500v3.pdf)
The BD500 has some special functions to make it convenient to use: the WAIT AND EXIT function can be used to synchronize to a network or live signal feed, and the RAMP TO ZERO function can be used to decrease the delay time to 0.00 gradually after it is no longer needed for a safety margin.

Features
Up to 40 seconds of stereo audio delay.
Allows multiple DUMP operations without exhausting the delay buffer. The DUMP function is adjustable and may be configured to delete an amount between 1.0 seconds and 8.0 seconds.
SNEEZE function replaces microphone mute switch and allows short interruptions to be unnoticeable
Patented Eventide Rebuild (catch-up) provides fast recovery from a DUMP or SNEEZE while show is in progress
24-bit Analog to Digital and Digital to Analog converters
32000 or 48000 samples per second sample rate
Precision Fixed Delay mode which allows a front panel selectable delay between 2.25mS and 8.0 seconds in steps of around 100uS.
WAIT AND EXIT drops from full delay to 0.00 delay in 40 seconds
RAMP TO ZERO reduces the delay slowly using the same patented Eventide process as Rebuild
WAIT FOR SAFE function allows starting a show with a safe amount of delay
Numeric display shows amount of delay
Front panel configuration and display of audio input and output attenuation
Remote control inputs to trigger SNEEZE and DUMP
Relay contacts to signal safe condition and DUMP button actuation

Optional Features:
AES/EBU digital audio input and output (Installed)
RS-232 remote control (not installed)
Remote Control features including:

7 programmable remote button inputs on rear panel connector including mute, station break insert and all front panel controls complete with permutations of those controls.
4 programmable outputs to trigger relays, configurable to indicate different timing conditions including status of all processes, bypass mode, and error conditions.
8 delayed control signal lines used to delay external controls by the amount of the audio delay
Full details may be obtained from the User Manual.

Specifications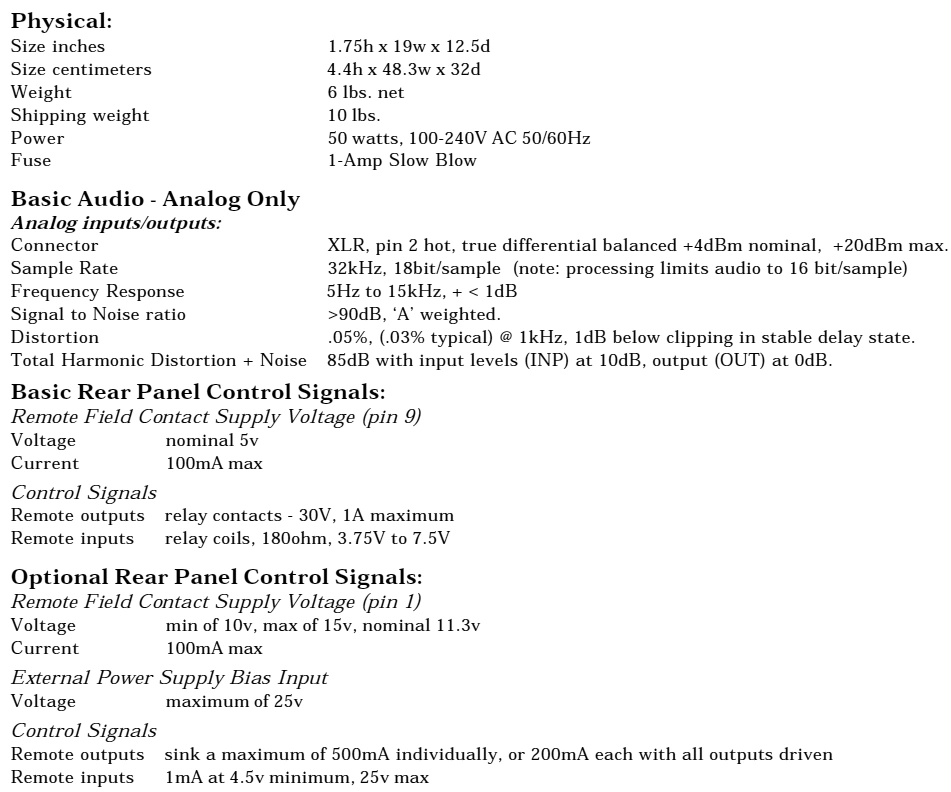 ---
Share this Product
---
More from this collection