Gentner Digital Hybrid I Broadcast Phone Line Caller Audio Console Interface IFB [Used]
(
363196379124)

)

Regular price

$193.00

Sale price

$373.00

(1 available in stock)

Tested/Guaranteed • Fully Working • Very Good Cosmetic Condition • Industry-Standard Telephone Interface Unit • Automatic Digital Line Nulling • Gentner/ClearOne Digital Hybrid I • Broadcast Phone Interface

Photos show the actual item for sale

Details
This listing is for a Gentner Digital Hybrid broadcast phone-in interface - which connects a telephone line to your broadcast console. A computer-controlled line optimization process (the burst of white noise you hear when the DJ answers the call) ensures that the system is adjusted for the specific line conditions associated with each incoming call.
A good proportion of phone-in calls you hear on the air today are passing through one of this range of boxes. The device may also be used to provide an IFB feed to remote talent over a phone line.
The unit has been tested by connecting an audio source to the send input and an amp/speaker to the mix output. The unit passes audio in both directions in broadcast quality.
This is model number 910-009-412. There is a voltage selector on the rear panel to adjust the input between 100/120/230/240V.
Full details may be obtained from the User Manual
(https://www.prostudioconnection.net/1407/Gentner_DH1_Manual.pdf)
Listing comprises the Hybrid unit only, no cables accessories or documentation is included.

Manufacturer's Product Overview
The Gentner Digital Hybrid I is designed to digitally clarify incoming telephone calls that will be broadcast on the air.
The system keeps connection noises from reaching the listening audience. Additionally automatic nulling optimizes individual line conditions upon connection. Once the line is connected the Digital Hybrid I continues to adapt to telephone line conditions, providing the best possible telephone audio, call after call.
Using digital processing technology, the Digital Hybrid I also separates the send (announcer) and receive (caller) audio to eliminate distortion, weak signals and feedback. It continually filters low and high end frequency noises to provide the purest sound available in telephone audio.

Unlike a speaker phone, the Digital Hybrid I allows the audio to be transmitted without clipping, or cutting out conversation. The result is clean crisp audio on every call.
Its high quality digital audio processing and sturdy rack mountable steel case, combined with Gentner's reputation and commitment to service, make the Digital Hybrid I an exceptional value.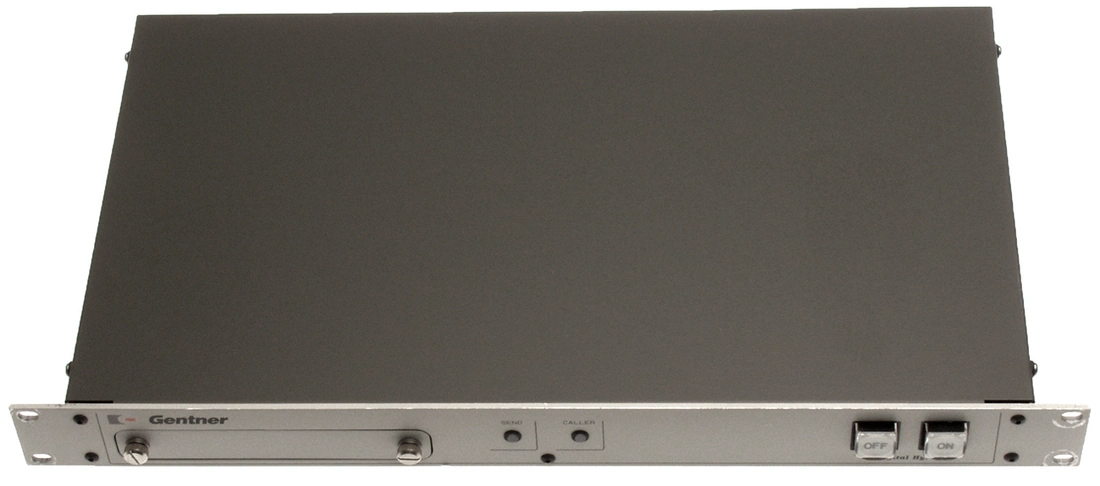 ---
Share this Product
---
More from this collection