Inovonics 633 FM RDS Stereo Tuner Off-Air Monitor Carrier Loss Alarm AES Digital
(
235113475428)

)

Regular price

$667.00

Sale price

$976.00

(1 available in stock)

Factory B-Stock • Mint- Cosmetic Condition • FM Stereo • AES Digital Output • Carrier Loss Alarm • Balanced Output on XLRs • RDS/RBDS Monitoring • Switchable to 230V/50uS • 1U Rack Mount (3 per shelf)


Factory B-Stock Unit in original carton.  Full details may be obtained from the User Manual at https://www.prostudioconnection.net/2308/Inovonics_633_Manual.PDF.  SN 600-B

Description
The INOmini 633 is an FM-only receiver for off-air broadcast monitoring and re-broadcast (translator) service. It receives standard analog FM broadcast transmissions and also decodes the digitized text and 'housekeeping' data that are transmitted to the North American RBDS (Radio Broadcast Data System) and European RDS (Radio Data System) standards.

The front-panel, back-lighted LCD display is host to numerous menu screens, which enable easy setup of the 633, and display both signal quality and RDS RadioData information.
Features

Sensitive and selective DSP-based receiver.
Receives worldwide-standard FM radio broadcasts and optional associated RDS data.
Offers 'Extended-Band' coverage down to 76MHz.
Easy setup using the LCD screen and jog-wheel navigation of the receiver's menu tree.
Front-panel display of most-essential FM RDS information including RT+ 'tagging' data; USB port sends RDS data to any PC for analysis by the included software.
Analog L/R and AES-digital program line outputs.
Front-panel alarms with rear-panel 'tallies' for Carrier Loss, Audio Program Loss, and RDS Loss or PI Code Mismatch.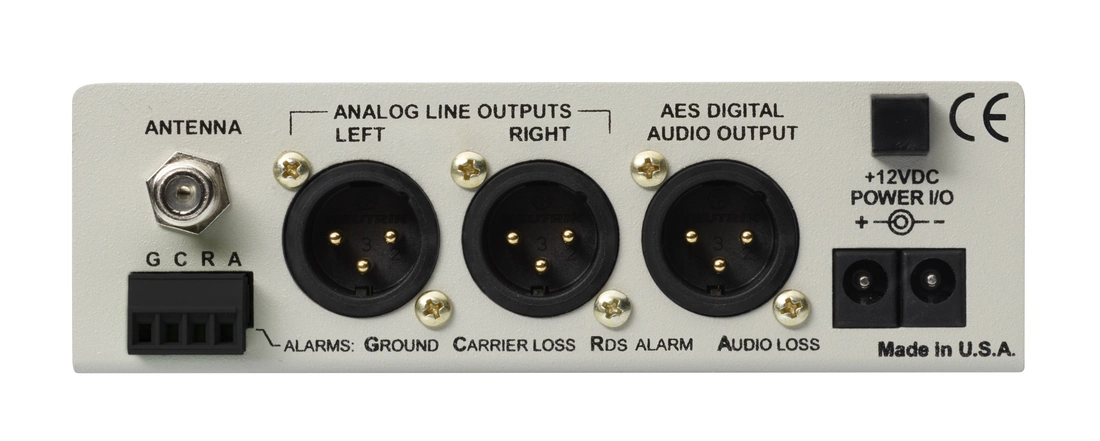 Product Specifications

Tuning Range: 76.0MHz - 108.1MHz in 100kHz steps
Antenna Input: 50/75-ohm (F)
Receiver Sensitivity: 10μV for 50dB monaural FM S/N
Audio Frequency Response: 30Hz -15kHz
FM De-Emphasis: 75μs/50μs selectable
RDS Fields Displayed: AF, CT, DI, M/S, PI, PS, PTY, PTYN, RT, RT+, TA, TP; Groups Received
Program Audio Output(s): +4dBu balanced Analog Left/Right (XLR), 200-ohm source impedance; AES Digital (XLR), 44.1kHz sampling rate; Front-Panel Headphone Jack (3.5mm TRS)
USB Port: Raw RDS data for external analysis
Alarm Tallies: Individual open-collector NPN transistor outputs for Carrier Loss and Audio Loss; programmable logic polarity
Power Requirement: 12VDC at 140mA. A universal-inline switching-type power supply is provided and accommodates AC mains voltages between 100V and 240V.
Mounting Options: The 633 may easily be fastened to any convenient surface with two small screws, or an optional rack adapter will accept up to three INOmini modules in a 1U, 19-inch rack space.
Size and Weight: 1.6" H x 5.5" W x 5.5" D; 4 lbs. shipping weight.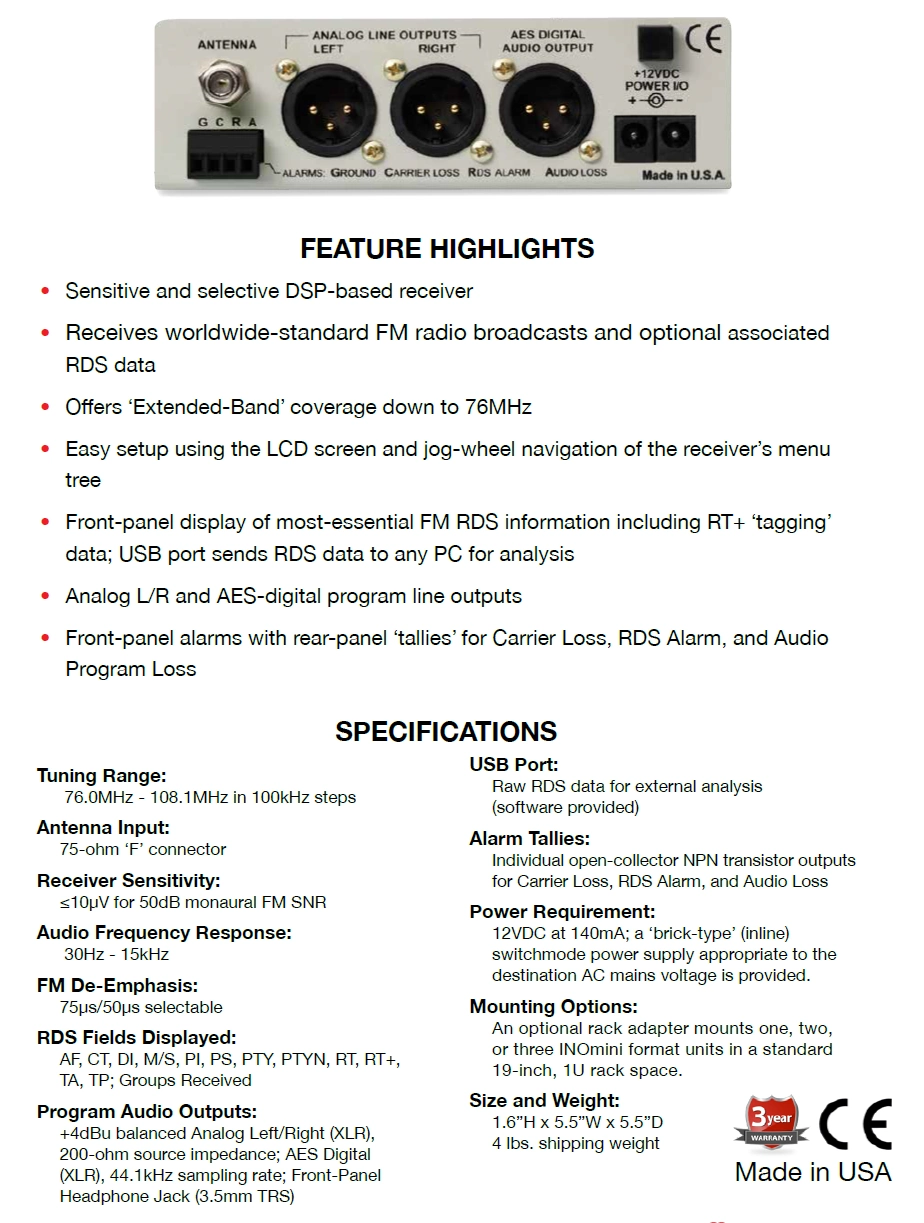 ---
Share this Product
---
More from this collection