JK Audio Innkeeper PBX Digital Hybrid Broadcast Phone Handset Audio Interface [Refurbished]
(
284919146846)

)

Regular price

$256.00

Sale price

$401.00

(1 available in stock)

Tested/Guaranteed • Fully Working • With AC Power Supply • 115/230V • Connects Between Phone and Handset • Bi-directional Broadcast Audio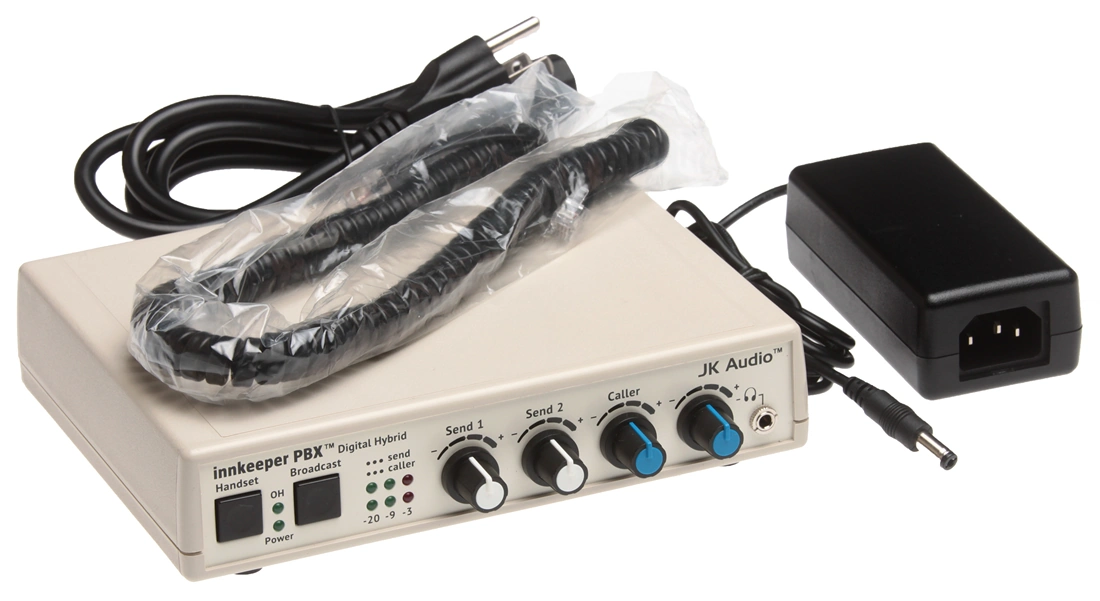 A late model JK Audio Hybrid which is lightly used, in near mint cosmetic condition and which has been tested to confirm that it is fully working. No printed manual is included but it can be downloaded here if required (https://www.prostudioconnection.net/0912/JK_Innkeeper_PBX_Manual.pdf).
Note that this hybrid connects between the Telephone and the Handset, and not between the phone and the wall jack. That way it doesn't matter whether the phone is analog, digital, VoIP or whatever. The power supply accepts both 115V and 230V AC. JK Hybrids in my experience operate best with a lowlevel of input signal, so start testing by turning down the Send gain control to the point where just the first LED level indicator is peaking lit, and go from there.

Description
Innkeeper PBX easily converts your multi-line PBX type telephone system into a professional, affordable talk show console. Simply connect between your telephone handset and the phone base. So simple, anyone can do it. Listing comprises hybrid unit and power supply only.

Talk Show: Connect Innkeeper PBX between your console and your existing multi-line telephone. Your producer can screen callers from another phone while you take callers on the air by simply selecting available lines on your phone.
Full details may be obtained from the User Manual
(https://www.prostudioconnection.net/0912/JK_Innkeeper_PBX_Manual.pdf)
Interviews: Use Innkeeper PBX in your newsroom to record high quality interviews. Connect a mic and headphones to your PBX telephone while maintaining excellent separation between your voice and the caller. You can upload your recorded interview to your podcast.
Conference Room: Easily connect your PA system to the existing PBX telephone system. The echo canceller algorithm can prevent feedback and allow full duplex conversations.
The digital hybrid connects audio signals to your PBX type telephone system through the telephone handset cord. The Digital Signal Processor (DSP) continuously monitors both transmit and receive audio signals to deliver excellent separation. This proprietary, dual-convergence echo canceller algorithm can achieve excellent separation without any setup, and without sending a noise burst down the line.
Innkeeper PBX provides connections for a microphone, headphones, mixer, sound card, and telephone handset. The stereo output jack on the back of the unit provides your voice on one channel and only the caller's voice on the other channel. The balanced XLR output jack contains only the caller's voice. The Handset and Broadcast buttons select between talking on the handset, or sending and receiving through the audio connections.
Features
Excellent separation of caller and talent voice
16 bit DSP technology
Proprietary auto null algorithm, 50 dB null
XLR input (mic/line switch)
3.5 mm line input
XLR caller output
3.5 mm line output
3.5 mm headphone jack
Send & Receive LEDs
Switch selects between electret, dynamic, and carbon handset types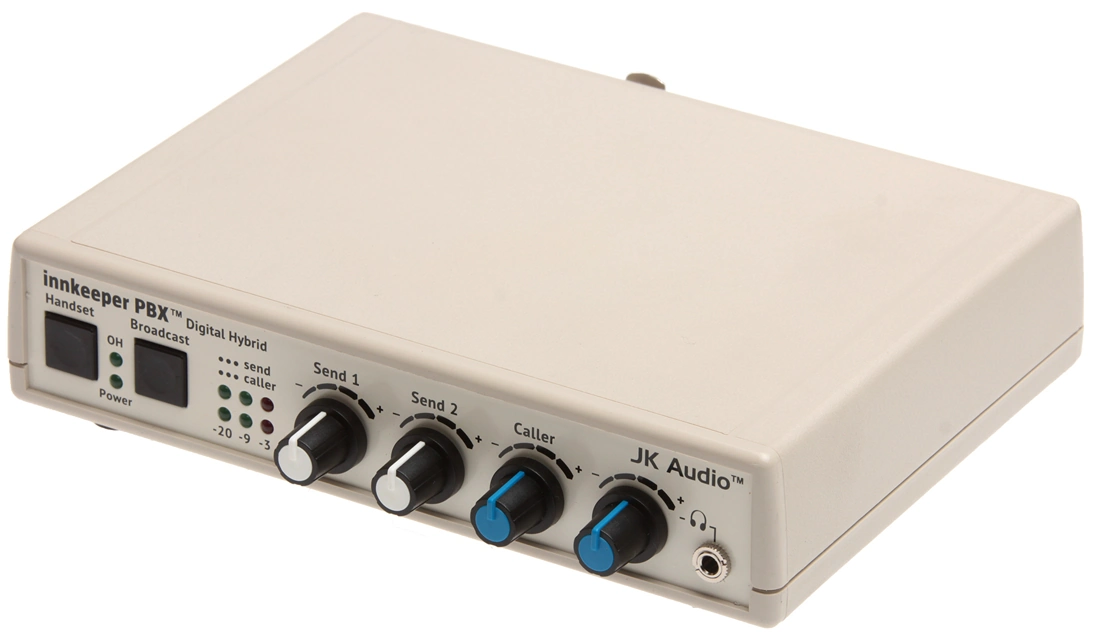 Specifications
Input Mic/Line: Balanced Female XLR, 1kohm, -10 mVRMS (-35 dBv nom; Mic/Line pad switch = +4dBv max
Line: 3.5 mm mono, 20kohm, 250 mV RMS (-10 dBv nom)
Output Balanced: Male XLR, 200ohm, 500 mV RMS (+12 dBv max)
Unbalanced: 3.5 mm stereo, 50 ohms, 250 mV RMS (+4 dBv max; Left = send, Right = caller.
Headphone: 3.5 mm stereo, 8 ohms, 250 mW, mixed send and receive.
Handset: RJ22
Phone Base: RJ22
Handset Type: Switch selects electret, dynamic, or carbon handset microphone types.
Isolation: 1500 VAC
Frequency Response: Telephone Side 200 Hz - 3600 Hz
Power: 120-240 VAC power supply (included).
Size: 7" x 6" x 1.6" (18 x 15 x 4.2 cm)
Weight: 2.2 pounds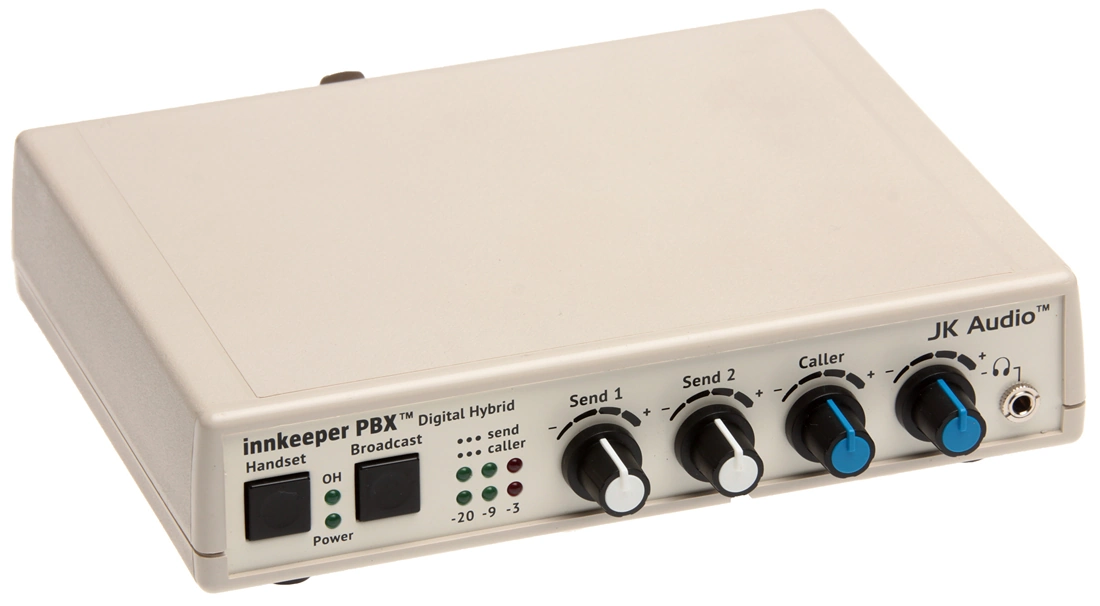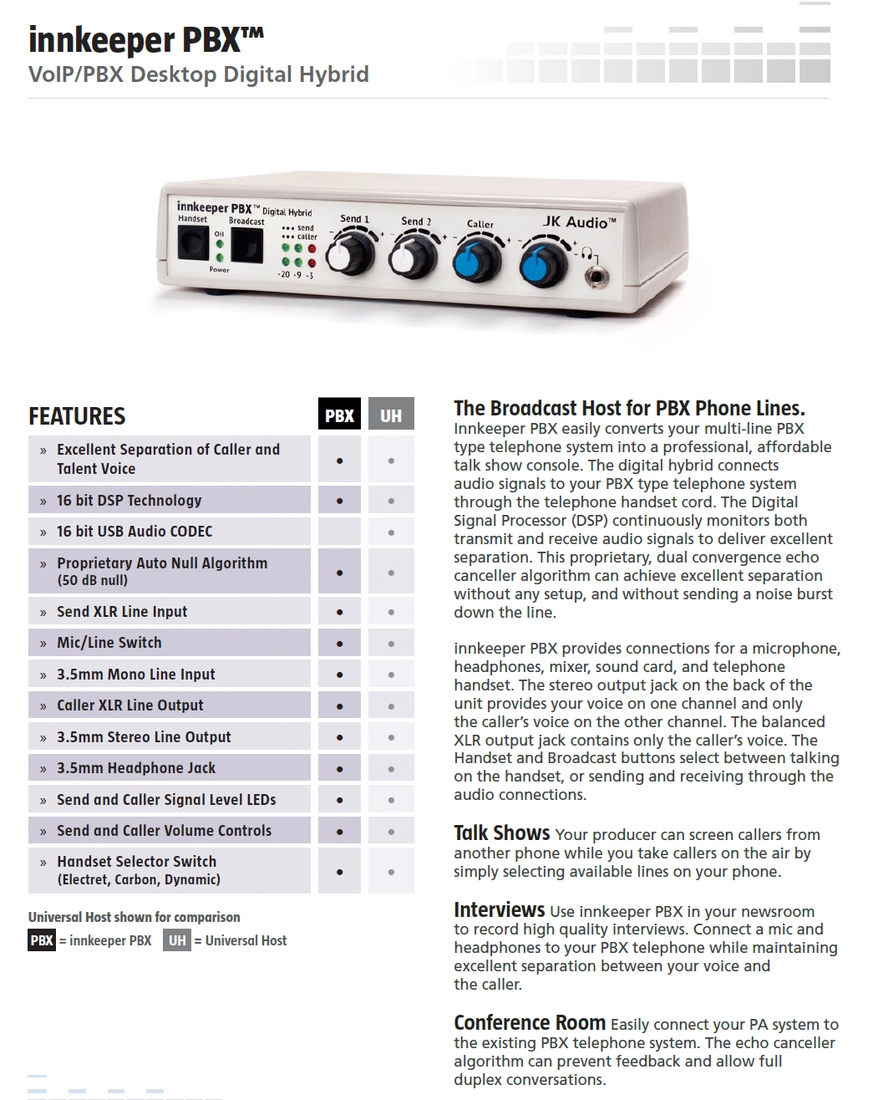 ---
Share this Product
---
More from this collection