Leitch DTD-5225 Large Red LED Digital SMPTE/EBU Timecode Clock Date Wall Display [Refurbished]
(
362743802491)

)

Regular price

$305.00

Sale price

$447.00

(1 available in stock)

Tested/Guaranteed • HH:MM:SS 2.25" LED Timecode Display • EBU/SMPTE Input • Was $1,350 • Includes Rack Ears

Photos show the actual item for sale

Used, in very good cosmetic condition and tested to confirm that it is fully working. Note that a few nicks in the paintwork have been carefully touched up with matching paint so that the unit will look pristine in your rack when viewed from a normal distance. Rack ears are included - otherwise no unpictured cables, accessories or documents are included. No printed manual is included but a copy may be downloaded here if required.
Features
Completely self-setting with SMPTE/EBU time code input
Absolutely silent (no moving parts).
Built-in quartz time base oscillator with battery back up
May be operated as a time code reader for use with countdowns.
Digital display is user-selectable between HH:MM:SS/MM:SS.FF, 12/24 hour, and date.
May be configured as a time code generator to drive other clocks.
LED brightness is adjustable.
Runs on 50/60 Hz, 115 VAC power line. Can be rejumpered internally for 230V AC.
Automatic primary/secondary drive selection.
User-programmable time offsets.
Wall mount or Rackmount

Description
The DTD-5225 is an LED digital clock with 7-segment-digits display. It may operate as a time-code-reading clock or as a digital SMPTE/EBU serial time code reader, simply displaying the input time code.
In addition to SMPTE/EBU time code, the clock can operate on the internal quartz time base, or from the 50/60 Hz power line. This three-way reference capability allows easy integration into new or existing clock systems.
Full details may be obtained from the User Manual
(https://www.prostudioconnection.net/1408/Leitch_DTD-5225_Manual.pdf)
The DTD-5225 is wall mountable. As an option, adaptors are included for conversion to rack-mount. The standard clock face has 2.25" tall digits, which may display HH:MM:SS or MM:SS.FF, depending on the DIP Switch settings. The brightness of the digit LEDs is adjustable.

Clock Operation
Clock installation is simple when SMPTE or EBU format time code is available. Apply power, connect time code, and the clock takes care of the rest, instantly setting to the correct time.
If time code fails, the colons flash twice per second to signal its absence, and the clock automatically switches to the preselected secondary reference. This can be the internal quartz time base or power line. Any time discrepancy on return of time code is instantly corrected. This also applies to time code changes, such as Standard Time to Daylight Savings Time.

Time Offsets
The Harris CSD-3902 master clock system driver allows programming of time code user bits. This facility can be used to include a specific time offset in the time code. The operating mode of one or more DTD-5225s in a system can then be set to read this offset. A typical application is the display of GMT in addition to local time.
Additionally, DTD-5225/30s may be preset to display an offset from local time. This local offset allows the display of any or all time zones at one location. This offset is user-programmable from one second to 23:59:59.
Time Code Reader Operation
The DTD-5225/30 accepts time code in SMPTE, EBU, or SMPTE Drop Frame formats. Time code values are followed continuously, either up, down, or stopped values. In the absence of time code, the colons separating the digits will extinguish, and the last value will remain on display.
When used with the Harris CSD-3902 master clock system driver, the units can be switched to display the date instead of the time, in either MM:DD:YY or DD:MM:YY format.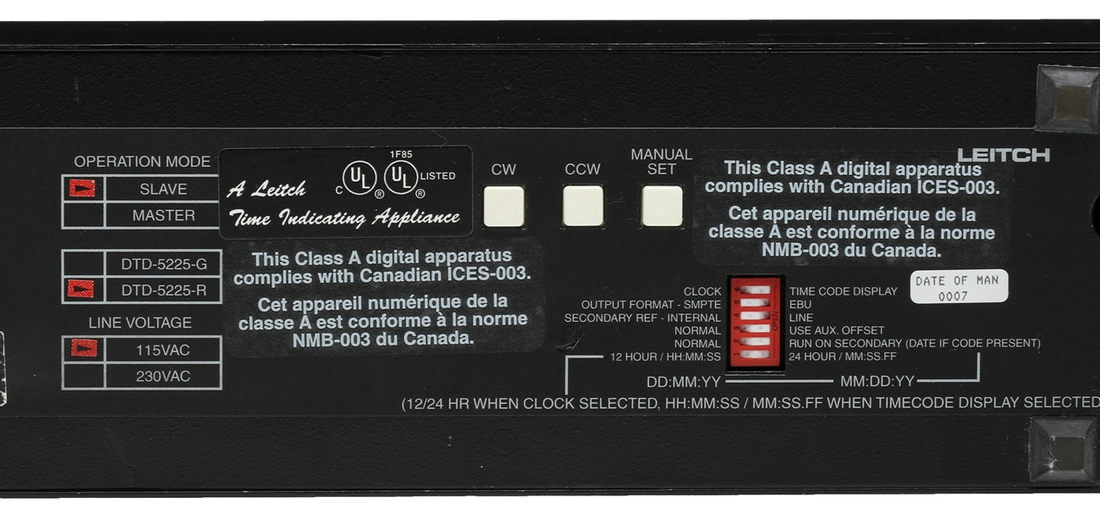 Master Operation
When no source of time code is available, the DTD-5225/30 may be configured as a time code generator, using its internal quartz crystal. An internal cable change is all that is required. The secondary reference must be set to internal, and the time code format DIP Switch must select either SMPTE or EBU format.
When used as a generator, the DTD-5225/30 can drive multiple high-impedance, time-code-reading device.
Secondary Drives
The internal crystal oscillator or the power line reference may be selected to provide automatic back-up if time code fails. Either time base can also be used to run the clock as a standalone device, when necessary. The DTD-5225/30 automatically detects the presence of 50 or 60 Hz power line frequency.
Battery Back-up
If AC power is lost, the DTD-5225/30 maintains time internally via a crystal oscillator. Self-setting to this time will occur if no input time code is available on power-up.
Primary Drive Connectors
The rear panel input connectors for time code are color-coded (red/black), spring-loaded speaker-type connectors. A standard three-prong AC receptacle is also provided.
Mode Configuration
A six-position DIP Switch is used to set the DTD-5225/30s operating modes. The first switch selects clock or time code display. The second switch selects SMPTE or EBU time code format for use when operating as a generator. The third switch selects the secondary drive, which will be used if the time code input fails. The secondary reference may be the internal quartz crystal oscillator or AC power line. The fourth switch selects either normal time code operation or time offset (requires time code from CSD-5300). This allows certain clocks in the system to display a different time, according to an offset programmed into the user bits of the time code. The fifth switch specifies whether the clock should run from the preselected primary or secondary drive, or display the date. The sixth switch is used to select the display format. 115 or 230 VAC selection is made via internal wire jumpers; 50 or 60 Hz detection is automatic.
Manual Setting
When operating in a mode other than time code, the clock can be accurately set by means of three miniature pushbuttons on the rear panel. One of the buttons selects the manual set mode. The other two buttons change the time display in appropriate increments. These buttons are also used to program a local offset from time code.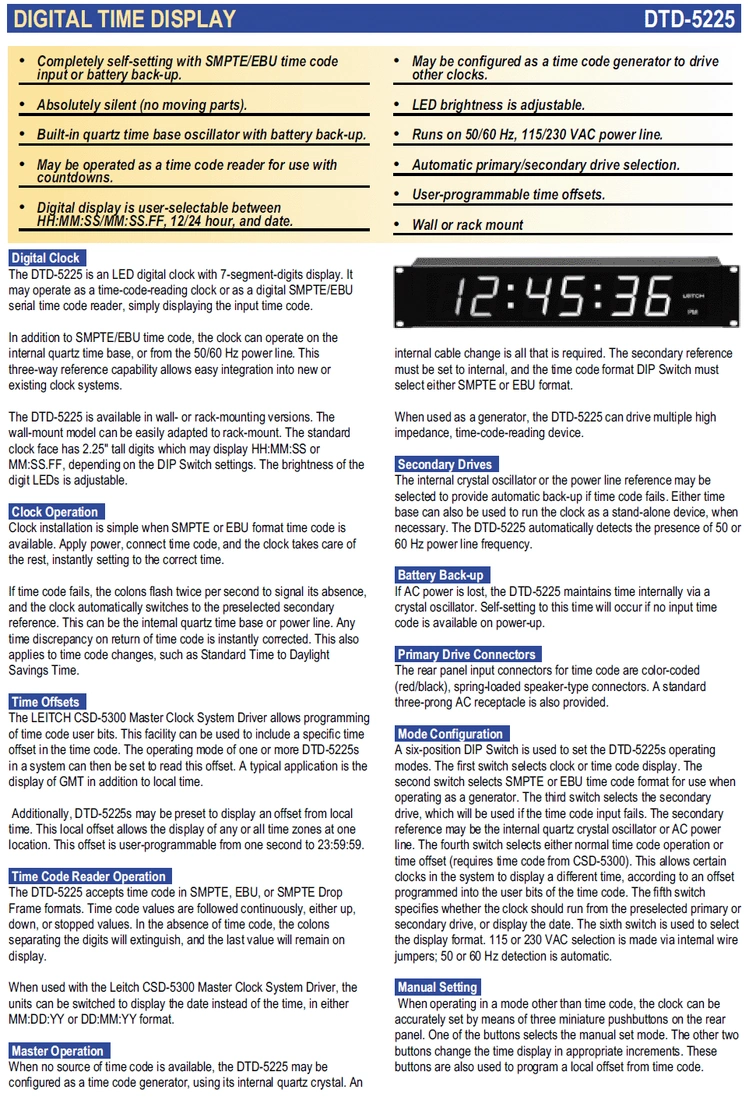 ---
Share this Product
---
More from this collection