Logitek AE-32 Audio Engine for Numix/ROC/Remora Broadcast Control Surface AE32 [Used]
(
284000273676)

)

Regular price

$451.00

Sale price

$1,324.00

(1 available in stock)

Tested/Guaranteed • Lightly Used • Two Analog 1024A 12 Channel I/O Blades Installed • Suits Logitek Remora, NuMix or ROC-5/10 Control Surface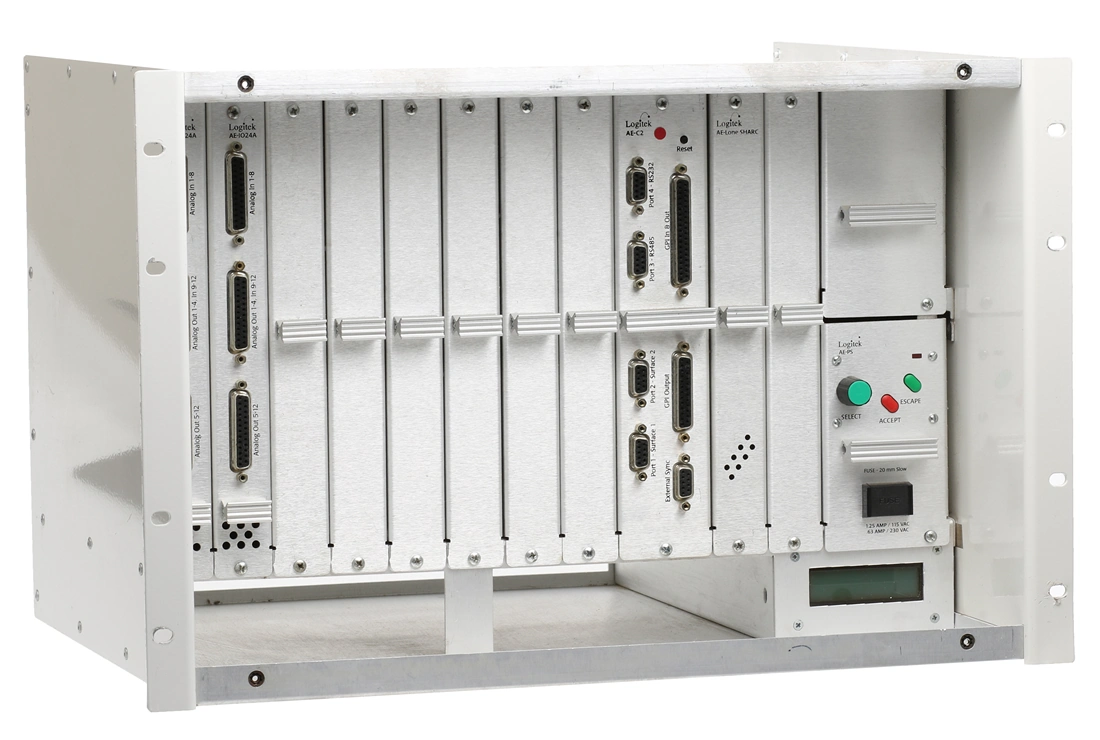 Photos show the actual item for sale

This is a lightly used Logitek Audio Engine unit. It has a front cover panel included. The chassis is fitted with 2 AE-IO24A Analog Input/Output modules - so that you have the capacity for 12 Stereo (24 Mono) Analog input/output channels out of the box.  I may have other cards available, if you want to expand the number of channels, or add some digital I/O capability - contact me if you want the chassis expanded before shipment.  The matching Remora control surface is listed for sale separately. 
Note that this needs to be used in conjunction with a matched Logitek control surface [not included/listed separately] to provide the tactile user interface.
The unit is in very good cosmetic condition. I checked the unit by powering up the Engine and attaching a Remora control surface to the serial port (interconnection cable not included - but a simple DB9 straight through male to male serial cable is all that's required). As far as I can tell everything works as I was able to change parameters in the AE32 via the control surface and the correct channel legends were supplied by the engine, but I have not built a 24 channel test rig. But I have no reason to doubt that the various cards are working as they should.  In the event of a card problem, I should have enough spares on hand to be able to do a simple card swap to resolve any concerns. 
Listing comprises the pictured items only, no other accessories, cables or documents are included.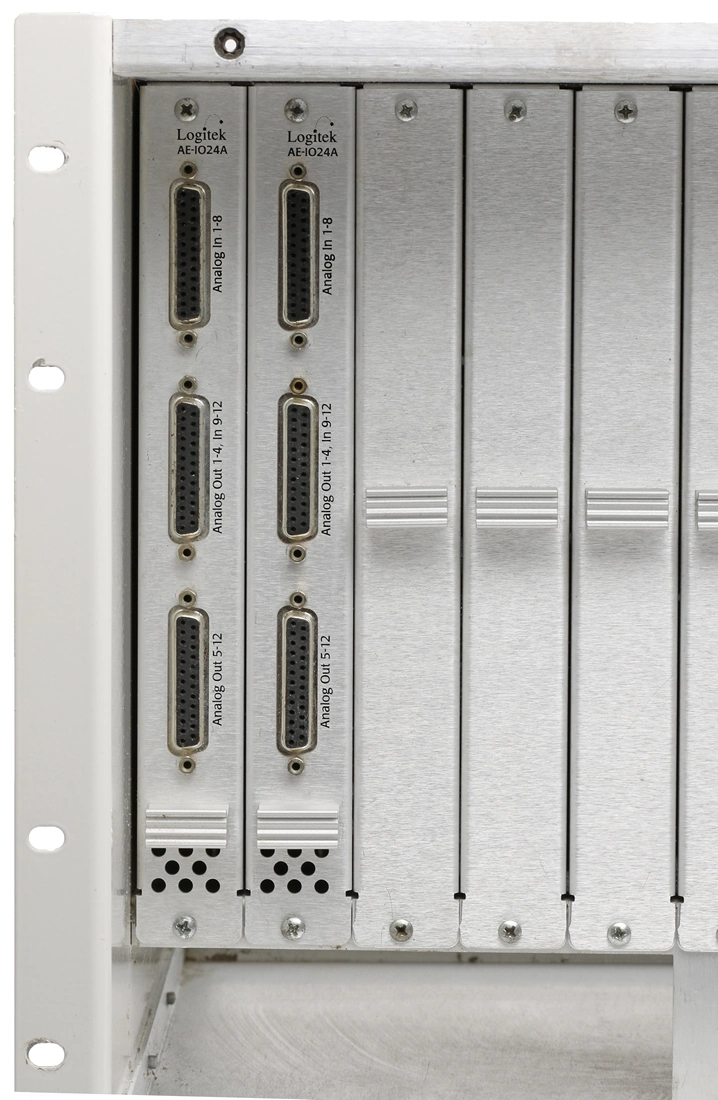 Description
Logitek's Digital Audio Engine (AE-32) is a TDM-based X-Y audio router for Radio and TV applications, giving you all the benefits of easy audio selection and distribution along with complete audio console functionality. The Artisan console was designed to operate from this platform; the AE-32 is also compatible with other Logitek consoles.
A fully configured AE-32 can handle 128 mono inputs and outputs, up to 64 stereo inputs and outputs or a combination of both. Analog and digital cards can be mixed to handle the required number of signals. In addition, the engine can perform functions that usually need extra equipment on a traditional console, such as EQ and dynamic control or profanity delay or sub frame delay.
Full details may be obtained from the User Manual at
http://www.prostudioconnection.net/1604/Logitek_Audio_Engine_Reference_Manual.pdf
Built around the powerful Analog Devices' SHARC 32-bit audio processors, Logitek's AE-32 internally processes 24-bit audio words using up to 32-bit floating point math for a true quality sound. The engine uses a combination of plug-in cards on a high-speed TDM bus, making it easily configurable today and re-configurable to meet your needs in the years to come. In addition, you get the utmost flexibility in defining bus structures, talkback/intercom, relay closure, mix minus and more through Logitek's configuration software.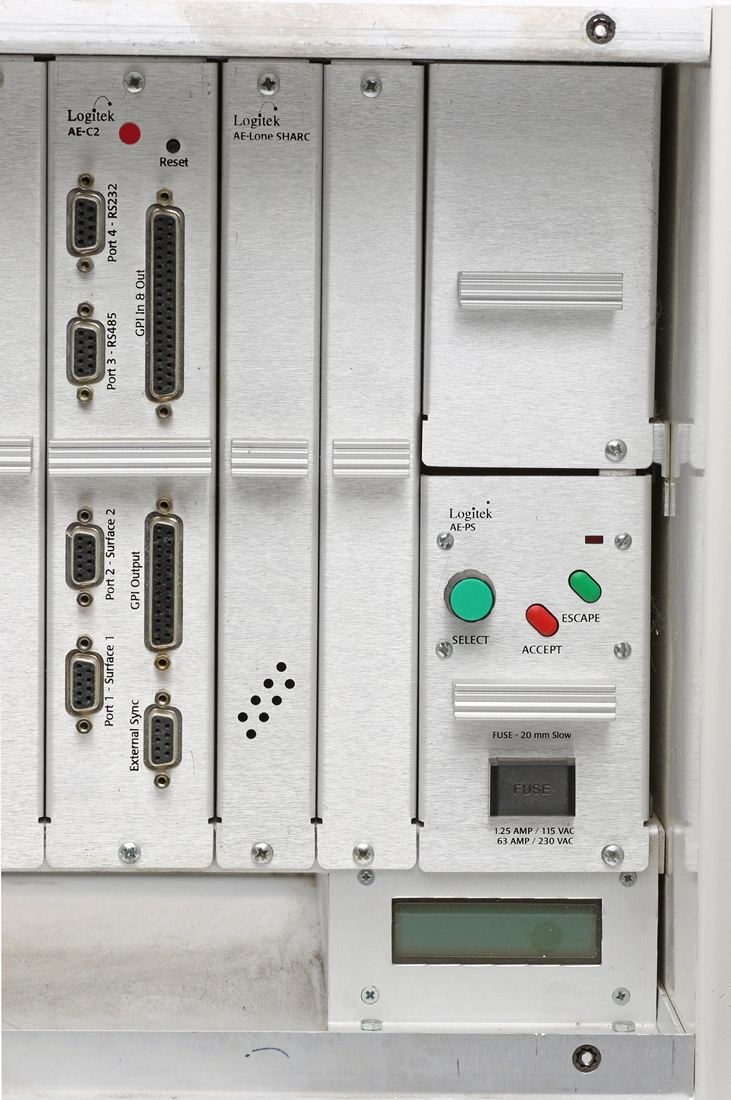 AE-32 Modules
AE-C2 Communications Processor/Controller Card
Provides connections for up to three Logitek consoles
Additional ports provided for Utility panels and serial communications
15 GPI inputs
15 GPI outputs on solid-state switches
Links to external master clock or handles master clock generation to AES/EBU
SHARC Attack DSP Audio Processor
Uses 7 Analog Devices SHARC DSPs for high-speed processing
Processors connect to I/O cards using high speed 24-bit TDM data bus
User-selectable sampling rate (up to 48 kHz)
4-band EQ and compressor/limiter for up to 32 inputs and 4 mix busses
Stores up to 30 seconds of audio for sub-frame delay, profanity delay or other delay functions
AE-IO24A - Analog I/O card
12 single channel inputs
12 single outputs
Any pair of input or output channels can be linked for stereo operation.
Signals are line level, with independent gain and output trim controls.
Analog signals are converted to and from the digital domain using 24 bit converters for maximum audio quality.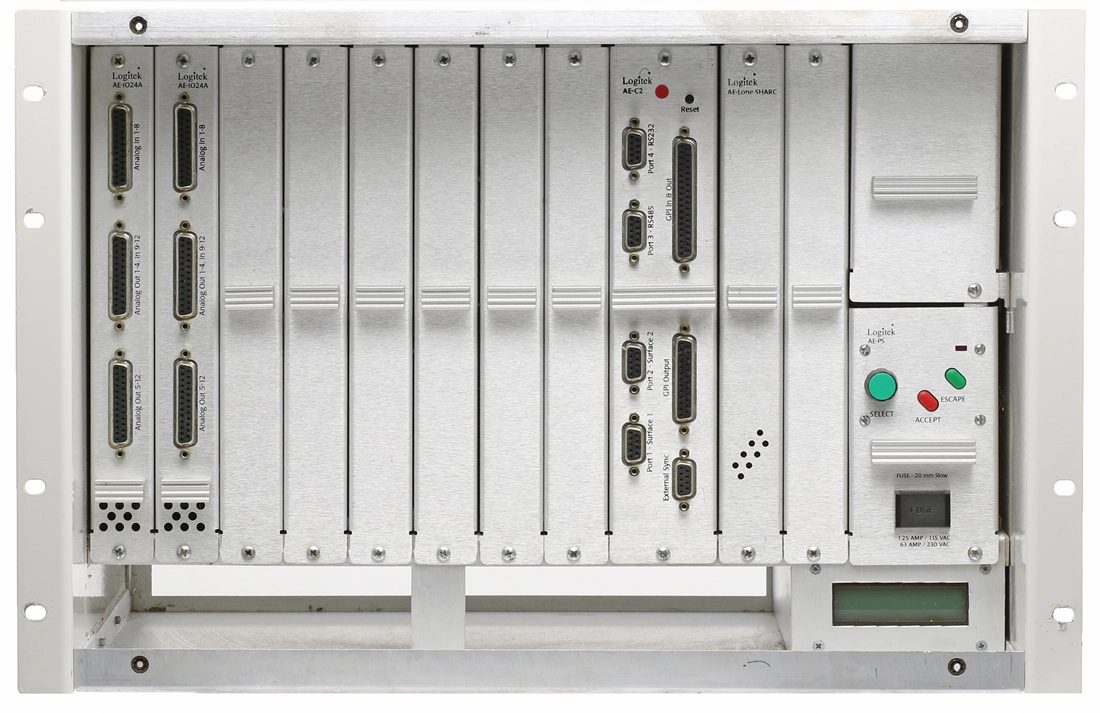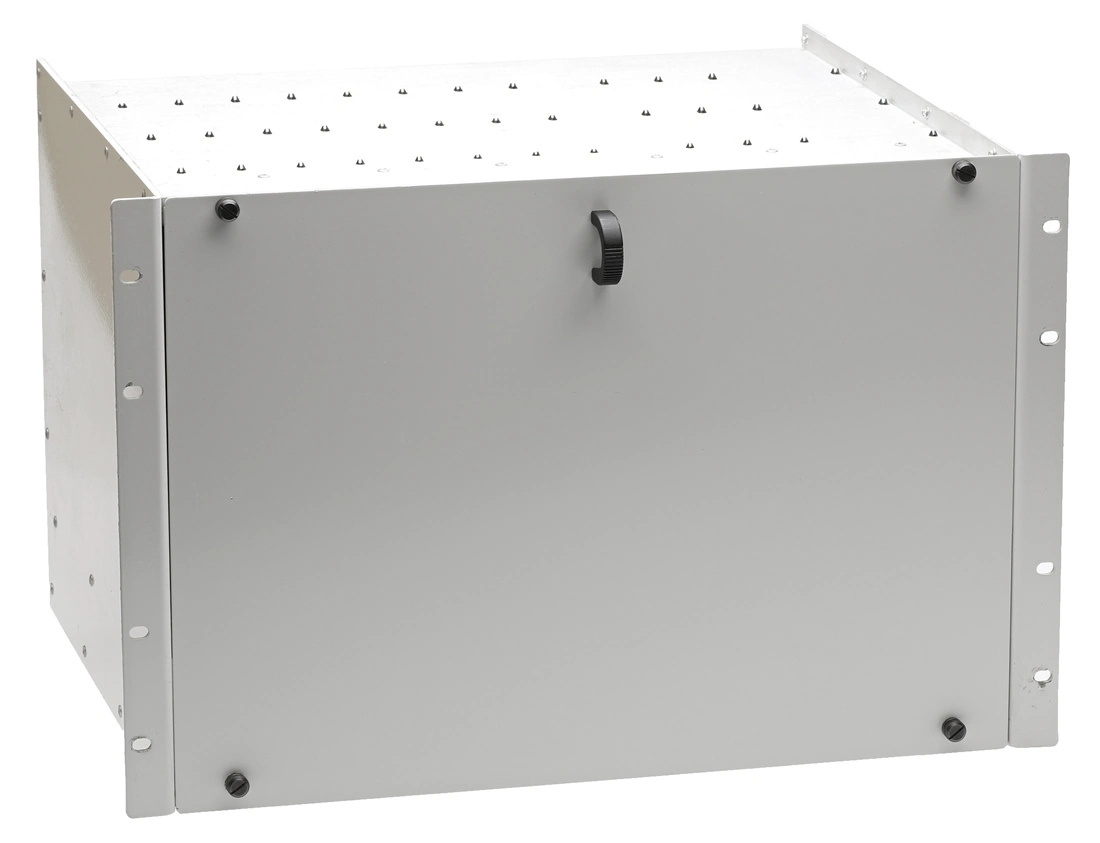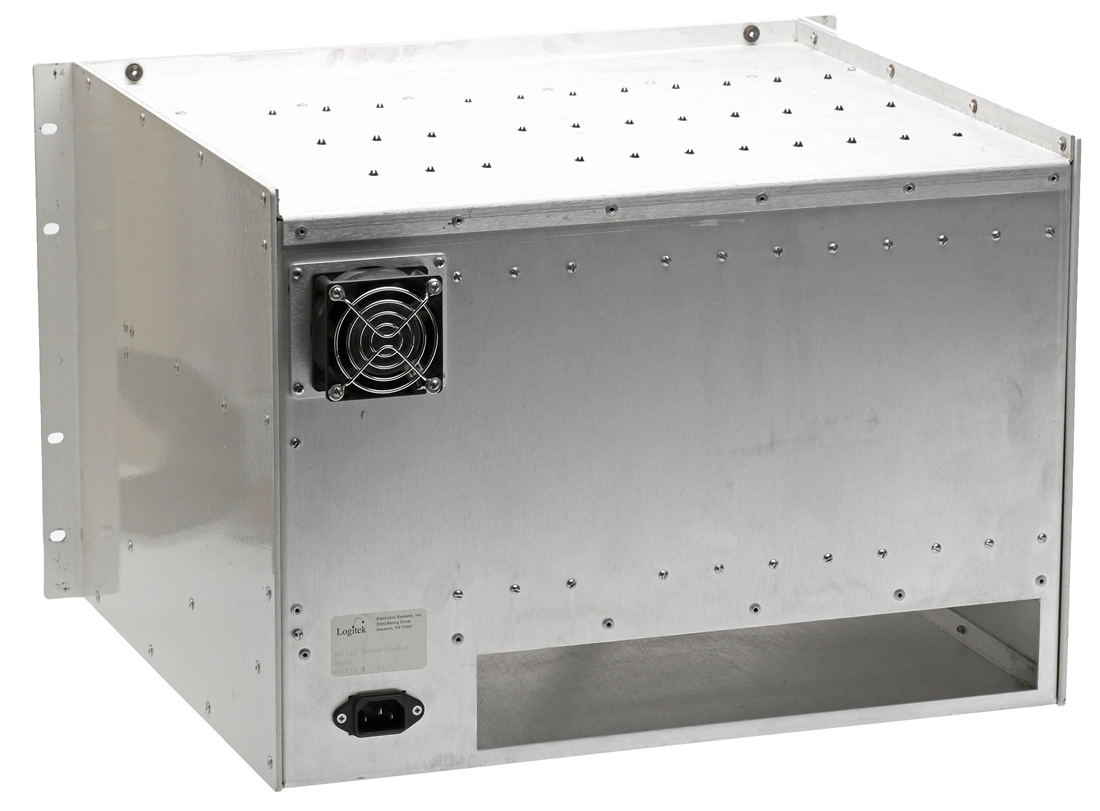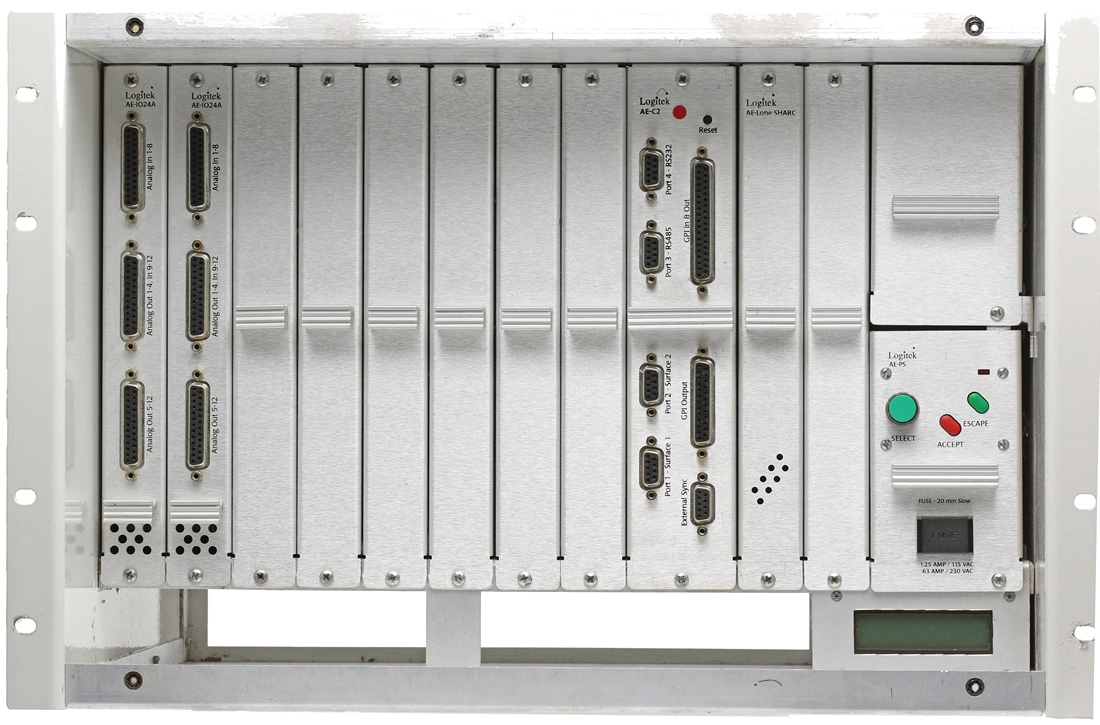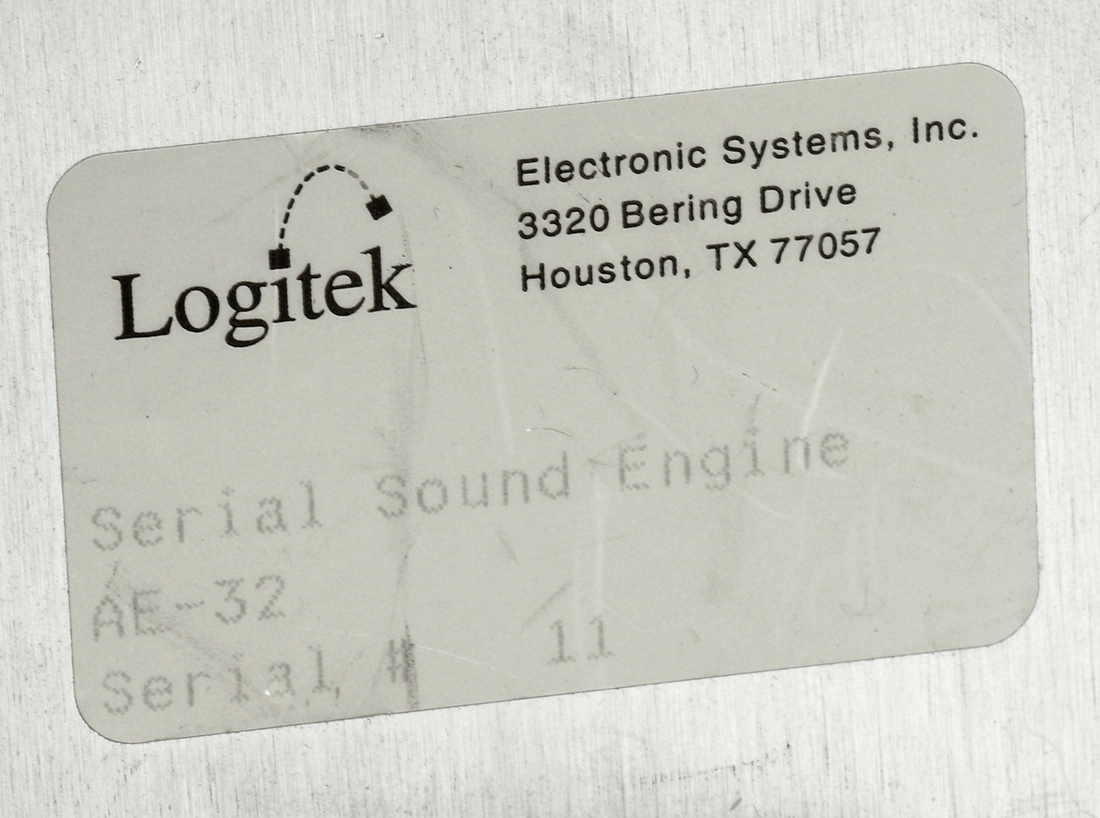 Learn great tips in our HTML blog about web development. Learn how to implement useful features for your website!
---
Share this Product
---
More from this collection