Lynx AES16-SRC 192kHz 16Ch AES/EBU Digital Audio PCI Sound Card + NEW XLR Cables [Refurbished]
(
283663327392)

)

Regular price

$268.00

Sale price

$501.00

(1 available in stock)

Tested/Guaranteed • Lynx AES16-SRC Card • Sample Rate Converter • With 2 Brand New XLR Breakout Cables • 192kHz AES Digital Sound Card • PCI Version • 16 Digital Audio Channels - In and Out!
Lighly used and tested under Windows 10 64 bit to confirm that it works as it should (see screenshot below). Includes Card and 2 NEW XLR breakout cables. This is a PCI card, not a PCI Express type. The card firmware has been updated to the latest version (v26).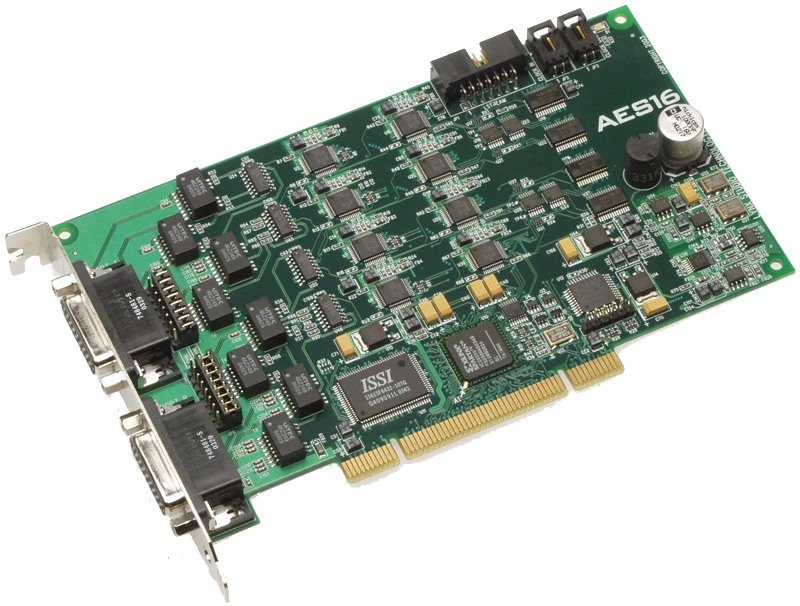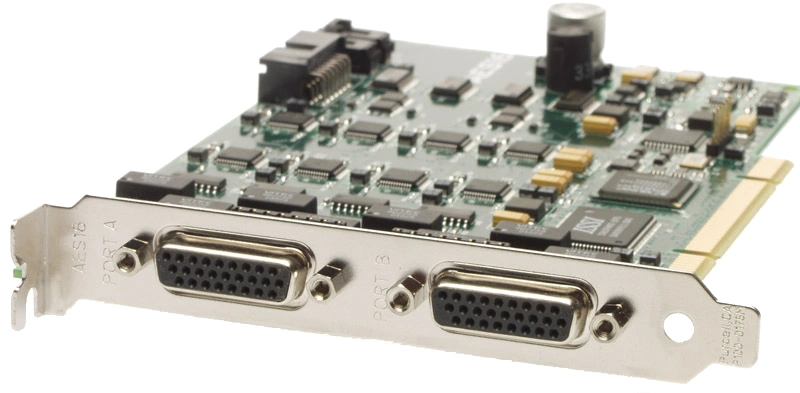 Description
Integrates digital consoles, multi-channel A/D and D/A converters, and hard disk recorders with computer-based workstations
The AES16 offers unprecedented AES/EBU channel capacity and routing flexibility in a single PCI card format. With support for up to 16 channels of input and output at sample rates up to 192 kHz, the AES16 turns your computer into a powerful digital router or patchbay with extensive flexibility with minimal cabling. Most importantly, the AES16 supports the emerging single-wire 192 kHz standard and is compatible with existing dual-wire AES/EBU devices. Up to four AES16's can be installed in a single computer.
Download the AES16 Manual (https://www.prostudioconnection.net/1812/AES16%20Manual.pdf) or just look at the AES16 specifications (https://www.prostudioconnection.net/1812/AES16Brochure.pdf).
Sixteen-channel AES/EBU Digital I/O
192 kHz / 24-bit Single-wire and Dual-wire Modes
SynchroLock Jitter Attenuation
Word Clock and Multi-card Synchronization
Powerful Mixing and Routing Engine
Low-latency Drivers for Windows and Macintosh
Cabling for Direct Digital Interface to Yamaha, Apogee, Mackie, and other Equipment.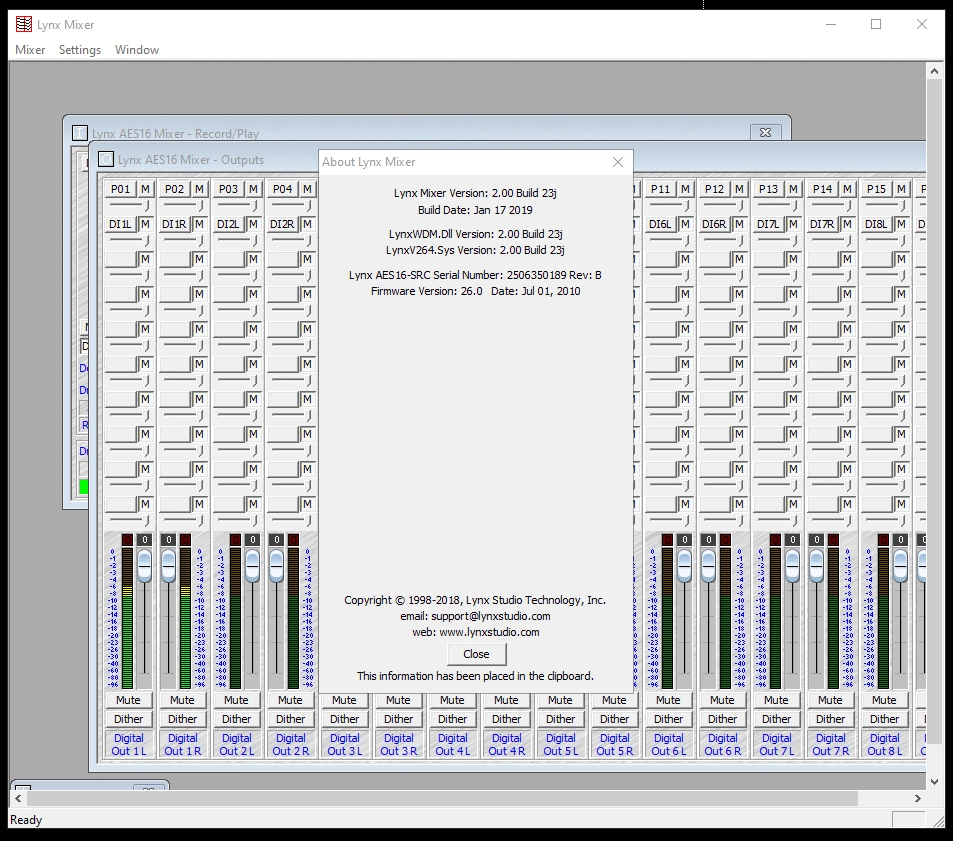 Innovations

SynchroLock
Offering a solution for jitter problems in AES signals, the AES16 incorporates a new Lynx technology called SynchroLock that provides extreme jitter tolerance at all inputs. By coupling statistical analysis with low-noise clock generation techniques, SynchroLock is able to extract a very clean clock from AES signals affected by long cable lengths and other noise sources. The clock output of SynchroLock can also be used as a very accurate word clock source for other studio devices.
Extremely Low Latencies

Glitch-free recording and playback is assured due to the AES16's large on-board buffers and extremely efficient zero-wait state DMA engine. These features provide tolerance to system latencies and significantly reduce load on the host CPU. Data transfer hardware and software are highly optimized to provide extremely low latencies for ASIO and other real-time applications.
Expandability

The AES16 includes an LStream expansion port for increasing its I/O capabilities. Connecting a Lynx LS-ADAT adds multi-channel ADAT lightpipe I/O and supports format conversion between AES/EBU and ADAT.
Sample Rate Conversion

The AES16-SRC model offers eight channels of mastering quality sample rate conversion to accommodate studios running multiple samples rates or signals not locked to "house sync".
On-Board Digital Mixer

The on-board digital mixer offers flexible patch-bay style routing and digital mixing. Zero Latency 32-channel / 32-bit digital mixer with 16 sub outputs. Multiple dither algorithms per channel
Key Features
Digital I/O
24-bit AES/EBU format
Non-audio support for Dolby Digital with Dolby Digital Recorder and Version 1 Driver
16 I/O in single-wire mode; 8 I/O in dual-wire mode
Transformer-coupled XLR connections (AES16-XLR; AES16-SRC)
Optional eight channels of sample rate conversion (AES16-SRC only)
Expansion
LStream port provides 16 channels of ADAT I/O
Sync I/O
Clock source: digital inputs, internal and external clocks
Word Clock and multi-card synchronization
Features
Zero Latency 32-channel / 32-bit digital mixer with 16 sub outputs
Multiple dither algorithms per channel
Extremely low-jitter, tunable sample clock with SynchroLockZero-wait state, 16-channel, scatter-gather DMA engine
Drivers
Windows, ASIO 2.0, WDM, DirectSound, Direct Kernel Streaming and GSIF Macintosh OSX: CoreAudio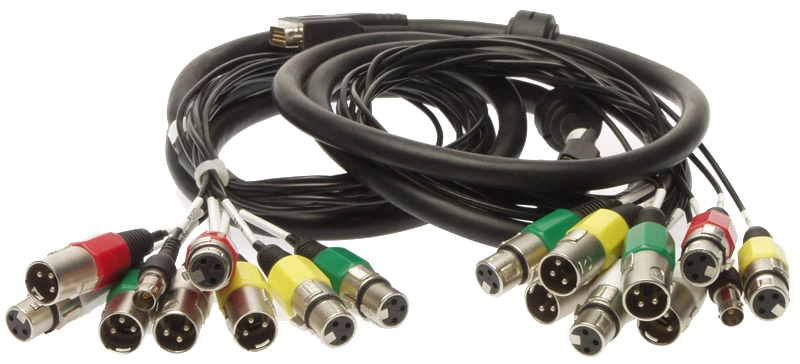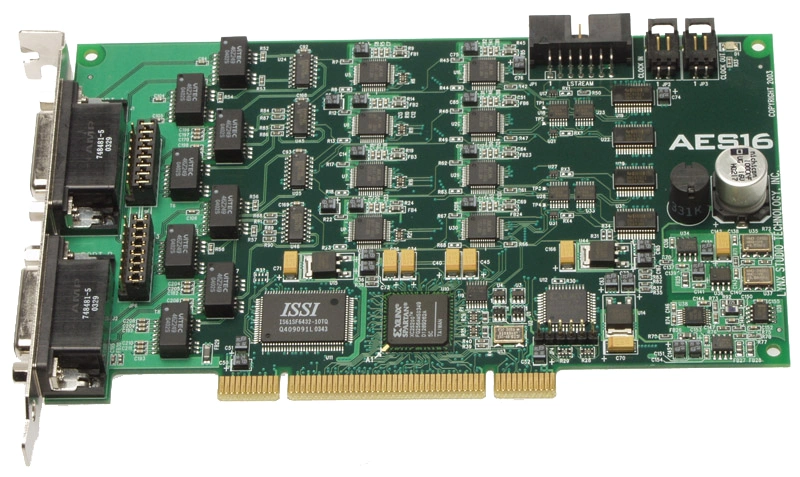 ---
Share this Product
---
More from this collection