Microsemi S600 Syncserver GPS NTP Network Time Server Gigabit IPv6 Symmetricom
(
364391457305)

)

Regular price

$1,987.00

Sale price

$2,846.00

(1 available in stock)

Excellent Condition • Tested/Guaranteed • Usually $4,000 • IPv6 Ready • 4 Gigabit Ethernet Ports

Photos show the actual item for sale

Description
A lightly used S600 SyncServer that's in excellent cosmetic condition.  The unit has been tested to confirm that it works as it should using the GPS constellation as a time reference, and then returned to the factory default settings (logon with admin:Microsemi) Screenshots of the actual item for sale under test are provided below.  The rack ears are aftermarket types.

No antenna is included but I usually have matched types listed separately if you need one. For best results the antenna needs to be mounted outside with a complete view of the sky. This unit is the TCXO version; it does not have a Rubidium oscillator. The listing comprises the items you see in the images (only). No printed manual is included but a copy may be downloaded here (https://www.prostudioconnection.net/1912/Microsemi_SyncServer_6x0_Manual_rev-c.pdf) if required. No other cables, documents or accessories are included.
Usually Sells for $4,906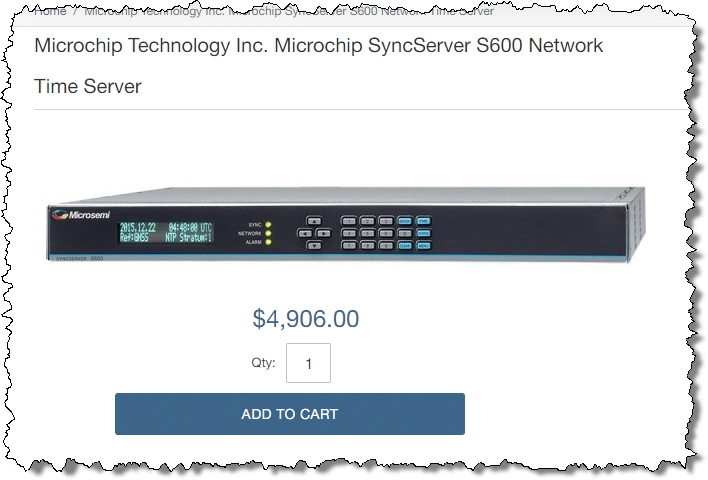 High Performance, Enhanced Security Network Time Server
The SyncServer S600 GPS / GNSS, Stratum 1 network time server with security-hardened NTP Reflector technology improves the security, accuracy and the reliability of the time services on the network for IT network administrators working to provide network time services in hardened network operations.
The S600 network time server is purpose built to deliver exact hardware based Network Time Protocol (NTP) timestamps. The unparalleled accuracy and security is rounded out with outstanding ease-of-use features for reliable network time services ready to meet the needs of the user network and business operations today, and in the future.


MiFID 2 network synchronization | MicrosemiSecure, precision network synchronization and accurate time stamping across distributed systems are critical to a wide range of enterprise IT markets for regulatory compliance, data analysis, data logging, auditing and many other applications. In high frequency trading markets, for example, recent financial regulations like ESMA's MiFID II directive mandate more stringent than ever level timing accuracy and time stamp granularity. As financial markets and market participants are highly interconnected, these regulations have a ripple effect on market participants worldwide. Never has it been more important to choose a network timekeeping architecture, such as Microsemi's SyncServer S600, that will be accurate, reliable, and compliant to the new MiFID regulations and forthcoming SEC requirements.

High Security and Capacity
The four standard GbE ports, and optional 10 GbE ports, all combined easily handle more than 10,000 NTP requests per second using hardware time stamping and compensation. All traffic to the S600 CPU is bandwidth limited for protection against denial-of-service (DOS) attacks. For significantly more robust and secure NTP time server operations, enable the security-hardened NTP Reflector with 100% hardware-based NTP packet processing capable of 360,000 NTP requests per second. As always, a SyncServer S600 is a much more secure network timing synchronization solution compared to windows time servers, NIST time servers, public NTP servers, or free internet time servers in general. A dedicated NTP time server like the SyncServer S600 behind your firewall and under your control is a very secure, accurate and reliable NTP solution.


Unprecedented NTP Accuracy
The Stratum 1 level S600 derives nanosecond accurate time directly from the atomic clocks aboard the GNSS satellites. By using an integrated, 72-channel GNSS receiver, every visible satellite can be tracked and used to maintain accurate and reliable time. Even in urban canyon environments where direct satellite visibility can be limited, manually inputting the position can be sufficient to acquire accurate time even from a single intermittent satellite.

Multi-GNSS Constellation Support for Enhanced Reliability
Timing integrity, satellite signal continuity, and timing reliability can be improved with the [Optional] Multi-GNSS constellation license that adds support for Galileo, GLONASS, BeiDou, QZSS and SBAS constellations in addition to the standard GPS constellation. With more satellites in view, timing performance can be improved in challenging environments, such as urban canyons. All SyncServer S600 NTP time servers ship with GNSS hardware ready to be enabled with a software license.

Timing and Design Reliability
The 72 channel GNSS receiver, coupled with Microsemi's patented Active Thermal Compensation Technology, provides best-in-class time accuracy of <15ns RMS to UTC. Backstop this with a durable hardware design subjected to severe shock and vibration testing, and high reliability components that extend the operating temperature range to a very wide -20DegC to 65DegC. Further choose the dual power supply option with SNMP trap enabled monitoring to avoid time service interruptions. As with all Microsemi NTP time servers, upgrading to a high performance oscillator such as a Rubidium atomic clock, keeps the S600 accurate for a long time in the event of a GNSS service disruption.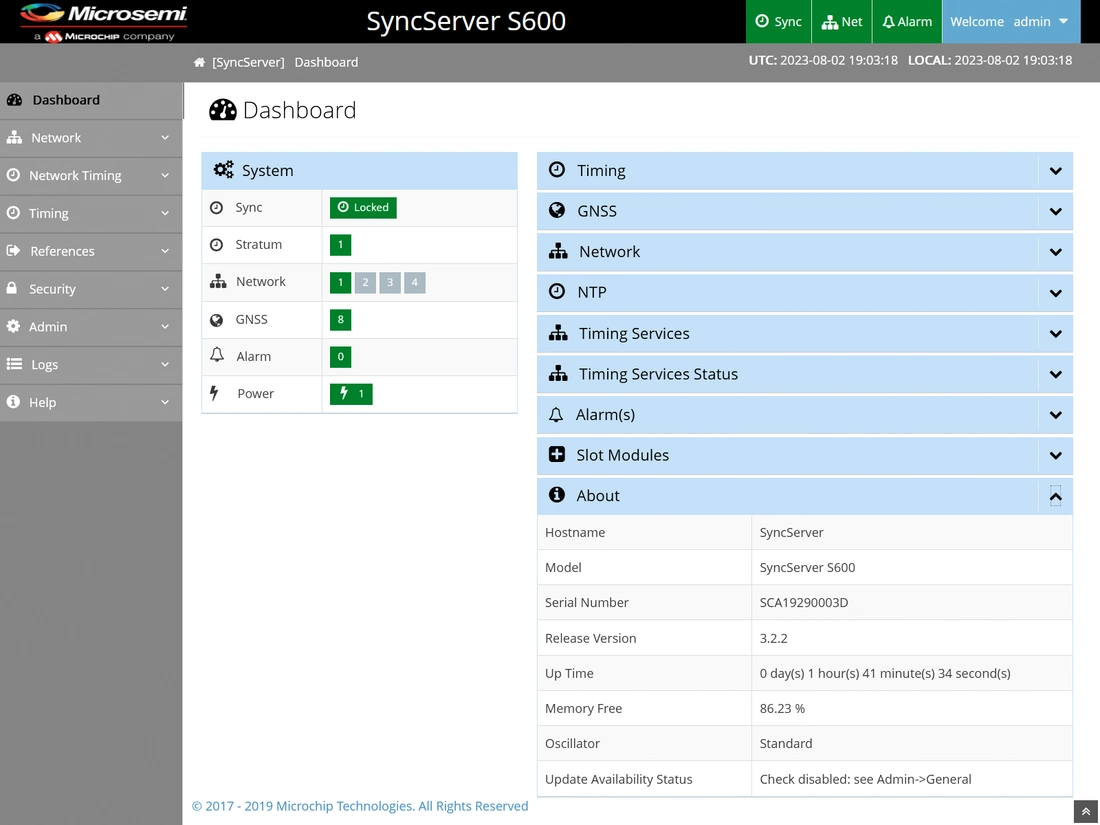 Four GbE ports with two Optional 10 GbE ports for Performance, Flexibility and Security
The S600 has four dedicated and isolated GbE Ethernet ports, each equipped with NTP hardware time stamping. Optionally, two additional 10 GbE SFP+ ports can be added for a total of 6 LAN ports. These are connected to a very high-speed microprocessor with microsecond and nanosecond accurate time stamps to assure high-bandwidth NTP performance. This more than meets the need of servicing 10,000 NTP requests per second.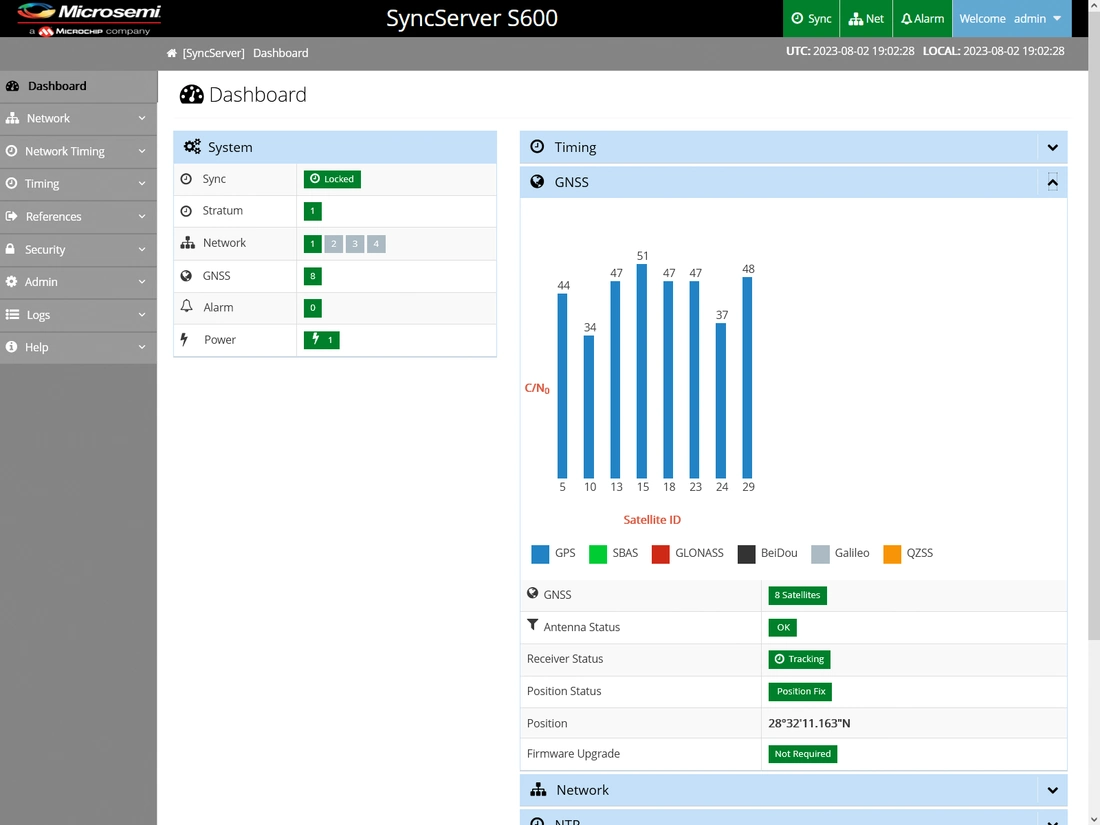 Intuitive, Secure and Easy to Use Web Interface
The modern web interface is the primary control interface for the S600. Once the keypad and display are used to bring the unit online, complete status and functions are easily found via the well-organized left side expanding/collapsing navigation menu. At-a-glance dashboard presentation combined with logical organization and intuitive controls make configuring the S600 quite easy.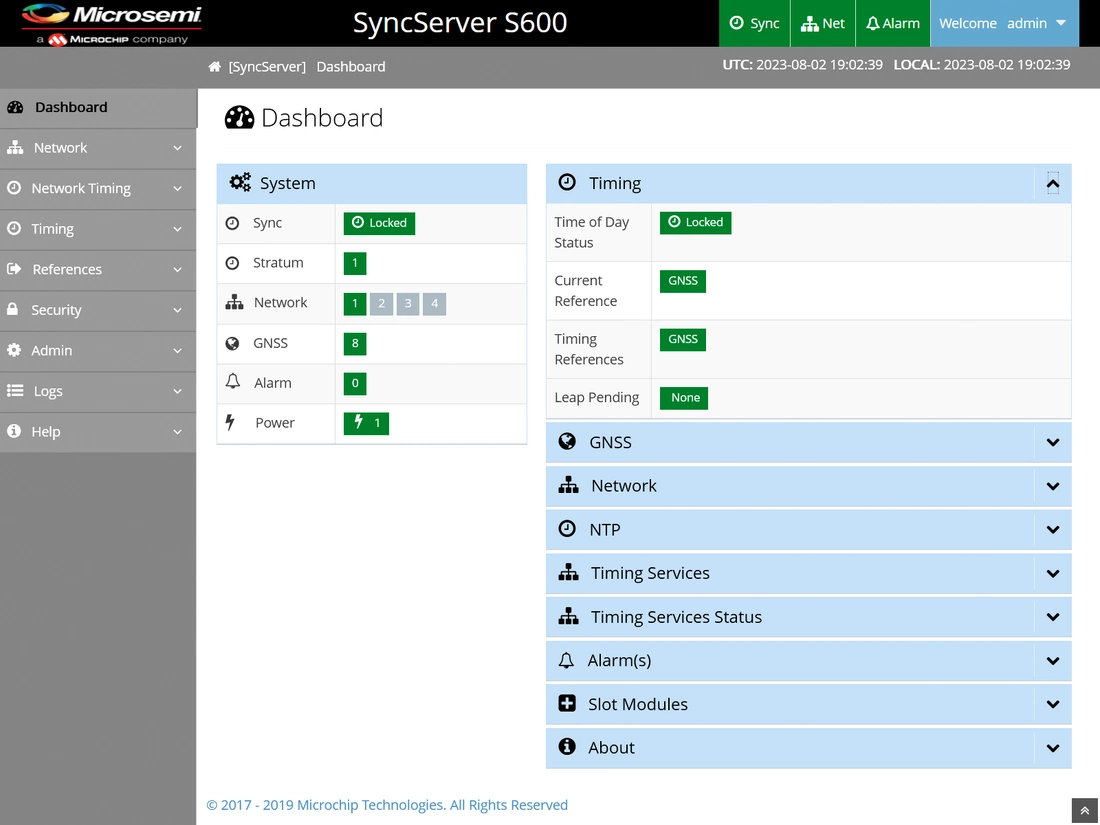 Standard Management Access Security
All of the expected network management protocols are standard in the S600. These include mandatory password access, HTTPS/SSL only (using the high encryption cipher suite), SSH, access control lists, service termination, SNMPv2/v3 and NTP MD5 authentication. All traffic to S600 is bandwidth-limited for protection against the DoS attacks.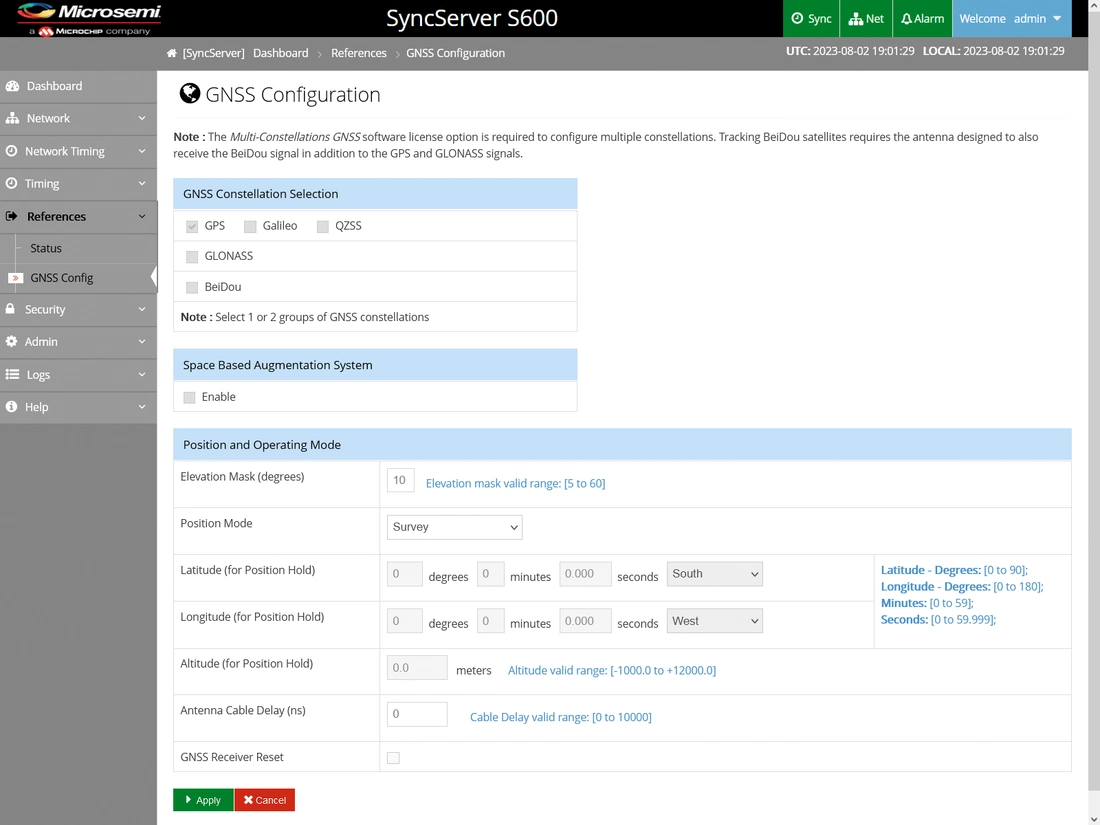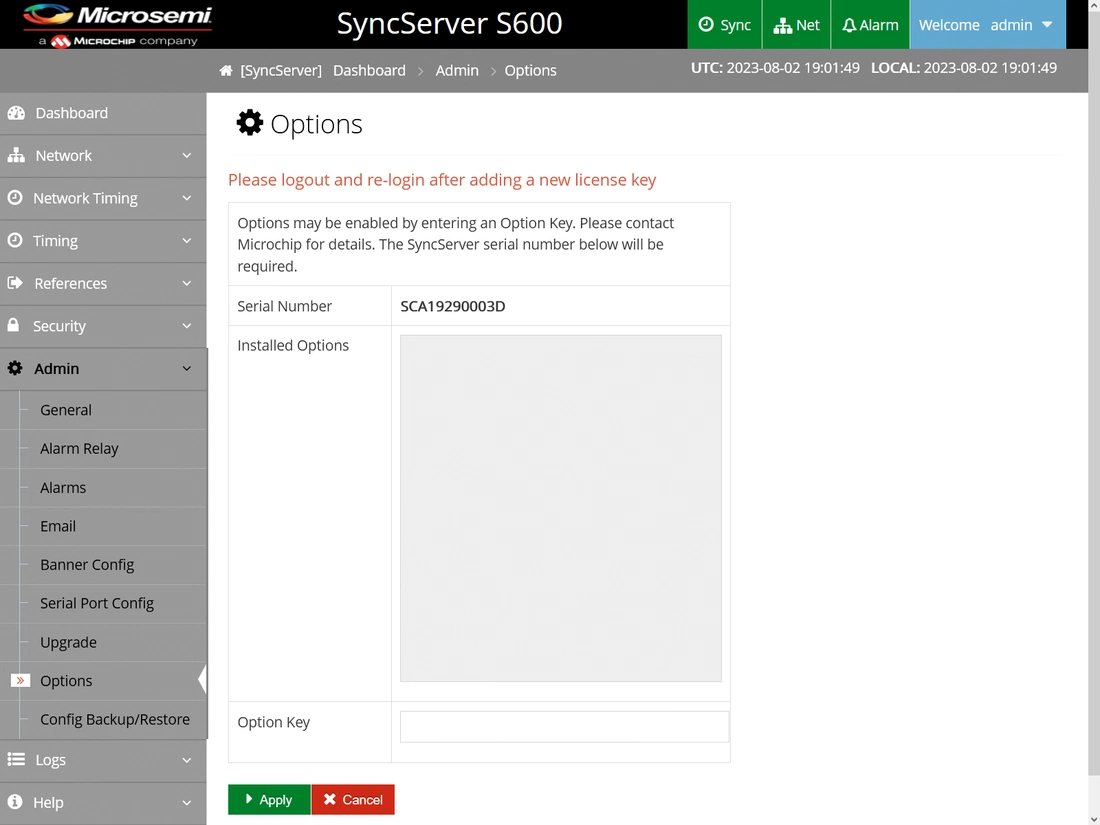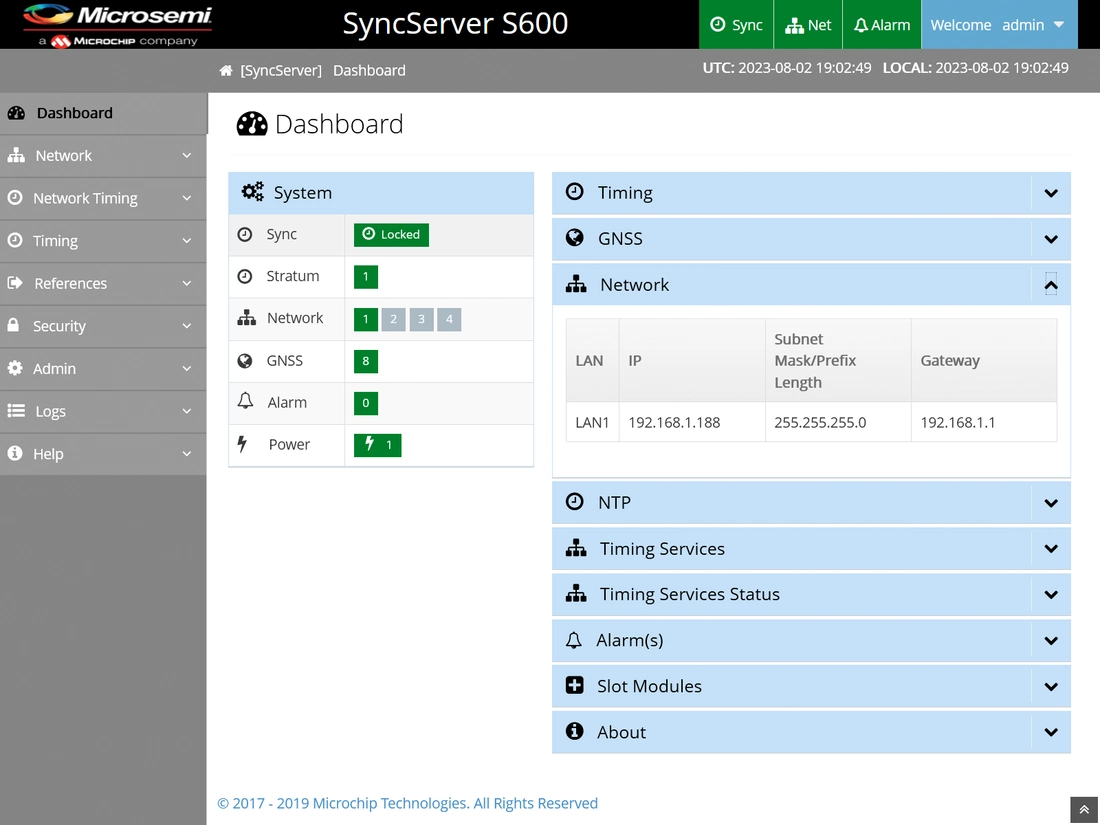 ---
Share this Product
---
More from this collection