Microsemi S650 Syncserver OCXO GPS NTP Network Time Server Gigabit Symmetricom [Refurbished]
(
363559084478)

)

Regular price

$1,623.00

Sale price

$2,342.00

(1 available in stock)

Very Lightly Used (Maybe Never Deployed) • Tested/Guaranteed • OCXO Oscillator • Usually $5,385 • IPv6 Ready • 4 Gigabit Ethernet Ports • Front Panel Blemish

Photos show the actual item for sale

Description
Here's a very lightly used (possibly never deployed), late model (mid-2017) S650 SyncServer that's in close to mint cosmetic condition apart from the fact that the front panel has a depression in the middle - see photos for details. This does not affect the functionality of the unit. This unit is the OCXO version; it does not have a Rubidium oscillator. The photos show the actual item for sale. The unit has been tested to confirm that it works as it should and then returned to the factory default settings (logon with admin:Microsemi) Screenshots of the actual item for sale under test are provided below.
No antenna is included but I usually have matched types listed separately if you need one (either the TW3372, AT2775 or AT575 12 Volt types are recommended). For best results the antenna needs to be mounted outside with a complete view of the sky. The listing comprises the items you see in the images (only). No printed manual is included but a copy may be downloaded from https://www.prostudioconnection.net/1912/Microsemi_SyncServer_6x0_Manual_rev-c.pdf if required. No other cables, documents or accessories are included.
Usually Sells for $5,385


High Performance, Enhanced Security Network Time Server
The SyncServer S650 Time and Frequency Instrument provides unprecedented synchronization flexibility and performance using Microsemi FlexPort technology. The GPS referenced S650 is designed for modern electronics systems and networks that require best-in-class synchronization performance easily adaptable to a wide range of applications.


Timing and Design Reliability
The 72-channel GNSS receiver coupled with Microsemi's patented Active Thermal Compensation Technology provides excellent accuracy of <15ns RMS to UTC (USNO). Backstop this with a durable hardware design subjected to MIL STD 810G testing, high-reliability components extending the operating temperature range to a very wide -20DegC to 65DegC and a dual power supply option. Further, upgrading to a high performance oscillator, such as Rubidium atomic clock, keeps the S650 accurate for long periods in the event of a GNSS service disruption.
Ultra High Performance NTP Time Server
The S650 can effortlessly support hundreds of thousands of network clients while maintaining microsecond caliber NTP timestamp accuracy. NTP time server request throughput rates exceed 10,000 requests/second while maintaining NTP timestamp accuracy. If the Security License option is enabled, the NTP Reflector can process over 360,000 NTP requests per second with 15ns caliber timestamp accuracy with the added benefit of security-hardening the NTP port. This can easily translate into sub-millisecond NTP client synchronization accuracy on a LAN.


Features
<15ns RMS to UTC (USNO) via GPS
<1x10-12 Frequency Accuracy
Modular timing architecture with unique and innovative FlexPortTM technology
Most popular timing signal inputs/outputs are standard in the base Timing I/O module (IRIG B, 10 MHz, 1 PPS, etc.)
Additional timecode I/O including IRIG A/B/C37/E/G/NASA/2137/XR3/HaveQuick/PTTI available [not installed]
T1/E1 Telecom I/O available [not installed]
Four GbE ports standard, all with patented NTP hardware timestamping, two additional 10 GbE ports optional [not installed]
NTP monitoring, charting and MRU logging
Web-based management with high-security cipher suite
-20DegC to 65DegC operating temperature, shock and vibration qualified
IPv6/IPv4 on all ports
OCXO oscillator upgrade [Installed]
Dual power supply option [not installed]
Superior 10 MHz low phase noise options
Galileo / GLONASS / BeiDou / QZSS / SBAS option [not installed]
PTP multi-port/profile grandmaster output option [not installed]
PTP Input option [not installed]
1PPS /External Event Measurement option [not installed]
Time-of-Day Triggered Programmable Pulse option [not installed]
Timing I/O modules with fiber optic outputs and input [not installed]
FlexPort timing technology efficiently and cost-effectively adds innovative "any signal, any connector" technology, eliminating the wasted space inherent with legacy style fixed-signal modules/BNCs
Multiple GbE network ports for easy network configuration and adaptation
Reliable and rugged design for long product life and wide application scope
Many security-hardened, network-based feature for stringent IA requirements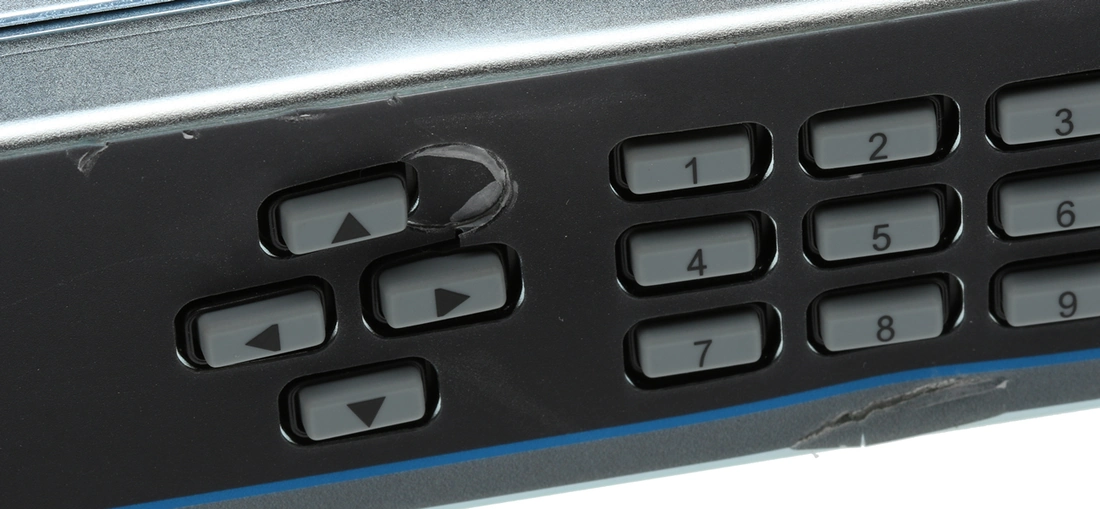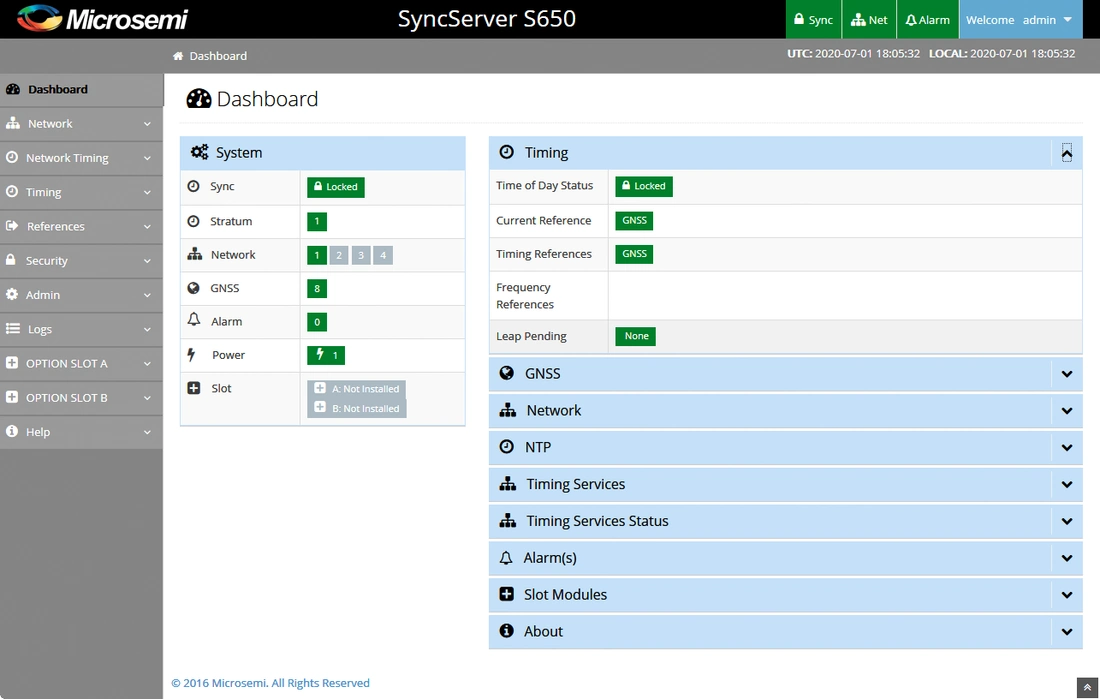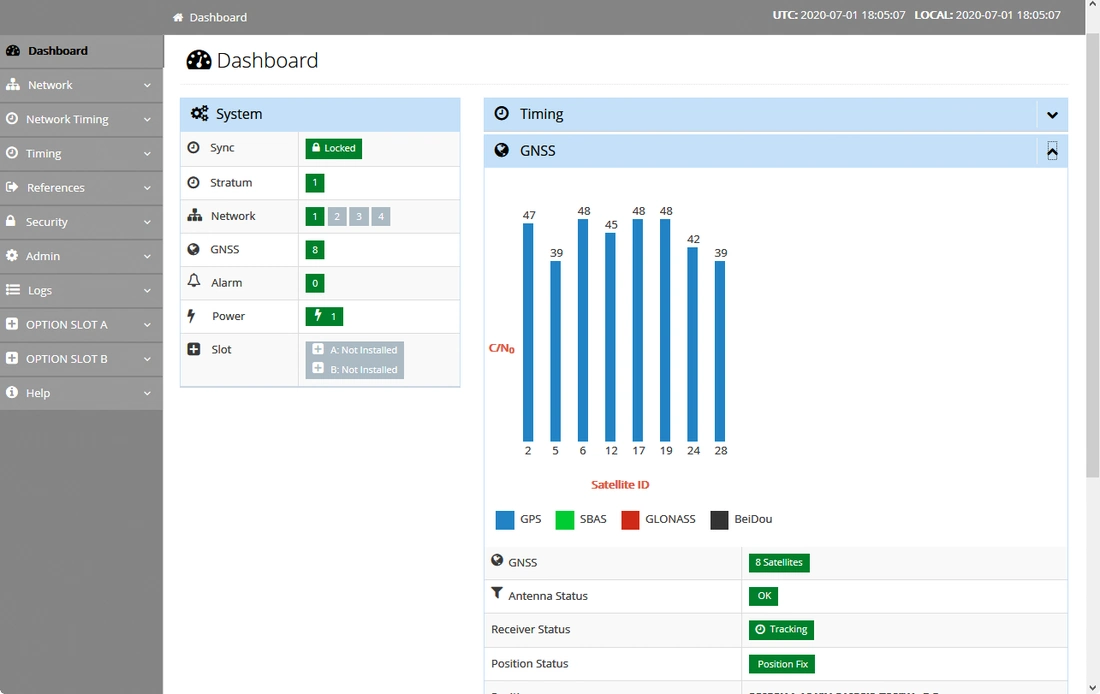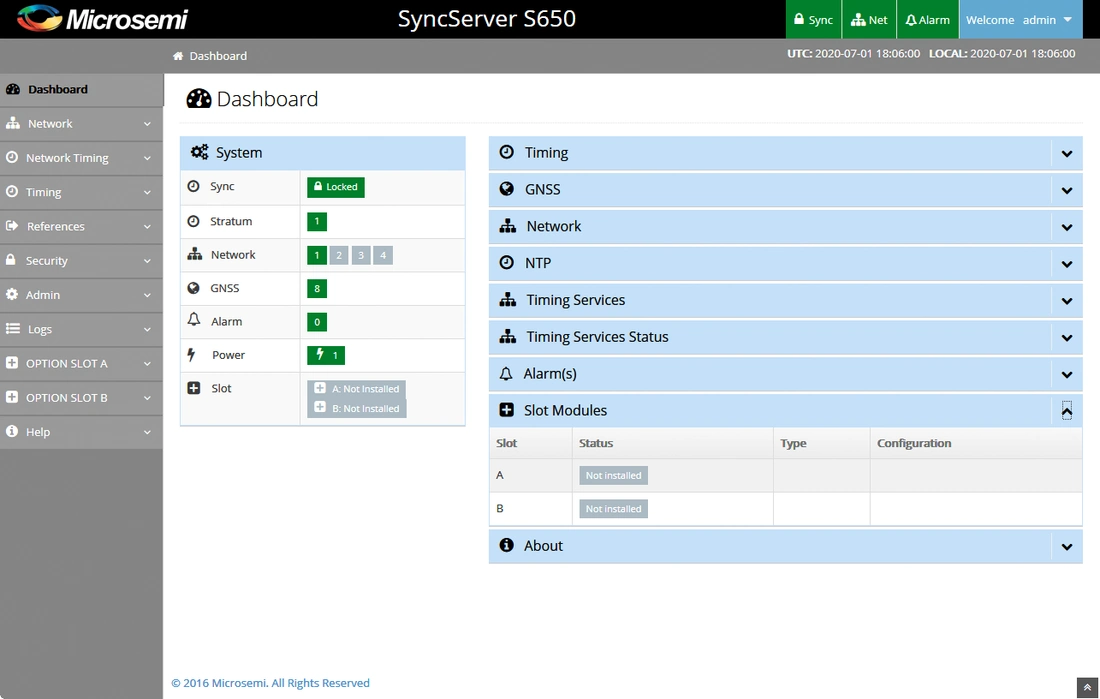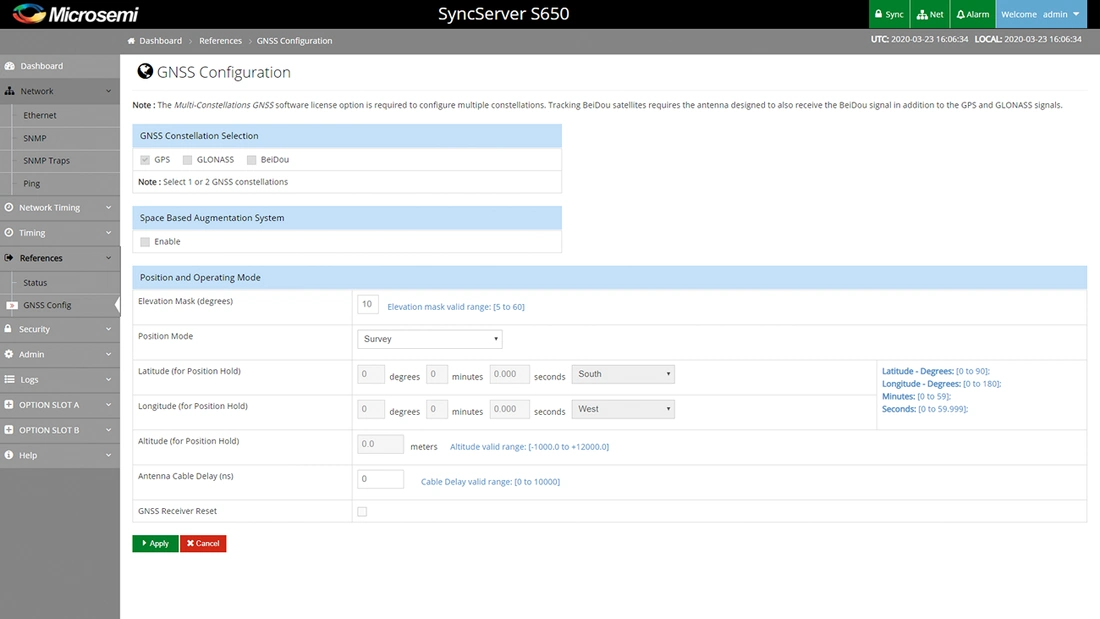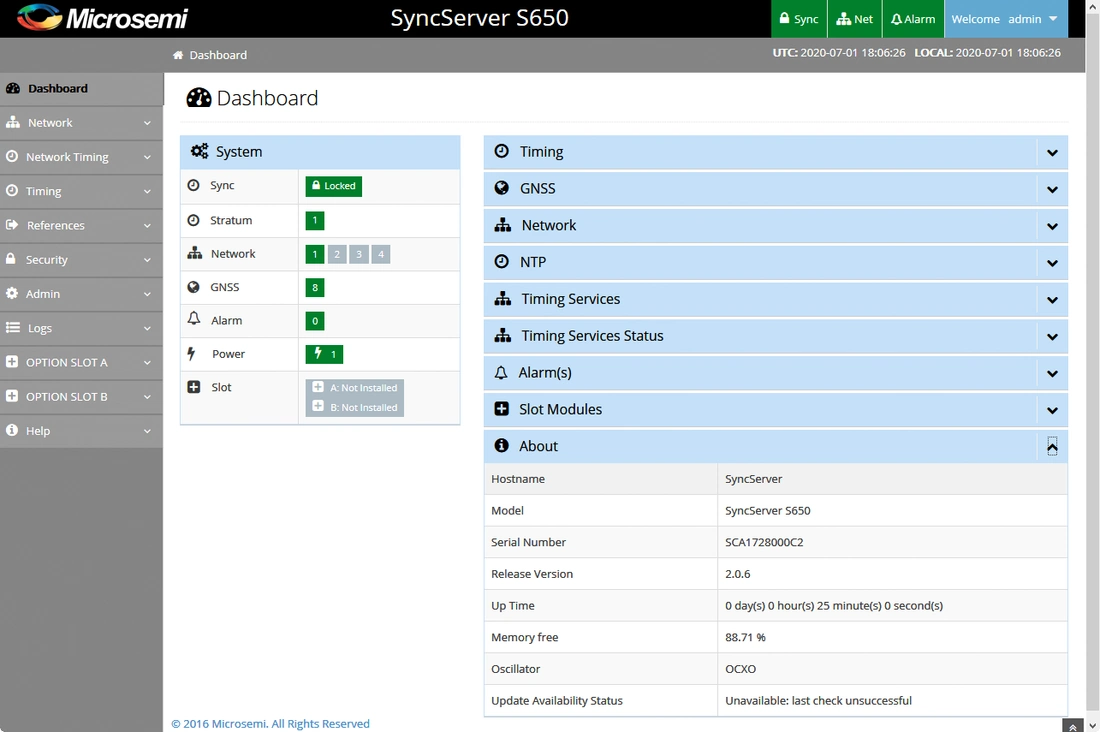 ---
Share this Product
---
More from this collection