NEW Arbiter Systems 1084B Opt 27 UPGRADED GPS Clock 8x IRIG-B & ST Fiber Optic
(
284433090381)

)

Regular price

$617.00

Sale price

$1,130.00

(1 available in stock)

New Old Stock • Open Box • MINT- Cosmetic Condition • Tested/Guaranteed • Upgraded GPS Module • Latest Firmware • TCXO Oscillator • Option 27 - 8x IRIG-B Outputs • Option 20 - Single ST Fiber Output • LCD Display • Correct Date and DST Observance • 110-240V AC Power • Atomic Clock Time Receiver

Photos show the actual item for sale. Rack ears are included in the package.


Introduction
Here's an unused, new open box, MINT- cosmetic condition GPS disciplined master clock unit with IRIG-B, Serial and 1 PPS outputs as well eight optional IRIG-B outputs (Option 27) plus one ST 820nm optical output providing IRIG-B timecode (Option 20). The unit has been tested to confirm that it works as it should, including showing the correct date (see comments below). The unit comes with a basic antenna to allow you to test the unit immediately upon receipt. For a permanent installation an outdoor antenna with a full view of the sky will be required. The antenna voltage is 5V so almost any professional GPS antenna will suffice. The firmware is the latest version available at the time of listing.

Important...
This item includes an updated GPS card to replace the now-obsolete model originally installed by the factory.
There's a reason why you can find a lot of Arbiter GPS clocks being sold cheaply nowadays. That's because nearly all have failed GPS receiver cards that are reporting the wrong date (ie. nearly 20 years in the past). Sadly most other sellers somehow neglect to mention this in their listings and use weasel words like "removed from a working installation", which translates as they've not bothered to do any testing, or they're off-loading the unit in the short window available before it fails. For the buyer, there's nothing more disappointing than finding after you've gone to all the trouble of rigging up your outdoor GPS antenna that the "precision" clock you just bought can't even show the right date.
The remedy is to buy a clock that has a latest-generation GPS sub-system installed, as well as the latest firmware loaded in the clock unit. That way you'll be good for an accurate date for the best part of the next 20 years, assuming you and/or the clock are in service that long.
So before you buy a clock elsewhere, ask the seller for a photo of their clock showing the correct date and time. If they can't provide one then figure on dropping a hundred and fifty bucks on a new GPS card to be sent over from Asia, plus the ancillary interface board you'll probably need to install it, plus another hundred on the EPROM programmer needed to load the matching firmware.
Or you could just buy one that someone else has invested the time and effort to do all that work for you and who is willing to stand by their offer.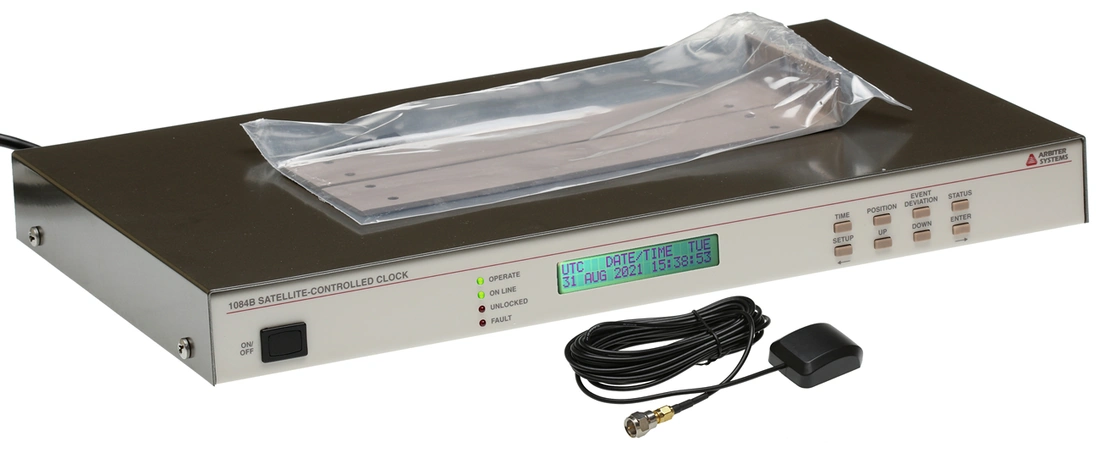 Description
Focused on high performance and maximum value, the Model 1084B delivers high end time-keeping results.
Three BNC connectors deliver several output options supporting IRIG-B modulated, and various combinations of IRIG-B unmodulated, Programmable Pulse (supporting multiple output modes) and 1 PPS. All are high drive outputs capable of driving multiple loads wired in parallel.
Full details may be obtained from the User Manual
(https://www.prostudioconnection.net/1507/Arbiter_1084_Manual.pdf)
Features
Highest accuracy, < ± 40 ns typical; < ± 100 ns worst case
Three BNC output connectors
Two Form C (SPDT) fail-safe relays, locked and jumper selectable
Event input support
Four LEDs for monitoring operating status.
LCD display and keypad, providing easy access to setup and system status information.
IEEE C37.118 compliant for Synchrophasor use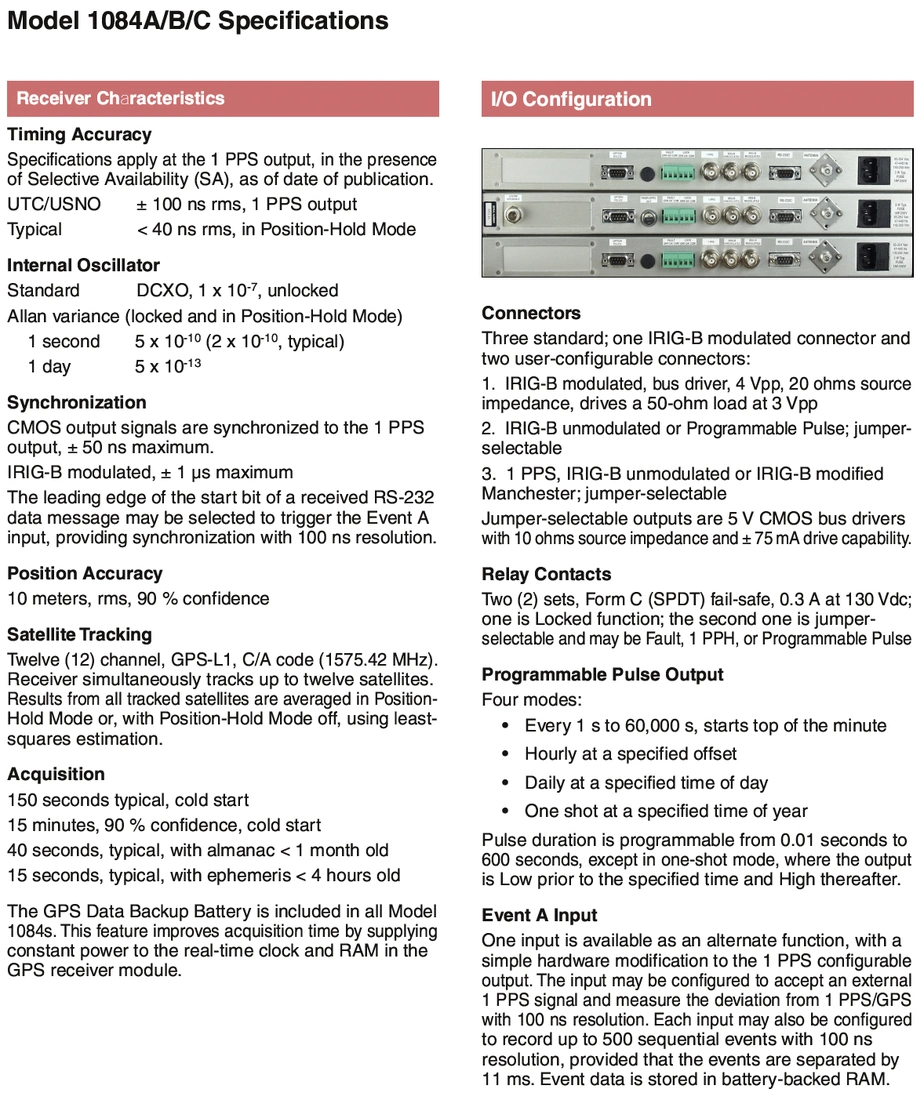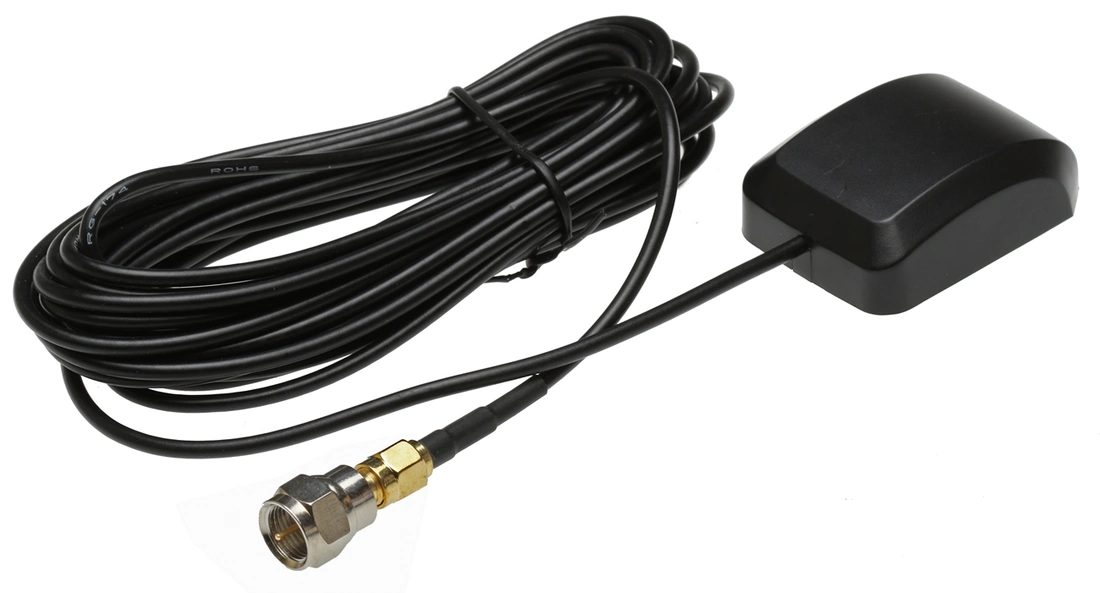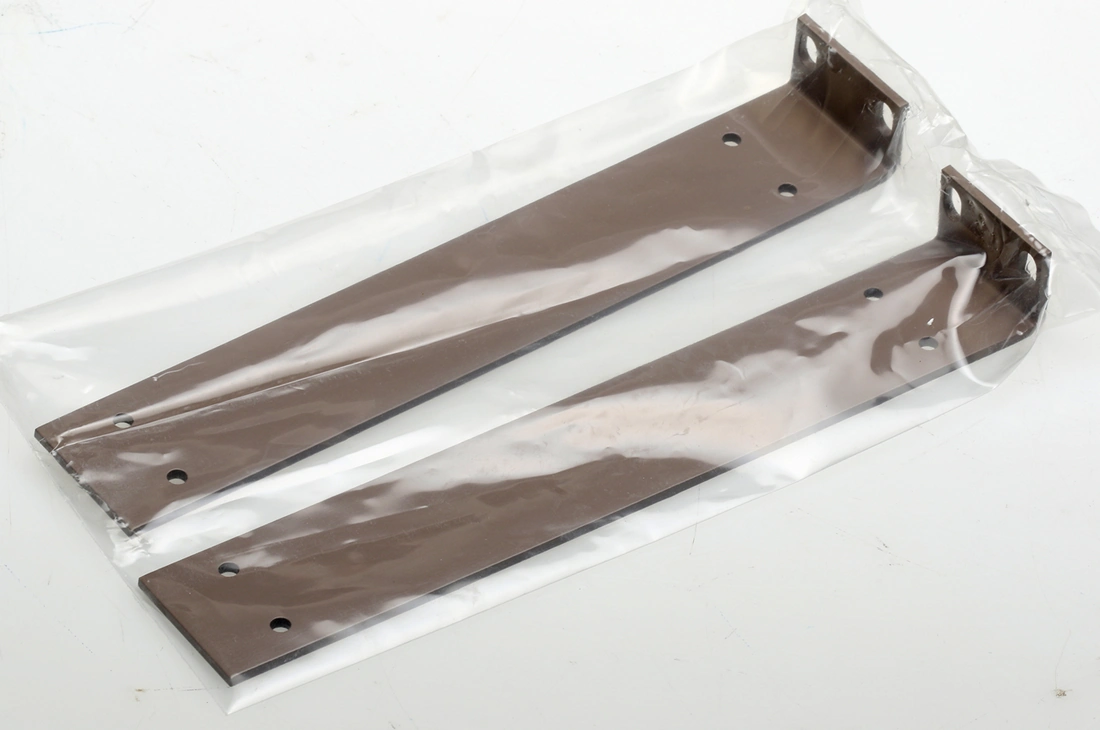 ---
Share this Product
---
More from this collection