NEW Symmetricom XL-GPS UPGRADED 10Mhz Disciplined Oscillator Clock IRIG-B 1PPS [Refurbished]
(
234131937804)

)

Regular price

$709.00

Sale price

$1,038.00

(1 available in stock)

New Old Stock • Never Deployed/Mint Condition • Tested/Guaranteed • UPGRADED GPS Receiver • User Defined Frequency/Pulse Output • 10MHz 1PPS IRIG-B • 115/230V Power

Rack ears are also included in the accessory pack.


Introduction
Here's a rare chance to acquire an unused upgraded XL-GPS time receiver and timecode/frequency generator. This is a new-old-stock unit that was removed from the sealed factory packaging only to confirm that it works as it should. The console output from my testing session is copied below. None of the software based optional features are enabled so this is not an NTP server. The only modification made to the unit was to replace the OEM Furuno GPS receiver with a factory-fresh iLotus replacement, as the Furuno card has limited life remaining. The factory accessory pack is included and this contains a pair of rack ears as well as the normal ethernet and serial cables. Note that no antenna is included, but I have the OEM factory type listed separately (search for AT575 12V). The antenna voltage is 12V so you will need an appropriately matched antenna to receive time from the GPS system. The listing comprises the items shown in the images only; no additional accessories, cables, documents or software included. Item ships in plain packaging.


Features
12 Channel GPS Receiver with TRAIM
Accurate to 30 Nanoseconds RMS to UTC(USNO)
Frequency Accuracy to 1x10-12 (long term)
Time Code Input/Output (IRIG A,B; IEEE 1344, NASA 36)

10 MHz Frequency Reference Output
1PPS, Selectable Pulse Rates, and Alarm Outputs
Ethernet Network Port (10/100 Base-T)
SNMP with Enterprise MIB
Telnet and Serial Port (RS-232/422) for Monitoring and Control
Bright LCD Display and Keypad
Network Time Server Option [not included] Supports NTP
Option Bay support time and frequency option modules

Description
At the core of the XL-GPS is Symmetricom's advanced XLi technology which assures ultra accurate and reliable performance. The XL-GPS offers cost-effective functionality and ease-of-use where the XLi offers modularity and extensibility through multiple option slots and modules.
Full details may be obtained from the User Manual
(https://www.prostudioconnection.net/1112/XL-GPS_Manual.pdf)
Nanosecond Accuracy
The XL-GPS clock is accurate to within 30 nanoseconds to Coordinated Universal Time (UTC) when synchronized to the integrated 12 channel GPS satellite receiver. Ultra-stable frequency outputs are accurate to less than 1x10-12 long term. For improved short-term stability and holdover performance, an oven oscillator option is available. A time code input provides an alternate or back-up reference to GPS.



Easy Monitoring and Control
The XL-GPS provides multiple interfaces to facilitate easy monitoring and control. The built-in network interface supports remote operation via telnet and SNMP. Local control is supported via a RS-232/422 port and a front panel LCD display and keypad is provided for direct control. A discrete alarm output is also provided to drive an alarm monitoring system.

Variety of Outputs
The XL-GPS provides a variety of standard time and frequency outputs including a 10 MHz frequency reference, one pulse-per-second (1PPS), time codes (IRIG A, B; IEEE 1344 and NASA 36), pulse rates up to 10MPPS, and an open collector alarm output. A rear panel option bay supports expansion of standard time and frequency outputs with a hardware option module. A Programmable Pulse Output (PPO) is available as a software option. The front panel display provides operators with "at-a-glance" system status.



Versatile Measurement
The versatile XL-GPS supports measurements of time and frequency signals relative to its very accurate clock. The Frequency Measurement (FM) option supports analysis of 1, 5, 10 MHz frequencies. The Time Interval/Event Timing (TI/ET) supports precise event time tagging and time interval measurements to 5 nanosecond.

Bottom Line
The XL-GPS has a strong set of core features that can be extended with a number of versatile options to meet the needs of a wide range of applications.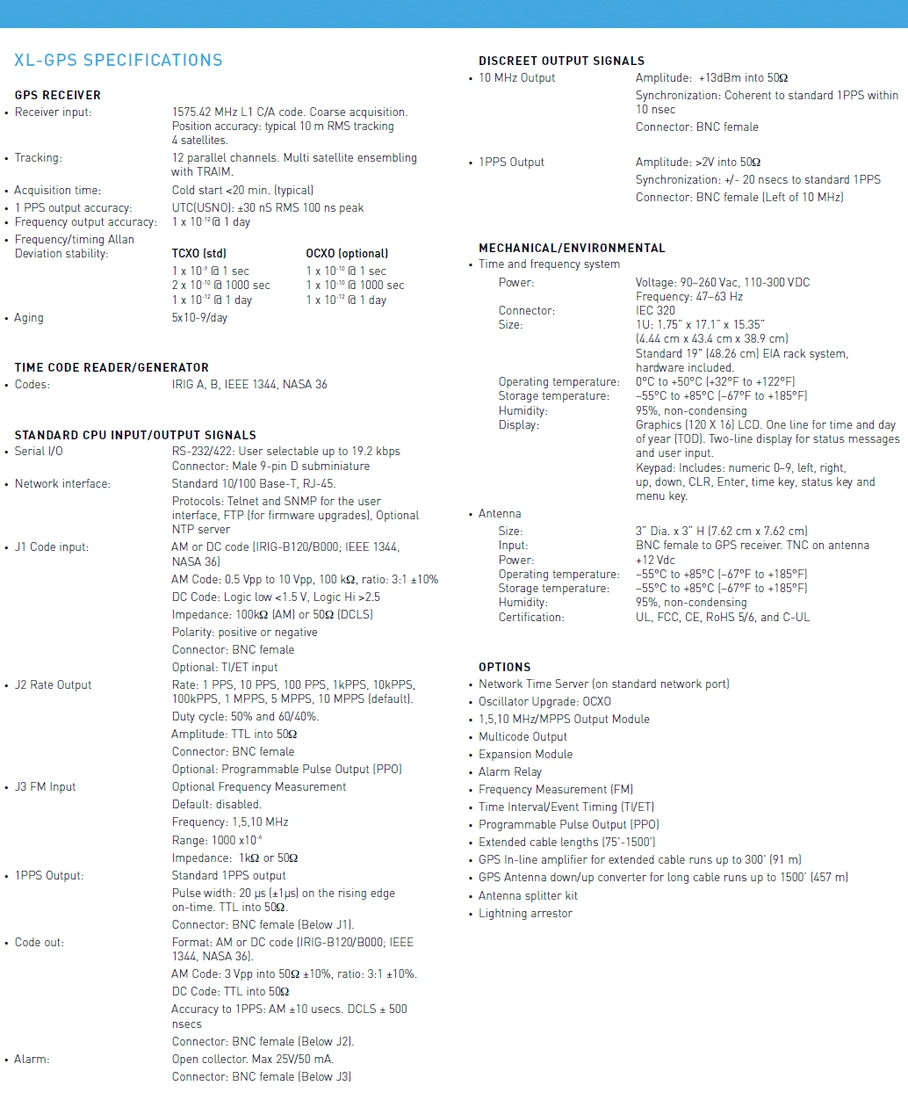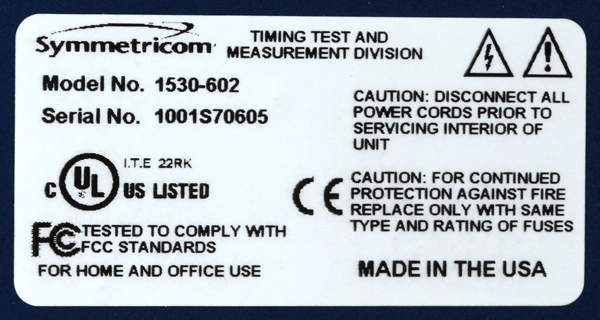 Console Port Output

>F1
F1 -00:00

>F2
F2 D24 I24

>F3
F3 UTC 08/10/2021 21:53:31

>F5
F5 ENABLE 00000001000 00000010000 00000100000 00001000000

>F8
222:21:53:44
222:21:53:45
222:21:53:46
222:21:53:47

>F11
F11 DDD:HH:MM:SS.mmmQ

>F13
F13 TIME ERROR -0.000000005

>F18
F18 BOOTLOADER 230-01530-02
SOFTWARE 230-01530-03
FILE SYSTEM 230-01530-05V2-0
PROJ REV # 2-0
FPGA # 230-01530-01V64

>F42
NO MULTICODE BOARDS

>F50 LLA
F50 N 28d32'11.0" W 081d39'09.8" 23m

>F51
F51 +000060ns

>F52
F52 +000000ns

>F53
F53 DYNAMIC MODE
>F60 ALL
F60 prn1 unknown
F60 prn2 unknown
F60 prn3 unknown
F60 prn4 unknown
F60 prn5 unknown
F60 prn6 unknown
F60 prn7 unknown
F60 prn8 unknown
F60 prn9 unknown
F60 prn10 good current -153dBW
F60 prn11 unknown
F60 prn12 unknown
F60 prn13 unknown
F60 prn14 unknown
F60 prn15 good current -152dBW
F60 prn16 unknown
F60 prn17 unknown
F60 prn18 good current -153dBW
F60 prn19 unknown
F60 prn20 unknown
F60 prn21 unknown
F60 prn22 unknown
F60 prn23 good current -151dBW
F60 prn24 good current -150dBW
F60 prn25 unknown
F60 prn26 unknown
F60 prn27 unknown
F60 prn28 unknown
F60 prn29 unknown
F60 prn30 unknown
F60 prn31 unknown
F60 prn32 good current -153dBW

>F66
F66 MANUAL 02 1 1 04 02 0 1 10

>F69
F69 UTC

>F71
F71 phase=-5.648E-09 s offset=-1.929E-09 drift= 2.569E-05/DAY DAC= 40461

>F72
F72 CLOCK PLL LOCKED
CLOCK STATUS LOCKED GPS

>F73
F73 SLP ----I--------------

>F90
F90 IRIG-B AM

>F100 IC
F100 IP:192.168.50.168 SM:255.255.255.0 G:192.168.50.164

>F100 ST
F100 ST FLASH/CRC: PASS, RAM: PASS, SERIAL: PASS, NVRAM VER: PASS

>F108
F108 OSCILLATOR CONFIG TCVCXO

>F110
F110 IRIG B STANDBY 50 AM POSITIVE 0 us SYNC GEN 3 FRAMES

>F111
F111 RATE 10MPPS

>F113
F113 FREQ MEAS OPTION IS NOT ENABLED

>F117
F117 SN S70605
NTP DISABLE
FREQ MEAS DISABLE
TIET DISABLE
PPO DISABLE

>F119 S
F119:
GPS PART NUMBER 87-8028-02
SOFTWARE 230-01510-04v1.20
FPGA 184-8024v1
GPS STATUS LOCKED
GPS ANTENNA OK
GPS ACQUISITION STATE: DYNAMIC MODE

---
Share this Product
---
More from this collection