NEW Yellowtec iXm YT5050 Pro Head Cardioid SD Card Recording Microphone w/ 2GB
(
284538028419)

)

Regular price

$641.00

Sale price

$939.00

(1 available in stock)

New Open Box • Unused • Mint Condition • Cardioid Pattern • Multivoltage Power Supply • In Retail Carton (which shows some "shelf wear")

Item is new (open box) in the factory carton. Listing comprises: microphone body, Pro Cardioid head, charger with interchangeable international adapters, 2GB SD Card, USB cable.
Description
The YT5050 is a iXm handheld recorder with a dynamic cardioid mic head.
An incredible amount of design attention was put into iXm's every detail. The buttons are rugged, large, and dust/waterproof; smooth to the touch yet reliable in repetitive field operations. Most importantly, they produce no handling noise. With total control under your thumb, you can focus on what you do best.
With an adjustable "pre-roll" recording buffer, you'll never miss a conversation. Whenever you start an interview, iXm adds up to 30 seconds of previously buffered audio. And thanks to click-free buttons, you'll only hear what you intended to record.
Usually Sells for $843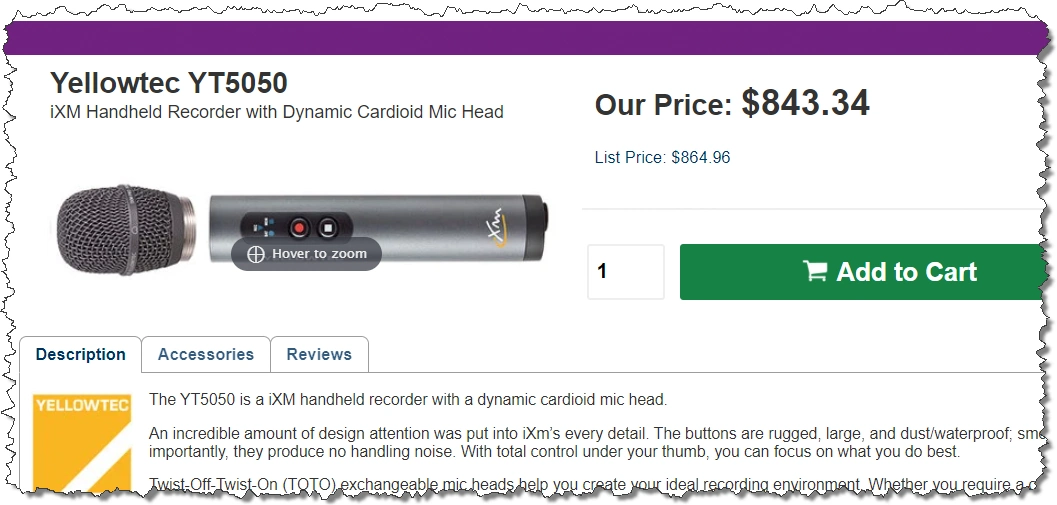 A unique dual-power supply offers an unbelievable total operation time of up to 16 hours. And that's not all: iXm comes with a built-in, rechargeable lithium-ion battery and a battery compartment for three standard AA cells [not included]. Plus, our intelligent power management system will automatically load-balance power sources, so you'll never run out of juice. Even if you're involved in something that sees you depleting power like there's no tomorrow, iXm's dashboard warns you well in advance so you can keep the AA batteries handy for another eight hours of pro action.
Use the built-in headphone output to listen to your recordings during a field check. Use the playback keys to jump from track to track. Human voice announcements will guide you through the recording, negating the need to follow track indicators. It doesn't get any easier (or more localized) than that.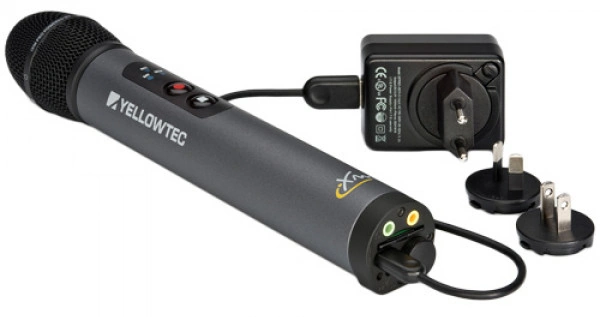 The port panel on the iXm's bottom holds all the interfaces you need. There's a USB 2.0 port for downloading your recordings, recharging the internal battery and configuring iXm with your personal preferences. The SD card slot is well-protected against accidental ejection. An integrated headphone output makes for easy field checks. Also included is a 3.5mm jack for recording line levels, and a connector for an optional speed charger.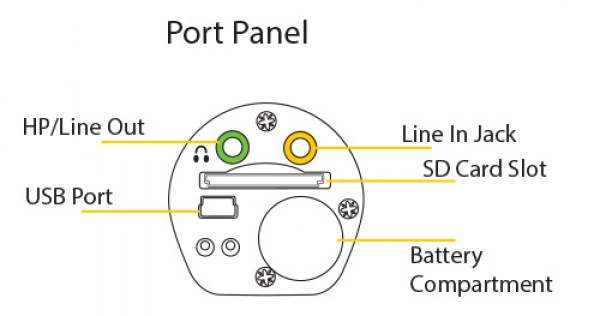 In the interest of making your work easier, more secure and more reliable, iXm has a built-in SD/SDHC memory card slot. Recording capacity is based on widely-available SD and SDHC cards, up to 32GB. If you share iXm with other team members, take your SD card with you and use it with any external SD card reader. Or, if you don't wish to swap memory cards, you can download your recordings via USB straight to a computer for sharing and editing.
Features
Dynamic capsule
Manages complex acoustic environments
Optimized frequency response curve for excellent speech capture/intelligibility
Warm sound
Slight bass boost in near-field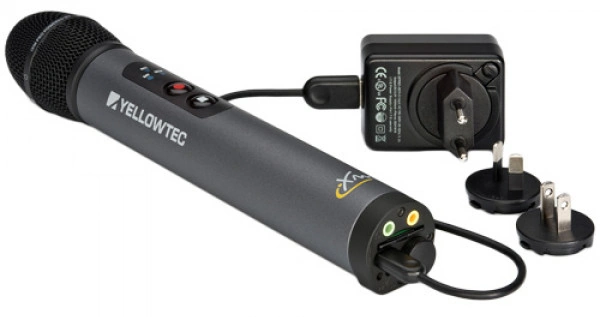 Specifications
Frequency Response: 20 Hz - 20 kHz +/- 1,5 dB @ 44.1+ 48 kHz
Input refered noise: -105 dB (@60dB Gain)
THD+N: 0,01% @ 20 dB GainTHD+N
Gain: Up to 60dB gain
High Pass Filter: 12 dB/oct. @ 80, 100, 120, 150,180, 200 Hz (switchable)
Capsule Filter: 3 times parametric filtersautoselected by capsule type recognition
Line Input Level (balanced): -20 dBu …. 6 dBu @FS
Line Input Level Unbalanced: -20 dBu …. 0 dBu @FS
THD+N: 0,01% or -78 dB @ -3 dBFS
Line Output Level Balanced:-20 dBu …. 6 dBu @FS
Line Output Level Unbalanced: -20 dBu …. 0 dBu @FS
Line Output Frequency Response: 20 Hz - 20 kHz +/- 1dB @ 44.1 and 48 kHz
THD+N: 0.01% or -78 dB @ -3 dBFS
Sampling Frequenzy: 48 kHz, 44.1 kHz, 32 kHz
Bit Resolution: 16 Bit
Audio Formats: Linear PCM, MPEG 1 Layer 2
Bit rates MPEG mono: 128, 160, 192 kbps
Bit rates MPEG dual channel: 256, 320, 384 kbps
Number of Channels: 1 Mono or 2 dual channel (Mono)
Minimum Impedance: 16 Ohm
Output Power: 40 mW @ 16 Ohm
Memory Card: SD or SDHC Memory Card up to 16 GB
File System: FAT16 FAT32 (SD-CARD)
File Format: BWF, WAV, MP2, Support of BWF Headerinformation (Version 0)
Data Connection: USB 2.0
Recording Time: depends on SD-Card and File-Format. Example: 2 GB = 22,75hrs @192 kBps mono.
Total Length Recorder: 7.6"
Diameter Recorder: 1.5"
Weight Recorder: 0.62 lbs
---
Share this Product
---
More from this collection