Orban Optimod 6200 DAB Streaming Podcast Processor 5-Band AES Digital Audio XLR [Refurbished]
(
284148677149)

)

Regular price

$889.00

Sale price

$1,302.00

(0 available in stock)

Tested/Guaranteed • AES/EBU and Analog I/O • 5-Band Digital Audio Broadcast/Webcast Processor • Digital Signal Processor for Digital Radio, Internet or TV Use • Was $6,000

The photos show the actual item for sale

Introduction
A lightly used Orban Optimod 6200 5-band streaming/webcast/podcast/on-air audio processor. The unit is in very good cosmetic condition - the photos show the actual item for sale. I have touched up a few blemishes to the black paint on the visible surfaces which will be visible close up but which will probably look pristine from a normal viewing distance. Sold originally for over $6,000. Includes rack ears as shown. The unit has been tested to confirm correct operation in both analog and digital modes. No printed manual is included but the Manual may be downloaded here if required (https://www.prostudioconnection.net/0812/6200_2.0_Manual.pdf).
The optional PC control/configuration software is also available here (https://www.prostudioconnection.net/1803/Orban_6200_Software.pdf). The software worked well for me on my XP 32Bit test system but compatabilty with 64Bit Windows is not guaranteed. You can however change all the processing settings via the front panel if you prefer. Unit is switchable between 115V and 230V for worldwide compatibility. Note that the unit ships set to 115V. Listing comprises the pictured items only, no other accessories, cables, or documents are included.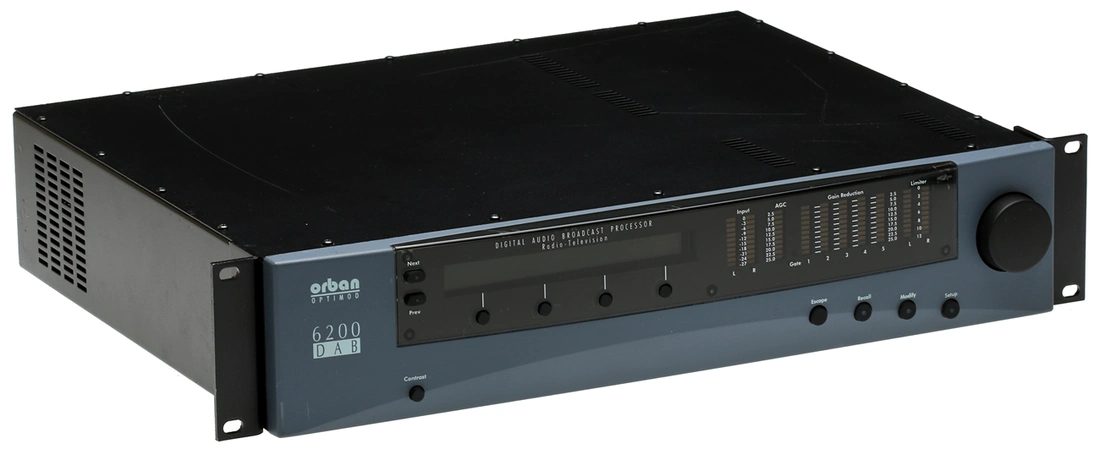 Product Information - Audio Processor for Digital Broadcasting/Webcasting
OPTIMOD-DAB 6200 is the first audio processor designed specifically for digital radio (DAB). A transparent protection limiter provides optimum control of peaks for absolute protection against digital clipping, while OPTIMOD processing structures ensure source-to-source consistency and also let you create the precise balance of loudness, bass punch, vocal presence and high end sizzle you want. Presets are provided for all radio formats and webcasting applications. The 6200 is fully compatible with Eureka 147 and all proposed IBOC DAB and Radio Mondial systems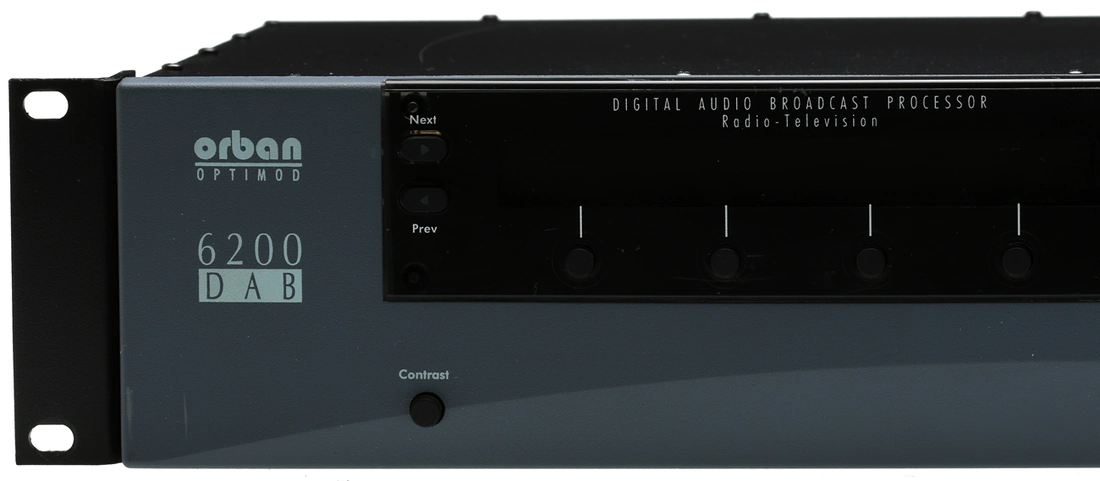 Features
Factory processing presets specifically designed for DAB.
Includes CBS Loudness Controller to prevent viewer annoyance caused by loud commercials.
Protection Processing for peak control without audible compression.
Two-Band Processing for gentle control of dynamics while maintaining the frequency balance of the original program.
Five-Band Processing with flexible set of equalization controls to produce your signature sound. Three levels of control over your sound: factory processing presets named for your format, easy, single-knob LESS-MORE control of processing within each preset, and FULL CONTROL for versatile customization of your sound.
20kHz bandwidth for wideband DAB. Bandwidth variable to 4kHz for narrow-band, low sample-rate broadcasting, including proposed IBOC shortwave systems.
Digital I/O: 48, 44.1 and 32kHz input, automatically selected; 48, 44.1, or 32kHz output. Dedicated external digital sync input for house reference signal.
Analog balanced left and right inputs; analog monitor output.
Front panel security lockout to limit access to processing.
Eight opto-isolated remote control inputs can be programmed to change processing presets, select digital output sample rates, select test modes, select analog or digital inputs, or select mono/stereo modes.
Front panel LED metering of left and right input and gain reduction levels. Compact two rack unit design.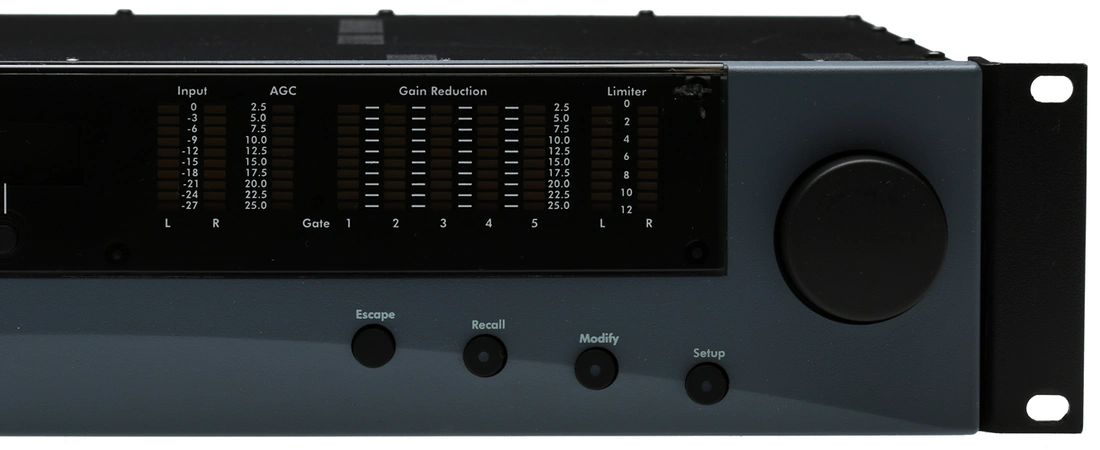 Specifications

System

Frequency Response: ±0.1dB, 2-20,000Hz (Bypass mode).
Input/Output Delay: Approximately 15 milliseconds. Can be padded to full frame of: 24 milliseconds, 30 fps (33.33ms), 29.97 fps (NTSC color video; 33.37ms), 25 fps (most PAL video; 40ms), 24 fps (film; 41.67ms), and 96 milliseconds.
Internal Filters: (4.0 to 11.5kHz in 500Hz steps), 12, 13, 14, 15, 20kHz provide anti-aliasing for low sample rate services, such as Eureka-147 (24kHz mode), and the proposed AM IBOC (32kHz) and shortwave IBOC systems.
Internal Sample Rate: 48kHz.
Internal Resolution: 24-bit fixed point (Motorola DSP56009).
Input/Output Resolution: 20-bit, limited by Analog Devices sample rate converters.
Peak Control Accuracy: If output samples are synchronous with internal samples, maximum overshoot of any output sample is 0.1dB. This is true at 48kHz output sample rate. If sample rate conversion after internal processing makes output samples asynchronous with internal samples, output samples can overshoot as much as 1dB (0.3dB typical).
Phase Response: All processing is linear-phase (constant group delay).
Internal Processing: Input -> Two-Band defeatable AGC -> Four-Band Equalizer -> Multiband Compressor -> Look-ahead Limiter -> Output.
Multiband Compressors: Three available: Five-Band, Two-Band, and Protect, selectable by mute-free crossfade.
Equalizers: Shelving Low Bass Eq, selectable 12dB or 18dB/octave Shelving Mid Bass Eq. Parametric Midrange Eq with analog-style bell-shaped curves.
Parametric High Frequency Eq with analog-style bell-shaped curves.
Number of Factory Presets: 26, each with 19-step LESS-MORE control. Presets are fully customizable with FULL CONTROL.
Number of User Presets: 32 memory locations to save customized presets.

Analog Audio Input

Configuration: Stereo.
Impedance: Electronically balanced 600 ohms or <10k ohms impedance, selected using a configuration jumper.
Nominal Input Level: Software adjustable (via AI REF control) -9 dBu to +13 dBu VU (-1 dbu to +21 dBu PPM).
Maximum Input Level: +27 dBu, peak.
Connector: Two XLR-type, female, EMI-suppressed. Pin 1 chassis ground, Pins 2 (+) and 3 electronically balanced, floating and symmetrical.
AD Conversion: 24-bit 128X oversampled delta sigma A/D converter with linear phase anti-aliasing filter.
RF Filtering: Effective 0.5-1000MHz.
High Pass Filter: 0.15Hz.

Analog Audio Output (Monitor)

Note that this output is not intended to be used as a transmitter output, rather it is for monitoring. Nevertheless it has been designed for low noise, distortion, and overshoot and can drive an STL or transmitter in an analog plant. Peak control will not be as good as at the digital output because on-air samples will be asynchronous with peak-controlled internal samples. The source of this output is switchable between the peak limiter output and the multiband compressor output. Because most of the delay occurs in the peak limiter, this can make headphone monitoring much more comfortable for on-air talent.

Configuration: Stereo.
Source Impedance: 30 ohms, electronically balanced and floating.
Load Impedance: 600 ohms or greater, balanced or unbalanced. Termination not required or recommended.

Output Level: Fixed at +14 dBu peak, with MON OUT source set to "POST LIMiter." Pre-limiter peaks up to +26 dBu possible. No output level adjustment control provided.
Signal-to-Noise: 90 dB unweighted signal-to-noise, 20Hz-20kHz (bypass mode).
Distortion: £0.01% THD (bypass mode), 20Hz-20kHz.
Connector: Two XLR-type, male, EMI-suppressed. Pin 1 chassis ground, Pins 2 (+) and 3 electronically balanced, floating and symmetrical.
DA Conversion: 20-bit 128X oversampled D/A converter.
DC Offset: Less than 10mV.
Filtering: RFI filtered. Effective 0.5-1000MHz.

Digital Audio Input

Configuration: Stereo per AES/EBU-standard (AES3-1992), 20-bits resolution, software selection of stereo, mono from left, mono from right, or mono from sum (as source to use as a mono processor).
Sampling Rate: 32, 44.1 and 48kHz.
Connector: XLR-type, female, EMI-suppressed. Pin 1 chassis ground, Pins 2 (+) and 3 transformer balanced and floating, 110 ohms impedance.
Status Bits: Input channel status is ignored. Input User bits are optionally passed through to the output.
Input Reference Level: Variable within the range of -30 to -10dBFS (VU) in 0.5dB steps.
Filtering: RFI filtered. Effective 0.5-1000MHz.

Digital Audio Output

Configuration: Two-channel per AES/EBU-standard (AES3-1992).
Output Level Control: Peak level is adjustable from -20dBFS to 0 in 0.1dB steps. Controlled by software.
Sampling Rate: Internal free running at 32kHz ±10 PPM, 44.1kHz ±100 PPM, or 48kHz ±10 PPM, selected in software. Can also be synced to the AES/EBU SYNC input or the AES/EBU DIGITAL input at 32kHz ± 4%, 44.1kHz ± 4%, or 48kHz ± 4%.
Word Length: Selectable 20, 18, or 16 bit. Optional dither can be added, with level adjusted appropriate to word length. This is first-order noise-shaped dither. (i.e., white TPDF dither of peak amplitude equal to the quantizer step size with noise shaping spectral density of 6dB/octave.) It sounds substantially quieter than white triangular PDF dither but, in contrast to more extreme noise-shaped dither, it adds only 3dB unweighted noise by comparison to white PDF dither.
Sync: Internal free running or external per AES11. The "AES/EBU SYNC Input" is the primary source for external sync. The "AES/EBU Input" is an alternate source.
Connector: XLR-type, male, EMI-suppressed. Pin 1 chassis ground, Pins 2 and 3 transformer balanced and floating.
Status/User Bits: The channel status optionally supports the S/PDIF or AES/EBU formats. The user bits received from the "AES/EBU input" are optionally passed through to the output. The 192-bit block structure is used where prea ble "Z" indicates the start of block.
Jitter: Less than 10ns rms.
Filtering: RFI filtered. Effective 0.5-1000MHz.

Digital Sync Input

Configuration: Used for synchronization of the Digital Output signal to an external reference provided at this input. Labeled "AES/EBU Sync Input."
Sampling Rate: 32, 44.1 and 48kHz.
Connector: XLR-type, female, EMI-suppressed. Pin 1 chassis ground, Pins 2 and 3 transformer balanced and floating, 110 ohms impedance.
Filtering: RFI filtered.

Remote Control Interface

Configuration: Eight (8) inputs, opto-isolated and floating, and two open-collector fault tally outputs.
Voltage: 6-24V AC or DC, momentary or continuous. 9 VDC provided to facilitate use with contact closure.
Connector: DB-25 male, EMI-suppressed.
Control: User-programmable for any eight of user presets, factory presets, bypass, test tone, output sample rate, stereo or mono modes, analog input, digital input, low-pass filter settings, dither on/off, or word lengths.
Tally Outputs: Two tally outputs provided on the Remote Interface Connector, indicating Loss of Digital Signal Lock and Loss of Digital Sync Lock.

Power

Voltage: 100-132 VAC or 200-264 VAC, switch-selected on the rear panel, 50-60Hz, 50 VA.
Connector: IEC, EMI-suppressed. (Generic 3-wire power cord required, not supplied).
Grounding: Circuit ground is independent of chassis ground; can be isolated or connected with a rear panel switch.
Safety Standards: ETL listed to UL standards, CE marked.

Environmental

Operating Temperature: 32° to 122° F / 0° to 50° C for all operating voltage ranges.
Humidity: 0-95% RH, non-condensing.
Dimensions (W x H x D): 19" x 3.5" x 14.25"/48.3cm x 8.8 cm x 36.2cm, two rack units high;
Weight: 14 lbs/6.4kg
Shipping Weight: 19 lbs/8.7kg

---
Share this Product
---
More from this collection