Spectracom TSync-PCIe OCXO GPS Receiver Computer Sync Card Timecode Processor [Used]
(
283923709781)

)

Regular price

$479.00

Sale price

$876.00

(1 available in stock)

Tested/Guaranteed • Lightly Used • Spectracom TSyncI-PCIe Card • Test Antenna Included • PCIe GPS Receiver Card • Computer Atomic Clock Receiver • Time Code Processor • Timecode Sync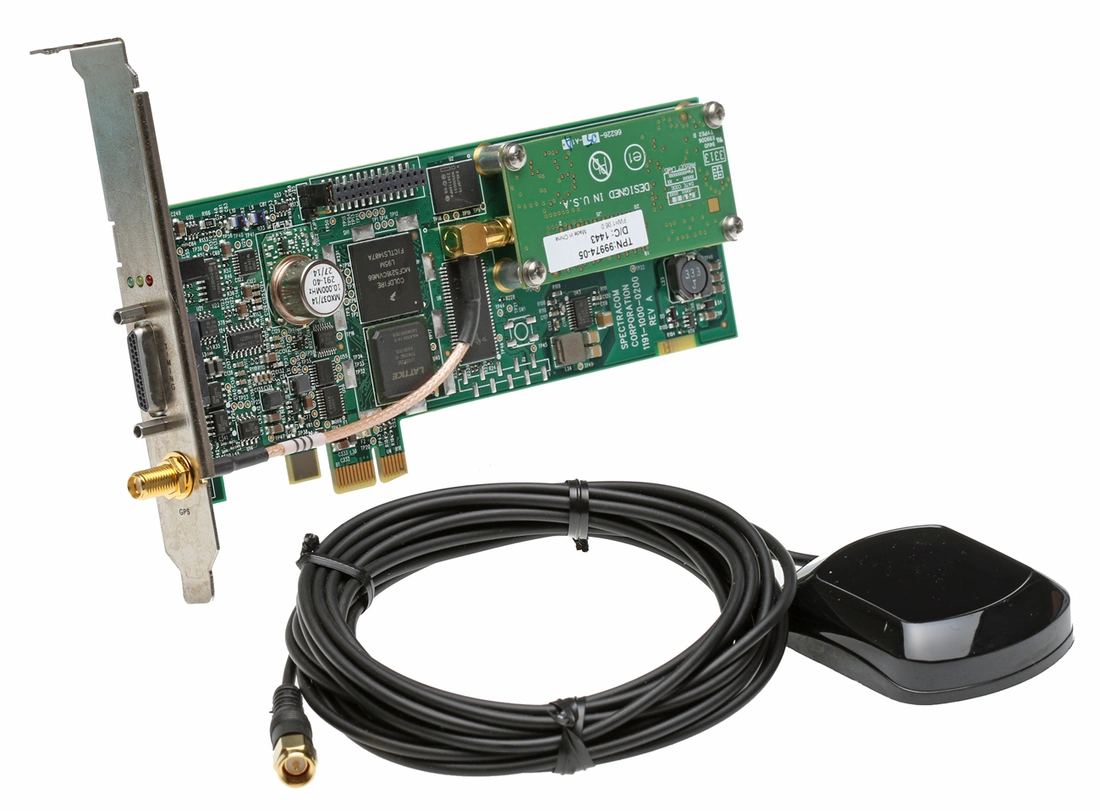 Item is lightly used. This is the version of the TSync Card with a PCI Express interface, on-board GPS receiver and with the optional OCXO oscillator installed. The card has been tested by running it under the Windows 64 bit driver posted on the Spectracom site. The firmware has been updated to the latest posted version. The driver doesn't offer much functionality as these are designed to be used with a third party application, but I was able to confirm that the card reported tracking 6 satellites and the time/date/latitude/longitude/height were all spot on so I'm confident that it's working as it should. List price from Spectracom is $1,775. If you're looking to sync your PC accurately using GPS as a reference time source then this card will provide the receiver functionality but you may need a separate application to perform the clock management function. A basic test antenna is included to help you check out the card, but no other cables, accessories or documents are included. The antenna will need a complete unobstructed view of the sky to lock to GPS and operation behind a window or in the shadow of a building is unlikely to work. For a permanent install a professional grade outdoor antenna of at least 26dB gain is recommended.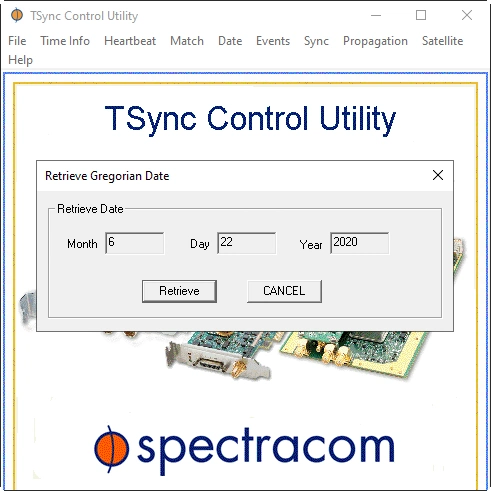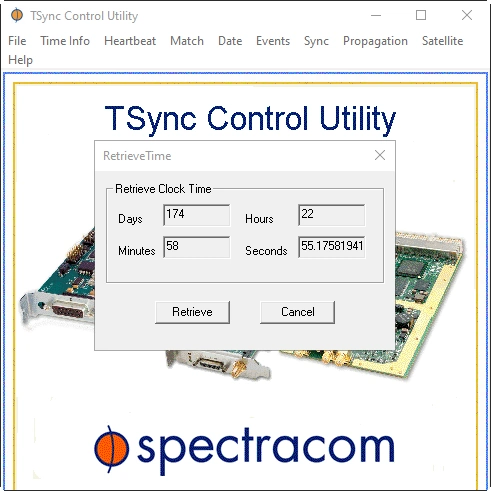 Description
Low-Profile PCIe Form Factor (full height bracket also included)
PCIe x1 Local Bus Operation
Zero Latency Time Reads
±100ns Accuracy to Input
Auto-detects and prioritizes a wide variety of external synchronization references
IRIG AM/DCLS Time Code Outputs
1PPS Input
Multiple External Event Time Capture/Interrupt
Programmable Periodic Output/Interrupt (1Hz–10MHz)
Programmable Time Match Output/Interrupt
CE and RoHS Compliant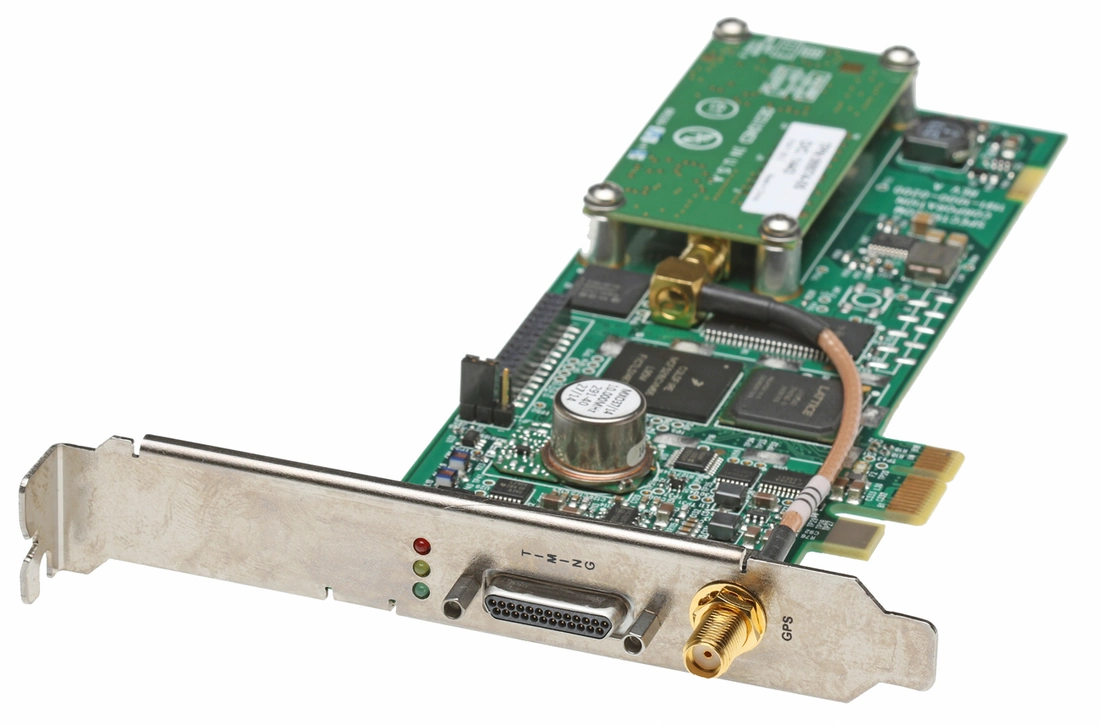 The TSync-PCIe, with GPS is a complete synchronized timecode reader/generator package offering flexibility and easy integration of precise timing into an embedded computing application. It supports multiple prioritized timing inputs. When an input is lost, the unit automatically switches to the next input.
More details may be obtained from the User Manual
(https://www.prostudioconnection.net/1611/TSync-PCIe_Manual.pdf)
The onboard oscillator is phase-locked to a wide variety of external timing signals and provides 5 ns resolution to the time keeping hardware. The oscillator also "freewheels" to maintain time accuracy in the absence of a reference.
Drivers and documentation may be downloaded from http://spectracom.com/support/tsync-bus-level-timing-product-support
Four user-programmable time tag inputs may be used for multiple event capture at a rate higher than 10,000 events per second. Other features include a 10MHz sine wave output, and a 1PPS Output.
Key to the TSync functionality is the ability to generate interrupts. Using a Spectracom driver package available for the latest versions of popular operating systems, you may configure your card using interrupt-driven algorithms to support your unique applications.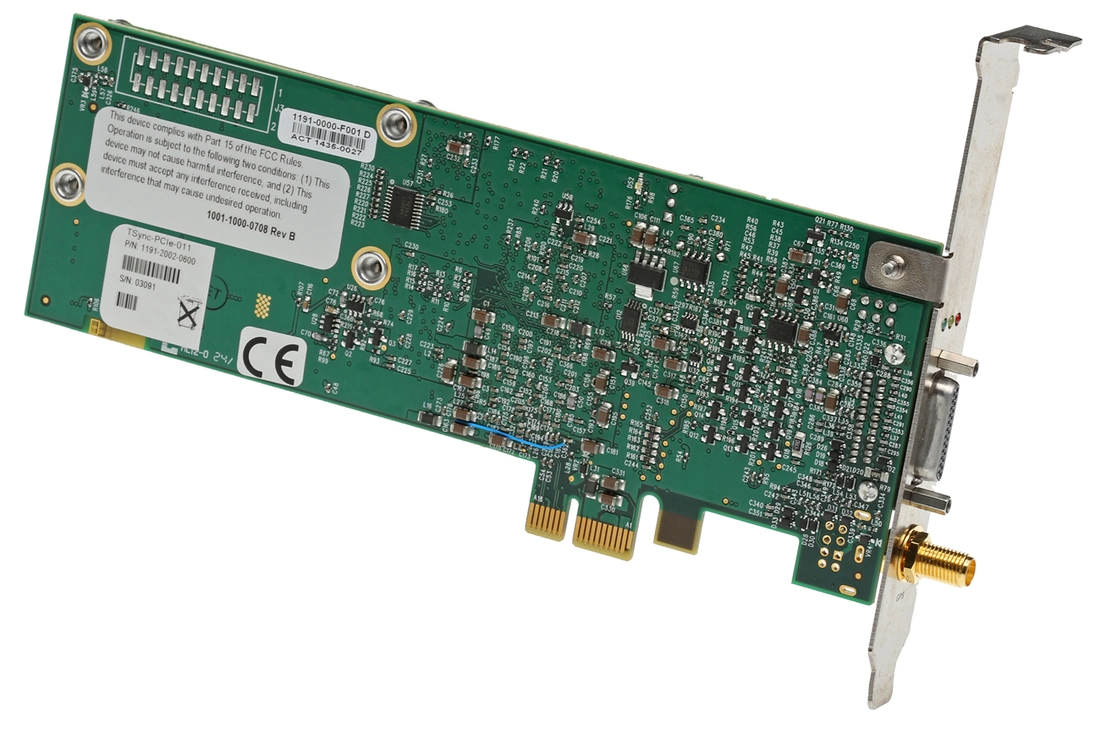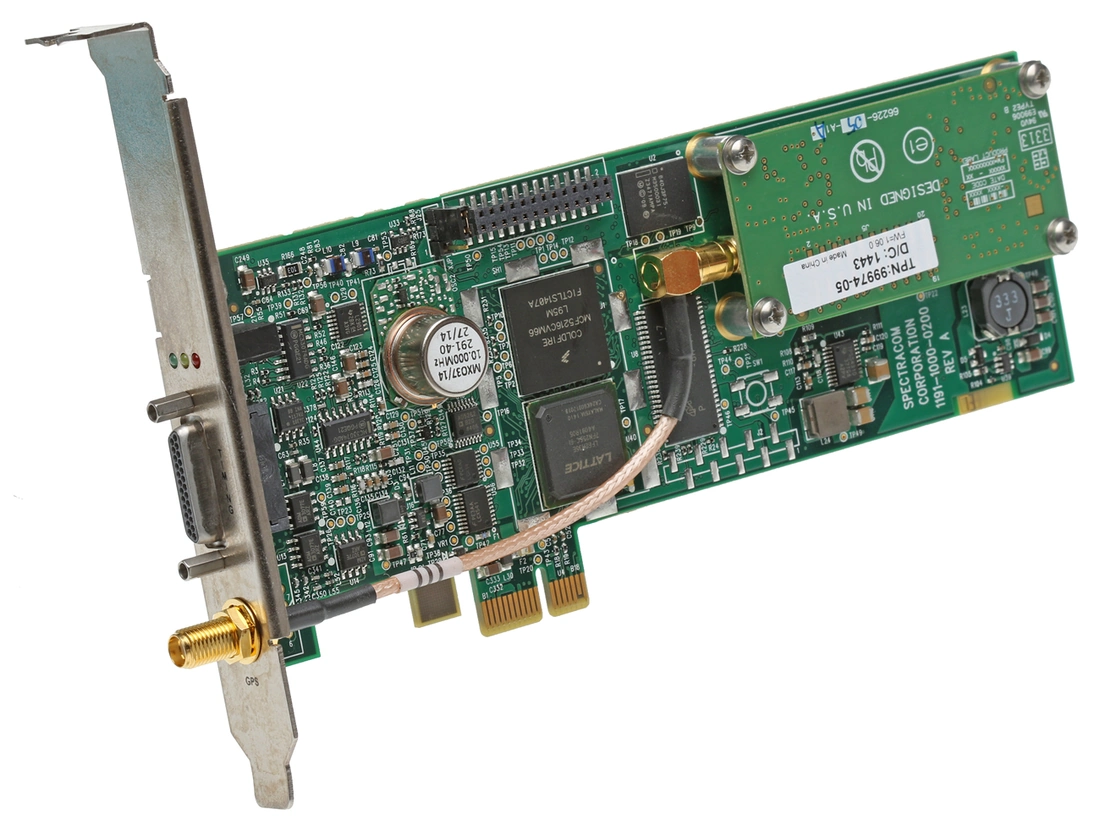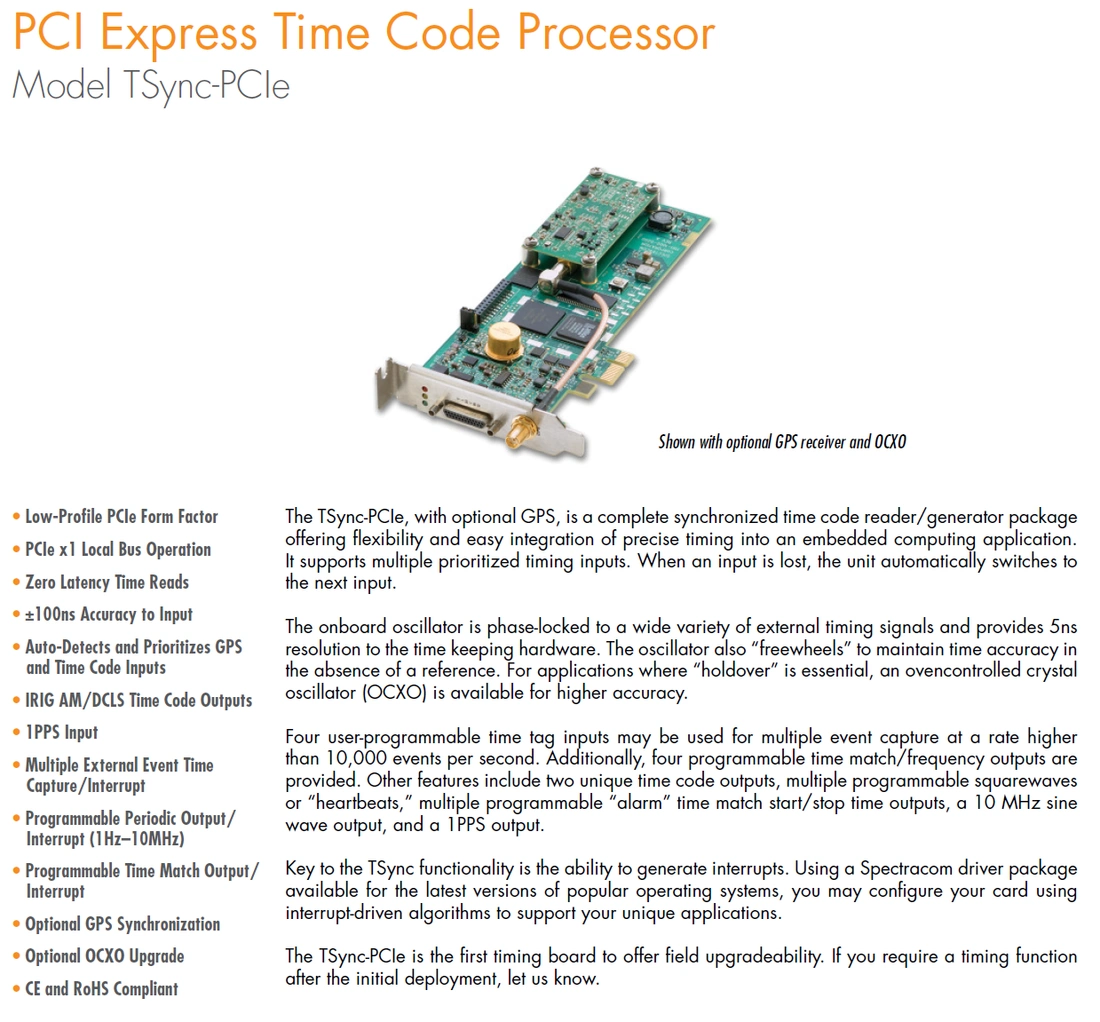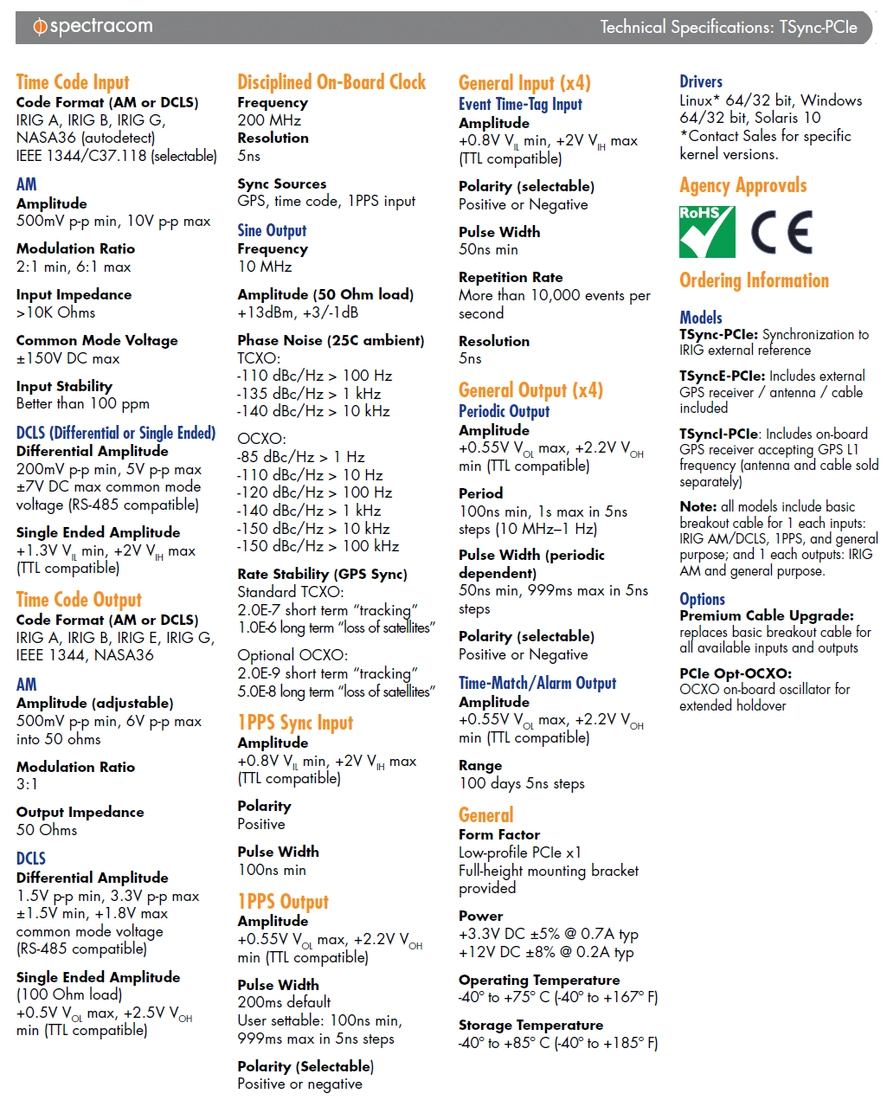 ---
Share this Product
---
More from this collection