Symetrix 460 Presentation Mixer and DSP Dynamics Processor AGC EQ Limiter NO PSU
(
282778770426)

)

Regular price

$87.16

Sale price

$181.00

(2 available in stock)

Downward expansion • Dynamics Processing • EQ • AGC • Limiting & Compression • NO POWER SUPPLY INCLUDED

Photos show the actual item for sale

Item is unused, new old stock, open box. A set of Phoenix connector blocks is included (but not pictured). However note that NO power supply is included - as I assume that most sales will be for maintenance spares/replacement for legacy installations and the previous power supply can be reused, given that replacements have become very expensive ($140 each last time I checked) and will drive up the cost if included by default. If however you do need a power supply included then let me know and I'll edit the listing accordingly to included one.
Description - Symetrix 460 Presentation Mixer
Symetrix introduces the 460 Presentation Audio Mixer, a DSP-based audio mixer that uses front-panel menus to configure dynamics processing, mixing, routing, and level settings. Access to any one of eight available presets is through menu selection or through rear-panel contact closures or serial data links.
Full details may be obtained from the User Manual
"In smaller presentation systems, installers usually rely on a combination of router/switchers, VCA control cards, and other units to get the feature set required by the job," according to Bruce Stimpson, Director of Sales, Engineered Sound. "The 460 replaces this mix of gear with one unit that can process speech separately from audio, combine multiple audio sources, and provide remote-control compatibility with Panja or Crestron controllers."

The 460 features dynamics processing on all outputs. Its mono input channels have 6 dB/octave low pass and high pass filters, plus selectable downward expansion with threshold adjustment. Dynamics processing controls on outputs are AGC, limiting or compression. Each stereo output section provides 6 dB/octave shelving filters with a boost/cut range of +/-12 dB. Each output section also has a sweepable parametric EQ with a +/-12 dB boost/cut range, 16 - 20k frequency range, and a bandwidth adjustable between .05 and 3 octaves.

All six inputs are fully assignable, providing a variety of audio mix options. Two mono mic/line and four stereo line inputs mix to two stereo outputs. The mono inputs can be linked and used as another stereo input pair and the stereo outputs can be configured independently as mono outputs. The 460 also has two internal stereo buses that allow each stereo input channel to route signal into either or both of the buses. When its mono channels are operating independently, they route signal into both sides of a stereo bus identically. When they operate as a stereo pair, they route signal like the other stereo inputs. Each stereo output can be set to yield two mono sums of the signals assigned to it.
The 460's multiple remote control options offer this capability to installations of varying complexity and budget levels. Rear panel EIA-232 and EIA-485 ports allow Panja or Crestron controllers to select presets and change levels and routing. Contact closure inputs permit remote selection of presets. Additional Euroblock inputs provide rotary pot level controls.
The Symetrix 460 will be offered at the suggested US retail price of $799.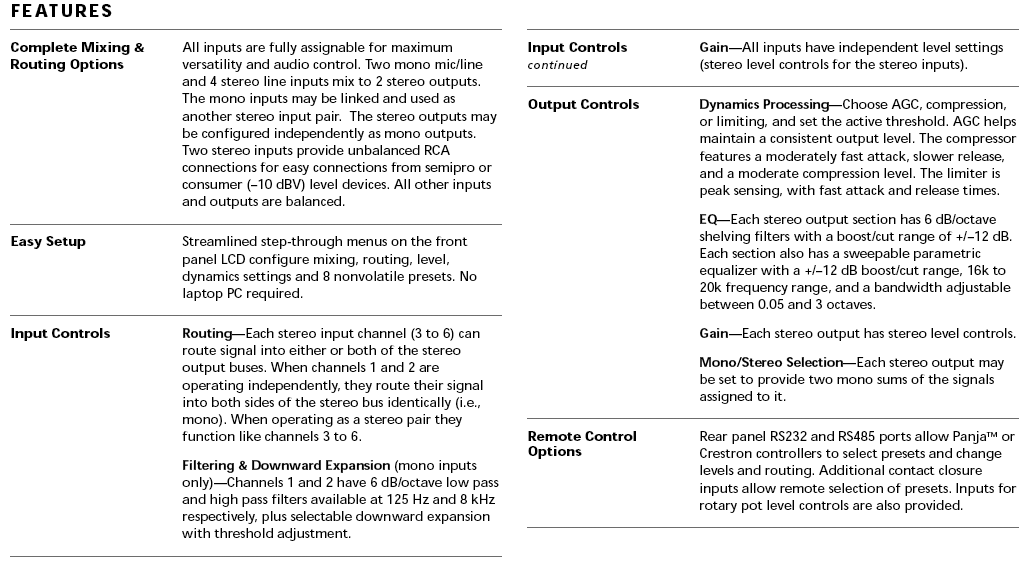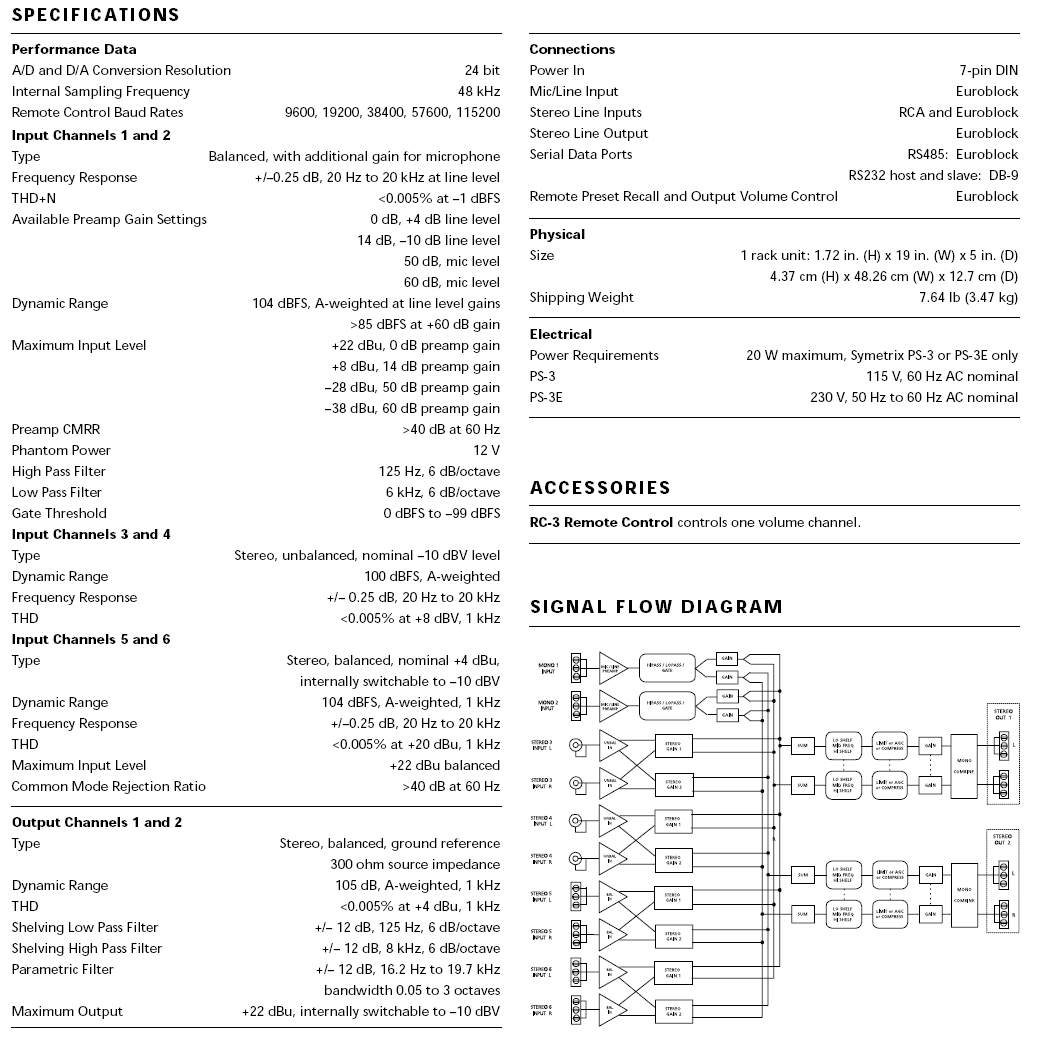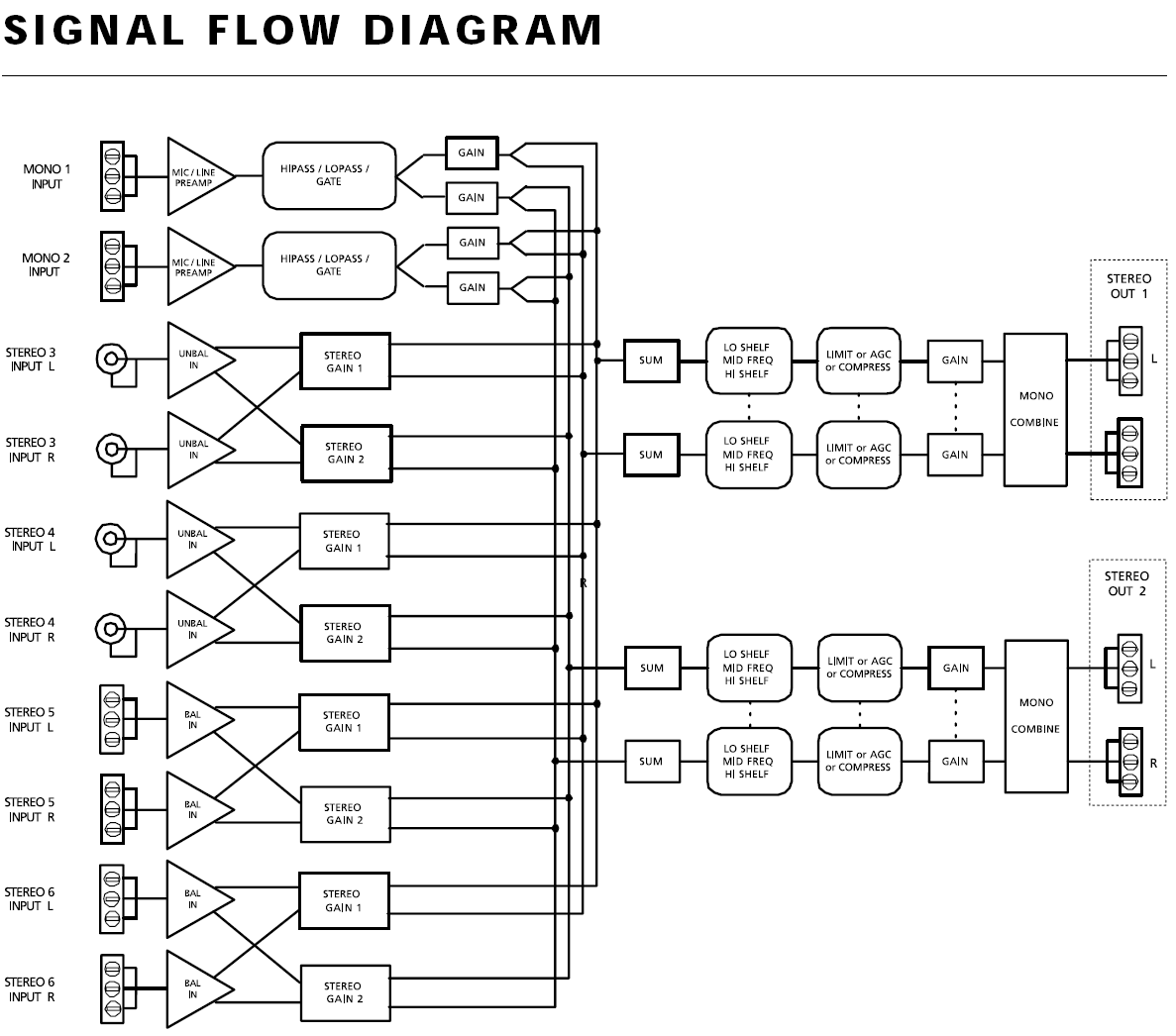 ---
Share this Product
---
More from this collection