Symetrix 628 AES Digital Mic Preamplifier Voice Dynamics EQ Processor Compressor [Refurbished]
(
233768192552)

)

Regular price

$314.00

Sale price

$461.00

(1 available in stock)

Tested/Guaranteed • Very Good Condition • Fully Working • Mic Processor/Preamp • Channel Strip • Dual Voltage 115V/230V Internally Switchable

Photos show the actual item for sale

Item is used and in excellent cosmetic condition. I usually have the matching RC-1 remote control panels to switch between presets instantly listed separately, should you need one. The unit has been tested and confirmed to be fully functional. No printed manual is included but a copy may be downloaded here if required (https://www.prostudioconnection.net/1112/628_Manual.pdf). Listing comprises the amplifier unit only. No unpictured cables, accessories or documents are included. This is a multiple item listing so the photos feature one item from the batch, but the condition of all units is the same as you see in the images here.
Description
The Symetrix 628 rolls a premium quality microphone preamplifier, 20 bit A/D and D/A converters, de-esser, expander/gate, compressor and parametric equalizer into a single rack space unit. The 628 combines proven digital signal processing and an easy to use analog-like interface with the power of factory and user programmable presets.
Top notch voice professionals now demand personalized signal processing. The Symetrix 628 gives you the ability to create and store in memory 119 custom presets. You can get on the air instantly by selecting from 8 finely tuned factory presets.
Need to provide a quick way for talent or producer to change presets? Using a generic programmable MIDI remote, you can recall any of the 628's 127 presets (plus the bypass preset) via MIDI's SysEx load program protocol.
Additional Reading
The Product Data Sheet may be obtained here (https://www.prostudioconnection.net/1112/628_Datasheet.pdf).
The User Manual may be obtained here (https://www.prostudioconnection.net/1112/628_Datasheet.pdf).

The 628's first stage is a proprietary transformerless and capacitorless mic preamp incorporating filters to destroy radio frequency interference. A switchable 15 dB pad prevents overloading by hot condenser microphones. A front panel LED indicates when phantom power is on. If you're into high end tube preamps then you can select line level input from the 628's front panel and bypass the 628's preamp.
Tuning the 628's de-esser to the offending frequency minimizes overly bright sibilance without resorting to brute force equalization to solve the problem. The THRESHOLD control lets you precisely apply this frequency selective gain reduction. LED metering displays the degree of de-esser action.
The 628's Expander/Gate affords more control than its analog precursor. Independent RATIO and RELEASE controls allow tuning of the expander/gate to fit any studio noise or performer isolation requirements. An LED meter shows the amount of downward expansion or gating taking place.
Most compressor designs use a "one size fits all" approach to compression; the design of the 628 reflects the realization that voice and mixed music require different design philosophies. While the control complement is simple (Threshold, Ratio and Release), each has been highly optimized for voice work. The result is a compressor that can tightly control gain (from hard compression to gentle level control) with minimal or no side effects.

Three overlapping bands of digital parametric equalization round out the processing power of the 628. The equalizer can notch out interference, boost low frequency energy, cut mid-range grunge and brighten a muddy, dull voice simultaneously. The 628's parametric approach to equalization allows cuts and boosts exactly where needed to make every voice sound outstanding.
Three seven segment LEDS display all parameter values and preset numbers. An output level meter continuously monitors the 628's output. Digital sample rates of 48, 44.1 and 32 kH z are selected by a rear panel switch. Balanced and unbalanced analog outputs as well as AES3 and S/PDIF digital outputs are provided.
All voices are different, but the right tool box gives you all the functions you need to make anyone sound their best. With its processing power, programmable presets and digital output, the Symetrix 628 Digital Voice processor is the complete voice processing tool box.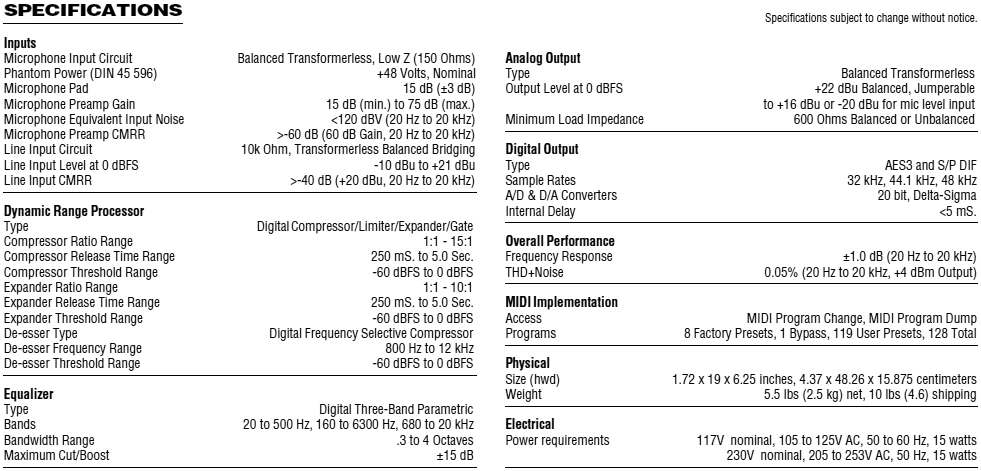 The device has an internal switch to change between 115V and 230V mains supply - see picture below for more information.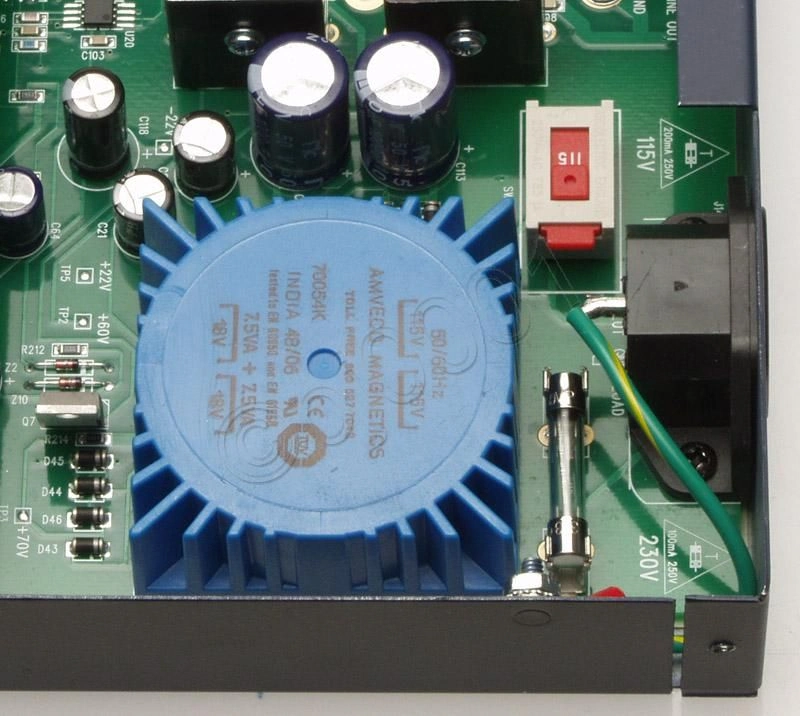 (stock photo - actual hardware may vary slightly)




---
Share this Product
---
More from this collection