Symetrix SX202 Stereo Microphone Pre-Amplifier Balanced XLR /w Phantom SX-202 [Refurbished]
(
233842188494)

)

Regular price

$179.00

Sale price

$267.00

(1 available in stock)

 Tested/Guaranteed • Symetrix SX-202 • Low Noise • Audiophile Microphone Pre-Amplifier • 115V Power Supply Included

Photos show the actual item for sale

Used, in very good cosmetic condition and fully working. The gain potentiometers work smoothly with no crackle. The photos show the actual item for sale. No unpictured cables, accessories or documents are included.

Description
These are very highly regarded as being very clean preamps with exceptionally low noise floors. Symetrix had to stop making these when the SSM2015 chip around which the amp is based ceased production. They subsequently launched the SX302 to replace it, but many officianados prefer the cleaner sounding SX202. Here's your chance to pick up one of the SX202s...
This unit has new gain potentiometers installed as well as new front panel switches so you won't experience glitches or crackle.
Full product details may be obtained from the User Manual
(https://www.prostudioconnection.net/1805/Symetrix_SX202_Manual.pdf)
There a number of companies that offer various tweaks and modifications to the SX202 - such is the desirability of this amp as the basis of an audiophile recording system.
The specs are copied below for your reference. The photos show the actual item for sale. Amp has been checked out and passes clean audio on both channels. Power supply is the OEM original.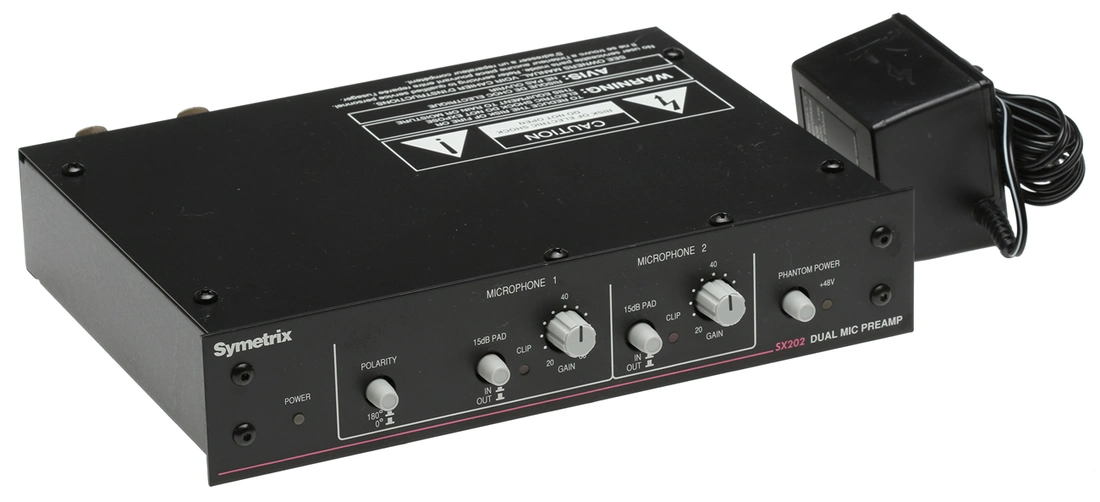 Product Information
SPECIFICATIONS

THE MODEL SX202 DUAL MICROPHONE PREAMPLIFIER is an ultra clean two channel stereo/mono preamp, intended for use in the most critical digital and analog recording situations. In addition,the SX202 is ideally suited for broadcast use, and for general purpose paging or public address applications.
Used in place of older preamp designs, the SX202 offers substantial sonic improvements with its solid stereo imaging(less than 10 degrees phase shift at 20 kHz), excellent transient handling (its positive and negative slew rates are symmetrical),very low noise (approaching the theoretical limit), and almost undetectable distortion (.007%25).
SX SERIES
Its unique combination of features and performance make the SX202 a very versatile product, designed to deliver superior performance in a wide variety of circumstances. Variable gain inputs, with 15 dB pads, allow the SX202 to handle any input up to 14 dBV. Switchable +48 volt phantom power is included for professional condenser microphones. One channel is equipped with a polarity switch, to correct for improperly wired cables or unresolvable mic placement problems. In addition to the individual outputs from each preamp, a left + right output is included to provide a combined mono feed.
Features
Input levels to +14 dBV Left/Right and Left + Right outputs
Uncompromising sonic performance
+48 volt phantom powering
Polarity reversal
Compact (1/2 rack) and lightweight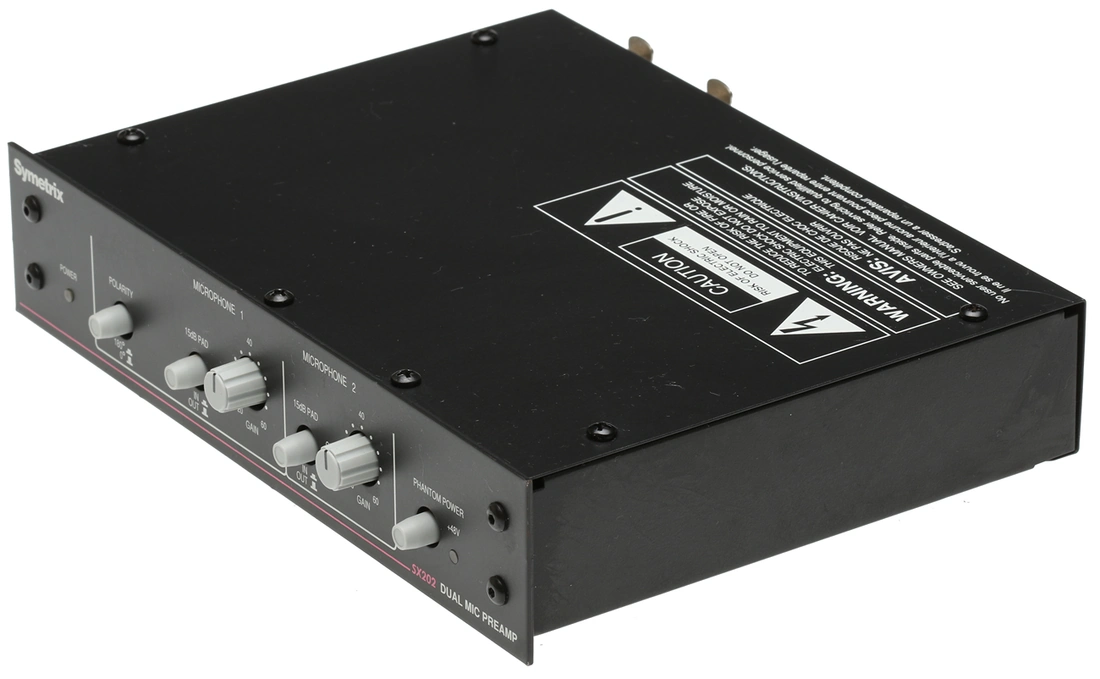 Specifications
Maximum Gain 60 dB Minimum Gain 20 dB
Outputs Type low-Z Output Source Impedance 600 ohms balanced 300 ohms unbalanced
Maximum Output Level (600 ohms) +24 dBm balanced +18 dBm unbalanced
Connectors 1/4" TRS balanced/unbalanced
Power Requirements 16V ac, 200 ma
Physical Size 1/2 rack unit
Size (HWD) 1.75 x 8.5 x 6.5 in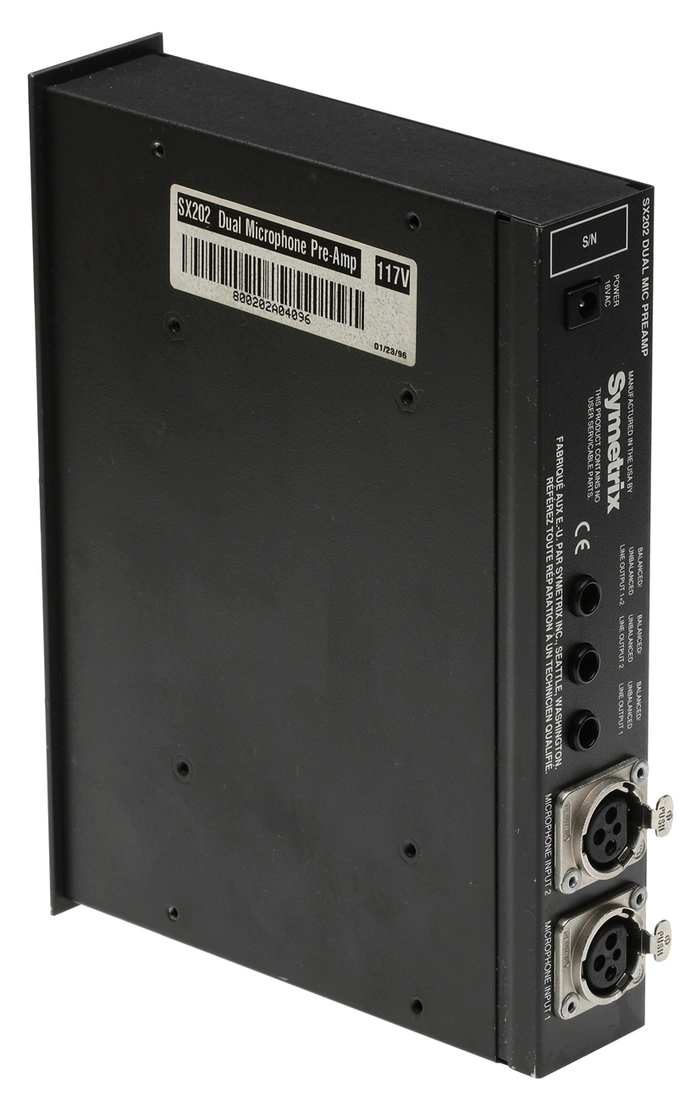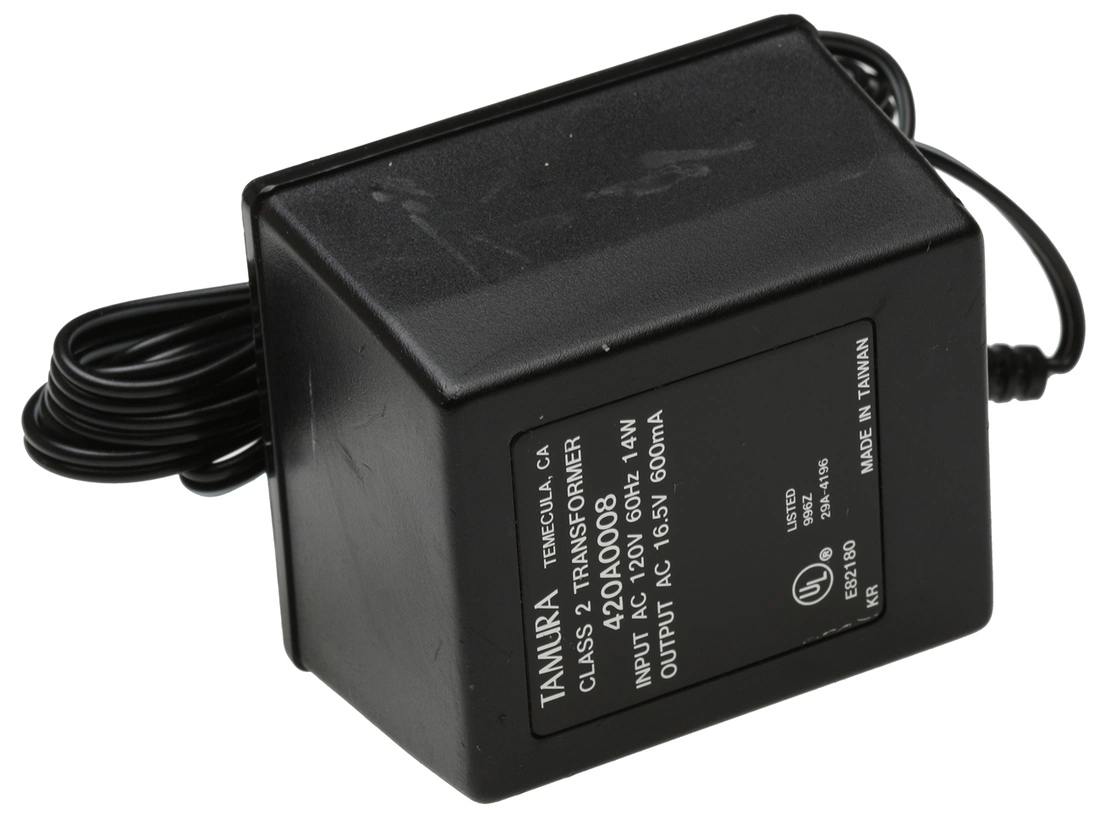 ---
Share this Product
---
More from this collection