Symmetricom 090-58537-01 GPS 1:4 4-Way Active Antenna Signal Splitter Divider
(
364159967342)

)

Regular price

$271.00

Sale price

$397.00

(1 available in stock)

New Open Box • Near Mint Cosmetic Condition • Symmetricom 1:4 Active GPS Antenna Signal Splitter • Part 090-58537-01 • Never Deployed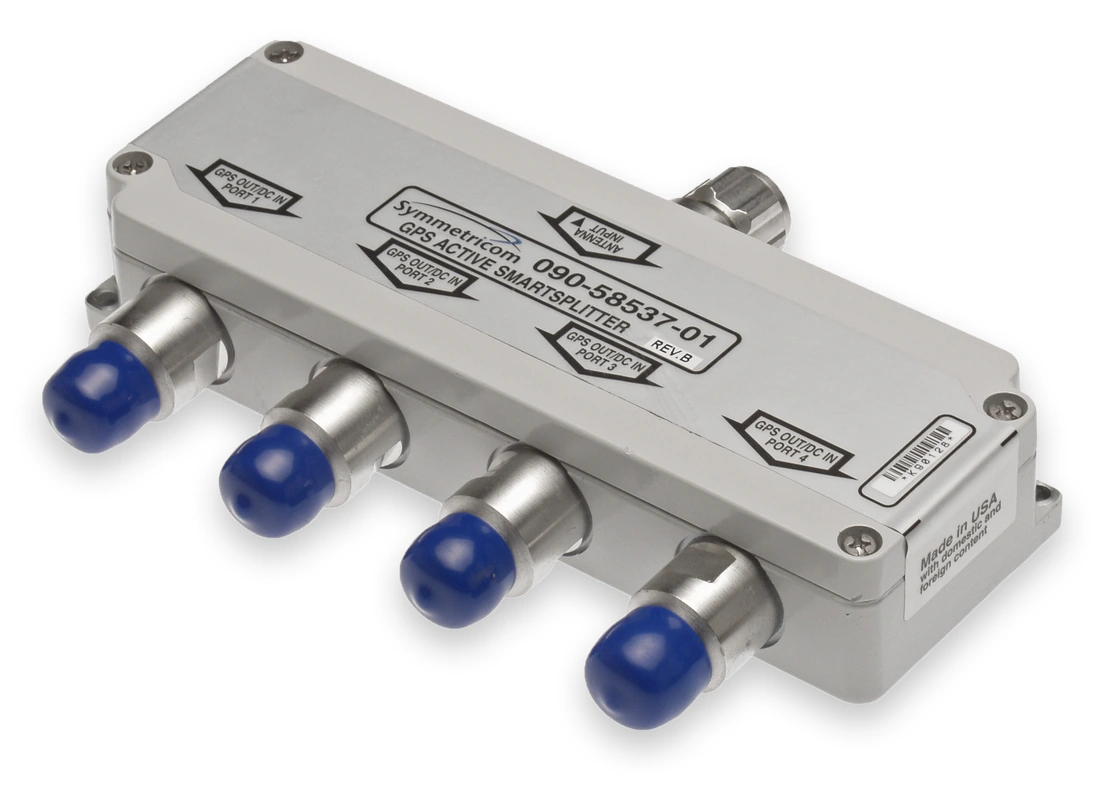 New old stock, in MINT- cosmetic condition.
Introduction
Symmetricom's Active Splitters allow multiple GPS receivers to share a single antenna. Designed for both manufacturing and position/timing redundancy applications, GPS L1 Active Splitters provide dependable signals for multiple GPS receivers.
For large manufacturing facilities, Symmetricom Active Splitters can provide as many GPS-L1 (1575.42 MHz) signals as your manufacturing floor requires. With built-in amplification to overcome splitter losses, the Active Splitters can be conveniently cascaded without adding separate amplifiers and bias-tees between splitters.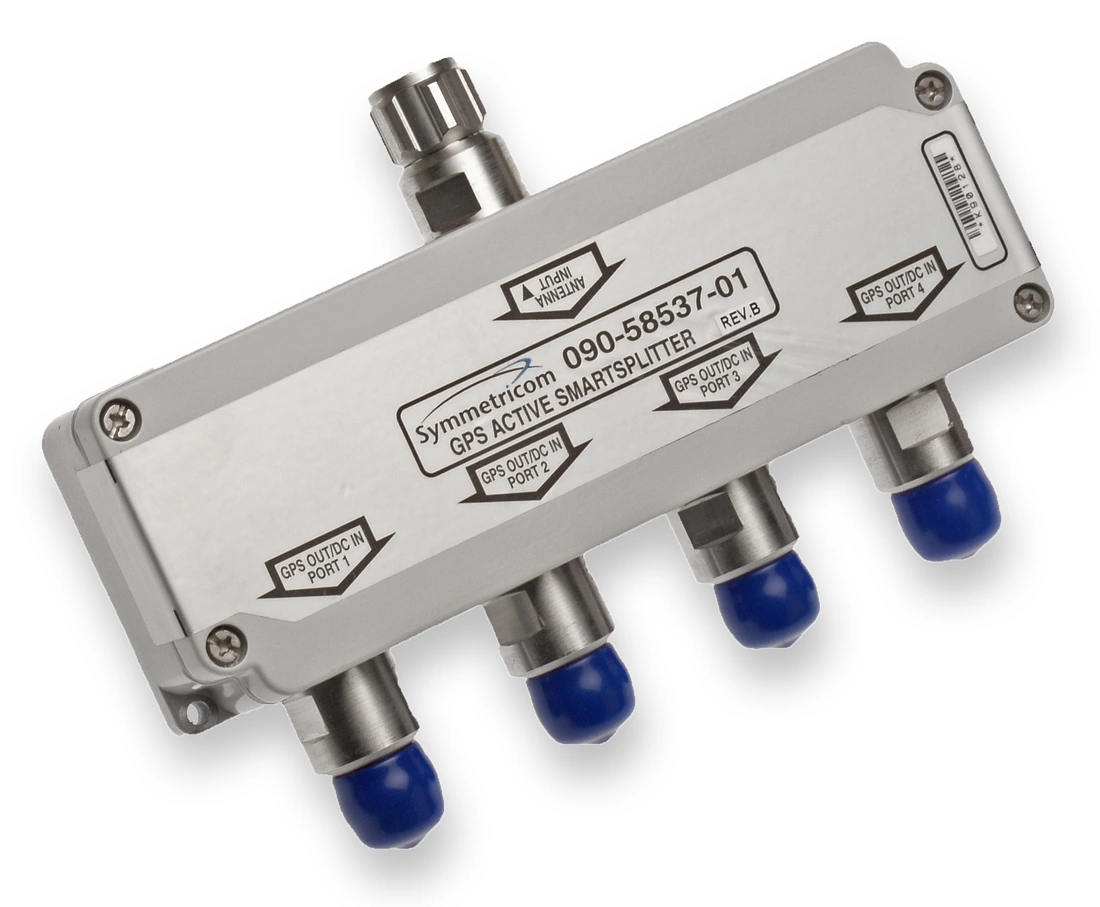 High Isolation Eliminates Receiver Interactions
Symmetricom GPS Active Splitters have the essential port-to-port isolation required to eliminate interaction between multiple GPS receivers. Without such isolation, local oscillator (LO) leakage from one GPS receiver can prevent other receivers from acquiring time and position signals and maintaining lock. In wireless base station pplications, poor isolation can disable cell sites. In GPS manufacturing tests, poor isolation causes repeatability problems which can reduce yields and cause false rework.
Convenient DC Power Simplifies Your Installation
Power is conveniently obtained from the GPS receiver(s) connected to the amplifier. This eliminates the need for a separate dc power supply and wiring. DC power applied to the splitter is also passed on for use by an active antenna, further simplifying your installation. The 090-58537-01 obtains power from a GPS receiver connected to any port.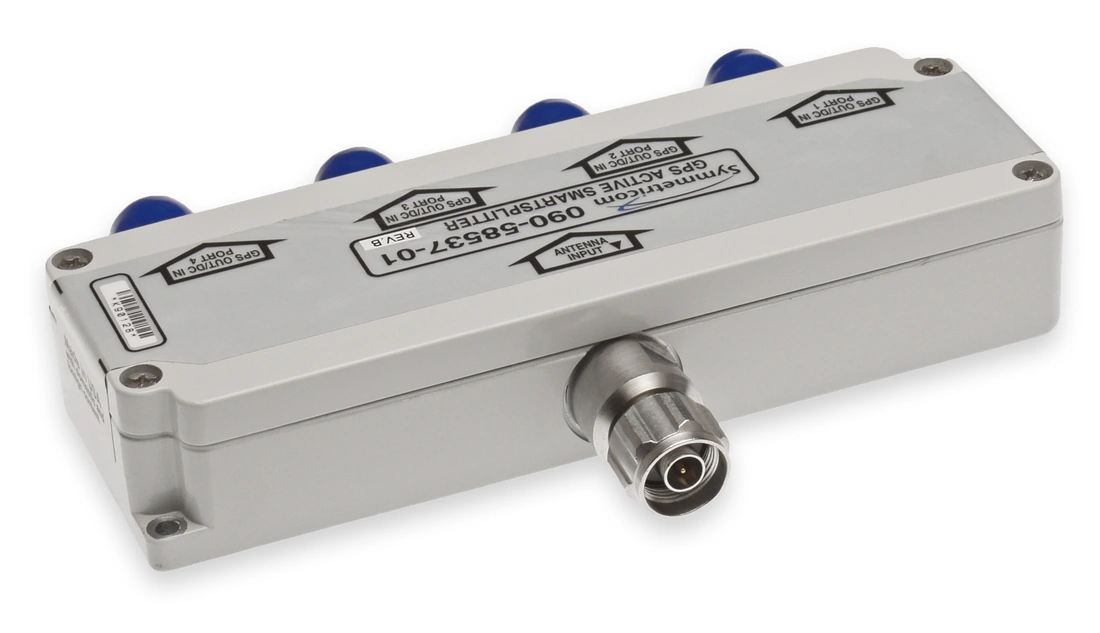 1:4 Active SmartSplitter
The 1:4 Active SmartSplitter has been designed to meet the requirements of implementation of wireless enhanced 911 (E911) emergency location services in new and existing wireless base stations. Its input port is located on one side of the unit and its 4 output ports are located on the opposite side of the unit. This arrangement makes cable installation and look-up simple and easy.
1:4 Active Smartsplitter Microcontroller
The purpose of the micro-controller is to sense the bias voltage present on each of the output ports, and it always selects the lowest numbered port (1, 2, 3 or 4) to supply power to the splitter and to the GPS antenna. Each of the three remaining ports is configured by the micro-controller to sink a standby current of 25mA @5V.
The 1:4 Active SmartSplitter can be used with the new 093-58536-10 Universal Mounting Bracket (not included).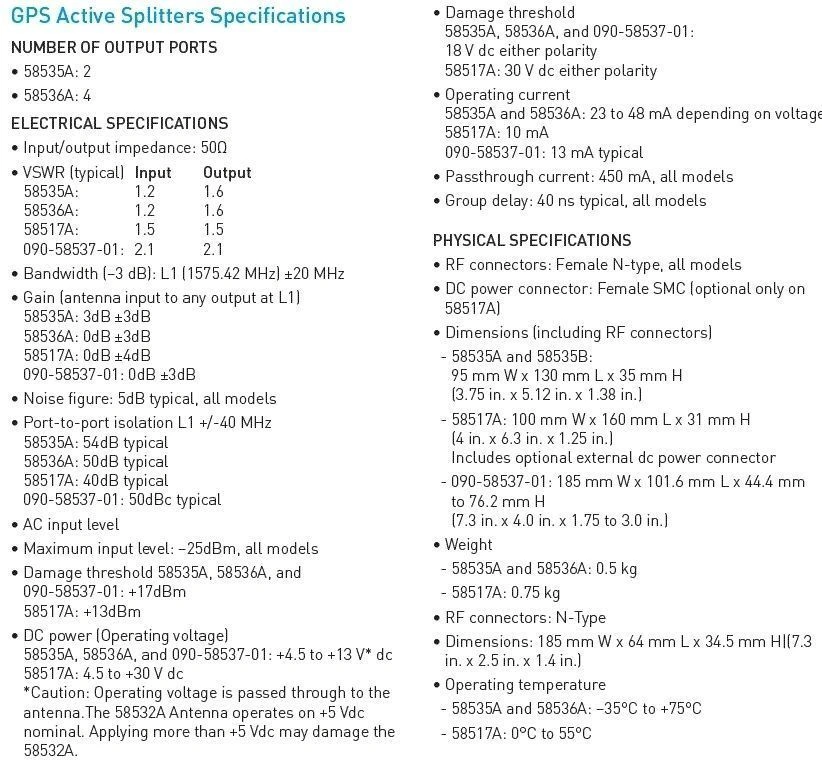 ---
Share this Product