Symmetricom SyncServer S200 UPGRADED GPS NTP Server Network Time Receiver Clock [Refurbished]
(
363462106896)

)

Regular price

$598.00

Sale price

$876.00

(1 available in stock)

Tested/Guaranteed • Brand New iLotus GPS Receiver Installed • Late Model • Usually $4,385 • Fully Working • Very Good Cosmetic Condition • Latest Firmware • IPv6 Ready

Photos show the actual item for sale

Introduction
Here's a lightly used, fairly late model (late 2013) fully working SyncServer S200 NTP server that obtains highly accurate and traceable time from the GPS satellite constellation. Screenshots taken during my testing of the unit are provided below. The unit is in very good cosmetic condition and the VFD display is bright and clear. The photos show the actual item for sale. No antenna is included, but I would be happy to quote for including one if needed. The antenna voltage is 12V so you cannot use one of the generic 5V antennas commonly offered for sale. And for best results the antenna needs to be mounted outside with a complete view of the sky. The unit has been reset to the factory logon defaults (logon with admin:symmetricom) ready for your install. This unit is the TCXO version; it does not have a Rubidium oscillator. The installed firmware is v1.36 which takes into account the April 2019 GPS week number roll-over and prior leap second adjustments. The listing comprises the items you see in the images (only). No printed manual is included but a copy may be downloaded here (https://www.prostudioconnection.net/0912/SyncServer_S200_S250_S250i_UserGuide.pdf) if required. No other cables, documents or accessories are included.

Why Replace the GPS Receiver Module?

This unit has been upgraded with a new, latest generation GPS receiver module from iLotus, one of two companies still making cards of the type that this machine uses. Why is that relevant (and maybe worth paying a little more for)? Pretty much all GPS clocks are by design going to fail at a future date. The problem is that the GPS system does not send out a date, but a week number. And in the GPS system there was only capacity in the original design to have a calendar of 1024 weeks (ie. a bit less than 20 years). At the end of the 1024 week period, the calendar goes back to the beginning again and many clocks start showing dates that are 1024 weeks in the past. In a system originally designed for the military this wasn't considered to be a problem, as the Cold War was at its peak and it was unlikely that any military equipment would have a service life of 19+ years. But now in the civilian world this week number 'roll-over' causes problems as each GPS receiver at some point will report a date that's in the past. Not ideal for a precision time server.
Is this an issue for a purchaser of a S200 SyncServer? If you're looking for a stop-gap solution to tide you by for a couple of years until corporate agrees your budget request for a new new box then maybe not. But if your time horizon is more than that then you'll need to consider your options. Will Symmetricom/MicroSemi/MicroChip release a firmware fix? Very unlikely. Even if there's a development engineer still on the same project after 15+ years (and multiple corporate acquisitions) somewhere, sitting in a cubicle surrounded by 20 year old test gear and documentation, Symmetricom is not going to task them to extend the service life of this device. They'd much rather you bought a new state of the art device from them, of course. I suggest that it's a reasonable approach to do a planned hardware upgrade now at very modest cost rather than just leave the problem out in the field and praying that someone else gets the "WTF just happened" call when the old GPS card's firmware decides it's time to travel back in time to 2002.
Usually Sells for $4,385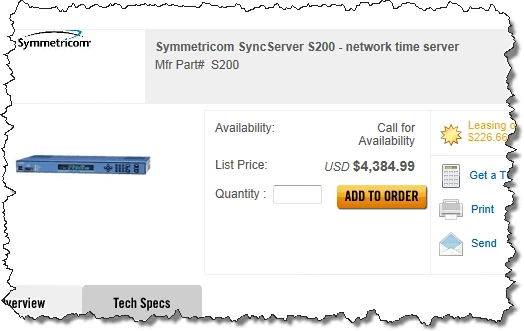 Photos show the actual item for sale
The SyncServer S200 sets the standard which is shared by Symmetricom's other SyncServer network time servers.

Easy To Set Up and Maintain
SyncServers are the easiest to set up and maintain network time servers in the world. The front panel of the SyncServer S200 is designed to quickly bring the server online with a few front panel keystrokes or DHCP. To fully configure the unit, use the very intuitive web interface or the step-by-step wizards for the most common operations.
Full details may be obtained from the User Manual
(https://www.prostudioconnection.net/0912/SyncServer_S200_S250_S250i_UserGuide.pdf)
Highly Robust and Secure
The S200 provides reliable and secure network synchronization technology by combining multi-port, high-speed/ high-capacity network interfaces and versatile GPS timing receiver technology.



Flexibility and Performance
The multiple ports of the S200 provide the flexibility to adapt to different network topologies as networks grow and change. It supports a wide range of network protocols including IPv4 and IPv6, for easy management and seamless integration into your existing and future network. The high speed processor and a nanosecond clock assure high bandwidth NTP performance for hundreds of thousands of network clients.

Assured Perfect Timing
The Stratum 1 level S200 derives extremely accurate time directly from the atomic clocks aboard the GPS satellite system. Reliability is further enhanced via Stratum 2 operation by retrieving time from other user-designated time servers. All SyncServers can be upgraded to an internal Rubidium atomic oscillator to keep the time server accurate if the GPS signal is lost.



Customer Tested Time Server Design
The 5th generation Symmetricom SyncServer S200 has decades of design experience behind it. Customer input is evident in every detail. From the front and rear panel design configurations to the state-of-the art web interface, the S200 is unsurpassed in reliability, accuracy, security and ease of use.

Features
Next generation, High-Bandwidth NTP Time Server
Stratum 1 Operation Via GPS Satellites
3 Independent 10/100Base-T Ports
High-Resolution Vacuum Florescent Display
Full numeric keypad
IPv6 and IPv4 Compatible
Secure Web-Based Management
SSH, SSL, SCP, SNMP v3, Custom MIB, HTTPS, Telnet, FTP, and more
Stratum 2 Operation via NTP Servers
Nanosecond time accuracy to UTC
Dedicated Sysplex Timer output
Email Alerts for Alarms or Error
Single Satellite Timing
Dual USB ports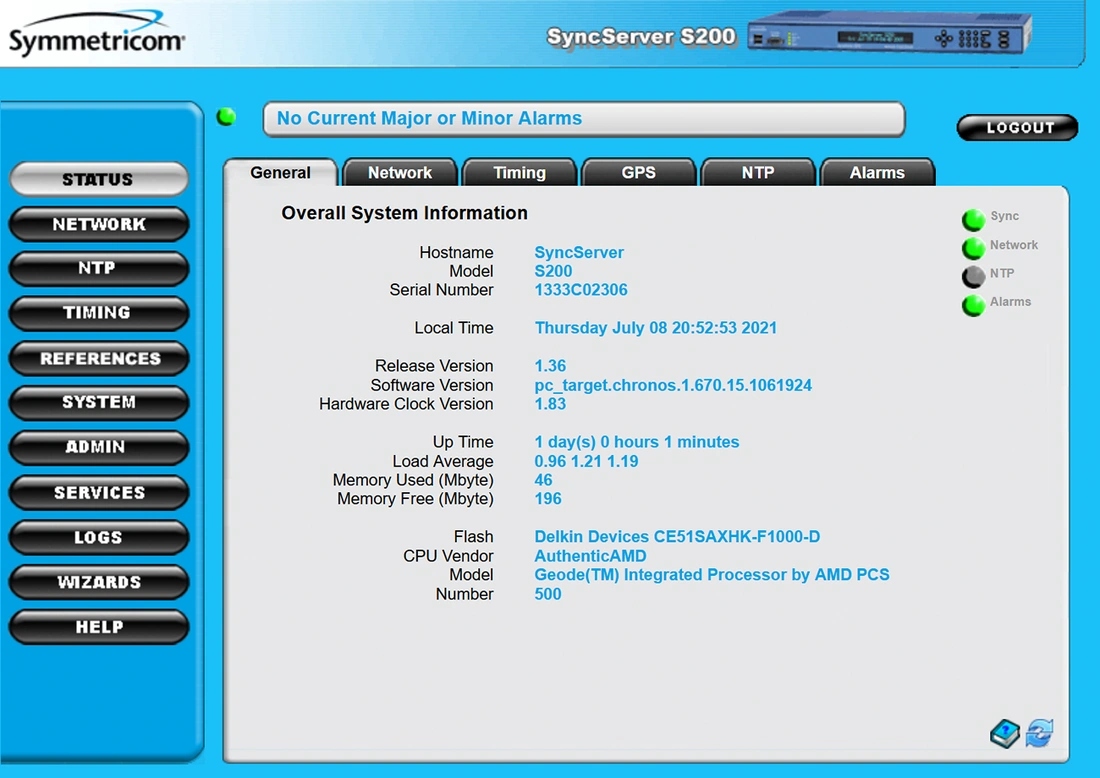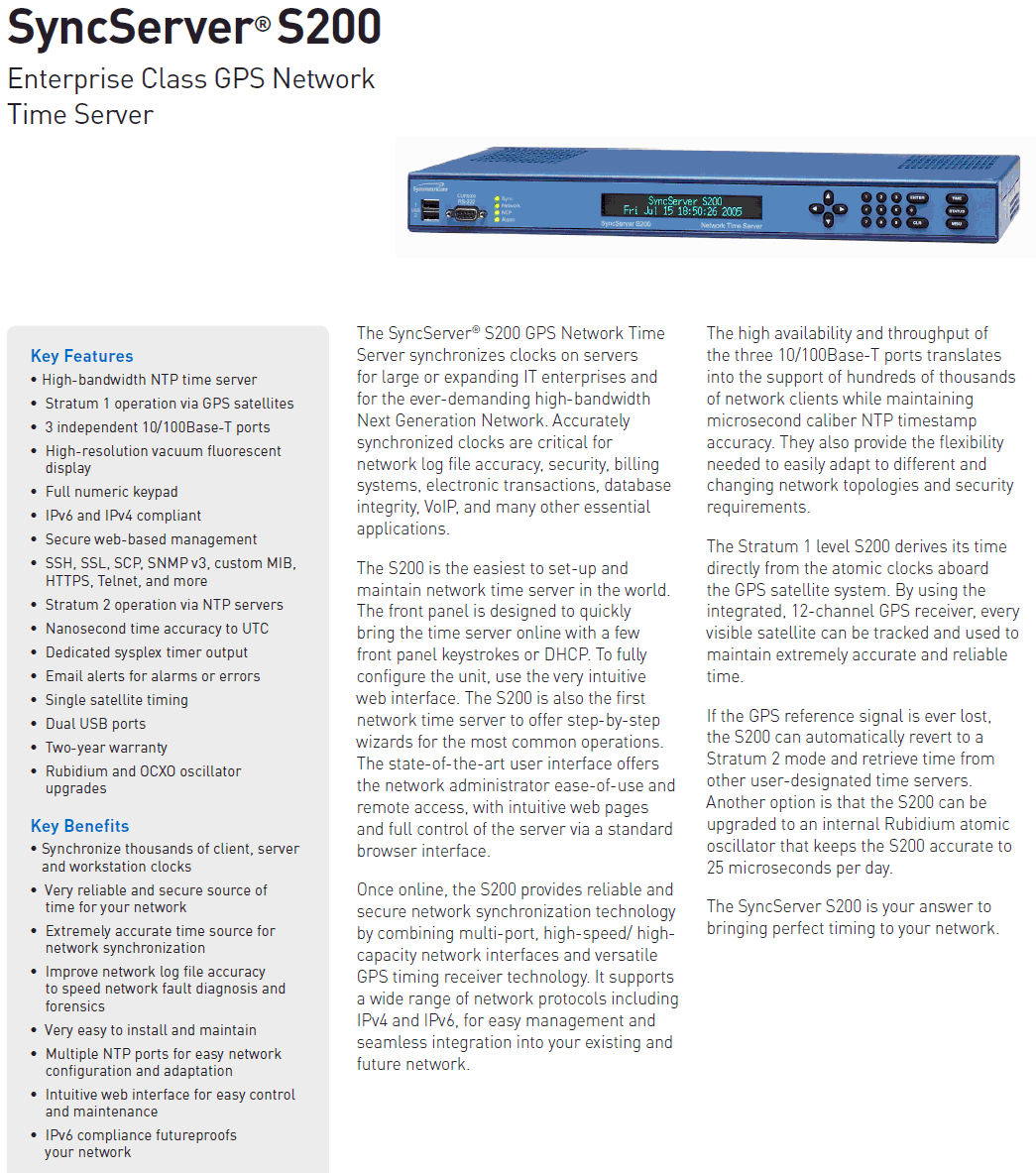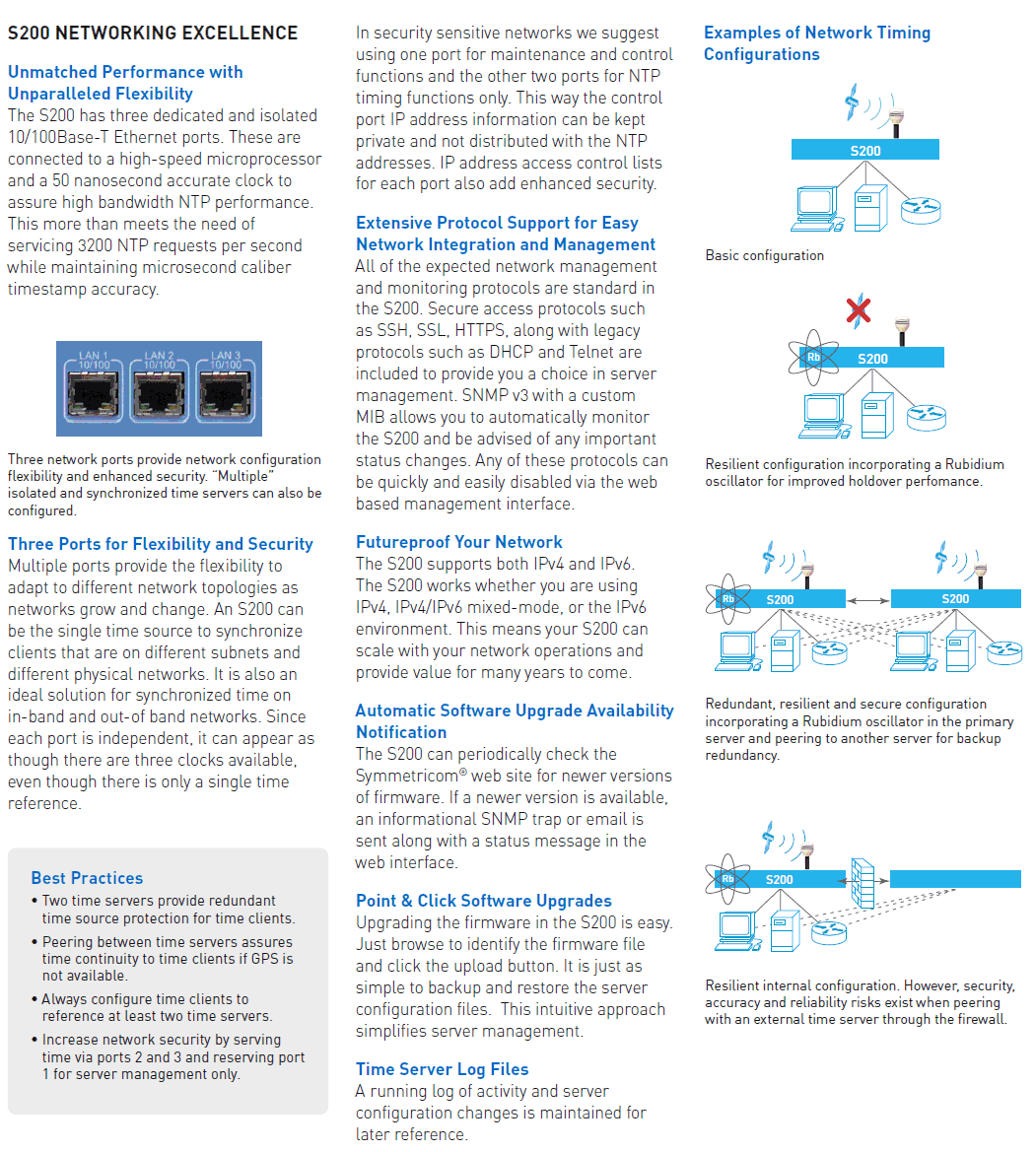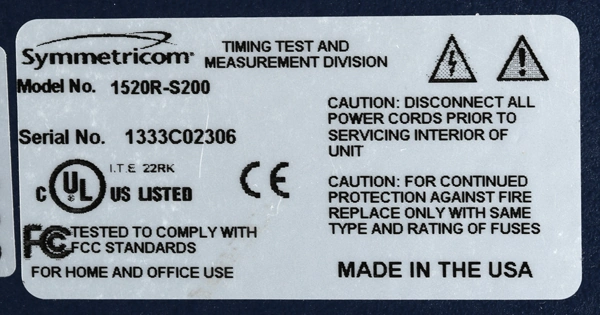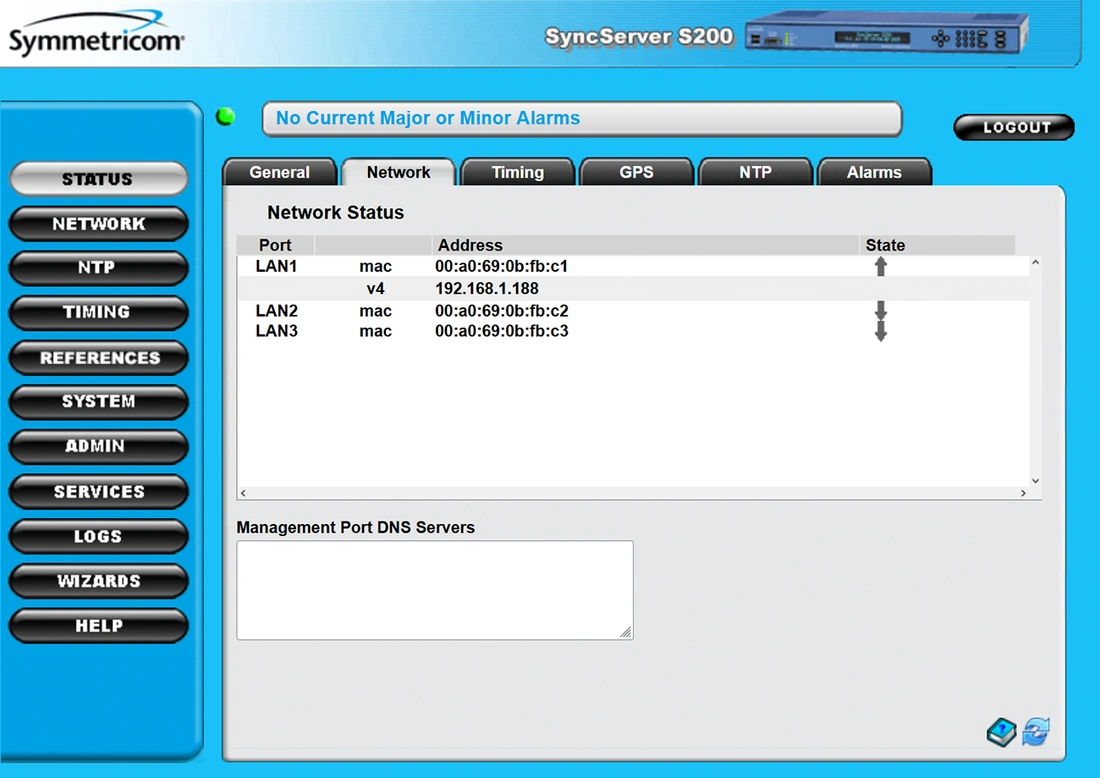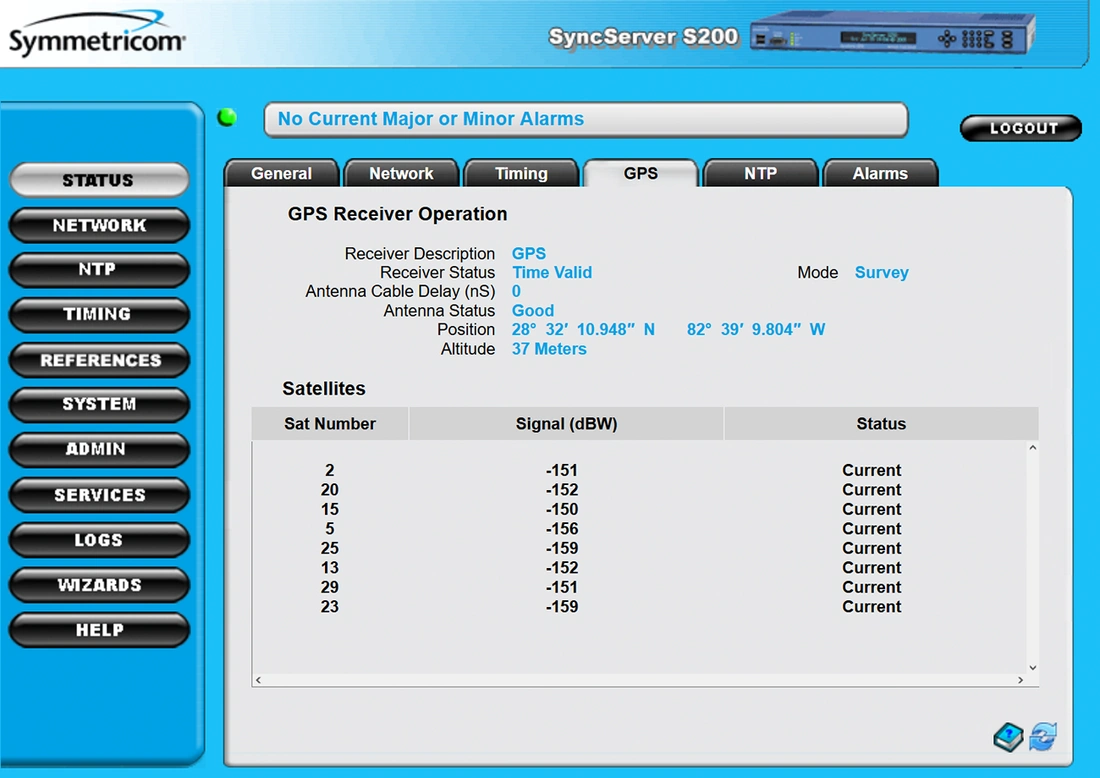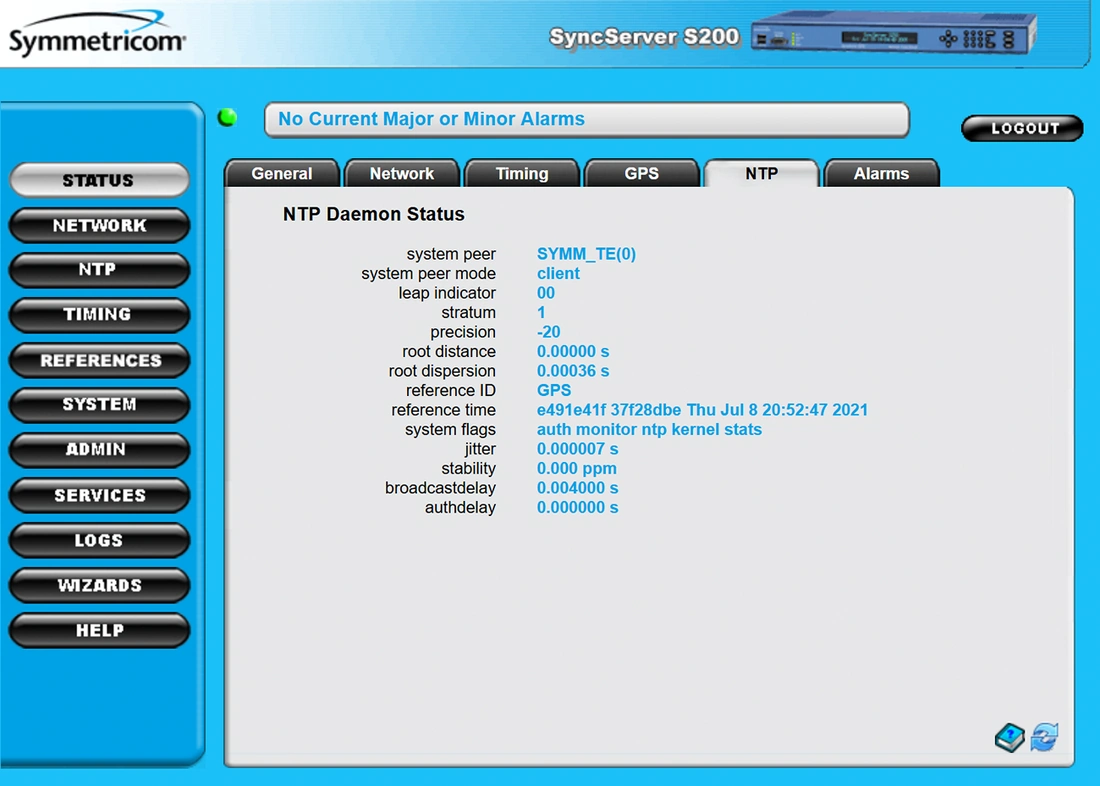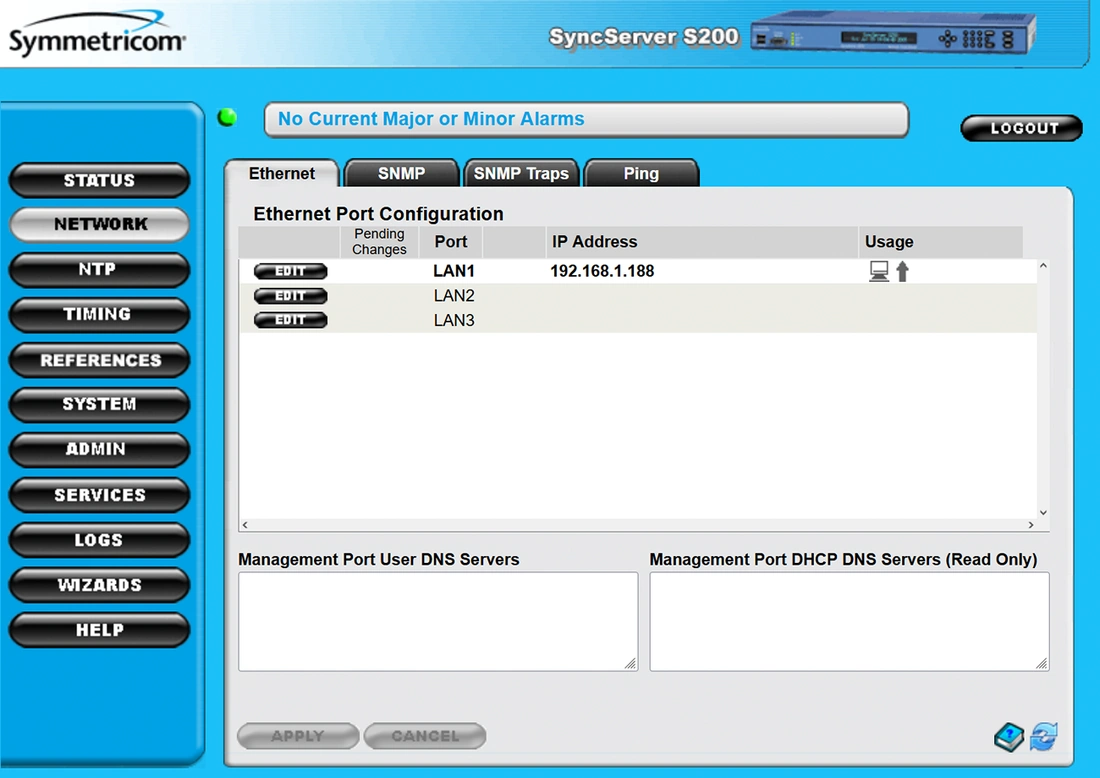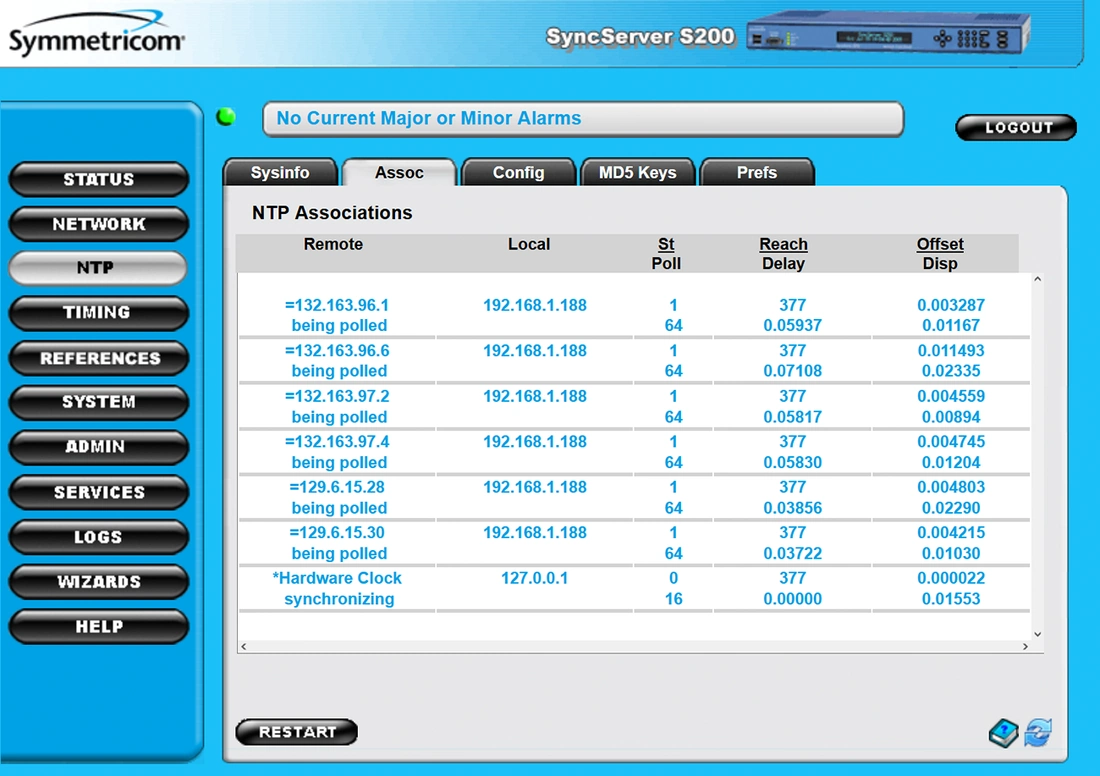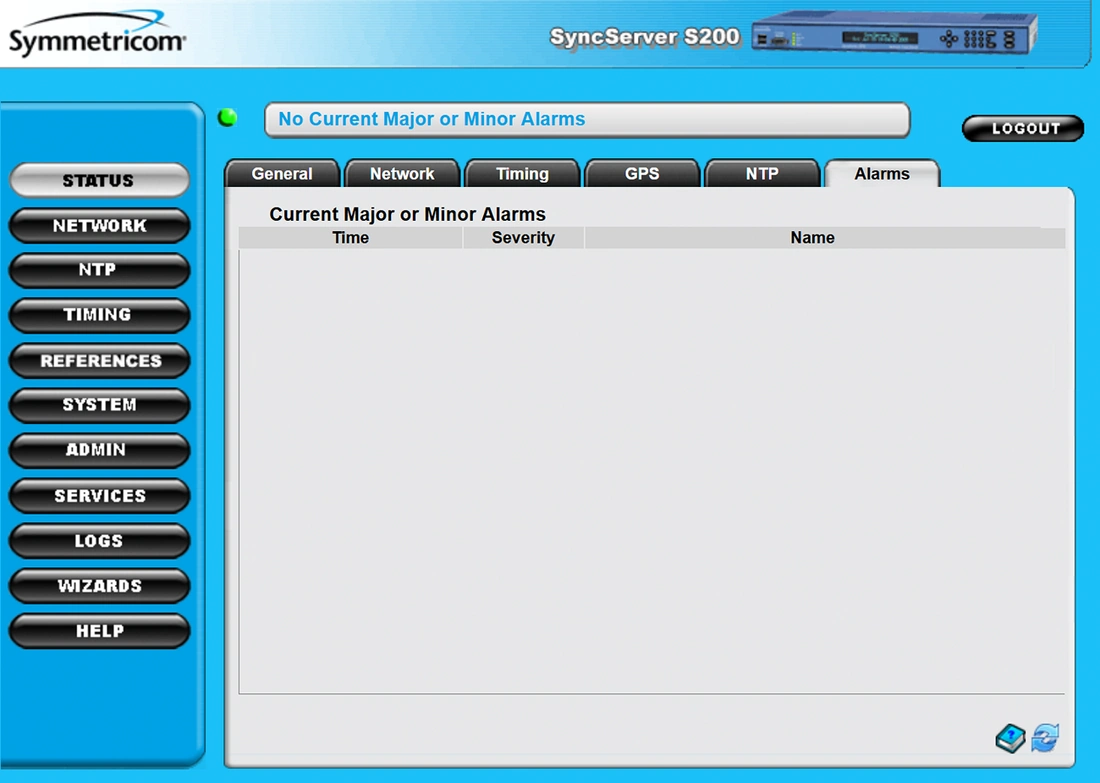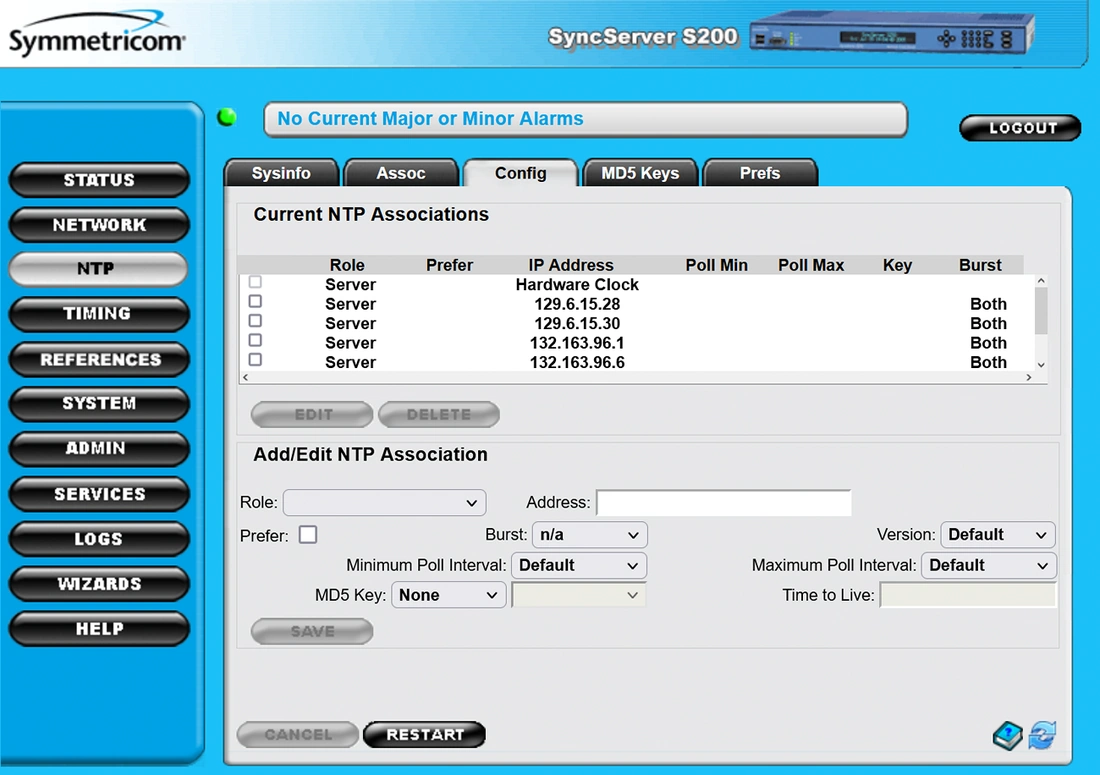 ---
Share this Product
---
More from this collection