TC Electronic DBMax AES Digital Audio Broadcast Processor Multiband Maximizer
(
364515022425)

)

Regular price

$688.00

Sale price

$1,053.00

(1 available in stock)

Tested/Guaranteed • Fully Working • Digital Domain Multiband Dynamics Processing for Broadcast/Production • Usually $4,495

Photos show the actual item for sale

Used, in very good condition and fully working. The photos show the actual item for sale. No unpictured cables, accessories or documents are included but the manual can be downloaded from https://www.prostudioconnection.net/1507/tc_electronic_dbmax_manual_english.pdf if required. Firmware is V2.9 (the latest version offered).
DBMax - 5-Band Level Maximizer
DBMax is a Level Maximizer and Audio Enhancement processor for use in digital transmission, linking, webcast and radio STL applications.

High resolution and high sample rate processing prevents unwanted distortion and listening fatigue from being generated, artifacts often associated with comparable processors.


The User Manual is available at
https://www.prostudioconnection.net/1507/tc_electronic_dbmax_manual_english.pdf

The 5-band section in DBMax can be combined with Automatic Gain Control, Dynamic and Static Stereo Enhancement, Dynamic and Static Eq and other tools for maximizing audio impact and creating a signature sound. Balanced and unbalanced AES/EBU I/O is standard, and outputs are always active. Sample rate conversion can be invoked when using digital inputs. Analog I/O is standard and outputs are always active.

The 24 bit converters are scaled in the analog domain, with scaling under preset control, to minimize noise and maximize headroom under all operating conditions. DBMax can be remotely controlled using GPI or RS485 serial inputs.
Usually Sells for $4,495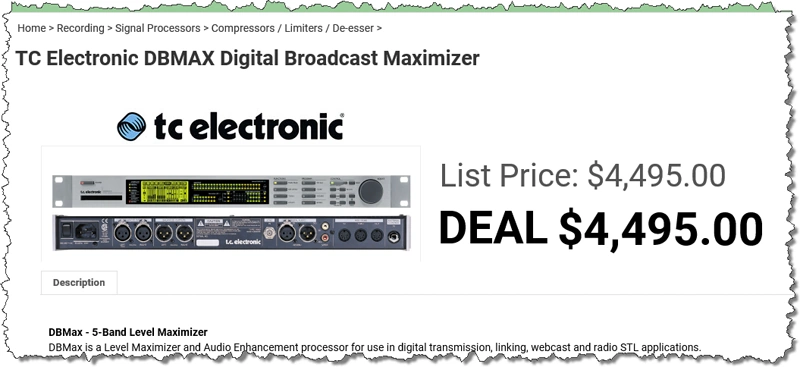 Main Features
Maximum Level
Maintain maximum level and simultaneously eliminate overshoots.


Maximum efficiency: 5-band compression
Limiting: Sample accurate, distortion reduced Limiter
Multi Slope: Add gain at mid-levels without squashing the transients
Optimum Quality
The DBMAX employ precise calculations at a full processing rate, in order to keep aliasing distortion low and audio bandwidth high.

Audio quality has been our primary concern when designing the DBMax - hence you can even cascade several units without any sonic penalties.


Bandwidth: Processing at up to 48kHz sample rate for 24kHz audio
Resolution: Processing of all 24bits of an AES/EBU Digital signal
A/D-D/A converters: 24bit resolution with analog pre-scaling

Output Formats
AES/EBU, S/PDIF and Analog outputs are all active simultaneously.

Digital outputs may be dithered to resolutions between 8 and 24bits.

Analog and Digital outputs may have emphasis applied individually.



Gain Transfer
Example of gain transfer and parameters using DBMax.

Presets
The DBMax comes loaded with 60 presets for a variety of different applications.

DBMax Internal Structure
Four selectable Insert algorithms surround the multi-band structure.
The digital output fader may be remotely set via voltage control.


---
Share this Product
---
More from this collection