Telos 2101-3000 ISDN Studio Interface Hybrid ISDN Phone Codec Radio Talk Show [Used]
(
233744176095)

)

Regular price

$119.00

Sale price

$220.00

(1 available in stock)

Telos 2101-3000 Studio Interface ISDN Codec Radio Talk Show Phone Interface • Used, Good Condition • AES/EBU Input/Output
Photos show the actual item for sale

Series 2101 Studio Interface (#2101-3000) typically resides in each studio and provides connections for caller and send audio. Two built-in hybrids permit up to four callers on-air simultaneously.   Item is used in fair to good cosmetic condition and has been tested by connecting to a Desktop Director Control Surface and verifying that data is transfered and that the phone powers up as expected, and that the unit responds to the front panel and the ethernet port, so that the software could be updated to the latest version. No ISDN lines were available so those ports were not tested.
Listing comprises the Studio Interface hybrid unit only - no phones, accessories, control surfaces, cables or documents are included. Unit has been updated to the latest software version. Note that this is an ISDN unit. It will not work with analog (POTS) phone lines.
Full details may be obtained from the User Manual at
https://www.prostudioconnection.net/1410/Telos_Two_2102_Manual.pdf

Description
The Telos Series 2101 is designed for broadcast facilities where dozens of incoming talk lines are required and those lines are required to be shared among multiple studios. Depending on the version ordered, the 2101 Hub can interface to as many as four T1 circuits (24 channel digital circuits as used in North America and Japan), E1 circuits (30 channel digital circuits as used in most other areas of the world), or ISDN PRI (Primary Rate Interface) circuits based on E1 or T1.
The 2101 supports up to 32 multiple studios. Each Studio typically has a single Telos 2101 Studio Interface that contains two all-digital telephone hybrids. Four-hybrid studio configurations are also possible, consisting of a Telos 2101 Studio Interface plus a Telos TWO all digital dual hybrid.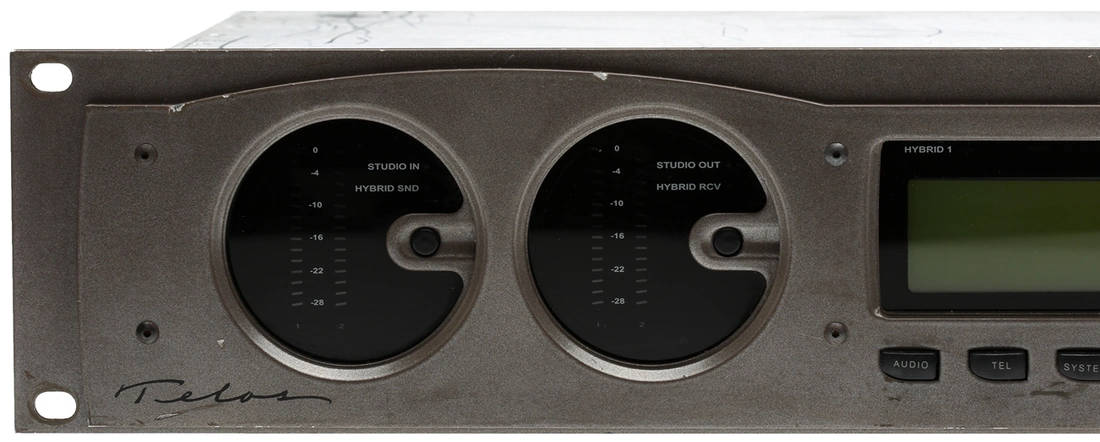 At the heart of any broadcast telephone system are the hybrids used. Based on the Telos TWO dual hybrid, the 2101 Studio Interface includes simply the best broadcast hybrids made. With a trans-hybrid loss of well over 70dB, it allows for the best possible announcer audio over the air. Performance when used with open speakers and in teleconferencing applications is also superb.
The 2101 combines this hybrid design with a multi-line system controller (the Series 2101 hub ) and multiple studio interfaces. Each 2101 Studio Interface offers support for up to two (expandable to eight) Telos Desktop Director control surfaces - typically one for a phone screener and one for talent. Each Desktop Director can be can be easily reconfigured between the talent and producer (screener) modes of operation and to select the a "show configuration" for that studio. The Desktop Director has an intuitive user interface and we are confident your staff will take to the system in no time.

Features and benefits of the Series 2101
Up to 120 incoming Telco Channels (depending on the type of Telco connections used)
Systems available with support for up to 32 studios
Dual-redundant Hubs can be used to protect against the loss of a hub or any Telco Trunk (Please consult your Telos Sales Engineer for additional information on this option).
Multiple "show configurations" each of which determines the number of active lines. Studio configurations can be changed easily – No more "programming" with a punch tool.
Any phone number can ring in any studio. Using PRI trunks hunt groups can be created. Number/Line assignments can be dynamically changed.
Studio-grade 20-bit A-to-D conversion, combined with noise gating and shaping, guarantees crystalline audio to the caller and significantly improved send levels.
Simultaneous analog and AES/EBU outputs.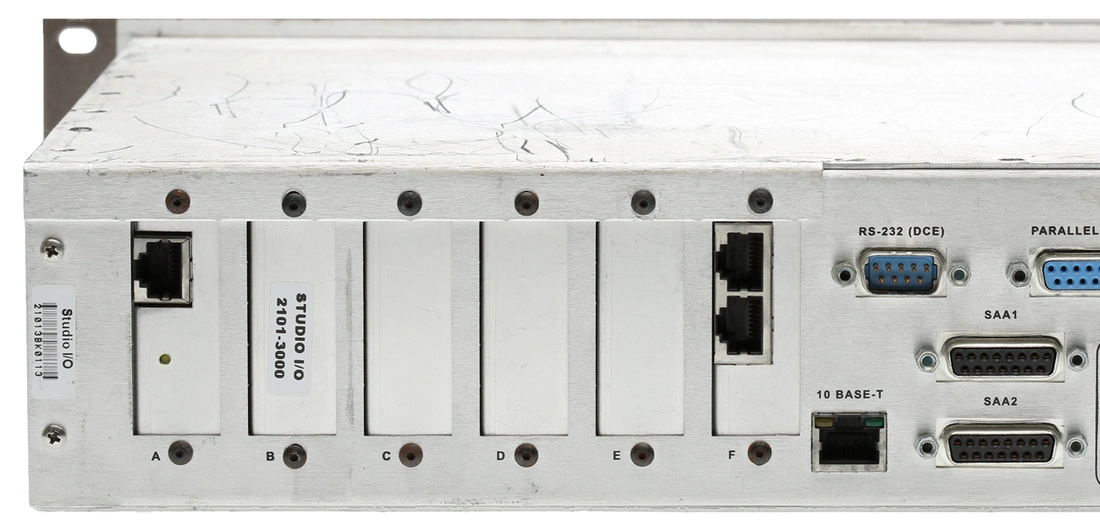 Automatic high-precision sample rate conversion for incoming AES/EBU.
Unmatched Send/Receive separation using Telos' time-tested Adaptive Cancellation technology. Each hybrid automatically & continuously adjusts to phone line conditions, virtually eliminating the hollowness, feedback and distortion that occurs when send audio "leaks" into the caller output signal.
Sophisticated AGC/limiting functions and three-band Digital Dynamic Equalization (DDEQ) ensure consistent caller audio levels and spectral consistency.
Easy to use menus. Full metering for proper setup and operation.
Caller ID* support and fully adjustable Caller Ducking (override) helps hosts stay in control (PRI only). *Caller ID service required from your Telco service provider.
Conference linking ability lets you set up high-quality conferencing between callers with no external equipment needed. (Only a single mix-minus is required.)
---
Share this Product
---
More from this collection