Telos One-R w/SAA Super Auto Answer Digital Broadcast Phone Hybrid Rackmount IFB [Refurbished]
(
362559338747)

)

Regular price

$249.00

Sale price

$503.00

(1 available in stock)

Tested/Guaranteed • Super Auto Answer Board v1.1 Installed (Reg. $210) • List Price $969 • 115/230V Auto • Balanced Audio XLR I/O • Connects Phone to Audio Console/IFB

Photos show the actual item for sale


Item is lightly used, in very good cosmetic condition and tested to confirm that it is fully working. This unit has a Super Auto Answer (SAA) Board (v1.1) installed. The photos show the actual item for sale. No printed manual is included but a copy may be downloaded here if required. The listing comprises what you see in the images only, no other cables, accessories or documents are included.
Description
Telos ONE models present superb digital telephone hybrid performance for broadcast, teleconferencing, and communications applications. Proven Telos processing technologies perform all hybrid functions, gain control, and filtering completely in the digital domain. The use of intelligent software, rather than complex hardware, makes the Telos ONE very affordable while ensuring consistently superior performance regardless of telephone line characteristics.
Full details may be found in the User Manual

This unit has the Super Auto Answer Board Installed. This enables the hybrid automatically to answer incoming calls and to hang up on loop current drop or reversal (CPC/calling party control). CPC is not available in all countries or private PBXs. It also adds sophisticated capabilities such as remote control capability for connect, drop and auto-answer function. It releases the line when recall tone is present, for lines without CPC. Open collector outputs from integral DTMF decoder.
Fast, precise automatic digital nulling allows smooth, natural, simultaneous conversation without the usual speakerphone up-cutting effect, voice distortion, and level matching problems often experienced with other hybrid-type interface devices.

The Telos ONE hybrid represents an exceptional value. Just look at these features:
All processing is performed completely in the digital domain.

An advanced digital auto-nulling hybrid with excellent send audio rejection. Trans-hybrid loss is typically greater than 40dB, so very pure caller audio appears at the output. The Telos ONE automatically adapts to each new call.

An input gain processor with a smart, floating freeze-gain gate.

A sophisticated output gain processor that provides level control and smart downward expansion. This section is cross-coupled to the input section so that telephone line noise and residual hybrid leakage are carefully and cleanly attenuated without low-level callers being gated off.

A selectable override function to reduce the caller level about 8dB when input audio is present. This allows the talent's voice to have more presence when speaking at the same time as the caller.

Digital Echo Elimination to allow significant gain-before-feedback when used with open monitor speakers.

High- and low-pass filtering to clean up phone line noise and hum.

Installing and configuring a Telos ONE is simple and easy, thanks to the following user-friendly design features:
Input is switchable for either microphone or line level.

Two outputs are provided, one of which may be used as a second independent output or be switched to a mix of the input and caller signals. This is very handy for tape feeds.

Front panel input and output gain adjustments using multi-turn screwdriver adjustable pots.

Convenient LED-metered monitoring of input and output levels, as well as their respective gain processing.

All models integrate with the Telos family of accessories as part of a complete talk show system.
Power can be in the range 100-240V AC for worldwide compatibility.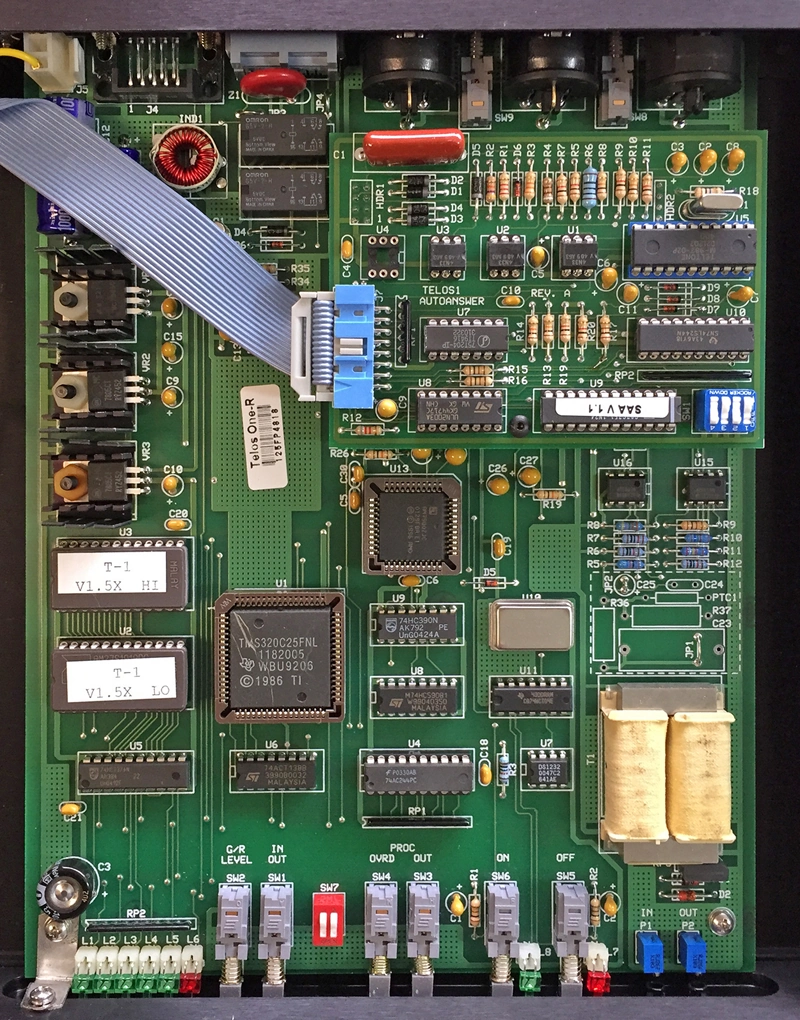 ---
Share this Product
---
More from this collection